Most of the people believe SEO is complex and time-consuming. It's true to some extent, but one thing that is also true is that a few small SEO actions can be performed to create a great impact on your website rankings.
If you are wondering how to easily implement SEO and improve your website rankings, here check amazing ways to do so. Believe us! If you perform these small actions flawlessly they will create a greater impact.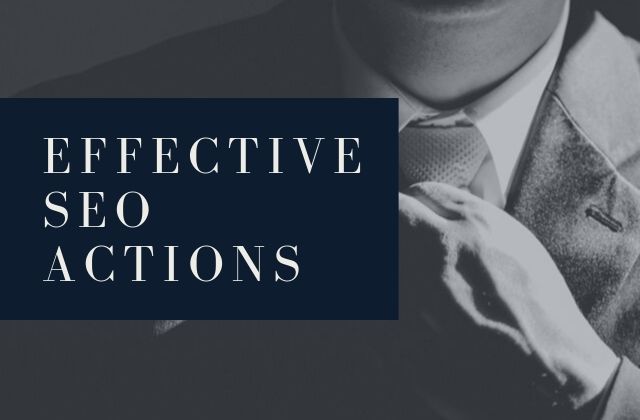 SEO Actions and Techniques That Will Improve Your Rankings:
1. Optimize Headings, Titles, Meta and Content of Your Website Using Appropriate Keywords:
One mistake a lot of people do is they forget or fail to optimize the headings, titles, Meta tags, Meta description, and content of their website using relevant keywords. Optimizing such aspects is basic and very important.
Creating a title rich with keywords is optimized for numerous phrases. It is attractive to the eyes and can provide you higher rankings. But, make sure only important keywords are used.
It is because people prefer clicking on titles, which include keywords. Moreover, if you wish to incorporate multiple keywords in one page, you need to optimize the title for all such keywords. Consider using keywords in content, bold text, and headings.
For this, you can use a tool like CognitiveSEO Keyword tool for optimizing the content for numerous keywords. Use the most important keywords first and then move ahead with using other keywords in order of their significance.
Also, optimizing Meta description using keywords is important as it affects the CTR in search engines. Incorporate vital keywords to make the result stand out.
2. Fix Indexability and Crawlability Errors:
A website is useful only if it can be indexed or discovered by search engines. So, if your website is not available on Google, it means that the website does not exist. This is vital from an SEO point of view.
It is vital to fix indexation and crawlability issues. For this, it is best to block important pages from getting indexed using robots.txt file or Meta tags. The access to robots.txt file can be seen by visiting robots.txt or yoursite.com. However, if you are not willing to block URL from getting indexed, the file must then be optimized so that it can be seen on search engines.
The simplest way to achieve this is by submitting the website to a sitemap. Alternatively, you can shift to the natural way through which pages can be indexed and this is by using links.
For discovering pages and websites online, the software is used by search engines known as crawlers. Such crawlers access websites from one link to the other to discover new pages. Hence, you must note that when a new page is posted, it must be accessible from the homepage through the top menu, any other article or footer.
3. Assess Your Website Data Using Traffic Monitoring Tools:
It is essential to monitor the performance and traffic of your website. This is extremely vital for SEO. By considering the data, it can be identified the kind of content works well in your niche. It is possible to identify articles that offer most traffic, pages which converts better and visitors who actually browse the website.
Tools such as Hotjar are useful to understand the ways users interact with the website in UX. You can use other tools such as Google Search Console and Google Analytics to perform necessary actions.
If there are no tools installed for monitoring, it is best to install ASAP.
4. Write Rich and More Content:
A simple way to improve the content on your website is by writing more and rich content.
There are varying views available on a particular topic. A lot say that people avoid reading posts, which are 2,000 words or longer. This can be true for posts on Social media, but this is not the case for content on search engines.
Even most SEOs accept that longer content offering more detailed information about a topic tends to rank better in the search engines.
If there is any piece of content that is not able to make to the rankings, you must add more words to it. But this does not imply you must add random content.
The additional content must be adjacent to topics, which makes your content relevant. Also, you avail better chances of higher ranking by posting fresh content or updating the old one.
Furthermore, it is possible to increase the SEO visibility by publishing content more often. It is best to write more content and publish it often.
5. Use Google My Business:
For local businesses, it is best to list securely.
It is very easy to create a page on Google My Business. You just have to visit the page and create a business account there.
Listing your local business on Google My Business is a secure way to rank the business multiple times on Google.
6. Start Targeting Less Competitive Keywords:
It is best to target highly competitive keywords. This is beneficial especially if you are taking into consideration a long-form of content.
However, it is also advisable to target keywords with less competition. Less competitive keywords can be used for creating amazing content. This will gradually help you build your own way.
As your business expands, you will avail more experience and have more capital for outsourcing different tasks, which are out of the area of expertise to professionals like the design.
There are various tools available online, which you can use to find keywords with varying competitions. Having a list of such keywords in hand will let you create rich content that can surpass others.
However, if you have enough budget and money, consider using the top keywords and make the best use of it to increase your ROI.
7. Make Use of Your Business Profiles on Social Media:
The social media profiles can also rank in Google, especially if they are public. It is possible to optimize social media profiles for quite distinct keywords. But still, keep the brands and use keywords in the title.
Varying platforms are ideal for distinct kinds of audience. Hence, wisely select where you need to invest your money and time.
No matter which way you go, it is a great idea to secure the accounts on distinct popular platforms. This can also help you become an industry leader.
8. Compress Images:
Websites, which are slow, can impact SEO as well as conversions. Google doesn't want the users to wait much for loading of their website. One major cause of websites with slow loading speed is its images. However, there is a simple and effective solution to it.
Avoid uploading big images. Usually, they must not be more than 100-200kb in size. Also, check the image size in pixels. It is of no use to load images with 2000×2000 pixels when you can display 200×200 pixels on the screen.
An image compression tool can be used to compress images. There are plenty of tools available online which are useful for various content management systems like Joomla or WordPress. Moreover, you can use third-party tools like TinyPNG or ShortPixel.
Make sure that the images you include are high-quality ones. Hence, it is always best to post images with high HD resolution.
9. Use Caching for Your Benefit:
One simple and efficient way to fix any problem is to fix the caching issues and use the same to your benefit.
Cache files are available in user's browsers. When your website is accessed by the users second time, rather than downloading such files like CSS, JavaScript, and Images, the browser uses stored one to load the website faster.
Mostly, it is quite easy to compress and minify files and allow caching. This can be done by using a plugin like W3 Total Cache if you are running on WordPress. But, there are more other plugins available for all sorts of CMS.
However, sometimes, compressing or minifying the JavaScript or CSS files may affect the functionality and design of an image. Therefore, it is vital to ensure that everything works fine and the image looks great for all aspects.
10. Remove Unwanted Features and Plugins:
Avoid adding things, which you really don't want on your website.
One great feature that works well for most of the webmasters is sliders. The sliders kill conversions and can also reduce the speed of the website. It is because they load the vital JS files on all pages of the website, but slider runs on the homepage.
Moreover, if you don't need the feature more, you can uninstall the extension or plugin. Make sure you don't deactivate it. Also, you must check and clean the database on a regular basis from unnecessary entries and tables.
Most importantly, the backup must be saved before you make any changes.
11. Ask Reviews from Customers Using Incentives:
In order to rank Google My Business at the top, you must collect good reviews from your customers.
But how it can be done?
It is quite simple to ask them. But, it is best to ask them on a specific spot and see them leaving the review on the mobile device. If your location is tracked on Google, the review seen will be genuine and you can also know about the person who visited the business.
One thing true is that it is not easy and you may have to incentivize them. A review can be availed from them through an email after a week or so of purchasing them. The discount can be offered for their next purchase if a review is offered.
But remember, there are more chances of your customers leaving a negative review. Hence, you must make sure that your customers are always happy and they always leave a positive review.
12. Perform Internal Linking Practices and Optimize Website for Internal Links:
Internal linking is vital for indexing as well as crawling of website and keyword optimization.
While practicing internal linking, you must take into consideration the navigation of your website. Use appropriate anchor texts when linking to vital pages from the navigation.
For instance, one way is to use most searched keywords to the link to most imperative pages of your site, so that you can rank for such keywords.
Also, link to other highly important resources on your website, like case studies. It lets search engines know about such pages and their importance.
Moreover, make sure that you link between pages and articles when relevant. It is good if you develop a habit of editing old articles and link them to newly published articles.
13. Conduct A/B Testing:
It is always good to find out what works well and what does not using A/B testing.
A/B testing must be performed on a consistent basis. It is the finest test for conversion rates. Even a minor change like changing the color of the CTA button can lead to a significant increase in CTR.
So, to know whether a change is working in your favor or not, you must use A/B testing. Using this testing mechanism, you can use two different variants for testing and see which one performed the best.
14. Use Linkable Resources:
When content is created, the first thought is to rank high for a specific keyword. Hence, you always try to optimize the content for that keyword or write more content for it.
However, one important thing known is that it is impossible to rank high without using links. Also, for hacking the website into links it can be quite risky.
Hence, the best way to avail natural links and rank high. This can be achieved by ranking for link-worthy topics.
15. Optimize for User Intent:
User intent is highly ignored but is extremely important to bring SEO benefits to your website. To make sure you target the right audience at the right time, you must optimize your website for user intent.
Keep testing things regularly to determine what the best for your site is.
To Sum Up:
Hope these tips will improve the SEO results for your website fast and with minimal effort. Practice techniques that are best for your website and can deliver significant results. Good luck!