With so many SEO companies competing in the market, selling SEO services is tough. Even, more challenging is to sell rich, organic SEO services. No Facebook ads, no Google AdWords, or other PPC advertising tactics, still you have to deliver exceptional services to the customers.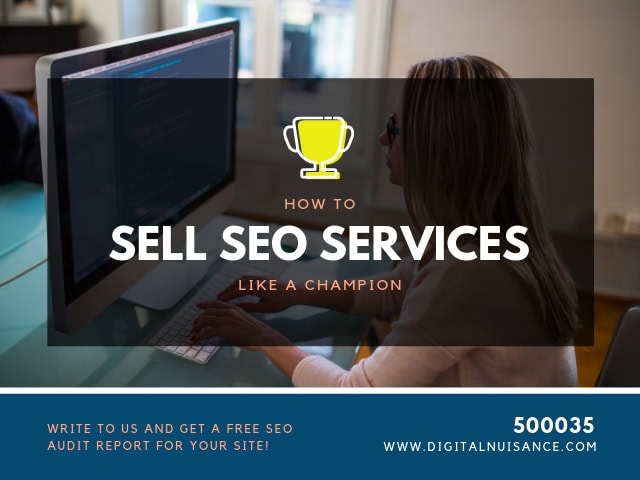 How is it possible?
To get the best answer to this question, we reached out to some experts and based on their suggestions here we have listed some of the best ways to sell SEO services. Here we go!
Things to Know When you Sell SEO Services:
1. Maintain a Transparent SEO-Client Relationship
Before you begin offering your services to the customers, it is first ideal to develop a strong relationship between them and your SEO services. This can be done only if you maintain transparency at every level.
Being transparent and honest about organic SEO services that you would offer to improve your client's visibility and organic ranking will help to build a strong relationship. There can be some clients who do not want to get into the technical details, while there are others who wish to know about every single link. You must be well-versed in catering to both types of clients.
Regardless of the type of customers, your consultants or experts must be prepared to be completely transparent with clients for details they ask.
2. Get SEO Knowledge in Detail:
In order to sell SEO services, you must be aware of a lot of things. In addition to having in-depth SEO knowledge, some of the key aspects that you must be aware of are:
The goal of search engines is to offer the best results for a search query. This can be done only by understanding searcher's intent.
SEO does not hold the sole responsibility of ranking a website for a specific keyword. There are other associated reasons too. It can be improper phasing of the keyword or wording of a search query and more.
Good SEO practices bring more traffic to a website, but an excellent SEO brings more potential leads and increased sales to an online business.
Gain an in-depth understanding of how search functions.
Have complete knowledge of a typical search result page.
3. Review the Complete SEO Process:
In order to review the entire SEO process, you must categorize the SEO projects into three categories:
New websites, which are not launched
Existing websites or websites on-air
Existing websites going through a revamping
For existing websites, it is best to perform the site's SEO audit and prepare a list of actionable items that are fixed, need an update, or change. Review the existing links and at the same time come up with solutions to acquire new links.
For brand new websites that are not launched yet, it is best to offer SEO services right from the very beginning. Make sure an experienced SEO expert is involved to offer the best services.
4. Avoid Offering 'Cheap' SEO Services:
A large number of companies prefer hiring cheap SEO services. But if you want to sustain in your SEO business then avoid this. Remember, a successful SEO is achievable only after lots of customization. There is specifically not one-size that fits all kinds of SEO that can be done, which will benefit a business.
Cheap SEO services don't SEO optimize websites. Rather than offering local citations and listings for business, cheap SEO services end up costing more to a business in the long run.
5. Refine and Highlight Your Value Proposition:
Every sale move you make is a direct reflection of your value proposition. Hence, the value proposition of your business must explain clearly why your service is useful to customers and how it can benefit the targeted customers.
Your service must clearly explain how it can solve customer's problems, enhance their SEO situation, and offer their business valuable benefits. The ultimate aim must be to add some value to your customer's business and at the same time present yourself different from the competition.
6. Include the 7 Important P's in Your Value Proposition:
In addition to offering customer's problems, your value proposition must focus on 7 P's for successfully selling SEO services.
Product – Service products, core products, supporting services, supplementary services, and more.
Place – location, access, delivery services, and other electronic deliveries.
Price – It must be based considering various aspects such as cost, demand, operation, competition, and relationship.
Promotion – It must include internal marketing, direct marketing, advertising, as well as other promotional techniques.
Physical Evidence – It includes uniforms, facilities, signage, equipment, and other costs related to physical evidence.
People – This is most important and includes employees, customers, social interactions, scripts, roles, and relationships.
Process – It includes service design, customization, standardization, and operational efficiency.
7. Polish Your Cold Emails:
A large number of businesses find cold emailing bothersome. Despite cold emailing being one of the highly valuable aspects for service companies, still, most sales emails end up being ignored and deleted. Hence, it is essential to refine your email process and pick up a perfect email template.
The first important aspect to focus on is the subject line. Since you only have a couple of seconds to grab customer's attention so draft the subject line in a way that it is able to attract the customers.
Secondly, frame an appropriate template for the emails. Do relevant research for the same through A/B testing to identify which works best for your emails and one that delivers the best response rate. This way, you can easily sell SEO services in your specific niche.
However, at the same time, you must focus on avoiding spam filter.
Let's check about it in detail in the next point.
8. Avoid Spam Filters for Your Sales Emails:
Spam filters are mainly used by numerous email providers like Gmail, Outlook, AOL, and Yahoo. Usually, emails with overly sales subject lines are unable to pass through spam filters. But arousing words like '100% discount,' 'Earn $$$,' or 'Best Deals' definitely works.
It is not essential that you reach out to the entire list of your contact with a single email. You must tailor emails for groups, categories, and subgroups in order to get the best success rate.
9. Use SEO Case Studies:
Successful sales cannot end in a winning situation all alone. It needs some support so that you can deliver results, retain clients, and attract new clients. One great way to achieve this is by using SEO case studies. These case studies can be used to record and display your project achievements.
Case studies offer great support to your marketing narrative even if you have a diverse service portfolio with clients belonging to different industries or you focus on specific areas. It is an authentic proof to the customers and helps build trust in them.
SEO is all about the end result. So, case studies can show what all you can do and is an excellent way to sell SEO services.
10. Display Measured Results on Your Website:
By displaying measured results on a site, it is possible to create a great impression on the customers. It is a direct indicator of the success of your services and can help each client know what all you can offer.
If you have done something really valuable in a set timescale, then the same can be mentioned on the website. Also, it gives a clear idea of your growth potential and will help you push for service renewals or extended contracts.
11. Exhibit Client Testimonials on Your Website:
Along with case studies, it is best to show how your services have offered proven results to others over a period of time. This can be done by obtaining reviews from the clients. There is nothing more valuable in the online world than positive feedbacks and recommendations from other businesses.
Positive testimonials are great and potential customers can easily relate to them. They are as valuable as word of mouth. Hence, always ask feedback from your clients after serving them. If you have done a good job then your clients would be happy to revert and state about your services.
12. Practice All Possible Ways to Gather Client's Testimonials:
Now, the next question occurs is how to gather the client's testimonials. The finest way to ask this is by adding a client on a social platform and asks for recommendations. If you are creating a website by WordPress then use a site-wide page widget and feature testimonials there, so that visitors can easily view it.
When you target potential businesses through email, then you can link it directly to your testimonials page. This is highly useful if you have a competitive brand in the same industry.
13. Give Social Exposure to Your SEO Services:
Another way to sell SEO services is to bring social exposure to your brand and services. The first way to do is to set up an SEO blog on your website. This is a great platform to target new and retain existing traffic.
Make sure your blog consists of informative articles, including news articles, how to articles, opinions, list articles, and more. Share the same on your social platforms to gain social exposure for your business.
14. Link Email Marketing with Social Marketing:
Further, you must link up social marketing with email marketing. Adding social links to email correspondences will ensure that the warm leads will not burn out. Additionally, if your business lead fails but still follows you on social media, there are still chances of revival.
Since people move around, go to new companies, so make sure you stay in touch with them so that your leads do not become obsolete.
15. Identify a Niche to Sell SEO Services Locally:
There is a huge demand for SEO services across all industries. You can offer SEO services to businesses in various fields if you have been offering SEO services for a long time, or your previous customers belong to the same industry.
If you have been serving similar clients then focus more on that industry. Alternatively, if you are a beginner, research the market and check industries where there is a lack of supply of SEO services.
16. Offer Solutions to Your Clients:
Moreover, you can sell local SEO services efficiently by becoming a solution provider. Avoid practicing the same strategies and techniques for all clients. This way, you can easily lose clients.
The correct approach is to let clients define their SEO problem first. This can be low rankings, lack of traffic, unable to rank for keywords, and more. Offer solutions based on their SEO problems.
Before you discuss with your customers, visit their social media pages and website. Identify the issues that affect their competitiveness and which your services can address.
17. Use Concise Statements:
Most importantly, avoid SEO jargons, which most of your clients will be unable to understand. Use concise and clear statements when explaining the business plan.
If you are using SEO terms then explain the same to your clients in a simple language. Hence, understand your client's problems and describe the solutions in a viable manner.
18. Market Your Services:
After defining your target market, you must make your services visible in the same market. The simplest way to do that is by developing profiles on social channels and responding to your customer queries on the same.
In addition to this, identify content that your clients prefer. This can be related to trends, events or other aspects to boost business performance. Participating in industry-related forums is another way to achieve this.
19. Seek Support from Other Professionals:
You can deliver exceptional SEO services to your clients only if you partner with other experts. Include web designers and content writers in your team to create well-optimized websites for your customers.
20. Stay Updated:
The consumer behavior is changing and so are the search engine regulations. Hence, you too have to practice SEO tactics on a regular basis.
Stay updated on the newest SEO strategies in your industry as well as other industries. You can win over your competitors only if you invest effort and time in exploring and learning new strategies.
You can offer outstanding SEO services only if you are able to build a distinguished brand. So start practicing the top strategies that we have listed in this post to gain top performance, sell SEO services, and conquer clients.