The Internet is not only a platform where we can socialize and watch entertainment programs. It is very popular as a knowledge providing platform.
People depend on the internet for everything nowadays. They will get all the information they want from the internet.
But, how many people use it as a money-making platform?
Fewer people know various opportunities they can find on the internet to earn money. There are various types of contents on the Internet.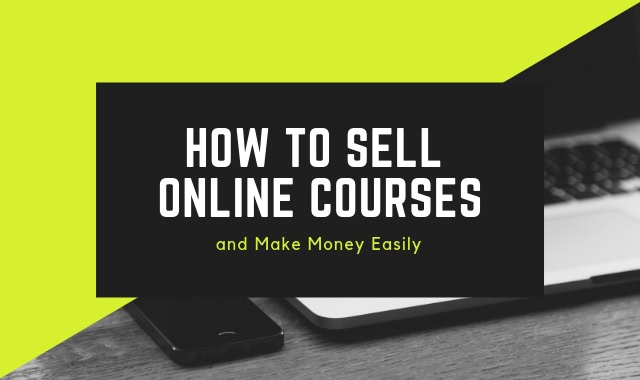 Some of them are informational, some others are entertaining. There is another type of contents that are exclusively for money making.
If you have knowledge about a topic, you can share it with others through the internet.
There are people who write blogs because they love writing. They won't have any intention to make money.
There is another group who write blogs exclusively to make money. Like blogs, there are many other money-making platforms like videos, writing books, online tutorials etc.
If you have proper knowledge about a topic or you possess a talent, share it with others through online. It could be through videos, write-ups, online courses or e-books.
No need to be excellent on a topic to write about it. Proper knowledge about the topic is enough to share it with others.
There is not any particular topic area to sell online. It could be anything like music, dance, gardening, cooking, painting, designing etc.
No matter what your talent is, make it as an online course and sell it to online users. If internet users love your content they will be a part of your online course.
For that, you need to create your own website or go to YouTube and create your own channel. Some of the online courses won't need any investment.
Just create your content with high quality. Video contents should be of great quality and may take more time to create better contents. Here are some benefits of online courses
Benefits of online courses:
There are platforms where you can create a new online course and sell it easier
Many tools are available to make your online course more efficient
If you have a blog service, add your online course with it to sell well. Or else you can also depend on other sites who deal with the same topic as you, to publish your online course
This is a passive income field which can help you to earn money by selling your course over and over
As your course offers online, you will get people to learn from all over the world
Are you ready to make money from online courses?
Follow the steps given below and start your long-term earning by sharing knowledge with people
How to make money by selling online courses?
Step 1: Choose your topic
This is the first step in creating an online course. The topic is very important when you want to sell it. It should be highly informative and in-demand also.
Don't choose some general topic like others. If you are good at the latest technologies or programming languages in demand, choose them as your topic.
You can also choose other topics related to your hobbies or talent. If you can paint well teach it to others online. This can make you famous and increases the chance of getting more students than teaching offline.
We can say that your success will highly depend on the topic you are selecting for your course.
Step 2: Research well
Like any other product, you have to consider this online course as a product. Marketing is enough to make it reach to as many people as possible.
So, after selecting the topic you have to research about the scope of the topic. Check other sites who offer courses on the same topic. Ask these questions to yourself
Does this course offer any value to users?
Will they choose this online course?
Are they willing to pay money for this course?
Is there any free source available based on your topic?
If you got an answer to the above question as yes, then you can go forward with your topic.
Choose the targeted audience before going to the next step and check your competitor sites and its popularity to know the scope of this topic
Step 3: Organize your course
After you decide to go forward with the topic you chose next step to organize your course.
Take references from some free online courses to know how they decide a large topic into small lessons and modules. You cannot teach the whole topic in a single class. You must divide it into small modules first and include topics you are going to cover in that module.
A course is a deeper approach to a topic. So, you have to understand every aspect related to that particular topic and include it in your course
Schedule each class for a topic which contains so many subtopics related to it. Most of the courses will be 30-60 minutes long.
Decide with your class duration and assign each topic for a class. Some courses will be 3 weeks long and some others will be 30-day class.
After organizing you can understand the course duration. You need to have a clear plan of all these factors before starting your classes online. Without a clear plan, it won't be successful. Everyone admires a well-organized informational class.
Step 4: Choose the best medium
Online courses are of various types. It could be visual, audio, text, worklist, infographics etc.
Choose the best medium where you can convey your topic well. Most people prefer video to do online courses. Because they want to interact with their students using visual elements.
Interaction is also possible through video classes. The text is an old method of taking lessons and in this method, it is very difficult to clear your student's doubt instantly.
Most people thus prefer video as the best medium to deliver online courses. The method of online course also will depend on the topic you are going to handle.
Every topic cannot be expressed through videos or text. Consider your topic also while deciding with the medium.
Step 5: Make your online course
Create your course using the medium you choose. This is the most time taking process of all.
You need to make suitable lessons and if you are creating videos, make sure to follow the quality of it.
Use a high definition camera to shoot your video and show every lessons and important point in your video.
If you are creating a book, then arrange it properly and make sure to proofread it. This will help to avoid further errors in your content.
Step 6: Choose the right platform
Next step is to decide with the platform you want to use for publishing your online course. If you have a blog, you can sell it there.
Also, it is possible to make one exclusively to sell your online course. It will need so much efforts and money. Many steps will be there from choosing the right platform to publish and creating a website.
Without good technical support or knowledge, it will be difficult to do it alone.
There are options for people with less technical knowledge. They can depend on hosting platforms like Udemy, skillshare etc which allows you to sell your online courses.
But when you choose them, the biggest problem is the sharing of income. You will only get a percentage of money that users pay for your course. Also, your income will depend on the performance of your course.
Another factor when you use such a platform is, you have to compete with so many experts there and to perform well sometimes, you need to compromise with the fee of the course. But you don't have to do marketing and all when you choose these hosting platforms
Another option is to choose self-hosting platforms. Teachable, Ruzuku etc are some popular sites which offer you the domain for uploading your online course. You can take it as an independent platform and you can decide everything related to your course.
No need to have the technical knowledge to upload your course and run it using these platforms. Some sites offer this for free and some others ask a small fee for using their platform. Paid platforms will offer you more features than free ones.
No need to use a single platform to sell the course. you can go for multiple platforms and earn money from all those sources. But while you offer your course to other platforms, make sure to protect its privacy.
If it got leaked in some way, then it is not possible to earn money out of it. Read the terms and conditions of all platforms before sharing your content with them.
Step 7: Upload the course
After finalizing the platform, you can upload your content which you already prepared. There should be a color and proper logo to your course and name it attractively. Adding some interesting tagline will help to attract more people to your class.
For example, a tagline like 'Learn English in just 3 weeks', 'come and learn from your online teacher', etc. Properly customize your online course in the platform you chose and go to the next step
Step 8-: Marketing
When you are using eternal platforms like Udemy no need to do marketing. They will market your course and improve its reach to more audience.
You can also support their marketing efforts by sharing the link on various social media account and encouraging others to try your course. But if you are self-hosting or uploading it with your own content strong, marketing effort is essential to attract more people to your course.
Look free or low-cost marketing options and execute them. First, you need to have a clear marketing plan about the audience you are targeting and the best platform to reach them.
After deciding with all of them, use social media and other marketing platforms effectively to advertise your course.
Word-of-mouth marketing can also help here. Offer something interesting to students who join 1st. This is a good strategy to attract users to take your course.
Offer a discount to the first 5 students. This will encourage more people to join your online course and if they like it, they will help to promote your course also.
Step 9: Make your course up-to-date
If you are dealing with technology making it up to date is very important. Technology is changing day to day and users have to know about it through your course.
No matter what topic you are dealing with, make sure to update the information on time. Don't study your students outdated or useless information. Check your course for broken links and errors. Make sure everything works properly.
Step 10: Make money
This is the next step. Sell your course to users and make money out of it. You can get paid for your expertise and if your class is useful to people, don't stop it there.
Choose other topics or related technologies and make new courses one after another. You will get enough time in between to do research and prepare for the next course. This is how many people in this field making money.
Another way of expanding your business is to sell books with that online course. After the first course, you will get a good student base. Refer them to other courses of yours and tell them to share it with their contacts.
Final words
Like any other online business, you need to spend money and effort to make it succeed.
Once you established a good name in this field, you can make it as your profession. Many people start it as a side business and after they earn a good income from this, their full concentration will be on developing their business.
While creating an online course, choose the right topic that will be useful to users. Without a good topic, your curse won't make any business.
Learning from mistakes is the best way to follow. Even if you can't succeed in the 1st or 2nd attempt, don't stop it immediately. Try harder and after some mistakes, you can succeed finally.