SEMrush, Ahrefs, and more other awesome SEO tools are available online. However, they may cost you a lot of bucks. Hence, a better choice is to use an affordable and efficient alternate like SE Ranking. It is a great choice for SEO marketers who are looking for true value for their money.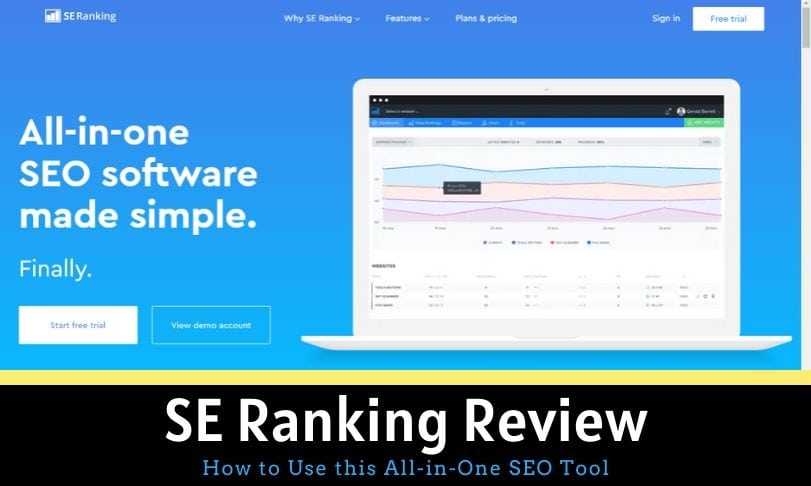 SE Ranking is a great tool that covers almost everything you require from an SEO tool. The best thing is that it regularly improves and for this reason, it has been offering exceptional services to the users and has become highly popular.
Why SE Ranking is great?
In this post, I will share my review of SE Ranking.
But before that, I would like to highlight the reasons, which make it a great tool for me and my SEO business.
It is an excellent tool loaded with numerous incredible features. The fact that makes it better than other high-quality SEO tools is that despite offering so many features it is available at an affordable price.
Furthermore, it comes with an easy to use and understand interface. You can easily draw a plan on the basis of current and predicted SEO efforts to further optimize it.
There are numerous features in this tool that are of great help to SEO agencies and are useful to drive more leads to any business. Even, you can develop a comprehensive clientele by using this tool.
Added to these is the benefit of the white-label dashboard as well as superb reporting that makes it very easy to launch a successful SEO business.
SE Ranking – A Comprehensive SEO Tool Catering to All Your SEO Requirements
Whether you are an SEO marketer or an SEO agency, SE Ranking is a reliable tool that comes with a host of SEO tools and functionalities, and hence, will cater to all your requirements in an efficient manner.
This software offers precise keyword tracking and ranks top for most of the search engines. It let users track keywords and monitor the performance of local SEO with ease. Also, you can conveniently perform a competitor analysis to gain an overview of websites within your niche or industry.
Using this tool lets you search for your competitor's backlinks, which opens up novel link building opportunities, which can be capitalized. In case you wish to focus on lost and new links to your website, it lets you perform well.
With the SEO audit functionality of this tool, you can easily comprehend the way your website is performing. It highlights areas, which require improvement in order to boost the website's SEO.
Using SE Ranking:
It is very easy to use SE Ranking. But to make sure you get the most of this tool, you need to follow a few steps or ways.
1. Set up the Rank Tracker:
Just like any other tool, you need to sign up for an account to Rank Tracker. For this, you have to add a site, which you wish to track or optimize. Once you are done, hit 'Next' and you will be asked for connecting to Google Analytics.
It is best to link the account to Google Analytics right from the beginning to unleash important data from analytics and transfer the same to SE Ranking. It is an excellent feature for SEO agencies that wish to create SEO reports for customers.
Now you may add all keywords, which you want your webpages to rank for. If there are no ideas to follow regarding the type of keywords to use, you may find keywords using the Keyword Suggestion software.
Alternatively, you can skip this step or enter random keywords. Once done, just click on the tab 'Search Engines.' Now that keywords are selected, you may select search engines, which you wish to track. Then you have to wait for a few hours or minutes to check the search results.
This search duration depends on the number of entered keywords. The more keywords you enter, the longer it takes for this tool to monitor the ranking of the keyword in search engines. It takes time till SE Ranking completes tracking the website or webpage ranking for entered keywords. When you are done, you will check the exact and precise SERP positions for the selected database.
Moreover, you can select the frequency of how the tool monitors keyword tracking on a daily or weekly basis. If you select a checking rank for a weekly or three-day basis, you will earn a 20% monetary discount on your plan.
2. Implementing a Plan for Online Marketing:
For those who are new to the field of SEO optimization or possess very little experience, they can search through an SEO guide. This will help them combat some common mistakes, which can lead to issues in site promotion.
Some of the important aspects to consider while preparing and implementing a plan for online marketing are social media management, off-page optimization, strategy creation, and pre-launch care, on-page optimization, task performance, social media management, keyword implementation, and keyword research.
You can install a single web counter, but it is wise to integrate multiple ones to prove the desired results. It is best to check to install Google Analytics and utilize alternative web counters like SiteCatalyst, Yahoo Web Analytics, Piwik, and others.
Further, you may incorporate a site into the search console by Google, which offers you a range of useful functions that define and rectify such errors.
Once you have established the ranking, this tool provides a fast way to get on board with the SEO things. This marketing plan is a checklist of the things, which businesses require for optimizing their website. It is a perfect feature for users who possess no idea of launching an SEO strategy.
This list covers an extensive range of optimization techniques. It helps to design a website, which is conveniently available on Google. It is one of those features, which makes SE ranking simpler to use in comparison to other SEO techniques and tools.
3. Perform Keyword Research:
In case you are not aware of keywords to optimize the webpage, it is best to utilize a keyword suggestion tool. The aim of this research is to identify keywords holding a high volume of search and a low level of competition.
You must enter a keyword in the search bar and enter the niche or topic of your website.
You may click on the start search option and a novel window will appear. It will show tabs for long-tail and similar keywords extracted from the seed keyword. While selecting keywords, you must determine the volume of search especially when you target organic search. With a higher volume of search, it is much simpler to get found on Google. It is best to select long-tail keywords as they have lower competition in comparison to keywords with fewer words.
4. Research Your Competitors:
For understanding the SEO performance of your website, you must consider the way your competitors are performing for a similar keyword you rank for. For this, you must click on the competitor's option within the menu bar and it will display the graph of top 10 search engine ranking positions for tracking keyword. It will instantly check websites that you require to watch out for if in case you wish to rank on Google's first page for the target keyword.
You must scroll the page below that will display the top 10 result pages for a particular keyword. Each page of the competitor is broken into various metrics like backlinks, Moz DA, and Alexa Global Rank. Among the various tools, the column for links is the most vital metric. This factor on your competitor's page is a product of the link building strategy. The higher is the number of quality links generated for your website, the better it will rank in search results.
Therefore, your aim must be to identify backlinks of top competitors and identify the way to obtain links from such pages.
5. Conduct Backlink Research:
For conducting backlink research, you must open pages from your competitor's page, which you wish to track. For this, you must open tools and backlink explorer.
Here you want to copy and paste the competitor's pages URL and gain backlinks. It is suggested to load exclusive domain links of page and finally, you may click on 'get backlinks.'
Once you get the results, you will check pages, which link to particular pages on your website, the Domain Trust and anchor text used by them. It will help you find the best websites for your competitor, which you can obtain backlinks from. Domain Trust is a sound indicator of the website's authority. You may filter results so that websites holding the highest Domain Trust rank on the top.
Rather than spying on backlinks of your competitor, you can profile links from your website. Moreover, you can track novel and lost backlinks and check how these links affect the search ranking of your website.
6. Conduct On-Page Audit:
In order to gain a general overview of the SEO performance of your website, you must run an on-page audit for your website. This can be done easily by clicking on the button for a new page audit.
When you get the results, you will check the overall audit score in a highly appealing way. This score determines the various SEO factors, which are used by the audit to check the website performance.
The tool for SEO analysis also shows SEO issues and warnings, which are required to rectify and enhance to gain a better score. It is possible to download audit for reference and perform necessary changes as suggested by this report. This is a great tool to gain knowledge of SEO strategy the finest way to utilize the SEO analysis tool is generating leads for your website.
7. Create a Widget:
When you run an SEO agency, there is a feature for a lead generator that is a great way of generating leads for the SEO business. For creating the widget, you need to click on the Lead Generator option and then on the Widgets link on the menu.
Once the design for the widget is determined, you can edit the web copy that will boost conversion rate. Once you are done, you may save changes for applying the changes that you have made.
8. Generate SEO Report for Customers:
When there are customers, then you can send them reports for keeping updates regarding the SEO progress of your website. For generating a report using this software, you may click on the report option and then on generate buttons.
Also, you can customize the report by incorporating the most appropriate sections on the basis of KPIs directed by the customers.
Pricing for SE Ranking
There is a flexible pricing option offered by SE Ranking. The optimum plan is available for $39 for one month, $89 for a plus month, $189 for the enterprise plan. SEO agencies will offer their hands for complete with the Enterprise and Plus plan.
You can select any pricing plan to carry the SEO in the interest of your leads and customers.
Pros of SE Ranking:
It is one of the most affordable SEO tools that come with amazing pricing options. Their cheapest pricing plan is an ideal fit for startup agencies to offer customer manage their SEO requirements.
It is an excellent SEO tool for all agencies that compares favorable tools with other website audit tools. The only drawback is that it can audit a few numbers of websites every day.
You have to perform a variety of steps to optimize the website. It makes everything easily accessible for businesses to observe and follow SEO.
Cons of SE Ranking:
However, there are a few limitations to this tool. It is an exceptional tool for beginners but for seasoned SEO experts, it may not be able to offer enough services to help people make well-informed decisions about their websites.
Final Verdict:
For me, SE Ranking serves as an excellent tool for SEO. It is easy to use and comes with an intuitive system, which allows users to select SEO right SEO tools. It is great for beginners and serves seasoned SEO experts to some extent. While many SEO tools charge unrealistic prices, SE Ranking makes everything more accessible for all digital experts and SEO agencies. I suggest using this tool if you need a robust platform that lets you track the search engine ranking for specific keywords.