Twitter is a great way to reach to your audience and improve visibility. Among various social media platforms, It is now considered as one of the most powerful mediums to communicate with customers for every business. You have to be aware of various techniques to get the response you want from the audience. When you Retweet on Twitter it will help you as well as others to quickly share that Tweet with your followers
Twitter is a platform with around 550 million active users and 58 million people tweets on it daily. These statistics is enough for you to believe in the power of the Twitter platform. It is a highly competitive platform and you need to be extra careful while using it for your business promotion.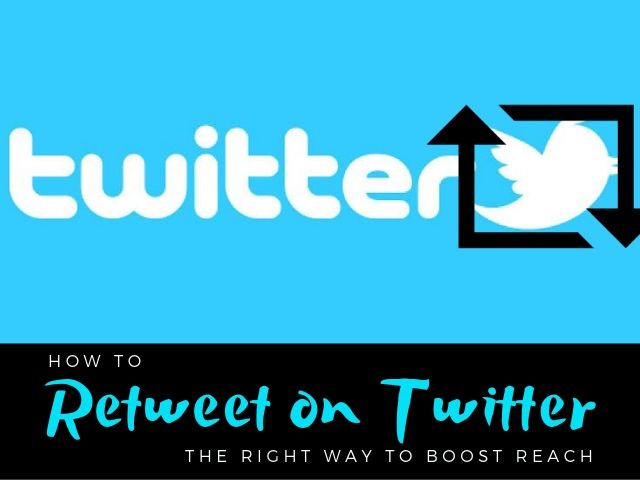 When you use it for marketing purpose, you will see the competition you have to face. It is best to follow some best practices while using Twitter. There are thousands of marketers who want to use the power of Twitter to reach their customers.
You can also be smart like them and get maximum outreach by using the Twitter platform for your business promotion. If you are new to the Twitter platform, it is best to read the whole article before using it. Use Twitter to share useful information by using bold headlines and maximize your ROI by following the best strategies. Before going into retweeting strategies, you may need to know more about the term 'retweet'.
How can you do Retweet on Twitter?
Twitter recently introduced this new feature of commenting below tweets. If you check back the new Twitter feature, when you click on the retweet button, you can see a comment feature with it. This was not there before. People used to manually edit the tweets and retweeted it before introducing this feature. This feature gives an easy way to get all the retweets shared across the platform for all users.
Manual retweets:
A manual retweet is an old feature which you can use to add comments within a tweet. Here you can use some limited words below your tweets and make it shareable. Here is how you can use manual retweets
First, you need to copy the entire tweet of the person with their username in it
Paste this into a new tweet page and delete the username from it
You can check the URL to make sure whether it appears as right on your tweet
Add additional words if you want and post it on your Twitter account
Now you can complete the tweeting process using the manual method
Automatic retweet:
While using automatic retweet, you can post it by adding a comment or without adding them. Both are good options and you can use it as you want. While you click on the retweet button, you will see an option of adding comments.
If you don't choose to add comments you will just share the entire post just like that. But if you choose to add comments your comments will appear on the top and then below the tweet you shared. Sharing without any comment is known as auto retweet and if you add any comments with your tweet, the whole concept changes and you will get a good result also. You can follow the steps given below while doing auto retweet process
Click on the retweet button below the tweet you see. It will look like a recycle button
Click on it and decide whether you want to add a comment or not
If you don't want to add a comment click on the retweet button and the sharing process will then be completed
If you want to add a comment, simply click on add comment and enter the words. You can add up to 80 words on the comment section
Then click on the retweet button and the process is now complete.
Now you might have understood the whole retweeting process. Twitter is improving its process by introducing new features every day. You can also measure the analytics to get a clear idea about your promotional effectiveness. Use it in a better way so that you can also expect a good result from Twitter marketing.
Best Strategies to Follow When You Retweet on Twitter:
You can be active and follow the best practices on Twitter to get a good output. It is best to follow, use it for sharing updates and is good information about your business. Try avoiding to use this platform just to spread some unnecessary advertisement about your business. It won't help you to create a good impression about your business. Here are some best strategies you can follow while using Twitter.
1. Tweet at the right time:
When you use Twitter, it is always tracking the time when your targeted customers are active. People won't be active on Twitter all the time. A good research about your audience will help you to identify the right time to Tweet. There is no use to Tweet on the time where your audience is less active. You can do good research about your audience and find out the best time to reach to them. As per the latest research, most of the audience are active between 2 pm to 6 pm EST.
If you can Tweet on Sundays, it is also beneficial to improve the reach of your Tweet. You might also consider your audience and the future of your business. There is no use if they cannot see your Tweets. Be alert and tweet on the time when your audience becomes most active. There are tools out there which you can use to find out the most active time of your audience.
2. Ask for a Retweet on Twitter:
While publishing your Tweets, you can also ask for your audience to retweet it. There is no shame in asking your audience to retweet.
If you have genuine followers, they can retweet your tweets and make sure to improve its visibility. There you can also use CTA words like click here, share, order Now, call us, please retweet, RT and many more to get the response you want through your Tweets.
Don't hesitate to include attracting Call to Action words with your Tweet so that it can increase your Return on investment easily without much effort.
3. Use more hashtags in your tweets:
Using Hashtag is also beneficial to improve the reach of your Tweets. Using hashtags with specific keywords can improve your chance to get more visibility online. You can use any number of hashtags you want. But one thing to be noted is that don't use more hashtags and make it look like a spammy content.
People are afraid of sharing such contents. It may also affect your trust among the audience. So, it is better to be careful while using hashtags to refrain from using spammy words. There is more chance of getting retweets while using hashtags. It is proven that more than 18% of retweets contain hashtags than others. It is very good to get an idea about the power of hashtags on your Tweet. If you use 5 hashtags, you will get an average of .301 retweets.
4. Tweet using links:
You can use Twitter and promote the links to your website through it. Most websites use Twitter to promote their website and attract more audience towards it. If you are someone who uses Twitter for your business promotion make sure to share your website links within it, whenever you want to share a new update with your audience. It can help more people to see your website link and will also increase the number of organic website traffic. More than 52% of retweets contain links of your website.
If you are tweeting a new update or something about your website or business, it is more likely to get shares among your audience.
People always want to share something new and interesting on Twitter and you can easily do this by concentrating on your post quality.
5. Do more retweets:
If you are someone who retweets more often you are more likely to get more retweets too. This is common psychology you can try to get better output from Twitter. For that, you need to be more active on Twitter and share as many Tweets as possible. It can help you to get more visibility and retweets as you expect. You can try this strategy and see how it work for your business. Most people who tried this strategy got a better output on Twitter.
6. Use retweetable words:
There are some words which you can add with your Tweet to get more retweets. According to Dan Zarella's study, these are the most common retweetable words you can try to include within your Tweet.
Post
You
Twitter
Share
Social
Media
Help
Follow
Retweet
Blog post
Share
Check out
The above-given words are proven as the best choice to include within your Tweet to get the response you want from Twitter. There are some tools also available which you can try to use while creating your tweets. These tools will show you the most popular retweetable words you can use on your Twitter post. It will give you a clear result of using the best words to create your tweet.
7. Give space for your audience to retweet:
When you create tweets to make sure to use minimal words. Usually, you can use up to 110 characters while explaining something. But it is always better to consolidate your tweet and make it minimal around 60-80 characters. This will give some space for your audience to add any comments while retweeting your tweet.
People will become lazy to edit your tweets and add comments while retweeting. Nobody has time to spend on it also. It is better if you can refrain from creating an elaborate tweet. Create a simple easily retweetable post and make their life easy.
8. Use quotes in your post:
If you are a great fan of quotes, it is the best idea to include some quotes in your Twitter post. You can create your Tweets better receptacle by the audience by including some interesting quotes in it. Some people don't want to spend unnecessary time on researching and finding out interesting quotes they can use. The Internet has a great collection of such quotes and you can spend some time to find some suitable quotes for your Twitter posts.
9. Talk to your audience in their own language:
It is a very good idea to know what your audience wants from your tweets. If you can communicate with them in their own language it can help you to get more retweets. People always like to share interesting tweets among their contacts.
You can easily do that by communicating with your audience in their own language. Know the terms and special words they use to communicate something related to your business. Use them in your tweets to get a better response from your audience.
10. Build a relationship:
It is a good idea to use Twitter to build a better relationship with your competitors. I already explained about the benefit of retweeting other posts. You can share your competitor post and build a good relationship with them.
A business relationship is always helpful in building strong branding. You can share other's tweets and ask them to share yours once in a while. By following this idea, you can connect with so many people and use them for the better future of your business.
Conclusion:
Twitter is very powerful when it comes to connecting with people. If you can use it wisely, it can help you to make your business more popular online. People use this platform to explain their opinions about a topic. You can also be a part of this common feature and also to introduce your business to people out there who use this platform.
Use Twitter to create a good name about your brand by sharing informative tweets and getting more retweets from people who are interested in your posts.
Are you using Twitter for business promotion? If yes, what are the strategies you follow to get more retweets for your posts? You can help others to be successful in using this platform by sharing your experience with us.