Are you looking for a perfect domain name?
A perfect domain name is very important if you want to start a new website. It is a long process and will take some time for you to find the right name.
You can buy domain names by paying cash from sites like Godaddy, Flippa, Sedo, etc. For starters, free domain names are also available from various sites.
Most of the people prefer .com names and its demand got increased now. So, it is difficult to find out a unique name that nobody uses.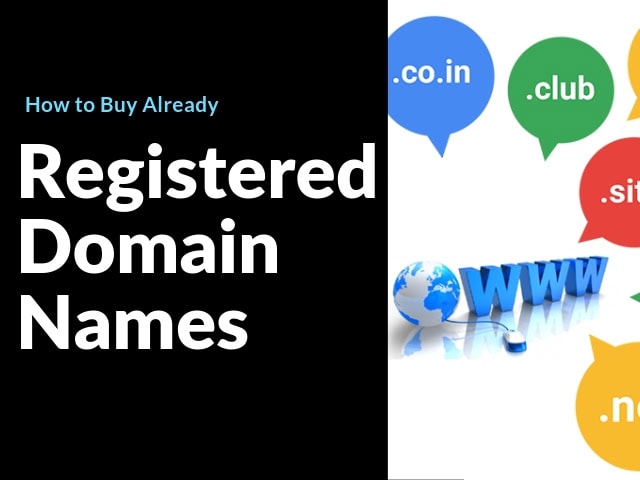 Sometimes after finalizing a name when we check for its availability, it will show that someone else uses the same domain name.
You cannot use a domain name that somebody owns because it may cause legal issues in the future.
What to do if you really want that same domain name?
Then you can try to buy that domain name from its owner. There are many things you can do, to get all ready registered domain name.
You don't have to worry about buying registered domain names if you can follow the steps given below.
How to buy a domain name that's already registered?
Do you want a domain name that's already registered?
Here are the simple steps you can follow to buy an already registered domain name
Step 1: Identify the domain name owner
You will get the contact information of the website owner from the contact page of the website.
If you cannot get the details from the site there are free online tools available where you can check the owner's name.
Who.is, just-ping.com, whoishostingthis.com are some of them. You will get a contact name, email address, and nameservers from these tools.
While registering a site you need to provide the email address of admin, registrant and tech contacts. There is a detailed form you need to fill before buying a domain name called ICANN.
This rule is applicable to everyone who wants to buy a domain. If you want, it is possible to keep your information private. That's why sometimes you cannot find the owner's contact details from the website.
Step 2: Connect with the domain owner
Next step is to communicate with the owner and explain your need. You need to be polite and send him a request.
Don't use any harsh languages in your mail. You can convey your interest to them and make an offer.
Ask them whether they consider selling that domain. Let them know that you are interested in their domain name.
Be ready to hear some overexaggerated price. If they are not using the domain and does business with it then they may ask you for a large amount.
You can make a counter offer and bargain if you want. But usually, it won't come down easily.
If that amount is OK, then you can close the deal. If not search for any other available option where you can find a domain name as per your expectation.
There is no way to find out whether the domain is worthy of the price or not.
Price of a domain depends on its demand. You can only do some background check on that domain and decide its value.
Step 3: Use broker service
If bargaining is not working, then you can use a brokerage service like Sedo to help you with the deal.
They buy the domain you want and will give you an extra fee for their service. The fee depends on the amount they spend to get that name.
Involving a third party may increase your expense but you don't have to worry about the procedure to close the deal. Also, they make the process of domain exchange safer than handling your own.
If you can get a good broker service, then you don't have to worry about the deal. It could be expensive as they charge for this service. It is the best way to get the name you want.
It is safe also as they check everything about that domain before buying it. Also, they inform you if they found any problems related to the domain name you want.
Step 4: Buy it from a market place:
If you haven't got the required domain directly from the site owner, you can try it from marketplace and auction sites.
Every domain on sale will be published on a market place or auction site. You can visit sites like Sedo, Afternic, Bido, Namejet, etc to know about domain sites on sale.
If the desired name is not available, then try the best alternative to your chosen name.
This is the most economical method you can do. Wait for the site to appear in selling market places.
You can buy it from there. Owners won't quote an overexaggerated price if they really want to sell it.
While getting it from market places you don't have to worry about fraud cases. These sites always make sure the domain is genuine before selling it.
The only thing you have to do is register in a market place from where you want to buy the domain name. Search for the desired name and close your deal if the expected domain is available.
Step 5: Wait until the domain expires
If the above step is not working you must wait patiently until the domain expires. This is a long process and you must see whether the owner lets it expire or not. You can reorder the domain name near to its expiration date.
You may or may not get the name; there is no guarantee for that. In order to get the domain name, the owner must let it expire.
The site owner receives an email about expiring their domain. If they want to continue the ownership they can pay the fee and renew it.
An owner must renew it within 75 days. Some registrars alert you when they sell it and some others put the name for auction.
You can bid it online by paying first. Patience is essential if you want to get the same name as you expected.
Step 6: Buy the domain directly
When you visit a domain, you can see a page with a notice for sale. You can directly contact the owner and get that domain for yourself. You can see the price detail and contact information on the landing page itself. So, you don't have to go anywhere else to buy it.
If you don't get the domain even after following all these steps, then you should consider other alternatives to it.
Try changing domain names that end in .com, .net etc. Instead of it try one that ends with .io, .tl, .ly, .me, .co etc.
Use any of these and try various experiments using domain names. If you cannot get the desired name, then satisfy with an available name.
If you succeeded in getting a registered domain name you need to check some points before buying it. There may be frauds who try to sell domains that already in use. Don't buy domains that are not safe.
Look every aspect related to that domain and make sure you got a domain name that is completely safe. Don't risk yourself by purchasing a corrupted domain. It is better to find any other domain names instead of a corrupted domain.
Things to be noted before buying registered domain names:
There are some important points you need to consider before buying an already registered domain.
Domain history:
Before buying a used domain an important point to be noted is to check the previous history of the selected domain.
Check how old the domain is. Everybody trusts older domain than new domains.
Domain authority also matters:
Domain authority also plays an important role while getting a used domain.
Always check for domain authority without just going behind a name. Domain authority is a very important deciding factor of site ranking and traffic.
Before buying a domain, you need to know domain registration date, expiration date, swapping date, etc.
The extension doesn't really matter:
You can choose any extensions. Don't think that .com or .net only works. Try other extensions also
Domain name:
Don't choose a long domain name. Always try to choose a domain that is related to your niche. It is better to avoid numbers, hyphens or any other symbols.
It is better to keep it simple and buy a domain name with an SEO advantage. It will help the growth of your domain in the future.
Check whether the domain is penalized by Google:
Before buying any domain do a detailed check about it in Google. Even though the name you look for is great, don't buy if it is corrupted or penalized by Google.
If the domain is not present in the search result, then it may be penalized by Google.
Don't transfer money via bank or wire:
Escrow service is a safer service in order to transfer the money. You don't need to worry about any fraud case or not getting money properly.
If you are getting a high-value domain, use a third-party service so that you don't have to worry about the transfer. They handle everything safely.
Compare the domain prices:
NameBio.com is a place where you want to check the prices for similar domains.
You can compare it with similar TLDs and know the current price range domains. You need to offer that range first when you make an offer.
Don't choose a name with copywrite issues:
When you buy a used domain, the name makes sure there is not any copywrite issues.
If not, you may have to face a penalty from Google. Also, check for DMCA penalty against that domain.
There are many tools available to check the same. Make sure to check it before buying the domain.
Research on the internet to know similar sale:
If you are new to this field, you may not be aware of the trends going on in the market.
Do a detailed analysis to know more about selling price of similar domains. It will help you to know the price range you need to pay for the domain you want
Know the seller:
This is the most important thing you need to notice. You should know about the seller well. Make sure to buy a domain from a reputable seller.
Do good research about the seller and make sure that you can trust him. Search on various social media platforms to know more about the seller.
Note: Domain name transfers many times. So, it will go through many niches and backlinks of that domain name will be related to old niches.
Before buying a domain, make sure to check for earlier niche history. It will help you to avoid irrelevant backlinks.
Conclusion:
Here are the important things you should consider before buying a used domain name. If you do not have any experience in getting one before, follow the above steps and get one easily. Now, you are ready to handle this task.
If you haven't found the domain name you want, no need to get frustrated. Check back again and again. If the domain is not in use, the owner will sell it for sure. Wait patiently and get your favorite domain when the owner sells it.
If you cannot handle all these together, it is better to hire a professional who can do it. You will get better service from them. No need to get confused by all those procedures.
Try if you can buy the name you want from the owner. If you cannot get it to try a different alternative by changing the spelling a little bit.
Otherwise, use any other domain ending like .ie, .io, .tl, etc. this helps to give you more choice.
Are you ready to get your favorite domain? Go for it, taking risk is a part of every business. It will lead you to success for sure.