Searching for the term "Bounce rate"?
Well, it is an important term when it comes to website management. If you are struggling to popularize your site or increase your site traffic that means your site's bounce rate could be high.
If you want to improve the conversion rate one of the best solutions for it is, to reduce the bounce rate.
Low bounce rate is always advisable, as an increase in bounce rate indicates that there is some problem with your landing page.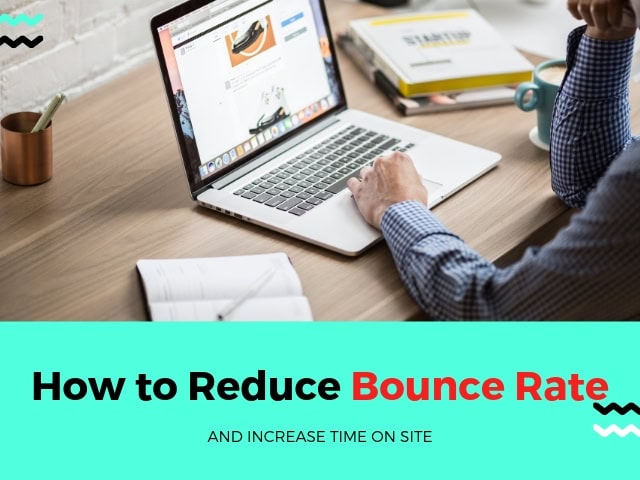 You need to redesign if you want to reduce the bouncing rate of your website.
Before going into more details, you should know what the term really means
How to Define the Bounce rate?
According to Google Analytics, the definition of the term bounce rate is "the fraction of page visits on a single page".
This says that when somebody leaves your site entrance or landing page without clicking any more pages or links from it. That means there is some issue with your site entrance page.
Bounce rate is the percentage of people leaving the page immediately rather than staying, a low bounce rate is always good.
What is Good Bounce Rate?
As you know this is a percentage value that indicates the number of visitors left the site without spending much time to the number of visitors who stayed.
Here is the answer to your question. There are various types of bounce rate.
Types of Bounce Rate:
Excellent bounce rate:
Sites with a bounce rate of less than 10% come under this category.
Here, to attract viewers they will include something interesting on the landing page like an immediate media load. This may keep viewers more time hooked with that page
Generally a great rate:
Sites with a bounce rate of 20-30% come under this category.
To get this bounce rate you can include some engaging activities with internal linking. It could be any events, in-site marketing, etc.
Medium bounce rate:
These are sites that come with a bounce rate of 30-50%. Here viewers may not find anything interesting to stick around and they leave the site immediately. These are not a bad category. Even with this bounce rate, some sites do well.
Poor bounce rate:
This category of site is performing very badly. If the bounce rate is 60-80% then we can consider them as poor rate.
The reason behind this could be many like low- quality contents, error in loading pages, slow loading sites, etc.
If the bounce rate is 80% and above, then you have to seriously make some proper changes to your site to improve the bounce rate.
Broken site:
A site with 90-100% bounce rate comes under this section. The reason behind this could be spammy pages, 404 error, poor language, complex content structure, etc.
If your site comes under this category, you need to redesign the site and make it appropriate for users.
Bounce rate formula:
From the definition itself, you will understand the formula Google Analytics uses to calculate bounce rate. It is
Bounce rate =Total number of bounces on a page (in a particular time) / total number of entrances on the page (at the same time)
Rb=Tb/Te
Bounce rate benchmark:
There is not a benchmark value for bounce rate. To get a bounce rate below 20% is difficult according to experts.
Try to keep the bounce rate between 20 and 35%. If your bounce rate goes above 35% then you should need to consider proper improvements to reduce the rate.
If the bounce rate goes above 50% it is a worrying situation and you need to redesign your landing page immediately.
Bounce rate checker tool:
When it comes to calculating the bounce rate of your site a tool is essential. There are tools like clicky.com, Nltechno.com, Google Analytics and many more for this purpose.
Among them, Google Analytics is the free and most popular tool most website owners use to measure bounce rate.
You can sign into Google Analytics with your Google account. Follow these steps to check the bounce rate of your site
Sign up through the Webmaster Tools section of Google's website. You can use Google account details to log in.
There you can select 'Analytics tool' from the left side of the page
Allow this tool to run on your website for several days or weeks. This will allow the program to get information about your site
Now you can go back to your Google account and 'Access Analytics'
Select the account which you created for your website. next page you can view the report. There you can find every detail related to your website.
Ways to Reduce Bounce Rate:
Bounce rate is a very important factor regarding a website. It shows how engaging your site is. So, it is important to improve the bounce rate of your website.
You can improve your site's bounce rating by making some improvement to your site. Here are some tips which you can follow to improve the bounce rate of your site.
1. Improve page loading time:
According to the latest survey, more than 47%of users want to load a page within 2 sec. if the loading speed is slow they will leave the site and search for other options available.
Slower the site loading, higher will be the bounce rate. In fact, it affects your Google ranking also. This can also lead to a reduction in business and users might not want to visit your site.
If you want to reduce the bounce rate of your website, you can improve loading speed and make it faster.
To check the page loading speed, you can use Pingdom or Google page speed. It will show you exactly the loading time of your landing page.
If it is more than 3 seconds you need to reduce it. Here are some changes you can make to improve your site loading time
Reduce the number of HTTP requests
Reduce DNS lookup
Use a Content delivery network
Reduce cookie size
Choose the right hosting option
Enable compression and browser caching
2. Give a better user experience:
If you can give a good user experience while operating your site that will help to improve its performance.
While designing your website keep in mind about your target audience and do the design for them.
Online users have only got an attention span of 8 sec. You have to impress them within that time. If your content is too long, you can connect them to internal pages or add anchors text that can lead to various important points on content.
You can also improve your content structure and make it easy to follow. Add more appealing images and videos which can bring a fresh look to your content.
If you can hold the attention of viewers in your landing page there you go. This will automatically improve the bounce rate of your site.
3. Include relevant contents:
Content relevancy is a very important factor that contributes to lower bounce rate.
When a user lands in your entrance page if he cannot find the answer for the query they are looking for, they will bounce for sure.
When you want to improve your site ranking by including relevant keywords you should also consider the relevance of the topic.
While you include a topic in your site, make sure that the content will help the user to solve their question. Users will stick around more time if they find your content interesting. This will help to improve the bounce rate
4. Make your site readable:
While posting contents make it interesting to users. some contents come with big letters and readers will not have interest in it. Post contents with a neat look and are easily readable.
When you explain a particular topic, include a heading and explain about it just below. If you want to include important points, you can use bullet points there.
Just make it simple to read also. Here are some points you can consider
Use interesting subheadings
Use bullets to explain points
Include images, charts, and other infographics to explain something important
Bold the keywords
End your content with a good conclusion. You can include an interesting call to action there.
5. Make your site mobile friendly:
Is your site compatible with mobile devices?
Check for your device compatibility with the various mobile device. Most of the customer's checks site from their mobile.
Mobile optimization of your site is now considered as an important ranking factor. It is a very complex process for many large sites. They need to invest more to create a mobile-friendly site.
As this is a very crucial change you have to make to reduce the bounce rate of your website, users won't stay longer if your website cannot access using a mobile device.
You can use Google mobile-friendly test to check whether your site is mobile friendly or not.
6. Include a persuasive call to action:
If you use a persuasive call to action in your site, it can improve the bounce rate.
CTA should be something related to your content. If you created an excellent content with good titles then don't disappoint them with a weak CTA.
After seeing that CTA, a user should click on it. You have to build that curiosity in users by creating a compelling call to action.
You can offer something better for users through a call to action. This will surely help to reduce the bouncing rate of your site.
7. Show your credibility:
The word credibility is very important when it comes to popularizing your website. it can create trust and belief among users.
Being transparent is the best solution for it. Don't pretend anything, just show the real you to your followers.
You can include your contact details in your blogs and communicate with them well. This will create trust among users and many will stay in your site for more time. Thereby your bounce rate also reduces.
8. Avoid unnecessary pop-ups:
Unnecessary pop-ups are always annoying. You can avoid them on your website. when you want to get more subscriber pop-ups are good.
But it will be annoying if a pop up appears when you seriously read something.
Everyone will be annoyed by the appearance of pop-ups which asks for you to subscribe to something.
Annoying pop-ups will reduce your potential users. But if you can design it well and give attractive offers, pop-ups are also good. If you can avoid distracting pop-ups you can reduce bounce rate of your site.
9. Target keywords with high traffic volume:
If you can include keywords with high traffic volume in your content it can help to reduce the bounce rate.
Without using keywords properly, your content will not appear under search results. There are commercial and informational keywords.
Commercial keywords show about a product while informational keywords create awareness.
Make sure not to create content only to get good ranking. When you create content just use keywords naturally in it.
An overstuffing keyword may increase the bouncing rate of your site. You can use the Google Keyword Planner to find out keywords that can bring high traffic volume.
Include those suggested keywords on your content naturally and make your content entertaining to users. This will help to reduce the bounce rate of your site automatically.
Final words:
From this article, you will get a general idea about the bounce rate. For a website bounce rate is very important.
The main aim of every website owner is to entertain visitors with their content. If you can hold them on your site sometime with good content quality, then you will get a good bounce rate.
Always try to lower bounce rate by implementing necessary actions. All the above tips will help you to improve your SEO as well as reduces the bounce rate.
Bounce rate is an important factor as per Google. Find out your website bounce rate and check whether it is a good one.
As I said above, a site with a bounce rate of less than 20% is considered a good entertaining site.
Satisfying users are very important which decides your site quality. Make your landing page as best as possible so that it can create that curiosity among users and make them stick on your site longer.