Do you wonder how can you earn money online? I would suggest switching to a recurring affiliate program. In this post, we list some of the best recurring affiliate programs that let you earn passive income. Some of them are so good that you can use them as income for a lifetime.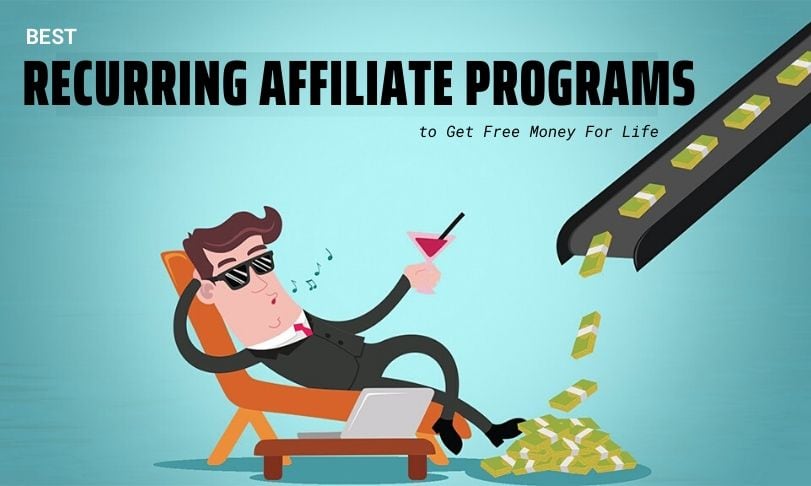 Best Recurring Affiliate Programs:
1. Aweber:
It is one of the finest tools for email marketing that allows free signup and a 30% recurring commission for each referral for a lifetime. No matter which plans you select, you will gain access to unlimited emails starting only at $9.
You can try the 30 days free trial to know in detail about it. Using Aweber, you can send RSS to email, follow-up emails, and more.
2. Ninja Outreach:
The next amazing software is an all-purpose tool that offers four different subscription plans. It lets you earn 50% recurring commission for each referral on a monthly basis.
It is surely an interesting tool that provides you an opportunity to earn great. The software holds two products and users are billed every month.
3. JVZoo:
This is another highly useful affiliate network, which has been into operation for quite some time. It offers information-rich products like list building, email marketing, product development, and more.
Joining JVZoo is absolutely free and offers you immediate access to its product library where you can check various products meant to promote to the audience. Moreover, it offers you 100% instant commissions.
Products can be promoted through email lists, blogs, PPC, website, and more. Also, it is great to earn recurring commissions on various products. With real-time tracking of earnings and traffic, it is definitely an excellent tool.
4. Clickbank:
Now, this one is really big and you must have already heard about it. It comes with an ever-expanding brochure of high-quality digital products. Clickbank provides numerous high converting commissions on a recurring basis, which are termed as Re-bills.
In addition to a rich rebill rate, the Clickbank products are sold on a repeating subscription basis. It is a great chance for digital markets to earn money every month. Also, it comes with a range of great tools to make money. The advanced reporting system offered by Clickbait is great to gain detailed information about sales, clicks, and impressions for the offers.
5. ConvertKit:
This is popular software for email marketing that is loaded with numerous rich features. It comes with an awesome affiliate program with successful affiliate partners who earn thousands of recurring revenue on a monthly basis.
It is a great platform to create new opportunities for affiliates and earn commissions. Using this, you can even earn a 30% commission on a monthly basis with each refers. But remember, it does not entertain self-referrals.
6. Affiliate Program from Shopify:
Shopify is one of the top e-commerce software that permit its users to sell online as well as offline.
With the help of Shopify, you can own a fully-functional eCommerce website or a shopping cart for your already existing site. It lets you earn around 70% of payment gateways.
Shopify is an SEO optimized platform where you can earn 20% of each referral.
7. SocialPilot:
The next tool is SocialPilot, which is a great social media scheduling and marketing tool. It is already used and trusted by innumerable social media agencies and professionals to boost their online marketing efficiency in less time.
SocialPilot lends an opportunity to share 500 posts and engage with up to 200 social profiles from one account.
The rich reporting features and powerful analytics help you gain a complete assessment of the social media strategy. Using its affiliate program, you can earn around 30% recurring commission for subscription sales. Also, it offers a variety of links and banners useful on your site and for social media promotion.
Using it, you can earn commission on the basis of subscription and as soon as a visitor clicks on one of the following links. Also, it is free to join its recurring affiliate programs.
8. GetResponse:
This is one of the famous and prestigious tools for email marketing that is also a good competitor to Aweber. If you want a tool that can offer you a better recurring commission in the affiliate program, you must go for Aweber.
They offer around 33% of lifetime commission for referring one user to the email marketing tools. It comes with a 30-day free trial offers that can drive users to take it up. The minimum payout is $50 and payment methods are cheque and Paypal.
9. Instapage:
Another promising recurring affiliate programs are instapage, which holds a robust landing page and ideal for marketing agencies and teams. This tool allows you to maximize the conversion rate as well as create post-click landing pages in a few minutes.
It comes with a full-service testing tool for optimizing the performance of your page. You can easily manage sophisticated campaigns at scale using its advanced button.
It comes with more than 200 pre-built templates that are useful to create responsive and stunning landing pages without requiring any developer. It is possible to create numerous landing pages for one ad group and keyword.
This program offers highly powerful collaborations and is useful to manage multiple campaigns, collaborators, deadlines, and clients. With this landing page, you can enhance workflows. You earn money using InstaPage whenever you refer clients to it.
Not only you earn a 50% revenue share on the initial payment, but you also gain the opportunity to earn 30% lifetime revenue on self-serving plans.
To earn a part of their revenue for each account you need to refer to Instapage through the affiliate link. The best part is that it allows you to earn on a weekly basis.
10. SEMRush:
This is a highly popular tool for SEO and keyword research. It offers a lucrative option for the recurring commission of up to 40%. Their official affiliate program is BeRush.
On joining this recurring affiliate programs, you get a chance to promote one of the world's biggest and highly competitive intelligence services. With the opportunity to earn high recurring commissions on a monthly basis, using SEMRush is an excellent idea.
You only have to place your widgets or banners on the blog and try gaining more refers to make a good volume of monthly profit.
11. WP Recurring Program from Thrive Themes:
It is a highly popular name in WordPress Plugins and Themes. Its plugins and themes are built from ground enabling you to alter more of the visitors into customers, clients, and subscribers.
Being an affiliate you can enjoy up to 50% commission for every purchase. In addition to this, you earn a 25% recurring commission if any of the purchase is referred to as Thrive Membership or Agency Membership where they can use all plugins and themes.
The recurring commissions are paid by them on a yearly basis. Also, you can earn more each year by selling their membership plans.
One unique aspect is that you can provide special attention to its affiliates using a support system. Within this, you need to position banner ads for products on your website. Moreover, you can check the statistics to keep track of the sales, commissions, and traffic.
12. Propeller Ads:
Another very efficient and popular advertising network particularly famous for pop-up under ads is the Propeller Ads. It provides the finest eCPM rates within the industry and offers pop-ups, post-rolls, overlay ads, pop-under ads, and pre-rolls.
It offers absolute inventory monetization, 24×7 qualified support, and detailed real-time statistics. It provides up to 50% recurring referral commissions for referring new publishers to their advertisement network. The various payment options it accepts are Payoneer, Webmoney, MasterCard, bank wire, and more.
13. Teachable:
This serves you a chance to conveniently design an online course with its robust and simple all-in-one platform. This tool can be used to sell thousands of dollars in an online course. It is undoubtedly the best place to design an online course.
Moreover, using Teachable you can earn huge income on a monthly basis. All you have to do is join its free recurring affiliate programs, which pays out up to 30% commissions in a 90-day cookie.
Once you refer someone, you earn a commission when that person stays as a client. Hence, send traffic once and you can earn forever. You must have sound teachable experience and an engaged audience in order to be successful.
14. PopAds:
This affiliate program is highly popular for pop-under ad networks. It serves as a great recurring affiliate program where you get a chance to refer advertisers and publishers to the advertising network.
You will be really impressed with its services, which are secure, efficient, and fast.
15. Max Bounty:
This one is a famous CPA network for affiliate marketing programs that connects the skilled and trusted affiliate marketers with high paying and vetted advertisers. It offers commission in various kinds like CPL, CPA, and CPS.
With a minimum payout of around $100 and a rich recurring affiliate program offering a 5% referral commission for a year, it is great to use.
16. LiveChat:
This is one of the top customer service software programs in a dynamic and rapidly expanding eCommerce market. It lends the opportunity to become a LiveChat Affiliate Partner and earn around $4.500 for each referred customer.
Starting with this tool is very easy as it is designed with a simple interface that focuses on helping you earn serious money. It lets you earn recurring payments for clients you refer to and earn around 20% recurring commission for the one you referred to that stays with them.
You will love using it as it's easy to promote and simpler to sell and lets you earn a stable volume of passive income. Every sale you offer can lead to multiple payments onto the partner account. Also, it comes with a 120 days cookie period so that clients can finish purchase in 120 days from clicking on the referral link.
Whether you are a website owner, blogger or content writer, YouTuber, Social media expert, this tool is perfect for you.
17. ExoClick:
It is a popular mobile and web ad network that functions like pay per click platform and offer services for publishers and advertisers.
When you join its recurring affiliate program, you get a chance to earn a 5% referral bonus for a lifetime.
18. Olark:
It is a simple live chat tool offering multiple customizable features for enhancing the chat experience for your team and visitors. It offers you automated messages, real-time reporting, team management, and numerous other advanced features.
You can become an affiliate and earn commissions for new customers you refer to. It lets you earn a 25% revenue share for the new referrals. It has no limit on how much you can earn and refer to.
It provides payments on a monthly basis through PayPal as well as a partner portal to track payment history and referral activity.
19. Internet Marketing Tool from Raven:
This SEO tool is highly popular and enables you to earn high affiliate commissions when the Raven tools are promoted. It lets you get 50% of the payment in the first month along with a 10% recurring commission for a lifetime of the sale's account.
When you open a Pro account, you earn $9.90 per month recurring revenue and offer you $24.50 per month recurring revenue and comes with 6 months return policy that offers you benefit on earnings and conversions.
20. Post Affiliate Pro:
This is robust affiliate software allowing you to monitor registrations, sales commissions, and leads. In addition to outstanding customer service, it lends you a chance to earn around 30% commissions for every sale provided. With every recurring order, you earn a 5% commission.
Additionally, you earn a $5 commission for signing up for the affiliate program. Also, you can refer to other affiliates to join the affiliate program. Such affiliates will be your sub-affiliates and earn a 5% commission on the sales. The minimum amount to pay is $100 and has referred a minimum, two distinguished customers.
Conclusion:
So, these are a few best recurring affiliate programs you may consider. Just check your preferred one and start making money online.