YouTube is the second largest browsing platform owned by Google.
Videos are very powerful to create an impact on the audience. This is a free platform where you can upload any of your videos and make it viral.
If the audience loves your video, it will be easy to get popular. That's why many marketers use this as a medium to promote their brand.
Like optimizing blogs for the search engine, you can also do it with your YouTube videos that will help to rank youtube videos.
YouTube is a site owned by Google and because of that reason, there is a high chance of getting it ranked at the top of search result.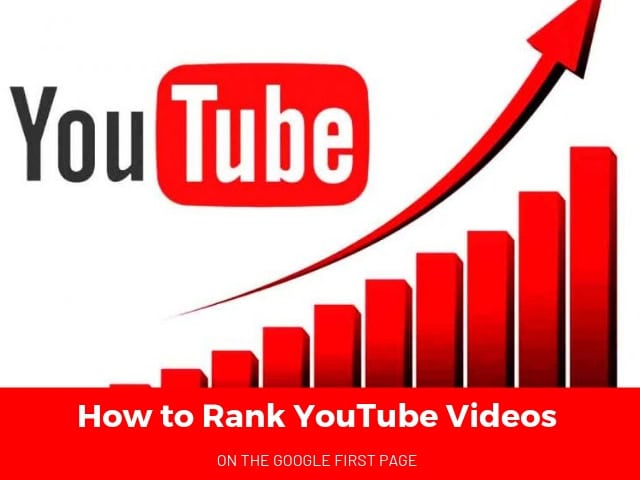 You can post your Video on YouTube to improve its reach. When you optimize video for search engine, it automatically appears on the top list of YouTube search result.
So, we can say that the main idea behind optimizing your website is to attract more site traffic.
Tips to Rank YouTube Videos on the first page of Google:
First and foremost, the thing is the quality of video content.
If your aim is to attract more traffic the content quality is very important. This can help you to find an audience for your website.
First 1 million viewers are very difficult to achieve. But after that, it will be easy to reach more viewers.
Why everyone creates a video to explain something?
The reason behind it is very interesting. People love to watch videos than reading a long blog.
Many people even don't have the patience to read an entire article, so they prefer videos. Also, videos have got the power to explain complex things easily through animations.
If you can create videos that explain things simply, it is easy for you to get more traffic, attention, and ranking from Google.
This is an article which shows you some important changes to be made with your video to rank it higher on Google.
SEO to Rank YouTube Videos:
Optimization of the video is also, almost the same as that of blogs.
There are not so many things to control here. Some people want to make money from videos and some other look for popularity.
For both, YouTube videos are the best. To make money from it, you should optimize your video to get it ranked on the first page of Google.
You can follow this guide to optimize your YouTube videos and see it at the top of the search result. The process is very simple if you can use the right tool and methods appropriately.
1. Keyword research:
Keyword research is the main thing you need to do while optimizing your website.
Keywords are the popular terms users search to find topics from your niche.
How can you find those keywords?
There are many ways to find keywords. It is not about finding keywords, you need to use them properly in your content to get ranked well.
Also, one more thing is that overstuffing with keywords cannot help you. It may cause negatives more than positive.
Find from search:
You can type something related to your keyword on YouTube Search result. It will show many word suggestions to what you entered.
Those suggestions are some popular terms users searched based on your niche. You can make a list of keywords from it, optimize your video title with proper keywords.
YouTube traffic sources:
Another source of keywords is your YouTube traffic source–>YouTube search report.
This is one of the best ways to find out user searched keywords based on your niche. You may also find some keywords that nobody else used.
Pick that one and use it in your YouTube video. This can make your optimizing task easy.
While picking one keyword, you can try using some less used keywords. This can help you to appear on the first page of Google search result easily.
From Google:
There will be a keyword list everyone gets from any keyword researching tool. There you can see keywords with a level of competitions.
You should not pick highly competitive keywords because when a top brand uses them you will get lost in that crowd.
So, it is better to prefer low competitive keywords and use them to your advantage. Google trend is also useful to know how to use keywords in your article.
Check your competitor:
Videos get popular as a result of optimization. You can find out the popular videos in your niche and check the keywords they used as the title.
You can use the same word with your title to get it optimized. There may be keywords in the title, description, and tags. You can find them out and use them with your video.
When you want to find out the most popular keywords one thing you can do is to, check your competitor site. There you can check their title tags, video description to know what keywords they use to get it ranked on the top.
You can also adopt the same method of using those keywords and tags in your video while optimizing. A longer description is advisable to your videos because YouTube prefers that.
Use all possibilities and find a suitable keyword to optimize your video. Using video keywords can help you to get listed under top search results on Google page itself. The result is that you will get traffic from both YouTube and Google at the same time.
2. Create high-quality videos:
Just by implementing keywords your video cannot be popular. If it is not interesting people won't come back to your videos again.
The main aim is to create retentive videos that can attract people and force them to come back.
If your video is entertaining to people, it will always be on the top of the list of YouTube search result.
According to YouTube, a highly retentive video will be a quality one, it is one of the important ranking factors. Like Google, it doesn't have backlink or any other factors to determine site quality.
So, the question is how to create such videos?
There are 5 factors, YouTube considers determining content quality.
Comments:
When a viewer comments on your video that means they enjoyed it a lot. YouTube takes it as a strong signal to identify its popularity.
According to detailed analysis, this is an important ranking factor. So, make sure to create engaging contents to get more comments from the audience.
Subscription to your video:
If viewers subscribe to your video after watching, it means that they enjoy watching your video.
More subscribers mean more popularity. So, you can ask viewers to subscribe to your videos. This is as a reminder for them.
Video share:
Shareability of a video is very important. People only share good quality videos. If your video is shareable and of good quality, users will share it on their social media account.
So, when many people share a video, it means that the video contains quality contents and it entertains or engages the audience.
Click through rate (CTR):
When anyone searches for a keyword in YouTube and click on your video from search result then it means that they find it interesting.
Sometimes by seeing the title, they will click. So, higher CTR means better content. So, make sure to include attractive thumbnails and titles to attract viewers to your video.
You can create thumbnails easily when uploading a video. You can customize thumbnails or choose any of them which YouTube shows you.
Creating engaging thumbnail is a very important factor to attract more viewers and rank youtube videos higher among competitors.
Likes:
More likes for a video is an indication of its good content. When you create videos, make it more likable and it is an important ranking factor to YouTube also.
Video length:
This also plays an important role when it comes to ranking. Longer videos perform better than shorter videos.
So, create long videos to get a better ranking. The optimal length of videos on YouTube that may work best will be 8-12 minutes.
You can check your competitor's video length and find out how they optimize their length to rank better.
Now you got how to create retentive videos and get a higher ranking to your video. All the above points are very important when it comes to the ranking of your video.
So if you can make good videos and make it entertaining, ranking youtube videos higher will be very easy.
3. Video Optimization:
Next step is to optimize the video. You found out important keywords already. Now you need to include targeted keywords in your video content.
This will make YouTube believe that your content is about that keyword.
Video title:
The title can be of any length. But optimal length is up to 5 words and here you need to use keywords without overstuffing them
Video description:
Next important part where you need to use keywords is with your video description.
The small description says about the content of that video. You can create a description of up to 250- word length.
When you do that, include the keyword in the first 25 words. SEO optimized description will tell Google that your content is not a spammy one.
Title tags:
Using keywords in the title tag will also help you to get it ranked well.
4. Promote your video:
This is a very important step to do while optimizing it.
Promote your videos on social media platforms like Facebook, Twitter, Instagram, etc.
This can help you to get more audience and most people come back if they like the content. There are various tips you can try to promote your videos.
Publish your video links on Quora, a popular question-answer site. This will help you to get more quality views and according to experts, this is an important ranking factor too.
Add video links with your email signature
Include videos in your blog post. Blogs with video to explain the process will have more followers because they are easy to understand
Creating a playlist also can help you to arrange the same type of videos together. It will also make easy for users to find out any videos
Create your own channel if you produce videos regularly. Make the channel look attractive with good design.
If there are so many videos, a channel can integrate them and help to give you more subscribers.
Also, you need to optimize your channel well with keywords in title, description, and tags.
Additional Tips to Rank Youtube Videos:
When you upload videos, only upload HD quality videos. Try all availabilities to give maximum experience to users. There are many possibilities for you to try like 4K, 360 uploads, virtual reality, etc.
Add links and CTAs to engage your audience more. Most of the customers will react to CTAs if they love your video content. If you are promoting a product through your video, add a link to it below. This will help users to find the link to the product easily.
You can also do some link building here. When you create a video that describes well about a topic then somebody who writes about the same topic may add your link to his blog. This can help you to improve your search traffic as well as popularity.
The search engine will think that your video is valuable and that's why many people use your video to explain something. This improves that chance to rank youtube videos higher.
Final Words:
Anybody can create a video on YouTube but to rank youtube videos on top consistently may not be easy without proper efforts. If the content is excellent, people will follow your videos.
Simple videos are always in demand. When you create one, make sure to use good technologies to make it excellent.
People prefer to watch HD quality videos and if you can optimize the video well, it is easy to rank under the top search result.
So, if the video is top on YouTube result, then it can be on top of Google search result also if you can optimize it with good keywords.
Ready to bring your video to number 1 position?
Apply the right methods and optimize your videos to rank it to the top position