Establishing your professional brand as an authority in your industry through the way of content marketing is not an easy task. Though there are various content marketing tools available, no one guarantees success. However, there is one content marketing platform that can help your brand turn into a massive online success. This content marketing platform is Quora or Quora Marketing.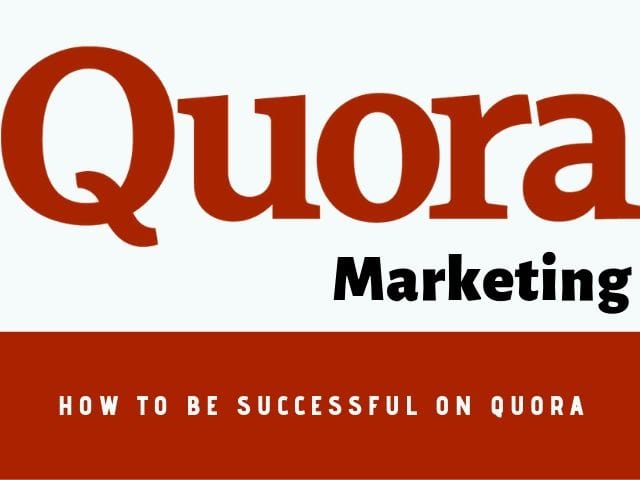 Quora is an excellent place to start with and can help any brand or business to become a huge success. Even if you are not an expert, this question and answer network enables you to help others on a particular topic. You can get awesome results with Quora, but only if you do it properly.
From preparing a perfect profile to providing high-quality and best answers, you have to practice it seriously. So, read this post to know what quora marketing means, how it can help your business become a huge success, and ways you can use quora marketing to the best of its potential.
Let's begin with quora marketing guide right away!
What does Quora mean?
Basically, Quora is a platform to share knowledge. It is a platform where a few people ask some questions and others share their knowledge in a way of answering them. The answers submitted on Quora are provided by:
Experts in their specific field or those having knowledge regarding a specific query
Individuals holding rich experience in the field or have experienced anything similar
Professionals who are related to that particular field
An obvious fact is that you cannot validate the genuineness of every answer submitted on Quora. However, the answers provided on Quora are informative, interesting, and quite useful.
In addition to this, Quora is a feature-rich platform that is useful to assess the authoritativeness of the contributors. This is done on the basis of a number of views an answer receives, answers that are relevant and popular, as well as useful information,  shared in an answer.
What Makes Quora Better Than Its Competitors?
One major fact that makes Quora better than the others is that it receives millions of users every month. Additionally, this platform delivers a few other benefits, which other content marketing platform may not be able to offer:
This platform contains high-quality answers all of which come from different knowledgeable sources.
It lets marketers communicate directly with the target audience and ask desirable questions.
It covers a vast range of topics and is an excellent platform for novel content ideas.
Questions in Quora rank quite high in Google search results.
It is easier to develop a vast and loyal follower base with rich content, proper planning, and accurate execution.
Why Quora is an Excellent Marketing Platform?
Quora is quite different from other social media platforms in a way that is based solely on knowledge sharing. For this reason, it is a perfect platform for content branding and marketing. But this is not the only reason that makes Quora a great content and business marketing platform.
The other reasons are:
1. Widespread Reach of Content:
There are only a few platforms that are better than Quora for organic reach. Statistically, around 500 million people visit this website on a monthly basis. One best thing about Quora is that it is available in 5 languages, which extends its reach further.
Quora email digest and Quora feed are two major components of this platform that pushes your content out to innumerable readers. It offers better discoverability so that your loyal visitors can stumble upon your answers on a regular basis. Most importantly, such a huge audience base is offered to you for absolutely free. You just have to build great answers and soon you could build a strong following.
2. Great Equalizer and Thought Leadership:
Quora gives equal opportunity to all businesses, marketers, individuals, professionals, organizations, and more. Whether you are an individual or a fortune 500 company, everyone begins with 0 followers. The only way available with all to achieve more and more followers is through the best responses.
So, if you are posting insightful answers on a regular basis, users on Quora will be able to pursue your expertise. Being among top writers, you can literally avail thousands of followers and 'answer requests' in a short span of time or with a few responses.
3. Awesome Lead Generation:
One thing to clear is that Quora is different from AdWords. If you are aiming at short-term acquisition targets, Quora may not be the perfect platform for you. Primarily, Quora is a long-term investment as building trust and authority takes effort and time.
However, once you acquire a loyal user base, it is an excellent platform for lead generation. Based on the kinds of queries you are handling, you can definitely earn high qualified leads.
4: Great to Network and Publish Partnerships:
In reality, Quora does have editors with their role involving, handpicking the best-written response on numerous topics to repost on reputed digital news websites such as Forbes, Newsweek, Inc., and TIME.
This means a great opportunity!
This way you can feature on the mainstream media outlets. No matter to which niche you belong, it is one of the safest platforms that can land you in a win-win situation.
How to Get Traffic From Quora:
In order to gain success on Quora, you have to follow a three-point approach. There are a few pillars essential to make your Quora efforts fruitful.
1. Create a Strong Profile Page:
The foremost thing essential to be successful on Quora is to create a solid and well-optimized page for your profile. Your profile page must contain details about you, your profession, and other things that make you stand out from others.
Most importantly, you must include a professional and clear profile picture. After this, have a well-defined bio section. For this, you have to write highly influential and compelling content about your achievements and the company.
You can always refer to pages written by top writers for their Quora bio. Usually, their pages include:
A professional and memorable picture
Social proof
Professional and personal achievements
Relevant promotions or offers
Links to their popular content or Quora answers
An important thing to notice here is the 'credentials' section. Having this section included can offer credence to why readers must read your answers. The good thing is that it is easier to edit the credentials.
2. Select Questions Relevant to Your Target Audience and Business:
If you will go using Quora for content marketing, you will discover that it is quite saturated already. This means there is definitely competition for the most popular questions. Also, there are numerous pointless questions, which don't need a response right away.
If you randomly pick questions and write answers for them, this is not going to help you win over the competition.
Rather, you have to be highly careful while selecting questions that you have to answer. And for community sake, just skip questions if you don't have anything that adds value. It is therefore of utmost important to pick questions relevant to your target audience and industry.
3. Focus on Keywords:
Being a content marketer, you must aim for topics and questions relevant to your target audience or industry. A great way to achieve this is by focusing on keywords, which you wish to rank for. Simply, you have to enter the keyword into the search box and check for questions that are listed down for it.
An important thing to note is that Google is really fond of Quora. Often, Google ranks Quora questions at the top of search results, particularly for long-tail keywords.
Hence, you must experiment with distinct keywords in order to have a cascade effect and achieve huge success. Alternatively, you can follow industry leaders in order to gain a better understanding. Look their 'knows about' category and you will be able to know relevant topics that they follow.
4. Follow Adequate Follower-Answer Ratio:
Usually, new marketers on Quora pick questions with a few followers but numerous answers. However, this is not the best way to go. In such a case, your answer will add very little value.
So, how to go about it?
Definitely, there is no standard rule for this, but an easy way to become a top writer on Quora is to follow a 7:1, follower answer ratio. Might be you want to answer a simple question with no follower, but try to identify the urge. Sure, it will pay off on an occasional basis, but in most of the times, it will be a waste of efforts and time.
In order to identify such questions, you can expand your search by considering the following aspects.
Select questions that you can mention in your bio section.
Select questions with lots of answers and followers, but most of the answers are of low quality.
Select questions related to a topic that you can include in your personal story
5. Write Evergreen Answers in Your Own Style:
Quora is always craving for resourceful answers, which are presented in the form of a great story. One of the best ways to achieve this is writing in your own, unique style and concisely.
It is tempting to write an answer instantly and publish it straight away. However, I would suggest avoiding doing this. Initial drafts are usually the best examples of our writing skills.
So rather than writing out answers to a handful of questions, you must use writer answers for relevant questions, which can add value to your overall profile. Then take a small break before you come back to polish the responses.
When you are in the editing phase, make sure you use good words and stick to your point. Avoid making grammatical errors, and proofread your answer before you publish it.
As compared to other platforms, Quora connects you to your users on a much personal note. With a unique writing voice, you can strengthen the reader-author relationship. In fact, the most famous writers have a recognizable and different writing style.
6. Include Images to Your Responses:
The feeds on Quora are quite notorious and intimidating pieces of text. Including images in the responses can work wonders and break the monotonous pattern. Also, it affects users to a great extent.
You can add pictures or images that develop a strong, personal connection between your customers. If in case you don't possess proprietary images, still you can include charts, stock photos, and infographics. Just think a bit and you will find endless options!
7. Avoid Selling Yourself:
No matter how big or known professional you are, or you are just a newbie who is writing content for the first time, the quench for more followers is always there. But under all circumstances, avoid self-promotion.
If you are acting as a salesman, your users will find your answers biased and annoying. Since, you know that Quora is a platform that shares, appreciates, and promotes knowledge sharing, so self-promotion is a big sin on this platform.
A few alternates and simple ways that you can practice to promote your content on Quora are:
Include a transparent and relevant link somewhere in the middle of the answer without being self-promotional.
Make sure you offer value in your answer and write in an effortless and natural manner.
Moreover, you can promote your proprietary or brand content by answering a question where you can promote your resources organically.
If you include a link to your business website, avoid shifting traffic to the landing page. Avoid duping your users by simply offering them a link. Remember your promise and offer them some really good information or knowledge through your response.
8. Use Google Analytics to Measure ROI and Traffic:
Once you have written and published a response on Quora with a link directing to your blog post, the next thing is to track or monitor results on Quora Answers. The easiest way to do this is by using Google Analytics.
You first have to create a Google Analytics account and select the Reporting tab. Next, consider the acquisition section and select 'social.' After this, click on Network Referrals, where you will see a list of Social networks. Click on Quora section and you will see different pages on the website and volume of traffic generated from Quora.
On a Concluding Note:
Undoubtedly, Quora is an excellent platform to build a loyal audience and generate huge sales. You just have to be careful the way you answer and about questions, you respond to. Most importantly, remember the above-mentioned points and you will surely be able to make Quora work for you.