Let us imagine the following scenario.
You are running a boutique and you have decided to provide huge discounts on salwar kameez, jeans, kurtas, and sarees.
You are running special advertisements on social media platforms like Facebook, Twitter announcing the special discount on selected variants of all your products.
What if no one is interested in buying your products even though they were affordable?
What if you haven't achieved your sales targets?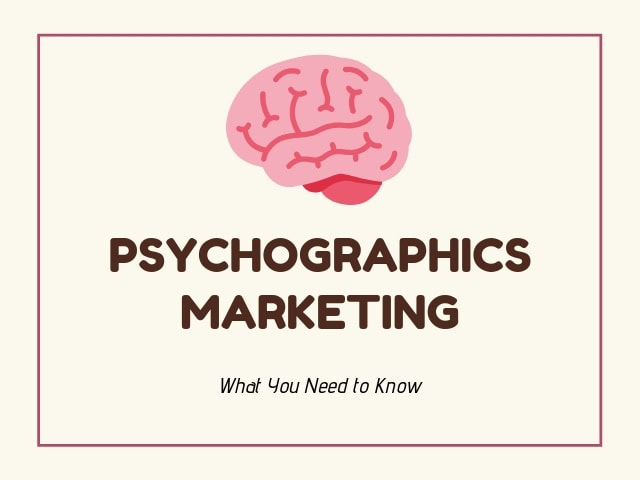 Does that mean no one is interested in buying a new dress anymore?
Or does salwar, kurtas, and jeans have become outdated?
Uh, no. They are not. It probably means you haven't understood the real value of PSYCHOGRAPHICS and its usage as a vital marketing strategy.
So, in this article, we are going to see the meaning of psychographics and how to use psychographics in marketing.
What is Psychographics?
Psychographics is the study of analyzing the attitudes and interests of people.
The data aggregated from psychographics are often conjugated with the demographical characteristics to build a wholesome profile of target audiences and target markets.
Though the concept of psychographics is widely used in many fields, it is predominantly used in marketing and market-based analysis.
The Importance of Psychographics Marketing:
You can tell a great deal about anyone if you have a complete database of their age, educational background, occupation, salary, likes and dislikes, their professional characteristics, etc. But, this data is only of limited use when it comes to analyzing the personality traits such as their beliefs, attitudes, personal faiths, and any other valid psychological measure.
It is here psychographics comes into foreplay. By combining demographical data with that of psychographics, you can build a complete persona upon which it will be easier to gather the set of all ideal customers for your products.
Let us assume that you are a small-scale business owner trying to introduce an effective nutritional drink that aids in weight loss. Then, the following basic demographical information will be helpful to you
Male or female
Aged 35 to 50
Married, has kids
Suffering from health issues like BP, cholesterol, and obesity
Household income exceeds $100k
Let us now consider some additional and basic psychographic information
Our ideal customer range is heavily concerned about appearance and is interested in effective weight loss
Interested in a healthy lifestyle, but, does not possess sufficient time to maintain
Enjoys time with family
Values friends and family members
Finds fulfillment in both career and personal life
Now, if we consider only the demographical information, you can only have a very hazy outline of your audiences.
While you can understand the challenges of your target group using the demographical information, you cannot provide a complete solution that fits the needs of your ideal customer range.
But, if you combine psychographic data with demographic data, then you can not only strengthen your research profile but also find effective strategies to make your product successful.
Examples of Psychographics:
By now, you would have understood that through psychographics we can differentiate our customers based on their personality traits, their shopping patterns, their psychological behaviors, values, lifestyles, interests, etc.
Let us now assume that the intended audience for our products is males who are around 35 to 40 years of age. Then, our demographics will be
Males
Bachelors or married
An annual income of more than $50000
Loves to try different products and so on
Suppose, for a change, let us assume that you are the president of a huge and reputed automobile company. You want to introduce a new SUV type of car in the market. You have extensively studied the market, analyzed the SUV type cars of your rival companies.
Now, you want to study the mindsets of the customers to determine the type of reception your car would receive once it gets introduced in the market.
Before all this, you want to know whether the new car would be predominantly petrol or diesel based or does people like a hybrid car. So, in this case, your psychographic information will be,
Males or females who have a wide interest in cars
People who want their cars to be changed
People who are interested in buying SUV type of cars.
Car reviewers, bloggers
People who had been frequently involved with your company in test drives etc.
Like this, both your demographic and psychographic information would vary based on the marketing objectives you have.
How to Obtain Psychographics?
So, now that we have understood what psychographics is and its importance in marketing, let us know the way of obtaining proper psychographic information.
a. Through surveys/questionnaires:
Surveys are cost-effective to produce and can be distributed either in digital form or in person.
Also, customers are highly familiar with this kind of research, so it would not require an in-depth explanation as in focus groups.
Unfortunately, one of the biggest drawbacks of this method is its low participation because many people do not wish to fill or provide information for strangers.
Furthermore, some people can also fill random answers just for the sake of answering, which will reduce the authenticity of the answers.
b. Focus groups:
Focus groups allow you to frame questions to test your ideal group of audiences and understand their mindset well.
You can spice up your interview sessions by using a wide variety of follow up and in-depth questions to thoroughly understand their expectations.
But, one of the major setbacks of this method is spending considerable time to speak to your subjects and gather information from them.
Suppose, if the answers do not help you to achieve your goal, then arranging focus groups is both a waste of time and money.
c. Through data analytics:
Everything from Facebook to Snapchat thrives on detailed analytics data to better understand and know their clients.
It is more like a behind-the-scenes investigation that will let you know some little unknown secrets about your target customers.
Look at your existing content?
Want to provide some discounts that would become an instant hit amongst your customers?
Then you must opt for data analytics method of obtaining proper psychographic information. This method has an added advantage since it reveals the true motivations and intentions of your customers.
d. Hire some experts:
If you want to have some valid psychographic data and neither have the time nor have the energy to do it, then you can hire some experts to do that for you.
These experts are specialized in collecting pertinent market research data and can also provide you some inputs to further expand the data and utilize in an optimum manner.
Difference Between Demographics and Psychographics?
Now, we come to the next important question:
Are there any differences between demographics and psychographics?
And the answer is Yes, there is a world of difference between these two factors.
Demographics only help you to understand who your target audience is, whereas psychographics will help you to understand why the intended audience is your specific target audience.
Demographics help you to identify audiences through factors like age, gender, income, area of residence, income, marital status, etc.
Psychographics help you to consider factors such as personal characteristics, personal beliefs, psychological attitudes, etc.
In other words, psychographics adds colour to the data gained by demographics. It allows you to make informed decisions in terms of placement, design and messaging.
So, the very first place to hunt for demographic information is analyzing the audiences. An in-depth appraisal of your target audience can help you to gain more insights about them, larger than what your usual demographic segmentation would provide.
While these differences do not imply psychographics as far superior to demographics, they will serve as excellent starting points.
It underscores the need for marketing brands to obtain more nuanced information about their target audience.
Also, armed with this information the marketers can know the type of products that people buy often along with the reasons behind their purchases.
In other words, psychographics allows the marketers to understand the motivation, needs, and interests of the target audience and can provide substantial insights about consumer behavior from a plethora of angles.
Some points to ponder while trying to differentiate between psychographics and demographics are provided below
Demographics focuses on the external characteristics of a person whereas psychographics also considers the psychological traits of a person along with the external factors.
While demographic information is easy to obtain due to the existence of statistics, surveys and census data, psychographics is far difficult to obtain. But, using psychographics we can construct diverse and in-depth profiles of customers.
Both of these segmentation methods are mutually exclusive. Customer profiles can become rich only when both these datasets combine perfectly together. The combination of key aspects of both the datasets aids many brands to develop relevant communication channels to interact with their customers.
How to use psychographics in your marketing analysis?
In this section, we are going to see how to utilize the collected psychographic data and put it to good use when identifying the target audience.
1. Create good customer persona:
Since psychographic data helps you to unlock some private information of the customers, using these data we can construct individual customer persona of all the target people, using which we can gauge the success of our products.
If you already have a database of customer persons, you can compare your current database to see how your new information fares up and what are the new details that you have obtained from your new database.
2. Create segmentation of customers:
Developing your customer profiles can highlight you something: there will be some diversity in the customers you would eventually identify using their profiles.
Also, segmenting customers would help you to custom draft information that would grab the attention of your customers.
3. Use the interests of your customers in marketing:
Behavioral analytics will help you to identify the interests of your customers.
If you come to know that your target group is interested in using social media platforms like Facebook, Twitter, Pinterest, etc., then you can try spending more money for online ads, creating websites, Google ads, etc.
Following this way can help you to gain more leads and eventually expanding your target audience.
4. Create an audience mapping process:
Mapping audiences using the information you have is definitely a gargantuan task.
You have to start with guesses and rapidly expand it using the information you have gathered from the datasets.
Try to answer questions like 'where my audiences exist?', 'what are their preferences?', 'how will my product suit their needs?' to know the mindsets of your audiences.
After answering all these questions genuinely, try to map your answers with the product that you are going to introduce.
5. Create more refined social media audiences:
You can do targeted Facebook campaigns for your audiences for knowing your prospective customers.
Knowing relevant audiences is a successful strategy on its own since it will ensure the success of your product single-handed.
Knowing what makes the audience really tick is always the sure shot way to open up new availabilities and avenues of interest.
Once you know the core audience of your product, look for the psychographic common interests of your audiences. These common interests will serve as threads through which you can link all your customers under a single profile.
6. Leverage your customers emotionally:
Identify the emotional triggers of your customers and use them to your advantage.
Write emotionally compelling content that will strike a chord with your target audience instantly. Both your ads and your content will become a smash hit immediately if you can understand what makes your customers get moved emotionally.
These are some tentative balancing procedures that make your ads appealing to all the sections of the customers.
Psychographics is both an exciting and enticing field of study that has not been harnessed entirely yet. Combining different sets of data had always opened new avenues for study.
So, psychographics can not only be beneficial to marketers but can also be helpful to researchers and other economic analysts who are interested in studying people.