An affiliate marketer desires for one thing- huge traffic!
Without enough traffic, it is not possible to make the desired sales.
But without human eyeballs striking on your offer, the potential to earn desired income through affiliate marketing will never turn up.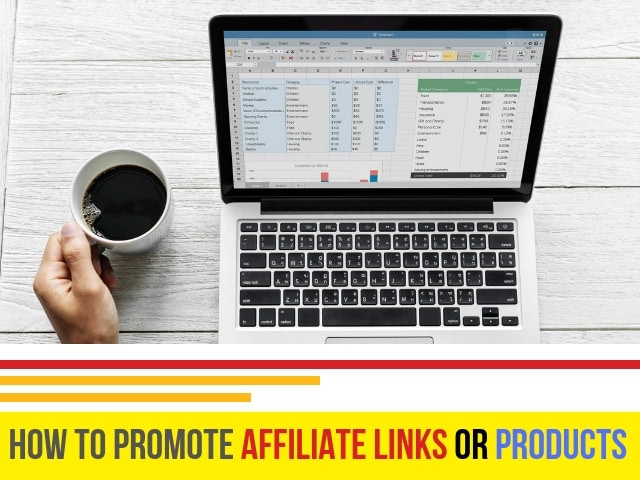 The good news is that there are numerous ways to promote your affiliate links and products.
So, assuming that you are very well aware of affiliate marketing, let me just throw some light on the best ways to promote your affiliate marketing products or links.
1. Promote Affiliate Links through Blogging:
One amazing and finest way to promote affiliate links is blogging, but at the same time, it is a time-consuming process.
The process is slightly lengthy that needs a blog to develop, add content, and then begin the promotion work.
Once you begin promoting the content, you need to develop a strong presence online so that more people trust your brand.
Despite a couple of downsides, blogging is one of the best ways to promote affiliate links to generate a passive income inflow from it. Hence, you need to spend time doing this work so that you can expect better returns over time.
By creating a blog to promote affiliate links, it is essential to create content that is useful and valuable to the audience.
The content must be informative and must inform the reader. Hence, if you wish to create a blog that can perform as an affiliate blog then place your links evenly on it so that you are always there in the search results.
It is best to use affiliate links in a blog by placing it naturally in the content.
For example, if you are jotting down a review article about a product then a good rule of thumb is to place an affiliate link once in 500 words.
Also, while you insert the link, make sure you do it in blog or content that is capable to drive enough sales.
Another vital aspect to remember when inserting affiliate links in the blog is that Google suggests that bloggers use 'nofollow' tag linked to their affiliate link. This way, when you insert a paid affiliate link in the post, then this will not affect the search results in Google and eventually, your site would rank in the search results.
2. Promote Affiliate Links Using Product Reviews:
There are different platforms where product reviews can be used for promotion.
Product Website:
The first platform is to create a website where you feature just product reviews for different products.
This will help you develop a high authority product reviews site. Another way is to focus on just one product, targeted towards Amazon products.
Therefore, you can create a huge website or a small website. While developing, the small site is less time-consuming, the big website allows you to focus on more numbers of products.
With the small site, you need to ensure that you target product that is high in demand.
Facebook:
If you already have a Facebook page with fan followers then you can jot down product reviews.
Just be more careful with this way as Facebook has diminished the opportunity for owners to promote posts to organic followers.
There is a certain sum that fan page owners need to pay for promotion. Also, when promoting via Facebook, you must try driving the customer towards your product review site for more details. You can use Facebook only to promote content and not for selling products.
YouTube:
You can create a channel on YouTube to promote your affiliate links or products. The channel needs to be educational and the affiliate link can be placed in the description box.
An important step while creating reviews channel on YouTube is to make sure that, the content is highly qualitative.
Product reviews are detailed and genuine. It is because customers on YouTube are always looking for high-quality and authentic content.
3. Promote Affiliate Links Using Search Engine Optimization:
Be it your blog or website, ensuring that it is search engine friendly is one of the important aspects to consider.
This implies that you must create a site or a blog, which the search engines can easily find and is able to rank on the top.
This will make it easier for people to find your content, read it, and ultimately click on the affiliate link.
Also, you need to ensure that there is huge traffic for a product that you are promoting. So, when you select a product to review, you need to identify its search volume and then review those products.
Some of the important aspects to consider while creating an SEO friendly website are:
Considering Keywords:
Keywords are important words that most people search in search engines. These keywords will help your site get higher ranking in the search results.
Considering Content:
Google always values content, which is informative, useful, and helpful to the audience. So, as long as you are offering content that is unique and helpful, you would be offered with more authority to your website.
Hence, when you write content for websites outlined for SEO of affiliate links, then you need to deliver only good and rich content. Rather than introducing the same topic available on most other websites, try to write content that is unique and updated.
Backlinks:
Backlinks are extremely important for an affiliate website to work in the right direction. Backlinking is the process of including authoritative site links to your site or blog. There are numerous ways in which this can be done.
One way is by guest posting where you are writing articles or posts for authoritative sites in your niche and link back to your website.
The second way is to go for outreach link building, which can include editorial links as well as simple roundup posts linking back to your site through an authority site.
The third way is to use social shares from the site to social media platforms.
4. Promote Affiliate Links Using Email Marketing:
Email marketing is yet another effective way to promote your affiliate links or products. If you don't know how to begin developing an email list then first you need to learn about it. It is an easy systematic process that can be done in very less time.
Interacting with your customers through email is one of the simplest ways to reach a wider audience, boost customer engagement and increase traffic to your site.
This task becomes even easier when you are offering a value-added and well-cultivated value to the audience. Also, if there occurs a situation when Google penalizes your site or terminate your account for violation of policy, then email marketing is an efficient way to reach out to the audience.
While email marketing can definitely offer you with numerous gains, there are few things you must remember when using the email list!
Avoid overselling the email list:
You would not want to sell products every time to your list. No one desires to be sold. Hence, outline more valuable emails that hold at least 80% value and offer 20% sales.
Differentiate your list for more views, more clicks, and more sales:
You can always have subscribers that click on a specific link. Such subscribers are more focused and hence they are likely to make more sales as compared to others.
Split the Email Content and Subject Lines:
You will be able to get more open rates when you practice this. Some individuals may not resonate with the single subject line but will react with another. Hence, don't be afraid to analyze your subject lines.
Clean the Email List:
Sometimes, an email list is not able to deliver and it is always going lower and lower. If this is the case with your email list, then it is time to clean the email list and remove subscribers who are no longer offering open emails.
This way, you will always be able to keep your email list fresh and will get a positive email account score. This will also improve your ability to deliver emails to the inbox of your subscribers.
Additionally, it will keep the email software price down and hence you only have to pay for quality email subscribers on the list.
Cloak the Affiliate Links:
Email software does not prefer affiliate links. For this reason, it is essential to cloak the affiliate links with the help of link tracking software.
One fine way to cloak affiliate links is by using email software that gives you the potential to track the email that is converted to sales. Also, this helps to create a custom domain and test distinct landing pages to identify which one delivers better results.
5. Promote Affiliate Links Using Display Banners:
By the way you would use a website or blog to promote the affiliate links, similarly, you can use display ad banners in order to promote the affiliate links and products.
A display banner is highly attractive and is a clickable image that takes the visitors from the blog or site to the affiliate page. This is an efficient method to attract visitors. When you use banners then an excellent idea is to use them at side columns of a blog or a site. Also, you can include display banners in the content.
Make sure that the banners are relevant to the content on your site. Hence, for example, if your site or blog belongs to the cookery or recipe niche then you can display a banner related to modern cooking appliances and more.
This will make sense as your visitors would probably want to buy the advance cooking appliances that can help them prepare recipes mentioned in your content.
Just make sure that you create a banner that is effective and simple. The banner must be able to convey one message and ensure that it includes a powerful call-to-action. The smaller is the banner, the more effective it would be able to load.
Though banners can be of different size, it is wise that you select a size that is able to communicate your message with ease and at the same time is able to attract the visitors.
Clicking on banners must open a new window and if you wish the visitor to remain on your site then make sure you select adequate customization options. Lastly, don't overload your page with multiple display banners.
6. Promote Affiliate Links Using PPC Advertising:
PPC or Pay-per-click is when you pay for the click to your link. Bing Ads, Facebook Ads, and Google Adwords are the biggest names in PPC.
It works by bidding for a certain price for specific keywords as with different advertisement brands. All these keywords are related to the product you are selling. When you win the bid then the ad would show up in the search results.
You can have effective PPC ads by ensuring that you track the data using efficient tools. It is essential to track the keywords that offer conversions on the website, which can optimize ad for better results by targeting only the converting keywords.
If you use Facebook PPC ads to boost traffic on affiliate link then make sure that you test different interests within the sets and use tracking tools to measure the results.
In such a case, if Facebook alters its algorithm that is affecting the way you run the ads, you need to get access to the updated material ensuring that you always employ current strategies.
Conclusion:
While there are more other ways to promote the affiliate links or products, but it is equally important to ensure that you don't overuse the traffic sources when promoting the affiliate links.
It is because selecting more than one or two traffic sources can make things complex. Hence, make sure you use methods that are effective and can help you attract more leads and promote the affiliate links to increase the sales.