Are you trying to create a product review website for yourself?
It is a good way to earn some extra income monthly. There are various types of contents that can be posted on a website. When someone creates a website there could be many goals. Some of them are mainly created for business promotion and some others are to create awareness about an area in the audience. Like this review, a website is also getting popular nowadays. You can earn good monthly income out of a review website if used properly.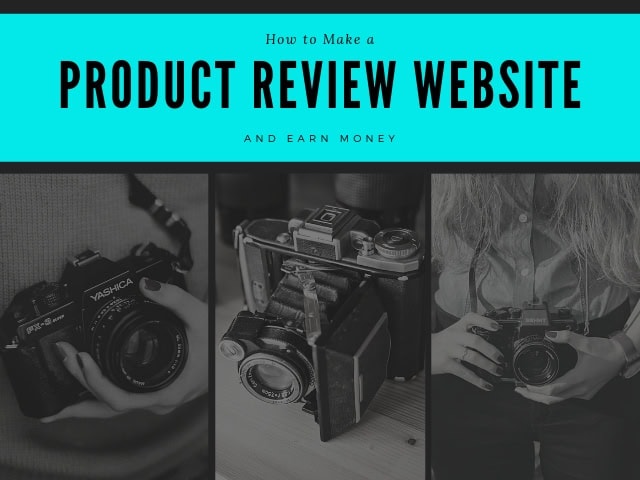 You can find so many review websites online such as Yelp, Amazon, Glassdoor, etc. Most of them are created mainly to help the users in choosing a product.
What is a Product Review Website?
Review websites are websites which offer reviews about various products and services for consumers. It could be from any niche you want.
You can find so many online review websites which mainly focus on electronic device reviews or sometimes sites with review of games etc. When you run a review website you must be aware of any new products or service that happens in your niche. Make sure to publish up to date reviews about the products or service you are handling. The best example of review website you can relate with is movie review websites. It is a very competitive area and as a reviewer, you have to publish the review as soon as possible after the movie releases.
Benefits of Creating a Product Review Website:
You can create a review website to earn a fixed income every month. There are many other advantages to creating a review website. Once after creating a website and getting some regular followers, you can earn a good income out of it. It will not happen overnight. You may have to invest some time in building a good review website so that people will start to follow it. Here are some benefits you can get by running a review website
Easy to operate: Unlike any other types of website you can easily run a review website. All you have to do is to choose your niche and start to write about new products and services in your niche
Can review new products:
While running a review website you may have to be the first one to write about a product or service that new releases in the market. If you got a good number of followers, they will wait to read your reviews about products once you publish the review.
After getting a good number of followers you can contact the company directly and request them to send a sample of the product so that you can write reviews about it. It is beneficial for the company and your website too at the same time as it is one of the cheapest ways of promotion.
Generate more traffic:
You can use the review website to generate more website traffic and gain good ranking. You can choose a less competitive niche and write reviews about the products. If your audience like the reviews they will visit again and again to your website or share it with your contacts.
Get a good income:
You can affiliate with the products you are writing reviews and get a good income out of it. Companies pay good payment for people who can promote their products through good reviews. Once after getting a good name online, you can affiliate with the popular product and get a good income out of it.
How to Create a Product Review Website:
There are many ways of creating a website. One way is to create a WordPress site and the other way is to create a brand-new website. While choosing a niche for your website make sure to choose one with less competition. You can find out a niche where there are not many websites. It can help you to be more successful. You have to consider some factors while choosing a topic for review such as
The competition that topic has
How can you drive more traffic?
How can you drive more advertising?
How can you earn commissions from affiliate marketing?
There are many tools that can help you to analyze these facts. Google Keyword Planner, Ahrefs, SEMrush, etc are some useful tool for this purpose. After deciding the niche, you need to focus on the below steps
1. Launch your review site:
When you want to start a review website the first few steps you need to focus is on deciding with the platform you are going to publish your website. WordPress is a very useful platform for that. If you are starting a brand-new website, you have to choose a domain name and a web hosting provider. For WordPress users, there are two options such as
WordPress.com – Here you have to run your website under the WordPress domain
WordPress.org – Self-hosted domain which allows you to have your own domain name and web hosting provider
WordPress allows you to optimize your website easily using plugins. It is very easy to run your website on the WordPress platform as it is free and easy to use.
Domain name:
You can choose an appropriate domain name for your website. You can get it from a website like GoDaddy, Namecheap, etc. You need to register the domain name under your name after finding it to avoid any legal issues associated with it. If you are choosing web service provider as Bluehost they offer you free domain name registration. So, it can help you to save some money on buying the domain name.
While choosing a domain name you should focus on making it short and easy to pronounce, avoid numbers and hyphens, related to your niche and suitable domain name extension. .com is the most popular domain name extension. But sometimes it is very hard to get the .com domain extension with the domain name. you can also use.org, .inc, etc with your domain name.
2. Set up your website:
If you are using a WordPress website, then download plugins that are useful for your website. You can design your website with the help of plugins from WordPress. These are free and easy to use. Design your website with various elements such as stars, review column, comment section, number of pros and cons to be included, etc from this plugin.
You don't have to create everything from scratch if using these plugins to set up your review website. Give a good background and colors for your website so that you can make your website attractive to users.
3. Personalize your website:
The next step is to personalize your website so that it can be easy for the user to find any topics they want to see. You can categorize your contents and arrange them properly.
First, customize your page with your logo and proper colors for your website. Now you can set a proper page layout for your web page and then make various categories and subcategories for your products. It can help users to choose the review they want easily.
4. Monetize your website:
After setting up your website the next step is to monetize your review. There are various types of monetization options such as
Displaying Ads is a very good way of monetizing your website. You can put Ad banners on your website so that people can click on it and earn money from it. When a user clicks on these Ads, you are going to earn money for each click. Using Google AdSense will help you to get access to popular advertisers. You can get the ad code from them and post it on your website.
Affiliate marketing or paid reviews can help you to get money for your reviews. You can reach out to the products in your niche and ask them whether they are interested in affiliate with your reviewing. If they agreed to that, you can write good reviews about their product and earn a commission out of it. Also, include the direct links of the site from which users can get that product. When a user gets that product from the link, you will get a commission for that.
This is very hard initially as it may take time for you to establish your name in the industry. After getting a good name you can reach out to businesses so that they cannot reject their offer. This is also an economical way business can choose to market their product.
If you are getting popular in the industry, businesses will reach out to you for this purpose. While publishing review it needs to be genuine because people are going to trust your review and buy the product based on it. Just for the money, you cannot say good things about a product.
5. Improve your website:
After getting enough traffic you can focus on growing your review website. You can promote your website via social media and content marketing option. Just by creating a review, a website is not enough to be successful. You must have to find some time to promote your contents so that it can reach as many audiences as possible.
Choose social media as a promotional platform for your contents. Reach out to your audience through social media and connect with them. Follow SEO guidelines to make your content outstanding among your competitors.
Another promotional option is guest posting. It can help you to get more new followers. You can reach out to website who publishes guest posts and write for them. If their followers like what you wrote, they are going to visit your website and will start to follow you also. Another advantage of guest posting is that you can get backlinks from an already established website. High-quality backlinks can help a website to get ranked easily. You don't have to miss a chance to get a good authority in front of the search engine.
You can add more blog posts to your review website to boost your SEO. A review website is not only for including reviews. You can add blogs related to the niche you are handling and attract more users to it. When you add new blog posts and reviews your website will always be active and will be full of up-to-date information. It can create a good impression about your website. Google always promote a website which offers fresh content for their users. Just like that, if you can provide fresh useful content for your audience, it can help you to get ranked high.
These are some steps you can follow to run a review website without many efforts. If you are willing to spend some time on researching and writing good reviews, this is a good option to make money.
Tools that can help you:
You can use some tools to customize your website and increase the number of followers.
Monster Insight is a very popular analytic plugin that can be used to track your readership. No need to write or use any code to track these results if you can install this plugin within your website
Use Yoast SEO plugin to optimize your website contents for search engine
You can use Pretty Links to make your links look prettier. If you want to make your links more relevant to your content pretty links can help you. You can track your links, get number of clicks and many more using this tool
Conclusion:
Writing product reviews is not an easy task. You need to have good knowledge in the niche you are handling. Also, you need to be updated about the latest changes and trends that are happening in the market.
No need to complicate it using technical terms. A review should be easy to interpret with someone who doesn't have much knowledge about that particular niche. Are you ready to start a product review website? Don't wait, start searching for a good domain name.