Your e-commerce store is an online store and involves lots of major to minor elements. To make sure e-commerce store a big success, you have to focus on every element of your store.
One such important element of your e-commerce store is 'product page design.' This post will talk everything about product page design and help you learn how to create the best one for your e-commerce store.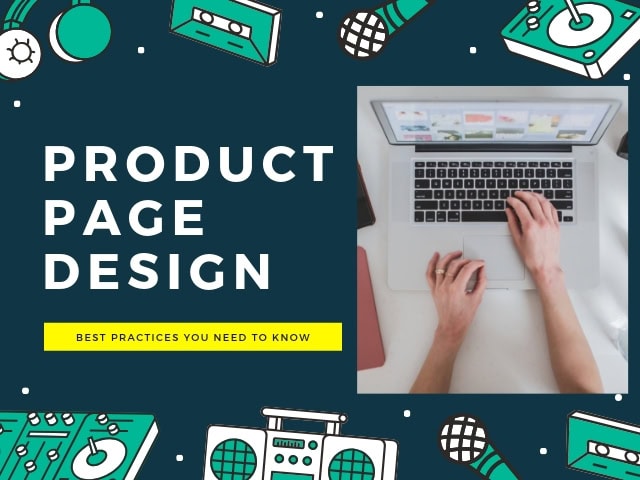 The product page design is an extremely crucial and complex page of your online store. It is useful to convert a potential customer into a buyer.
A potential customer may land on your store's product page from the following sources:
Through a search engine
After clicking an advertisement
After browsing or exploring your store
To ensure that the final step of your customer ends up in a sale, the product page must be:
Optimized
Informative
Well-designed
An optimized product page ensures that your website is found easily on the search engines. Providing complete information about your product helps to gain customer's confidence, and a well-designed product page delivers a rich online shopping experience.
So, in order to improve or design an impressive product page, you have to focus on these three core aspects. With a perfect product page design, it will be easier for the people to find your products and increase the conversion rate to a great extent.
To help you create the best product page design, here we share with you this comprehensive 5-step guide.
Step 1 – Explore and Learn About all the Components of a Product Page Design
Before you start with optimizing each element of a product page design, you must first explore each of its components. Focusing on each component of the product page design will help you optimize the page completely.
Focus on creating an attention-grabbing product title that is convenient to locate. This is similar to viewing a new city. Appropriate product titles help customers navigate the new website easily.
Secondly, design an image gallery to showcase the product from different angles. This will help the customers learn the model and other details about the product.
A clear photo of the product is another essential component of the product page design. The product image must be displayed on a white background. This showcases the product in the best way. Customers can judge an online product through its image, hence it is worth investing in it.
A detailed and unique product description is the next element to consider. Make sure that the description informs everything about the product and solves most of the buyer's problems.
You can build the confidence of new customers in product and brand which is possible by presenting sincere customer reviews.
Customers are clear on their preference, but they may not know how to find it on your site. Displaying related products or recently viewed items can help narrow down options easily.
By offering numerous variants and options on one page will make sure that your customer does not have to navigate through countable products or pages.
Incorporate the 'add to cart' option in a prominent place so that your customer can easily add the selected option.
Show your commitment towards your customers by providing direct links to important information like shipping and returns policy and others.
Step 2 – Design and Maintain a Great Product Copy
A great product copy is crucial for the page. It is useful for customers as well as SEO. If you use generic information then your product page will not be able to make it to the competitive search rankings.
Hence, you must create a great product page. For this, you need to consider the following aspects.
Tips to Create a Great Product Copy:
1.  First, your product page must clearly address what your product is. This is important to target customers looking for a specific product.
If it is an entirely new product then having a product page is essential. It will help customers to know everything about the product.
2. Second, your product page must define how your product solves your customer's problems. It is mandatory to answer this.
Maybe your product can be simple and offers basic utility function. But in that case, you can list what materials and manufacturing processes have been used to make it better than others.
Alternatively, if your product is solving a major problem then you must clearly state that in the product page. You can even inform the same in a form of story or process to make the description look stylish.
Based on the problem your product solves, you can think about possible questions that your customers might ask and then tailor your answers accordingly.
3. You have stated that what problems your product solves. But this is not enough for customers to make the final purchase decision. Therefore, it is essential to state why customers must buy your product.
Mention benefits that your product offers in comparison to the competitive products. Highlight the good things about your product, which can be high-quality raw material or ingredients. Use this as an opportunity to showcase your product as special.
If in case your store sells products from another manufacturer, still mention why the product is better than its competitors.
4. Finally, detail out what is believed as your product's metadata. In this step, you have to provide information on the ingredients and materials used for preparing a product. This lets customers feel the product.
From simple information like the ingredients used to adding basic instructions like how to care for the product and its intended use, you can talk about all such things to help customers visualize the product. The best part is that this practice is great for SEO as well.
Step 3 – Create Brilliant Images of Your Product:
Now, it is not only important to create brilliant and attractive images of your product, but also to optimize all of them.
The photos of your product are the first thing that a customer sees on a page. Hence, it can evoke instant negative and positive thoughts in them. In addition to being the first impression, photos of products also let customers understand a greater amount of detail than otherwise. As a result, good images play a key role in boosting product sale.
So, here are some key considerations to create great product images.
How To Create Perfect Product Page Design Images?
1. Practice Impeccable Photography:
Having improper light or equipment can end up resulting in poor product photos. Therefore, have all arrangements ready for a proper photography setup.
A Good-Quality Camera:
You can use your smartphone to click product photographs but make sure it has a rich resolution. If it is not there then a good quality DSLR camera is a must. Make essential aperture and light settings to avoid flaws.
Consistent Light:
Proper lighting illuminates the vital features of a product. While natural light works well and is also inexpensive if there is need then use a mirror or light up to evenly distribute light to your product.
White Background:
Having a white color background deflects light evenly. This way, less work is needed for fixing the contrast. Also, it makes editing easy.
Stable Surface:
Make sure you place your product on a stable or even surface.
Tripod:
This one is not mandatory but having one ensures that holding your camera becomes easier. A tripod is of great help when you have multiple products and photos to click.
2. Click Images from Different Angles:
Online shoppers are interested in viewing products from different perspectives and angles. Make sure your product photography accentuates the vital aspects of your product. Hence, add multiple images of your photos clicked from different angles.
Clicking product photos from various angles also helps to illustrate why and how customers can use the product.
3. Edit Every Image:
Once you have clicked all the photos, the next step is to edit all of them. Remove backgrounds, adjust contrast, lighting, and improve image quality.
It is best to keep images consistent and avoid adding any filters to it. If you don't have any photo editing software then you can use online software like Pixlr.
4. Optimize Images:
Finally, optimize images for SEO as well as speed.
Create images in a decent size so that they upload quickly. A popular e-commerce store like Shopify suggests maintaining image size to maximum 70kb, and not more than it. For precise optimization of images, you must know about various image formats.
Some of the common image formats are:
GIFs – Low-quality images ideal for thumbnails and icons.
PNG – Such images upload fast and retain their original quality for all screens.
SVG – It is good to use for basic images and icons in small file size. Avoid using this format for regular images.
JPG – It is perfect to create high-quality and low size images as it can reduce images up to 10 times without resulting in quality loss.
To optimize your product images for SEO, name each one them appropriately using alt tags and titles.
Step 4 – Practice Consistent Product Photography Throughout
Your e-commerce store will work great only if the product images work well on every page. For this reason, it is best to have consistent images throughout your online store. Even, it makes your brand appear more professional.
Some tips to maintain consistent product photography are:
1. Always Use a White Background
Having a white background for your photos maintains consistency across the products. It enhances your product features, makes editing easier, and works well to sell your products on popular platforms like Amazon and Google Shopping.
2. Maintain a Consistent Aspect Ratio or Size
Images of different sizes can make your product page look weird and jumbled up. It is easier to compare and browse product images of similar size.
Hence, create and save your product images inconsistent dimensions. Moreover, keeping them squared will make them look neat and clear.
3. Use Product Templates
Product templates can further enhance the professionalism of your photos. It is because they can help you design product images in a similar style and positioning.
You can find great product templates online. For customized solutions, you can Photoshop to create basic and unique product template for your store.
Step 5 – Make Final Edits to Your Product Photos
With a brilliant product description and flawless photography, you can create a high-converting page. But making some final changes can help you take your product page design to the next level.
1. Optimize Speed of Your Product Images
Low uploading images can create a negative impact on your overall page load speed. Hence, optimize your image for speed.
One way to do is using CSS for the page background, button elements, and creating borders around the image. Also, avoid including external libraries or image galleries as they can reduce the speed of your page.
Google PageSpeed Insights is a great tool to use and identify the best ways to speed your images for desktop and mobile browsers.
2. Optimize Product Page Design for Mobile Users
With a large number of people browsing and buying through their mobiles, your e-commerce store cannot afford to miss targeting them. It can cost a big downfall for your online business.
Use efficient tools like Google Analytics to determine the conversion rate of your website for desktop and mobile users. In addition to this, practice these ways:
Place images in the front and center.
Prefer an image size with fast loading speed.
Include a fixed menu bar to make it easy for customers to search for their preferred products.
3. Optimize for SEO:
Your product page lists the most valuable information about your product. Hence, optimize it for SEO. You can do this by:
Creating a clear and unique product description considering your customer's preferences.
Optimize ALT tags and metadata and describe your images properly with a file name and title tags.
Add videos if necessary.
4. Incorporate Zoom Functionality:
Before making the final purchase, customers always zoom out the image. Therefore, optimize your product images for zoom to instill confidence among customers.
Final Words:
These are not just 5 steps but important guidelines that will help you design an awesome product page design. So, follow them while creating your product page to ensure that your online store delivers a rich experience to customers and excellent search ability to the search engines.