When you start a blog, your obvious ultimate aim is to make money out of it.
While there are numerous ways to monetize your blog, there is one thing that every online entrepreneur will readily agree to. That is, the best and most effective way to make money out of your blog via PPC or pay per clicks.
If you have the slightest idea about digital marketing, you will know what PPC is. It is when you make money out of per click on your ads by visitors, who visit your website.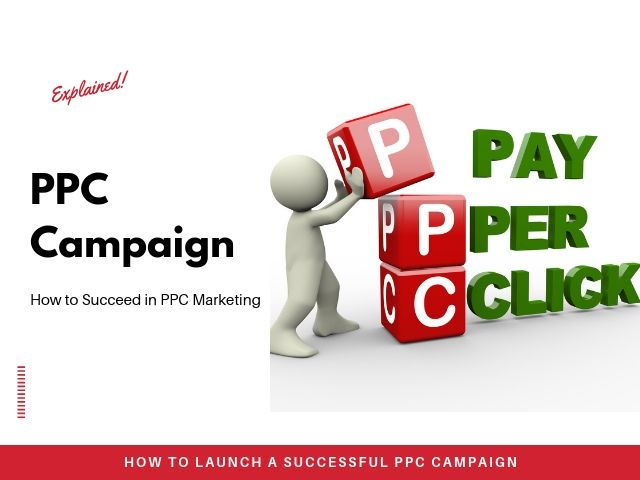 Even though different advertising platforms have different pre-determined rates which will make your revenue vary, one thing you can be sure about is that you are going to earn money out of it.
But the question remains,
how to design and launch a PPC campaign that will bring in the revenue for you?
It might seem to be an easy task, but if you have not got your basics right, it will be difficult for you.
That is why today we are going to discuss everything that you need to know about launching a successful PPC campaign, whether you are doing it for the first time or have done it before. So, let us discuss this is details.
Steps to Launch a Successful PPC Campaign:
1. Make the most out of the brainstorming sessions:
Before launching a successful AdWords campaign, the first ever step that you have to take is proper and well-conducted research.
The focus of the research is obviously going to be your customers. before you can launch an Adwords campaign and before you start building the campaign, the first thing that you have to know is what your audience wants.
Not just that, you also have to be aware of what your customers are looking for and more importantly, how they are looking for it.
The easiest thing to do is build a campaign with whatever keywords that you feel are important and launch the campaign.
But, the keywords that you are using, are your customers using the same words and phrases to conduct searches on search engines?
If not, nothing can save your AdWords campaign from going downhill.
Another thing that might happen if you do not use the right keywords is that you might end up investing a lot of money but with absolutely no conversions, hence, no revenue either.
To start the process of brainstorming for keywords, get in whatever customer data you have and whatever you know about the buying patterns of your audience.
This will help you get a list of keywords that you think your customer is used to most while searching for your product or service.
Why are these keywords important?
Because these are the same keywords that you want your advertisements should appear under when users enter a search query using these words.
These set of keywords also include the branded keywords ( the ones where you use your brand name), as they are known to have very high conversion rates.
While you are brainstorming, if any idea seems important and relevant, do not leave out on it. You never know what might work for you.
2. Use various keyword tools to check the demand for each of these keywords you came up with
When you have the initial list of keywords ready, the next thing that you have to do is to find out if there is demand for these keywords. If not, what is the actual way to get more clicks?
You have to use keyword tools for it. The Google AdWords Keyword Planner is the best but you can get your hands on if you plan on to use AdWords. This tool gives you options to validate the keywords in your list.
It shows you important information like the search volume data, search trends, the rate of cost per click and also data of your competitors.
In addition to that, this tool gives you suggestions for keywords so that you can experiment on them and expand your list.
Now that you have a list of keywords, you can plug them on the text field on the Keyword Planner. Or you can simply upload the spreadsheet, a word file that you have where all the keywords are documented.
Make sure you have the right target setting on so that the location where the Keyword Planner is going to target is correct. Not just by location, you also have the option to target various dates.
This is quite a quick method to have validations of all the keywords that you have come up with. It provides you data like the average of the monthly search volume, the approximate bid for that particular keyword which is an estimate of the money that you are going to invest and going to get returns for.
It also shows you the competition that is already existing for that particular keyword. Keywords that have high competition also have a high cost per click than other keywords.
But for the keywords in your list that does not have a good validation, do not just dump them. You can use these keywords and phrases and search for their better-performing alternatives, by using, mixing and matching the same words.
3. Have a properly structured account on Google AdWords:
If you want to earn good revenue from the money that you are investing in Google AdWords, make sure your Google AdWords account is very well structured.
The basis of a well-structured account on AdWords is the relevance factor. Your keywords, ads, and the ad groups in each of your PPC campaign should all be tightly bound and related to each other.
When you have a well-structured AdWords account, Google will identify that and reward you through bringing down its advertising costs for you.
4. Do not shy away from including negative keywords in the PPC campaign:
From the data that the Google AdWords keyword planner gives you, a certain keyword might have an attractive searched volume and a high cost per click, but it is not necessary that it will be ideal for your campaign.
Sometimes, some of the keywords have different user intent and might get clicks where you had expected no conversion at all. Or it can result in ad impressions that get no clicks.
This is going to have a negative impact on the placement of your ad and also on the cost per click that you are getting. That way it will weaken the ad quality.
To make sure that does not happen, you have to flag all the keywords that may be attracting the wrong audience as negative keywords. This will make sure that your ad does not appear when those keywords are being used.
5. Get your budget set and start working backward:
When you are researching for keywords, see to it that your data is answering the following questions:
Are people searching for these keywords?
What is the intention behind this search?
Are the users going to click the ad and buy my product?
The keywords that answer all these questions are going to be the ones that you need. But there is a more important thing to consider, which is whether you can afford to advertise that keyword.
The average cost per click varies between industries, but there are elements that can cause the CPC to rise.
So, it is necessary to know your budget before getting the final list of keywords ready.
The budget that you are going to set will be based on the conversion rates, your profit you make from each of those conversions and the profit margins from the advertising.
6. Research about your competitors as well:
To make sure that your PPC campaign is going to work, you need to have an idea of your competitors and what they are doing. When you analyze their PPC campaigns, you get to learn a lot.
You can use any of the plenty of competitive research analysis tools to check on other domains. If you find that a lot of irrelevant businesses are focusing on any keyword in your list, you should really consider if you want to use that keyword.
The good thing is that Google AdWords lets you have a report that can give you this data.
In that report, look at the impression share. There is obviously going to be a lot of competition for the best keywords, but you will also end up discarding a lot of keywords when you see the impression share factor.
When you have figured out who your biggest competitors are, start looking for the keywords that they are getting the most profit for.
7. The ad copy should be perfect:
The limited space that you get to display your ad should contain the basic 3 components-
Headline
Short description
Display URL of the website.
In that short space, make sure you write something so compelling that the audience cannot refuse. Include the USP of your brand in that copy so that users can get better clarity of what is the best thing about your brand.
Apart from that, your ad copy should be valuable where you have to highlight the value of the offer you are making, it should be believable and should not misguide readers in any way and it should include your keywords.
8. The call to action should be loud and clear:
In that ad copy, you also have to include the call to action which should make readers click on that link immediately. Your ad copy should be able to make readers do that one thing that you want from them.
For that, you have to make sure that you induce a certain sense of urgency in the text and use really strong action words that will make it hard for readers to resist the temptation of accepting, whatever you are offering.
9. The landing page should be well crafted:
Here come the real deal and the final step of the PPC campaign. All the traffic that you get from PPC should land up somewhere and that page should not be the homepage of your website.
The landing page should be the most relevant page of your website and the same page with the leader is expecting to see when he lands on your website.
Your ad and your landing page should be closely related to getting the highest conversion rate.
If the user does not see on the landing page what he expected, it will piss him off and he will exit from your site.
On the landing page, the content should be well crafted. If it is a product page, there should be properly written product descriptions that will be relevant to your target audience. There is no point in writing for a generic audience because that is not going to give you conversions.
The audience research that you did, will help you here in writing content that is specific to the audience and gives them value. Make sure to support the content with attractive visuals. Nobody really wants to see long chunks of text.
Also make sure that the loading speed of the landing page is really high, especially if the audience is visiting your website from a mobile phone.
Nobody really has the time or patience to wait for a slow website to load, specifically mobile users. The average loading time should not be more than 3 seconds. If it exceeds that, the user is just going to get frustrated and leave your website.
Wrapping Up:
These are everything you need to do, to build a successful PPC campaign. The last thing that you have to focus on is the conversions, but there is nothing much you can do about it. You have to just make sure, all these above steps are done flawlessly.