One of the finest and popularly growing trends online is Podcasts. Podcasts in the form of an audio file, which can be downloaded on the internet.
But it is not quite easy to launch a successful podcast. First, it is essential to create impressive audio files on podcast hosting and submit the same to the website.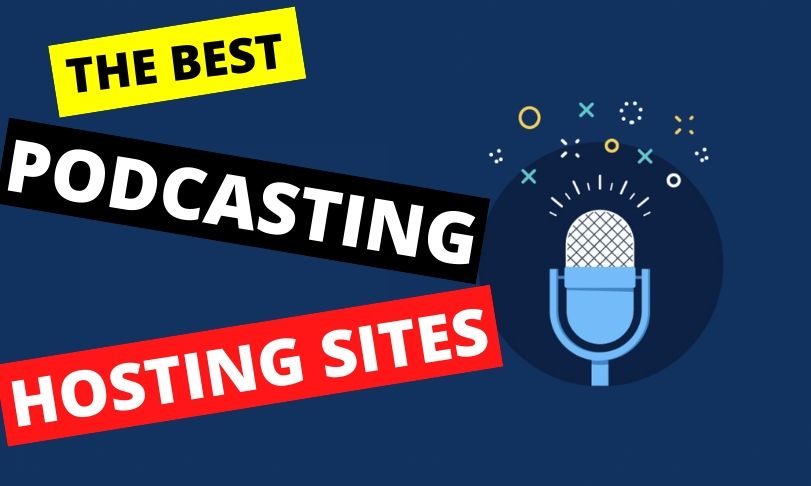 You can expect a huge volume of the audience only if your podcasts stand exceptionally well from MP3 files.
So, where you may host your podcast?
No need to worry as we've got you covered. Here we share with you the list of best podcasting hosting websites, which you must take into consideration.
Best Podcast Hosting Sites:
1. Spotify:
This is one of the most popular platforms for submitting podcasts that allows you to list innumerable episodes to extend your reach to the online audience. This platform is available for absolutely free and allows you to easily extend the reach.
2. Apple Podcasts:
The next platform for hosting podcast websites is Apple Podcasts, which makes it easy to submit multiple podcasts at once. This tool is available for free use and allows you to submit a podcast in just a few minutes.
On Apple Podcast, you can even share the audio content with your online audience so that you can become a thought leader in your preferred industry. You only have to integrate the RSS feed link and fill the form to make your podcast live.
3. Google Play Music:
This podcast hosting website from Google Play is a reliable and trusted solution available for absolutely free. It allows submitting websites and extends your reach among the target audience easily.
The functionality of this site is almost the same as Google Play, which lets you, submit podcasts once you submit the RSS feed to Google Play. Once you seek approval, you can post infinite numbers of episodes.
4. SoundCloud:
This is one of the finest platforms and service providers to host the podcast. You first have to create an account and enter the details of your profile. Then, you can make necessary adjustments to settings and submit podcast on this platform to conveniently reach to a mass audience.
5. Stitcher:
This is another promising and free of cost podcast submitting tool available that allows growing the reach to your online audience. You only have to submit your podcast to Stitcher and the rest will be taken into consideration by this platform.
With the help of Stitcher, it is also possible to engage with top fans and gain over them.
6. Squarespace:
This is a popular and one of the finest builders for different sorts of websites. It allows to conveniently establishing podcast blog page on your website and incorporating a blog post using an audio content.
Squarespace is also useful in fetching popularity for your podcast because it enables you to submit the podcast to other directories as well.
7. Blog Talk Radio:
The basic version of Blog Talk Radio is available for free. It is one of the finest platforms to host online talks and helps you extend the online popularity of your brand by hosting podcasts. With the help of this tool, it is possible to submit podcasts to various popular services like Apple Podcasts, and more.
8. Audioboom:
Available at a price of $9.99 per month, Audioboom is a great tool that is incorporated with numerous rich functionalities. It is a highly popular and reliable platform for hosting podcasts. With this tool, it lets you distribute, host as well as monetize the podcast content.
9. Podbean:
If you are looking for a website that is great to host as well as submit podcasts, Podbean is another reliable name to consider. It is possible to easily podcasts on this platform or enhances the online reach of a podcast by submitting it to RSS feed.
10. Libsyn:
When talking about the best podcast hosting websites, we cannot miss talking about Libsyn, which is ideal to avail of great popularity. It is a robust platform that allows distributing, hosting, and monetizing podcasts in just a few minutes.
It comes with distinct storage requirements the prices for which may vary. Also, this software offers various cool services like a paywall.
11. iHeartRadio:
iHeartRadio is one of the promising tools available for absolutely free of cost. It is great to submit the podcast. This tool comes with more than 120 million users, who are already registered.
This is a popular tool to reach out to the mass audience. The finest thing about this tool is that it allows posting infinite episodes that are synced without much effort.
12. Blubrry:
Another popular platform for hosting websites is Blubrry, which offer users with unlimited bandwidth. This software offers optimized RSS feed, which enables convenient distribution to podcast content.
13. Spreaker:
With its basic version available for free and the paid version starting at a price of $6 per month, Spreaker is another excellent website hosting platform available for use. It is an excellent website for creating as well as hosting podcasts.
Spreaker lets you extend the reach to top fans online and distribute podcast content as well. Moreover, it offers great monetization features for the top podcasts hosted on this platform. You can even access the detailed analytics of podcasts to gain insights regarding your podcast's performance.
14. Podomatic:
Another premium tool that makes it very easy to create and host podcasts is Podomatic. It comes with numerous great features and allows hosting podcasts easily. This platform is available for both free and paid versions.
When a podcast is hosted on this platform, it is possible to play it directly from Twitter and Facebook feeds. It is a great tool to make your podcast famous online.
15. 4shared:
One of the promising and efficient platforms to share websites of all sorts is 4shared. It is a popular platform and lets you upload podcasts easily to your account. It also makes sharing podcasts much simpler.
16. Fireside:
This is one of the leading analytics and podcast hosting platforms. It is integrated with numerous rich features and comes with a customizable website that displays podcasts efficiently.
With the help of Fireside, it is possible to easily share podcasts to other solutions and gain in-depth details about the different performance metrics such as the total number of downloads, and more.
17. Buzzsprout:
This platform makes podcasting simple. It comes with a finely designed dashboard and allows spending more time on creating content. The great thing about this platform is that it is regularly updated with novel features.
The promising features of Buzzsprout are built-in transcriptions, embed player, publishing workflow, text editor to display show notes, include chapter markets, and more. It also offers mobile-friendly and great statistics for your podcast.
18. Captivate:
It is a new platform for the podcast hosting and has been introduced by professionals who were running Podcast sites for years. Their knowledge and experience clearly show in this platform.
Their dashboard is integrated with multiple rich features such as advanced analytics, amazing website templates, podcast player, built-in call to action, and the convenience to add multiple team members without any limit.
In addition to this, it comes with other features such as smart user interface, batch uploading, default schedule time, custom plugin, WordPress integration, and a lot more. With this tool, it is possible to design a mobile-friendly website that looks great on all platforms.
19. Transistor:
Another new and feature-rich podcast hosting platform is Transistor, which comes with excellent team support. The team focuses on brands and is ideal for people who consider podcast seriously.
It lets you host podcasts of different kinds, incorporate and manage members, gain efficient podcast statistics, and design a rich podcast website. Most of its users love their podcast building features.
Moreover, they offer a unique feature of private podcasting that makes this tool even better. It is because hosting multiple podcasts is easy on both public and private platforms utilizing the same account without bearing expenses for a novel hosting plan.
20. Simplecast:
This podcast hosting platform sounds great because it comes with numerous awesome features. It allows users to do some really good things and offers detailed analytics useful for all sorts of websites.
You can begin using its basic version for $15 per month that gives you access to unlimited analytics, uploads, website, and the potential to add and manage numerous people to your podcast.
There is also an expensive version available at $35 for a month that offers access to additional features such as the ability to add infinite team members, customization, using a custom domain, advanced analytics, and more than 50K downloads in one month.
It is popular among companies such as Shopify and Slack and other podcasts both small and large.
21. Castos:
Next, we have another reliable and efficient podcast hosting platform that is incorporated with some amazing features. It integrates flawlessly with WordPress and lets you manage feeds as well as upload novel episodes from scratch.
This tool lets you carry unlimited uploads and download bandwidth of almost $19 per month. It also holds numerous incredible customizable features that can be incorporated into your website.
It is better to first try using the 14-day free trial and if you make payment upfront, you can use it for free for 2 months.
22. Podcast Websites:
This is an all-in-one platform to host podcasts including WordPress websites, unlimited podcast hosting, web hosting, email address, domain name, and a lot more. Using this tool, it allows you to easily create an email list because they are partnered with the best email service providers as well.
Recently, they added their academy membership to let you learn content with the video library. They have created numerous great podcast websites and enables hosting podcasts at $10 per month.
23. fm:
If you wish to host an infinite number of podcasts, PodServe.fm is a spectacular solution that offers a bandwidth of 2,000GB for a month. It offers free of cost promotion on PodParadise, which is a directory for the podcast that brings you thousands of visitors every month.
It makes very easy to set up everything and is available at a price of $19 per month.
24. Backtracks:
It claims to be the most advanced and splendid podcast hosting platform. It is useful to host podcast analytics as well. It is useful at an affordable price and is incorporated with uncountable features, which makes it a perfect solution for medium-size brands or companies.
But because of its great features, such as clickable transcripts and embeddable player, it is useful by numerous large brands as well.
25. audioBoom:
Another great and promising podcast hosting tool that allows you to distribute, monetize, and host podcasts is audioBoom. It comes with a range of different hosting tiers based on the number of downloads you can avail of.
It is available at a price of $9.99 per month, which lets you publish 5 episodes every month with the facility to host 10,000 plays in a month.
When more than 10K downloads are done on a monthly basis, you will gain access to targeted ad networks, branded partnerships, and sponsorships. It is a trusted way to conveniently monetize podcasts once you get some traction. Also, there is another tier for podcast radio groups and networks offering additional options for management and monetization.
26. Megaphone:
This podcast hosting platform from Panoply caters to all the requirements for enterprise-level and bigger podcasts. It serves advertisers who intend to extend the popularity of their podcast.
It comes with a full suite of features such as ad management, ad insertion, sales, and more.
27. Whooshkaa:
This is an Australian based company for hosting a podcast, which has partnered with numerous big brands such as WNYC and Wondery. It comes with a dynamic ad platform, which customizes ads on the basis of the podcast genre and listener location.
Also, it offers great features such as text-to-speech, sharing tools, customizable players, and more.
Wrapping Up:
Every podcast hosting platform is different. Some of them are great for beginners, while others cater to enterprise customers and big brands. It is best to compare podcasts on the basis of different aspects such as customer service, pricing, use, embed players, storage options, analytics, audio quality, and a lot more. Considering these aspects you can select the best podcast hosting platform for your podcast.