Pinterest is undoubtedly a highly attractive yet underrated social media platform online. When it comes to online marketing, a large number of businesses fail to use Pinterest to their advantage. This can be a big mistake they may make while intending to reach a massive pool of audiences.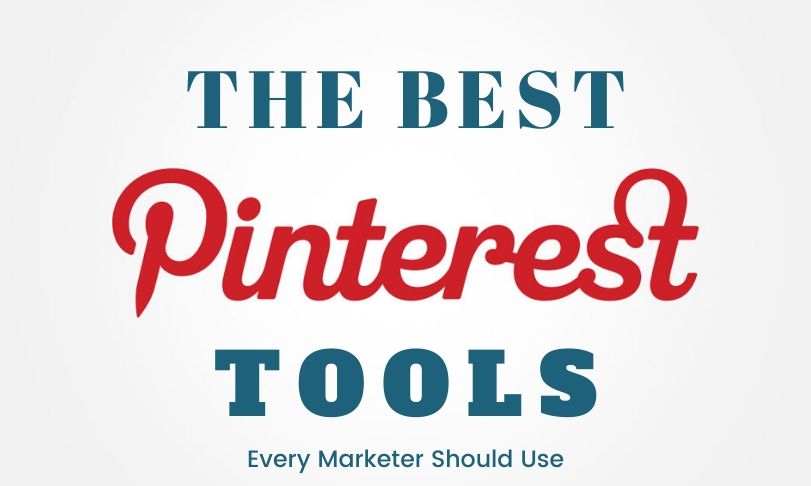 But you don't be like other business entrepreneurs, and make a smart move!
It is high time that just like other social media marketing tools you give importance to Pinterest as well. It is because there is a huge value associated with images on Pinterest. Most importantly, this social community houses millions of users who are willing to repin awesome content.
But how can you make Pinterest work for you?
This is possible and simple by making use of Pinterest tools.
There are various Pinterest tools available that can be used to design the best images and even help you track and monitor your results and marketing campaigns on Pinterest.
Best Pinterest Tools:
The different Pinterest tools can help you boost the effectiveness and performance of your campaign on this platform. The best part is that these tools can make your campaign successful.
1. Pinstamatic:
This is an awesome Pinterest tool that lets you integrate various sorts of content into one visual design. It is a highly useful tool for all types of websites and let Pinterest users pin the images with an appealing screenshot.
Also, it is possible to design an image using this tool with a sticky note or a quote, which includes a small message for your followers. It comes with a feature of Spotify Track that lets you create pinnable images of the favorite song and album artwork. Pinning the Twitter profile, including location maps and date, and adding captions to photos are some of the other features of this tool.
2. Canva:
You can gain a large number of followers on Pinterest only if you create images of the right type and size. One great tool for this is Canva that lets you edit images and design them beautifully. At the same time, it lets you crop image size to make it fit a suitable form on Pinterest.
Canva offers users with varieties of distinct templates and awesome design tips, which can help your Pinterest campaign to be successful. Along with Pinterest images, Canva is useful for creating posters, brochures, cards, banners, photo collages, presentations, infographics, and other forms of visual content that can make your site appear attractive.
3. Buffer:
Sharing content on Pinterest is very easy and hassle-free using Buffer. It lets you share content when most of your audience is already there to ensure your pins do not bury among other content in the feeds. You can pin anything interesting or content that is shareable from your site using Buffer.
This is also an excellent tool for scheduling repins, which is useful when you don't want your audience to consider you spam. Using this tool, it is possible to design a schedule that shares posts at consistent levels to keep your audiences engaging.
Buffer allows you to comment, repin, and like each post that attracts the audience so that you have a better understanding of what your audience likes.
4. Pin Search:
Pin Search is an extension from Google Chrome, which performs a search for Google Image or another useful image on Pinterest. It is a great tool to combat online competition and is useful to investigate your competitor's campaigns. This way, you have a better understanding of what you must deliver to your audience.
Pin search is useful to discover from where the competitive brands are entering. It gives you a lot of detail about the photographer, designer, and authors who designed pictures. Also, you can search for images, which can be used as inspiration.
5. Pinterest Analytics:
This is an efficient and promising tool that is highly supportive to begin a Pinterest campaign for your brand. With the help of Pinterest Analytics, you can maintain a perfect balance between effort, cost, time, and measurable goals for your campaign.
It is a promising Pinterest tool for all businesses. It lets you differentiate the best pins. The top-performing content showcases the kind of pins liked by your target audience, so you may focus on creating more rich content.
Moreover, Pinterest Analytics informs you of the way people respond with the Pins from distinct devices. It allows you to witness how the visitors on your website use the Pinterest button for pinning content to boards. Hence, it is a great tool to get the entire metrics you require for measuring your campaign's success and start designing better pins.
6. PicMonkey:
In order to share pictures or shots of your products on Pinterest or any other image related to your business, PicMonkey is an ideal tool. It can be used to design really attractive and special photos. PicMonkey lets you edit images and is excellent photo editing software that lets you integrate elements of uniqueness to the visual content.
Though this tool is not exclusively designed for Pinterest, it is of great use on this platform. It is a promising platform to run social media marketing campaigns and comes with a feature of custom effects, which enables you to save a combination of effects and regularly use it when you edit designs, collages, and photos.
Hence, when you intend your website to get images of high-quality and want to create a unique Pinterest board, this tool is highly supportive.
7. ViralTag:
This single tool comes with an extensive collection of Pinterest tools that are highly useful. It is great to pin schedules to distinct Pinterest accounts and boards.
ViralTag allows you to upload bulk images and numerous pins at one point of time. With its browser extension, it is possible to pin directly from any site. Also, it comes with a built-in tool for photo editing that enables you to design images of high-quality, which can be posted to Pinterest.
There is also a robust analytics tool, which can be used to monitor your Pinterest account's performance.
8. PinGroupie:
Another highly relevant and useful tool is PinGroupie, which lets you search relevant boards conveniently. It offers a range of filters that are useful to determine appropriate kinds of boards for your business and marketing campaign.
It is possible to integrate this tool with multi-functional and broader Pinterest tools such as Tailwind.
9. Page2Images:
The Page2Images come with the feature of the PinPage bookmarklet, which lets you click the snapshot of any page on the browser and share it like a pin on Pinterest. It is very easy to use this tool and you can design and share pins of all kinds immediately.
10. SproutSocial:
For sure, it is a highly popular tool on Pinterest that offers a range of solutions to businesses to expand the Pinterest account. It is a highly useful tool that can support you throughout the marketing campaign on Pinterest. From creating pins for your campaign to measuring its performance, this tool can be used for all functionalities related to Pinterest.
For marketers or businesses that intend to implement a full-fledge Pinterest campaign, it is a great tool.
11. MiloTree:
The next amazing Pinterest tool in our list is MiloTree, which is a highly useful plugin for websites and can support you to expand the follower base on Pinterest. This tool is also useful to drive traffic to the Pinterest account of your business.
It comes with a reliable plugin that popups to the viewers of the website, which also displays content on Pinterest and asks them to follow the Pinterest account.
12. Socinator:
This is another useful tool for automating multiple tasks on Pinterest, including posting pins to following the boards in a specific niche. Socinator is great and supportive for managing numerous accounts on Pinterest conveniently and in an effective manner.
13. Ninja Pinner:
This is another highly important tool for Pinterest, which allows automating numerous functions on this platform. It allows automating to follow as well as unfollow features, comment, post options, and repins. This tool is also great to target and filter the relevant audiences for your posts and content.
14. TrafficWonker:
Another tool that can help you run efficient campaigns on Pinterest is TrafficWonker. It is a promising tool that allows automatically adding and posting appropriate pins for your posts. The main role of this tool is to bring traffic to your Pinterest account. It comes with the unique feature of FastFill that eventually adds up to 50 pins to the account in just a few seconds.
15. Pin Blaster:
This is another great and effective Pinterest tool, useful for automating the regular tasks on Pinterest such as unfollowing, posting, following, commenting, and more.
Pin Blaster is one of the finest tools that can be used for posting images on Pinterest and on WordPress. Moreover, it allows you to manage numerous accounts on Pinterest from a single place.
16. ViralWoot:
Another tool that can aid you in creating a successful campaign on Pinterest is ViralWoot, which is useful to schedule the pins and bring maximum exposure to your business. This tool not only allows scheduling pins but also enables you to promote the pins and bring more traffic to your account. It offers analytics on the performance of your campaign and content on Pinterest.
17. PinThemAll:
If you are looking for an efficient tool that lets you specifically create pins by using a variety of sources and design features, PinThemAll is a reliable tool to consider. Using this tool, it is possible to create a collage of pictures and take a snippet from the web page and transform it into one pin that also includes quotes, text, and other vital aspects. Also, this tool comes with a feature to share music on this social media platform.
18. Hootsuite:
This is another popular and effective Pinterest tool for social media marketing. This tool is highly useful to design Pinterest boards and directly post pins from this platform.
Hootsuite enables to conveniently schedule and post pins directly from its dashboard. Most importantly, it allows a hassle-free collaboration with the team and manages numerous accounts on Pinterest from one integrated platform.
19. IFTTT:
This tool hosts a collection of small but highly useful applets. Using these applets it is possible to accomplish multiple actions and tasks on Pinterest. One most promising feature of this tool is that it allows you to automatically post pictures on Instagram to Pinterest or pin novel WordPress blog on this platform.
20. SocialPilot:
To add more functionality to your advertising campaign and make it a huge success, SocialPilot is a highly useful tool. It allows you to schedule as well as post pins on your business's Pinterest boards. It also lets you create and share pins directly from its app.
21. Piktochart:
You know, Pinterest is a visual network to build social connections. It does not mean it is limited to the use of images and photographs only. It is also possible to tell a story and share valuable details about your business through the use of Infographics.
This form of content is highly popular on Pinterest as it can be processed conveniently and allows users to share great details without demanding much time. For most business marketers that don't possess rich design skills, this tool is highly useful.
You can create brilliant Infographics easily by using Piktochart. It comes with pre-made templates that can be customized as per your requirements.
22. Woobox:
Finally, we have Woobox in our list, which can serve most of your marketing purposes. The best way to get more followers on your Pinterest boards is to benefit from the existing community.
Woobox can be installed to your Pinterest account as a tab for your fans on the Facebook page that lets you display the Pinterest pins and boards over Facebook.
Summing Up:
Pinterest is an efficient and intuitive platform that delivers pins to the audience, which is interested in your content. The only thing required is to use it efficiently and by using the most robust online marketing tools. Just use the right tools for your business campaign and it will make Pinterest a highly promising platform for your business.