From a social media platform to a reliable platform among users to make purchases, Pinterest has evolved over the years.
Presently, it boasts of holding more than 150 million active users on a monthly basis.
Unlike Facebook and Amazon, Pinterest offers ample space for storytelling and creativity. It even prides to be a discovery platform that allows Pinners to determine new ideas.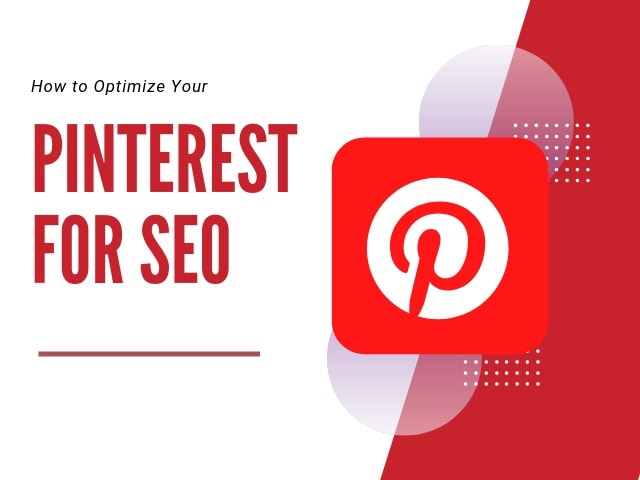 Though Twitter and Facebook seem as golden pedestal stops to content marketing, if you wish to avail lasting success, you must not narrow your vision. It is vital to focus on other valuable platforms, like Pinterest.
Why Use Pinterest for SEO?
Pinterest is a refreshing change in the field that allows you to present content in an eye-catching way. It seems like another feel-good, fluffy site full of endless options and aspects.
But within, it is a strong content curation platform that can even bring 300% more referral traffic to your website as compared to other social platforms and with less effort, money, and time.
Moreover, just like YouTube, it possesses a hybrid role and is not just a social network, but also an incredible bookmarking and search engine service.
Using Pinterest for SEO and content marketing can bring you loads of efforts. Most importantly, using it is very simple.
Hence, check out the best ways listed in this post to use Pinterest efficiently for Content Marketing and SEO.
Ways to Use Pinterest for SEO and Content Marketing:
1. Drive Referral Traffic to Your Website:
The most obvious method to use Pinterest for content marketing and SEO is to drive referral traffic back to your website with pins from your site. This is the simplest process. Just post pins and get site followers to post the pins.
But remember, Pinterest does not follow 'external links.' The links you obtain from Pinterest might not be able to help you perform search engine optimization on Bing and Google.
Pinterest is a search engine service as well as a social network platform. Users can browse their feeds just the way they do on Facebook and Twitter.
To obtain referral traffic, you are required to get pins among the audience. This means you need to optimize your site on Pinterest for search and social rankings.
2. Polish the Basics:
Before you post your content on Pinterest, you need to work on the basics. It is vital as if you make a mistake in the basics, then your ultimate aim would not be served.
For this, you need to follow some basic guidelines, such as:
Create a business account. This is important for analytics as well.
Verify your profile as well as website links.
Make efficient use of detailed descriptions.
Use the correct formatting for images, videos, and other such aspects.
Make sure you link the image to an appropriate URL and not just to the homepage of your website.
Employ descriptive and eye-catching titles.
3. Pin As Many Times as Possible:
Pinterest is all about pinning stuff that is of your interest. You can pin not just your own stuff, but even other interesting things from other people too. Similarly, they can pin your content if it interests you.
It is suggested that you post new content and pin it as many times as possible. This can even include common pins available on the board. This will help to improve your Pinterest search rankings to a great extent.
You can pin your posts and increase its chances of being read. Additionally, you can pin the same post to numerous boards throughout the day. This will boost your success on Pinterest.
The Pinterest community is operated by repins, and this is what that will increase traffic on your profile. This is what you must be focused on. You can use repin to avail numerous benefits, like:
Offering a quick boost to your profile
Writing a supporting argument to your content
For this, you need to be specific in selecting interesting topics that would increase the buzz and would help your content get more chances to be seen.
Also, you can use an image or an infographic with lots of repins and outline a blog based on it.
4. Develop a Balanced Website:
You can boost the traffic onto your site by including a balanced link between your site's data and crowdsourcing of your website. It is possible to establish the link by following some simple steps.
Place a Pinterest tag, which is the most genuine form to set up a paid campaign. This would allow you to set up conversation events on the site, reliable report results, and segment the users.
The next step is to include a save button. For this, you need to use a short HTML code. This will allow your campaign to reach far beyond Pinterest.
Lastly, get your website verified. This will also add your profile picture to all the pins.
5. Optimize Your Pinterest Profile for SEO:
This is quite similar to optimizing your site content for Google. In order to optimize your profile for SEO, you need to perform in-depth keyword research.
Additionally, you need to know what people want to read about and see. In simple terms, you need to check what the buzz is all about.
Use the search option on Pinterest to see the keywords appearing first. This is the best thing about Pinterest as it makes the search process quite simple. Registering for a business account can make the process even easier. It will help you to witness the analytics and determine keywords that are most popular.
You must create a username that is short and catchy. It must be easy to remember and include a keyword.
Focus on the 'About me' section as it is an important place to include relevant keywords and attract users. About me, the section must not be too long, but it must include every important thing.
When outlining the content in such sections, consider yourself as a user. Include things that would be appealing to the users and is expected to be most successful on the profile.
6. Consider Important Pinterest Aspects for Search Discovery:
To make the best use of search aspect of Pinterest, you need to consider all important aspects related to it.
Though you might not have enough engagement or reach the social route, ranking in the search is highly valuable. It is because users have the intent to know what they want.
The very first thing is to understand the orderliness of Pinterest. For this, you must explore categories that are at the top level organization. This will help you know the activeness of your main category and determine the activeness of topics mentioned in your website.
Also, you can explore topics that Pinterest generates on the basis of a search performed by the users.
For this, you can use the link www.pinterest.com/explore. This will help you know the topics already in buzz and exist on this platform.
Lastly, you must search for pins from your website. This can be done by using the link www.pinterest.com/source/(your domain name). Check for boards your content is pinned on.
Understanding the competition is extremely vital. Perform lots of searches to know what pins are showing up. Present, if you have something better to offer.
Using the keyword research tool for search strategy is also helpful to find a keyword in the niche of your interest, and that is not too tough competition. Prepare themed board to create descriptive and match the theme.
The title tags, ALT tags, and filenames must also be descriptive.
The ranking factors of Pinterest are not just public, but they are constantly evolving. They prefer boards and pins that boost engagement on this platform for your website.
7. Do Optimize for Social Networking:
Besides SEO, you must also make use of social service on Pinterest. This is almost similar to Twitter where you try to get liked by feeds of other people. You are required to:
Develop following on your boards
Create concise boards in your niche theme
Pin content belonging to others but is highly popular and extremely interesting
Repin and comment to always stand in front of other pinners
Collaborate on the same level as other pinners on the shared boards.
8. Optimizing the Boards:
When preparing boards, it is essential to incorporate an aesthetically appealing factor. They must appear professional and organized.
Offer an interesting title to the boards including a keyword. The board titles must be clever, attractive, descriptive, and meaningful.
But at the same time, make sure that the title is highly effective. The best way is to create a title that is equally creative and intellectual.
Again, think about what would interest you to click on the board. Besides high-quality images, your post must be helpful, and the board must be something that can easily attract people.
You can define an attractive color theme for your boards. Make sure you create boards around interesting topics, and the content appears well-placed and professional.
9. Barnacle SEO:
'Barnacle SEO' is a term in Google SEO that refers to sites that use other big websites to rank high for search queries that they would otherwise not be able to rank.
This term is more known in local SEO where businesses use Google Profile, Yelp, or Yellow Pages to rank in search queries. Most e-commerce companies also use eBay, Overstock, or Amazon for the same purpose.
Pinterest is quite different from other social networks and emphasizes on Google search traffic. Pinterest hosts lots of quality links and even possess an immense pool of keyword search intent.
If your website deals with a high visual business like furniture, décor, fashion, and more, you are more likely to gain better rankings on your Pinterest page than your website. Hence, creating targeted Pinterest boards would help you rank higher.
10. In-Depth Keyword Research:
The two major challenges in keyword research are discovering 'user intent' and 'thinking laterally.'
In simple terms, this is related to what people really search for when they enter a specific keyword. Additionally, what all ways they are considering to try to solve the problem.
Here consider an example. When people search for cutting boards, they might be trying to figure out –
Features to check, best brands, and different types, using cutting boards, buying the guide, safety considerations, uses, video or pictures related to it, or might be something else.
Once you are able to figure out, you can find lateral terms that are closely related but are different. Hacking Keyword Planner via Google Correlate and Wikipedia Pages can help you in this context.
But in most of the cases, Pinterest is the best way to solve the problem.
There is a search suggests function on Pinterest like Google. This uses actual user data to try to determine what you are searching for. Enter your keyword there, and you would be available with top modifiers.
Also, when you type the main keyword and search, Pinterest will display the topics of your target keyword.
But how can you find the lateral keywords? There are couples of techniques for this.
First, you need to determine the main topics on Pinterest or boards for the keyword. Then go to Google, and you will obtain a query for this. Use this to obtain more relevant pages for the query.
11. Optimizing Pins:
For this, write great content for your website and blog. Make it as interesting as possible and relate it to some of the boards.
Always proofread the blog post and check it for spelling and grammar mistakes. If you are not able to do this on your own, you can employ free online services such as Student Writing Services and AcademAdvisor.
Include appealing pictures with the content and select best for your pin. Write effective pin description using appropriate keywords related to it. This will let your website rank high on search engines and help you obtain more traffic.
Final Words:
Using Pinterest for content marketing and SEO involves a series of intricate and simple steps. But above all that's mentioned in the post, make sure you write really good content and get involved with the influencers on this platform.
Share pins of other users and pins on popular topics. Shape the entire profile so that it is eye-catching and ultimately can grow traffic on your website as well as Pinterest profile.