Do you have the interest to write? If yes, then starting a personal blog is a good choice for you. Many people love to write and express what they think through writings.
Blogs are one of the best pastime hobby people prefer to express their experiences, advice, etc. to help others and sometimes can even make money out of it. There are many blogs all over the internet.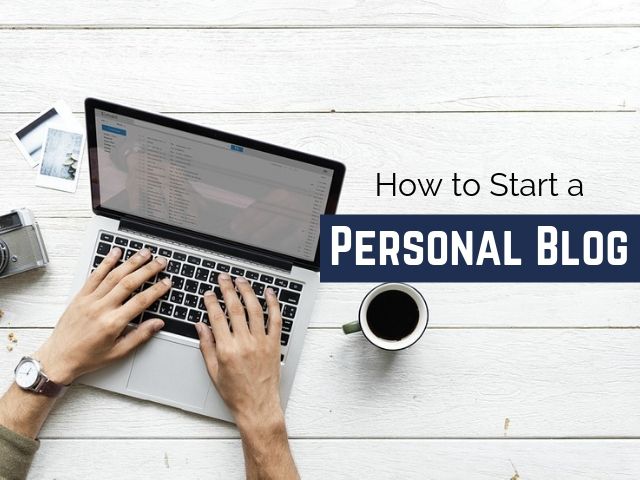 Some of them are very helpful in leading people in the right direction or providing the solution for needed people. If you are into blogging, it should be started in the right way to be more effective and successful.
It is very easy to start a personal blog. The difficulty is to update it with new contents that can entertain users well. A blog which includes entertaining contents for their users will be successful.
Some people have the talent to keep their audience entertained and some others don't. So, before deciding with this profession make sure you do have the talent to entertain others through your writing.
Initially, you can get help from your friends and family about your blogs and know what to change to make it more entertaining. Implement those changes to your writing. This will help you to start your blog in a good way and entertain others with it.
Tips for Starting a Personal Blog:
Blogging is the best way to express what you feel about a topic.
Blogging is the best option to make money
Your experiences and blogs can help others to solve any problems or issues
You can be very popular if your blogs become popular.
Blogs will help to express your identity and will help you to define yourself as a better writer.
Here are the 5 steps to follow if you want to start a personal blog:
Choose a domain name
Choose a blogging platform
Hosting platform
Design blog
Start posting
You cannot just start a blog without choosing a domain name, a platform for blogging, hosting platform, etc. So, these are the primary steps to follow when you start a personal blog. We can discuss them in detail below
1. Choose a domain name:
The first important fact every blogger should know is that one cannot write without a domain name and extension.
Without a proper domain name, no blog can exist. www. yourblogname.com. here your blog name is the domain name part and .com is the domain extension part.
You can choose domain names from many websites online like Namecheap, Godaddy, etc. If you have an idea about what you are going to write and about the blog name search on those sites whether it is available or not. If it is not available, you need to find another suitable name for your blog.
With choosing a domain name, make sure to add a proper domain extension too. .com is the most popular domain extension everyone uses. But there are many options available for you to choose from. Go through available options and choose a proper domain name and domain extension that matches with it.
Tips for Choosing a Domain Name and Domain Extension:
The name should be easy to remember or type. Choose a simple name without confusing users
Your domain name should be unique and different from others
Choose trustable extensions like .com, .org, .net etc. Some extensions like .biz , .rock etc are not considered as trustable
Avoid using number or hyphens in your domain name
No need to overthink on names. You can just go to any sites from which you can buy domain names and search the name you chose is available or not.
The price of a domain name varies according to its demand. You need to pay around $10/year for a domain name. Pay additional, if you need any extra features.
2. Choose a blogging platform:
Next step is to choose a platform where you can put your blogs. Without a platform, blogs cannot run. There are many platforms like WordPress available to use.
It is better to stay away from free blogging platforms. You cannot run your blogs as you like on those free blogging spaces. They will control your blog and won't allow you to make money through a blog advertisement or anything else.
So, to get the full power of your blog it is better to use paid blogging platforms.
WordPress is one of the most popular blogging platforms according to bloggers. It offers you many features for customization and is user-friendly too. But this is a free blogging platform with some limitations too. Here are some blogging platforms for you to try
WordPress:
WordPress offers two types of services. One is self-hosted and the other is an online version. Both are different to use.
For self-hosted WordPress platform, you need to download the software from WordPress.org and install it. After doing it, you can add your blogs to this software. There are many additional features like plugins available with this software. It allows you to customize your blog look and settings as you want and bloggers who want to make money from blogging can use this self-hosted blogging platform
Another option is WordPress online which is an online platform where you can include your blogs. Here you don't need to have a website hosting or a domain name. There will be wordpress.com with your domain name.
Just sign up yourself and activate your account. No need to go through the domain name or hosting service purchases. There are various plans available for you to purchase. There is a basic blogging platform which is completely free to use. Another option is for professional bloggers for $99/year and for the advanced business solution they charge $299/year.
Blogger:
This is another blogging platform from Google. It works just like the WordPress online platform. It is completely free to use.
All you have to do is to signup to this platform using your Google account or any other account. Small personal bloggers and people who do writing as a hobby can choose such a blogging platform.
Tumblr:
Tumblr is suitable for micro-bloggers who are writing short contents. You can also publish quotes, images, short movies, etc here. This is a social network blog where people can publish their blog and generate organic traffic from sharing across Tumblr itself. This is completely free to use.
The domain name will end with tumblr.com. You can also purchase a domain name if you want by paying money.
Medium:
This is another free blogging platform for writers who want to establish their name as a blogger. It accepts blogs of any topic and distributes it using a custom algorithm and content curation.
The community within the platform upvotes their favorite blogs and it can be viral like that. Domain name ends with medium.com
There are many more like Ghost, Squarespace, Wix, etc. Choose anyone you want to publish your blogs.
3. Choose a web hosting service:
Web hosting is necessary if users need to access your website through internet. It acts as a supporting platform to your website. There are many types of web hosting services available.
Some web hosting providers also give you a domain name for free. Web hosting starts from $10/year. While choosing a better web hosting service, make sure to check its features. It should meet all your website requirements and should be reliable. Here are some reliable web hosting service providers
Bluehost:
This is a web hosting provider which offers the domain name for free. It has plans to start from $3.99/month and offers 24×7 customer support. It backs up all the website files daily. Also, it provides free SSD and SSL options
Dreamhost:
Another web hosting provider which offers free SSD, SSL and SSH access for its users. Pieces start at $3.95/month and there are no hidden charges when you use their service. They use pretty fast SSD to store all website files. Try their services and know how it works for your site
Hostgator:
This is another website hosting service provider that offers almost all features as the above services. One difference is that it won't offer free SSD for all plans. It back-ups all data files regularly and monitors well. Plans start at $2.95/month.
After selecting your web hosting service, next you need to register is your domain name and register it. Without a web hosting platform, it is difficult to register a domain name. After doing this you can launch the blogging platform and install it.
After completing the installation, activate your blog. Now, the whole registration and set up process got completed. The process varies according to your hosting service.
You can see the complete guide of installation and operation from the service itself. Follow it and launch your first blog.
4. Design blog:
Like all the above processes, the blog look is also important. If you are using WordPress, there are a lot of options for customization using plugins.
Just download plugins you want and activate it in your blog. You will get them to do almost everything related to your blog look and settings.
A lot of themes are there to choose from. You can choose a proper theme as per your choice and create your blog design easily. If you are good at designing a website, try to do that. Or else use a professional to design an appropriate website to publish your blog. They know how to place it in front of users to be more acceptable.
Your blog design should reflect you as a blogger and your personality. So make use of good resources and come up with a good effective design.
5. Start posting:
After completing the website design the next step is to start posting on your blogs.
WordPress offers you a step by step guide to uploading blogs and images. If you are a WordPress user, then check for a guide for uploading blogs on WordPress.
The process is very simple with all blogging platforms. After uploading your first blog you can take it further. Make sure to entertain users through your blogs and post regularly.
All the above steps are essential to creating your own personal blog. Your next aim should be to make it grow so that it should reach to as many people as possible.
Tools to Improve your Personal Blog:
In addition to all the above instructions, it is important to maintain the quality of your blog. Also, one point to remember is the promotion of blogs.
To be a successful blogger the blog quality should be better and also you need to spread it to a wider audience. Both of these factors are very important and there are tools available for you to help with it
This is a tool from Hubspot which helps you to generate new blog topics when you want it. Just adding keywords, it will show you the content ideas related to those keywords.
Grammarly:
This is a great tool to check the spelling and grammar of your blog. When you post something, it should be free of grammar errors and spelling mistakes.
Another free tool from where you can download images for your blog post. It contains a lot of images that you can use anywhere you want
For WordPress users, there is a plugin to improve their search engine optimization called Yoast SEO. This is a free tool which can ensure your post to reach the top position of search results.
Conclusion:
When you want to create a personal blog to entertain users it is very easy if you follow the above-given steps. If you choose web hosting+ domain name, then the task will be easy too.
First, you need to see your budget and plan everything accordingly. Initially, you need to spend money until your blog launches. After launching try all options to make it popular and this will help you to earn money from your own blogs.
Whatever you want to write share it through your personal blog. Make it more entertaining so that more people will start to follow you.
Finally, happy blogging !!