Did you read every single advertisement mentioned in a newspaper or a magazine?
Most probably, no! You might have only read advertisements that managed to catch your attention.
A company presenting its ad in a magazine with a big readership pays for that readership, regardless of the fact that its advertisement is read or not.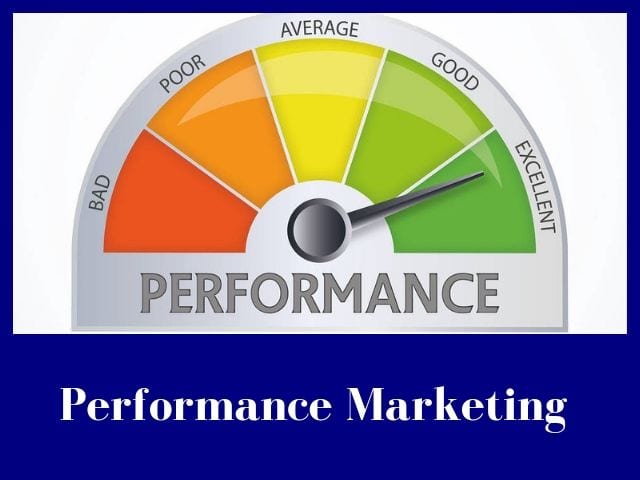 But this is how printing advertising works. As far as online advertising is concerned, things are absolutely different. You might be spending thousands on ads but never have any conversions. It is because online advertising is concerned more about advertising at the right time, in the right place, to the right people.
So, you see, lots of preparation goes into running a suitable ad online. And if you are able to successfully do it, you can make an innumerable amount of money.
Among the various aspects of online advertising, a key one is Performance Based Marketing or Performance Marketing.
What exactly is performance-based marketing, how it works, and a lot about it is precisely explained in this post? So, let's read all of it!
What is Performance Marketing?
Performance marketing is a broad term that refers to online advertising programs and marketing where the marketing companies and advertisers are paid when a particular action is completed, like a click, lead or sale.
It is a combination of innovation and advertising that helps affiliates and retailers grow their business in dynamic ways. It involves designing campaigns that are highly targeted for each retailer in a way that everyone is successful. When practiced in the right way, performance marketing can lead to win-win opportunities for affiliates as well as retailers.
Unlike other kinds of traditional advertising where fees are paid up front and not on the basis of the success of the ads, advertisers in performance marketing are required to pay only for transactions that are successful. This way, performance-based marketing has reversed the conventional value proposition of advertising and allows real-time measurement of ROI.
There are different types of performance marketing used in online advertising and each type is based on its key pricing model. So, before we head towards the various types of performance marketing, first let's know about the different key pricing models for performance marketing.
Performance Marketing – Key Pricing Models
Usually, you can expect five types of reactions from your online audiences – impressions, clicks, engagements, sales, and leads. So, based on these we have five pricing models for performance marketing.
1. Cost Per Impression:
It is the price of one thousand impressions achieved and displayed to a user online on a particular web platform. For example, if an advertiser is paying $5 cost per impression, he is paying $5 for a thousand impressions. So, if he has a total budget of $5,000, he can pay for 5 million impressions.
2. Cost Per Click:
Some advertisers pay on a cost per click basis, which means they have to pay only when someone clicks their ad. This is quite an efficient way to pay rather than paying for millions of impressions, which may end up not making any kind of benefit.
3. Cost per Engagement:
The advertiser has to pay this cost when someone engages with her audience. If the audience is attracted to your ad and is highly engaged, then you have to bear cost per engagement.
4. Cost Per Sale:
It is one of the most expensive pricing models for performance marketing, where an advertiser has to pay when a prospect makes a purchase. It does not matter whether the purchase if for a service or product. However, the advertiser will not pay until the desired deal is done.
5. Cost Per Lead:
Within this pricing model, an advertiser pays a certain cost when a visitor not just clicks on the ad but shares further information to become a more qualified lead. The desired action can be filling out contact details, signing up an email list, or performing other sorts of task.
Each of these pricing models is based on the different performance-based metric. For instance, if you want more visits to your website, you have to optimize the cost per click. Alternatively, if you want to maximize new leads, cost per lead is an adequate metric to consider. With these pricing models, performance metric seems user-friendly and profitable and based on these, here we have the different types of performance marketing.
Types of Performance Marketing:
1. Native Advertising:
In this form of advertising, a particular ad takes on the aesthetics of a specific inventory. This way, the ad appears more natural to the specific environment, enabling for less friction for the user and thereby encouraging more clicks.
Native advertising is an ideal way to gain success for performance marketers who are always looking out ways to enhance their ad's effectiveness.
2. Display:
Though display advertising is not much practiced these days, still marketers devote a little part of their budget to continue running ads across desktop and mobile platforms.
With attention span errors and banner blindness, advertisers are finding out new formats for a display to boost the effectiveness of display ads.
3. Search Engine Marketing or SEM:
Undoubtedly, SEM is one of the most vital kinds of performance marketing because an enormous amount of research is conducted on search engines such as Bing, Google, Baidu, and more.
SEM can be either organic/unpaid or paid search.
Advertisers and marketers optimize CTRs and bid for their paid search efforts in order to get benefit with SEM.
4. Social Media:
Presently, there are various social media platforms available that have made social media one unique way of advertising online.
Facebook functions using all the above-mentioned pricing models and social media platforms have the most powerful ad influence for performance marketers.
As far as LinkedIn is concerned, CPC based pricing and CPM for three ad formats – Sponsored InMails, Sponsored Content, and Text Ads.
Twitter has different billable actions, which are unique to this platform. They offer the standard CPIs and CPMs in addition to other pricing models such as cost per follows, cost per engagements, and cost per videos viewed.
Reddit functions one CPM and CPI-based pricing
Quora functions on CPC based and CPM based pricing.
5. Content Marketing:
It is a novel kind of marketing to brands and offers relevant information through published content to clients at numerous stages of the buying process. This form of marketing helps websites and brands to organically rank in the search engines for more traffic and enhanced brand awareness.
This type of marketing is used by performance marketers to reduce their up-front cost and avail long term benefits as compared to paid search.
Performance Marketing Tactics:
1. Potential Pitfalls:
Just like other marketing campaigns, there are some potential pitfalls with performance marketing, like issues related to regulatory rules, placement transparency, and publisher fraud. You can use online tools to detect such frauds and combat such problems.
2. Starting With It:
Make sure you establish your performance based marketing campaign goals so that you create and set ads accordingly. Your goals can be more website traffic, repeat visits, higher engagement, higher sales, and better lead generation.
3. Pre-Launch Plan:
Once your goals are defined, you must outline your business strategy accordingly. You can build a strong team to achieve your goals.
4. Going Live:
With a well-developed strategy and strong team, you can launch your performance based marketing campaign.
5. Post-Launch Plan:
Analyze the performance of your plan and manage the same based on your selected metrics. Figure out the metrics that are offering the best performance and then allocate ad runs accordingly. With a performance marketing campaign, you can grow sales and increase ROI.
How to Succeed with Performance Based Marketing?
With the right strategies and practices, succeeding in performance-based marketing is possible. Here check the best six strategies to help you wind the performance-based marketing scene.
1. Create Smaller Segments:
The more specific you are about the audience, the more specific ad you can create, and the more relevant it will be to your audience.
Facebook ads segment audiences in different custom forms. Just consider the type of customers close to the bottom of the funnel. Finally, close the deal with an advertisement, which is precisely tailored for them.
An important thing that you have to practice is to upload the potential leads soon after creating your custom audience. Alternatively, you can target specific consumers based on demographics like gender, age, and location.
Finally, try targeting customers by bringing them back to your website. Target the users who have already visited your website before but didn't fill the form or took the desired action.
2. Practice SKAG:
Less is better in AdWords.
You can make things more complex by including multiple keywords to each ad group. But, this will end up in backfiring only.
Therefore, you must include a single keyword ad group or SKAGs.
The more keywords you select, the more SERPs you want from Google to put you on. This will inevitably hurt your rankings and will affect your overall quality score.
3. Master the Technique of Writing Headlines:
There are various tried and tested ways to write headlines. This is important when you are writing a headline for an article or an ad.
The best approach is to be you. It is best when you are writing a headline. This means that you must incorporate a specific rationale into the headline. Just think what exactly you want to read through the article and convey the same to your audiences through the headline.
It is always better to experiment with your headline. If it does not pay off, it's fine. You can conveniently evaluate the headline that works best for your ad with A/B testing.
4. Perform Beyond Facebook and Google:
Maybe, you are advertising on Facebook and Google for the same reasons everyone others are doing.
However, if you take out some time to explore the smaller niche networks, you will find platforms where your ads can generate better ROI.
For example, LinkedIn is a better platform to target professionals as compared to Facebook.
You can use various tools to keep an eye on your competitors. Find out the resources, which are being shared the most and which have the best performing headlines.
Moreover, if your competitors are advertising on different platforms like Pinterest and Twitter, you too must do that.
5. Purchase the Best Times:
Definitely, you don't just want people to look at your ad. You want to divert them to your website and eventually want them to convert. Ultimately, you want them to take the desired action.
The thing is that someone who views your ad in the noon is more likely to take an action than someone who views your ad in the night. Hence, you have to figure out the perfect time when your ad is expected to receive the highest CTR.
You can always make new adjustments to your ad campaign and check how your ad is performing with the new adjustments.
6. Make Use of Remarketing Lists for Search Ads or RLSAs:
In the case of performance marketing, bidding on competitor names and popular terms is a great idea. But make sure you do it right by using RLSAs or remarketing lists for search ads. This lets you rank for the broad terms, but just for customers that you are remarketing to. Your ad will be displayed for users who have checked your website in the past.
This implies you can bid on broad, big terms to maximize the reach of your advertisement. This way, your money is also saved as you are paying for ads that were run for previous visitors. Using RLSAs is almost similar to utilizing Facebook Ads. You just have to select run ads, which are specific to your audience based upon the ads you have run in the past.
Conclusion:
Performance-based marketing is truly awesome as you have to pay for what you get, be it clicks, leads, engagement, impressions, or sales. It is not the same for every ad.
You just have to select the correct payment plan for your latest campaign and hack the strategy to get bang for your buck. Most importantly, do follow the above-mentioned strategies.