Advertisements are essential to your business growth. When you try conventional advertisements, you need to pay for it in advance. But online advertisements operate in a different way. That's why many brands prefer online advertisement now.
You don't have to waste on advertisements which won't give you the expected ROI. You need to choose the right platform to advertise on right time first.
Know your audience before advertising and make it attractive to them. Performance-based marketing is the best way to ensure maximum conversion and you can also save money on advertisement.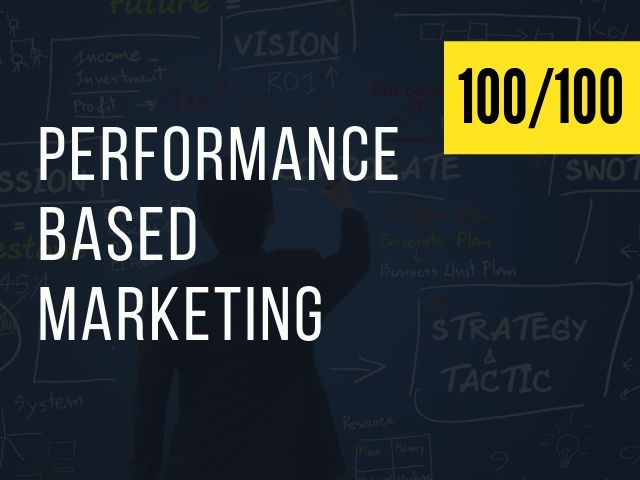 There are various options to track marketing performance. Google analytics helps you to get an idea of better performing ads. There are various methods like remarketing or retargeting to ensure the data to reach to interested customers. Performance-based marketing is a broad term and very popular because of its customization options.
Every brand wants to make sure that their advertisement reaches to as many users as possible.
But what if users won't click on them? they are wasting their money there.
Performance-based ads will give them a better option to pay for only clicked ads. This can help them to identify which type of ad will work and which will not. This knowledge will help marketers in further marketing and advertisement options.
Users must click on these advertisements and thereby sale also has to increase. Then only we can say that the advertisement offers a maximum return on investment.
Here is a complete guide for you to know more about performance-based marketing and various strategies associated with it.
What is Performance-Based Marketing?
This is a term that represents an online marketing and advertising program where advertisers pay for marketing companies based on the performance such as sale, click, lead, etc.
Most businesses now prefer this advertisement because of the facility of paying according to their performance.
Initially, you have to decide with the marketing company about the budget for the advertisement and then go forward with it. There are different types of performance-based marketing payment methods
CPC (cost per click):
Whenever a customer clicks on Ad you need to pay the cost for that click. Here you need to choose keywords and add with your advertisement.
While a click won't guarantee purchase, CPC campaign can work well for companies with a high conversion rate and want to just boost their traffic.
CPM (Cost per thousand views):
In this type, you need to pay for every thousand views of your advertisement. This is most usually preferred by reputable brands who need more brand exposure.
They will bid for 1000 views and need to pay for every thousand views they get.
CPL (cost per lead):
You need to pay the cost for each contact info you get through advertisement. In this type just by clicking on the ad, you don't have to pay for it.
Users have to advance with the ad like sign up newsletters, joining to email promotional programs, etc. Users have to fill the whole contact form and submit, then only a lead will completely involve in your business.
To experience the best result, the business has to be more careful in choosing the targeted audience.
CPA (Cost per Action):
Here you need to pay for each action like adding credit card details or making a purchase. You don't have to pay for advertising unless users won't complete their purchase procedure.
You have to pay after the deal is completely done and increases the sale of your business.
There are web publishers like Google, Yahoo and social media platforms like Facebook, email, Instagram, etc. which are popular platforms who publish ads on their platform.
From all the above types of marketing, you have to choose the right type that suits your business. This is essential if you are expecting good results out of your advertisement campaign. Each type has its own function and you need to choose the type you want to ensure maximum reach of our brand.
Popular brands will go for types like CPM because their need is to ensure maximum brand popularity.
If you are new to the business and want to advertise your product then people mostly prefer CPC type. Because you only need to pay for the number of clicks you got from advertising. This will prevent wastage of money for advertisement.
The traditional advertisement is very costly and cannot ensure its reach worldwide. You cannot also ensure a good return on investment. No need to waste your money by choosing such useless advertisement types.
How Performance-Based Marketing Developed?
Most marketers prefer performance-based marketing because of the facility of paying based on advertisement performance. This is more suitable for small business because of the low expense plan.
You will get enough time to analyze the advertisement performance. The success of every ad depends on the type of advertisement and its content. If users want to click on the advertisement, they should find some interesting elements in it.
A good designer can help you to make the advertisement as users want. CPC is the main type of advertisement plan most of the users prefer.
Also, you need to choose a better platform where many users prefer. Google is the favorite platform for advertisements. They offer a wide variety of advertisement option and is very affordable for any type of business.
Google will put these advertisements on the pages of users who search for keywords related to your business. This is a very advanced method to publish advertisement without irritating the users.
You need to bid on AdWords, you want to choose and select it with your advertisement. Some AdWords are expensive and may cost higher and there are also AdWords at a low cost. You can decide with the keyword according to your budget.
Benefits of Performance-Based Marketing
Best advantage of performance-based marketing is that the result is trackable and measurable
Offline advertisement cannot ensure the maximum reach of your advertisement. Internet is a worldwide platform and you can publish the advertisement and improve the maximum reach of it
Budget control is another advantage of this marketing
You can see the performance of your advertisements from the start itself. Track your result and know the audience response.
The risk factor is very low while choosing this marketing type
Performance-Based Marketing Strategies:
Performance-based marketing is a very useful marketing type for all businesses. When you want to improve your business reach, advertisement is very important.
Without knowing the proper strategies, you cannot do it better. Here are some important strategies you can follow while opting performance-based marketing
1. Target your audience:
The first step is to choose the specific audience to your advertisement program. This will help you to be more focused.
If you check Facebook Ads, it will allow you to create the custom audience for your advertisement. You can choose the audience based on their demographics, age, date of birth, year of birth and many other factors.
If you are marketing formal dresses, the main audience you should choose is professional people. Like that you can set a particular group of people based on criteria to publish the advertisement.
If you post videos, choose people who watch the video. Like this, creating custom audience can make your advertising efforts more focused and ensures maximum ROI.
2. Focus on Single keyword:
As I said above when you do performance-based marketing, you need to choose keywords you want to attach with your advertisement.
When a user searches on that particular keyword they can see your advertisement. But there is a chance for you to focus on multiple keywords.
It will make your advertisement efforts more complicated because you need to focus on so many keywords. This may affect the quality of your advertisement too.
Don't compromise with your quality by concentrating on so many keywords. Choose one highly performing keyword and implement it in your advertisement
3. Catchy headlines:
Every advertisement needs a good headline to make it attractive. You need to acquire the talent of writing interesting headline by choosing words carefully.
Once you choose a perfect headline for your advertisement to publish it and check how it performs.
If users are not responding to your advertisement, then change the headline using A/B testing.
You can identify the performance of Ads by checking its analytic report. Try to change if the response is very poor and check with a new one. Taking a risk with your headline is essential because it is difficult to predict what users will like and what not.
4. Explore all platforms:
Don't think that Google and Facebook are the only platforms for advertising your business. Most of the brands focus on Google and Facebook because they know that this is the most popular platforms.
Most users depend on Google when they want to search for something and depends on Facebook to connect with their family and friends. There are many other areas you can focus on.
LinkedIn, Instagram, etc. are some other popular platform which you can explore to publish your ads. Many followers are there, and you need to focus on platforms where there are so many followers.
Every platform offers advertisement options at an affordable price. You can decide with your budget and choose a proper area to publish your advertisement.
5. Choose the best time:
The success of every advertisement will depend on the time it appears on various site. Most people check the internet early morning, noon time or after 5 pm.
So, you can choose the best time to publish and for each day when you are choosing performance-based marketing.
By choosing this, you are ensuring maximum reach and engagement from users. There is a provision to add time to each day. If you can choose it, this will lead to maximum clicks from users. Without a proper plan, you cannot succeed in this area.
6. Use the remarketing list for search Ads:
Remarketing is the way Google follows when marketers want to increase their sales and reach of their advertisement.
When a user visits a page, Google will attach a piece of code with the visitor device and add it to cookies.
Google will track all the pages you are visiting and show ads about searched sites on other platforms like Facebook, Instagram or some other webpages, etc. This is known as Remarketing. It ensures the return of users to the page they visited before.
If you are running this for previous visitors, it reduces the wastage of money and time. It will also give you better results than showing ads to people who don't even know about your site.
You can also try to bid on competitor site or keywords and ensure maximum reach also. You can create a remarketing search list by adding previous users and ensure to appear ads only to those previous visitors.
While bidding, try to bid on big and broad terms that can help to maximize your advertisement reach. But while choosing customers, you need to select previous users to ensure better ranking compared to other competitor ads.
Tips for Creating Effective Performance-Based Advertisements:
Choose the correct platform to ensure maximum return on investment.
You need to choose the right type of performance-based advertisement to prevent unnecessary wastage of money
Don't take the same advertisement too long. You need to change it more often and make it appealing to users
Catchy headlines and good design is the main thing to be focused while publishing an advertisement
Get help from a good marketing specialist to make your advertising campaign more effective.
Conclusion:
In conclusion, you can create successful advertisement campaigns if you go forward with a clear plan. Check the analytics and evaluate the performance of each advertisement campaigns and try to analyze what users like about your campaign and what not. This is the main thing that can make your campaign successful.
Just pay only for the response you get from users. It is a better option than spending money on the traditional advertisement which cannot ensure a good conversion rate.
Have you tried the performance-based advertisement campaign before? What are the strategies you implemented to ensure maximum return?