Blogging is both an art as well as a science and a key part about being a professional blogger is to ensure that you get advertisers to your blog so as to ensure that you can earn some money.
Private advertising is a method that could really help you a great deal. So here are a few ways in which you can attract a large number of advertisers to your blog so as to make sure that you can earn big bucks even while you work from home.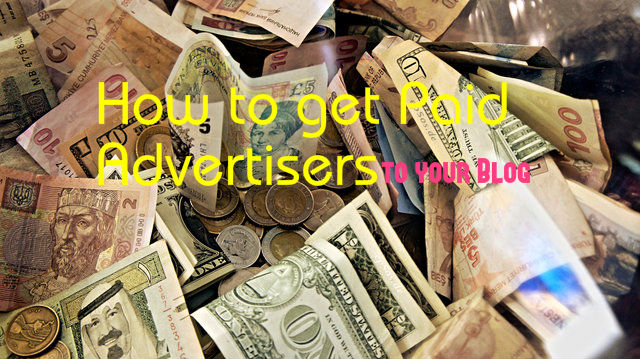 How to Attract Paid Advertisers for your Blog:
1. Show that you are interested in advertisers:
A great way to show advertisers that you are interested in them is by simply putting in an advertisers tab on your navigation link to ensure that they do not have to look hard to know that you are open to advertisers.
In addition to this have a 'Contact Us 'option has also proved to be an effective way of attracting advertisers. It is of paramount importance to ensure that you make things options clear as crystal as advertisers do not like wasting time.
2. Write an attractive post on your blog to welcome advertisers:
One of the simplest things that you can do to get advertisers to your blog is to post a very welcoming post on it. In this post, you can state categorically the kind of audience that frequents your page as well as the various advertising options available to those interested.
This is a very easy as well as rather effective way of letting advertisers know you are interested in them without stating it in any uncertain terms, This method allows you to elaborate your offer after your initial welcoming post.
3. Visit other blogs that are similar to yours:
What professional bloggers looking for advertisers usually do is that they visit blogs that are similar to their own and they see what all companies are advertising with them so that without much effort they can get a list of the various companies that are usually interested in advertising.
And once you have made your list of potential advertisers all you have to so is simply get in touch with them and tell them all that you would be willing to offer them in exchange for their advertisements.
4. Get advertisers whose products are similar to what your blog represents:
It makes the most sense to get in touch with those companies whose products have something in common with what your blog represents.
For example, if you have a sports related blog then you could get in touch with a company that sells sports gloves or bats etc or if for example you have a fashion blog you could advertise for online shopping sites. Companies would certainly be willing to invest in you if they find that it could positively benefit them.
5. Using social networking sites to help you:
Owing to the fact that social media sites have gained such immense popularity over the last few years, big companies have begun to redirect their advertising  efforts there because they are aware of the fact that  people use social media constantly and their posts are bound to catch a lot of eyeballs without much effort at all.
Once you get a list of companies advertising on social media, you get in touch with them and convince them that you can offer just as much to them.
6. Ensure that you advertise yourself:
If companies have not heard of your blog then it is unlikely that they will invest their company money in you.
To get advertisers you must ensure that you get your name out there by posting interesting content and making sure that nothing on your blog is offensive or racist in any sort of way as big companies would not like to be associated with things like this which could very easily end up getting them into big legal trouble.
If they find that you are a reliable popular blog, they will advertise.
7. Get your name on the big lists like Blog TopSites or Technorati:
To help advertisers decide on which blog to advertise on, there are a couple of lists that help by ranking the blogs based on various factors.
One such list includes Blog TopSites. So you must make sure that you get your name out there so that you ensure that you get the name of your blog on the top of these lists.
Companies tend to take these lists very seriously because after all, they would not like to invest in blogs that could not profit them in any sort of way.
8. Place a message strategically at the bottom of each post:
If you are the kind of blogger that posts frequently then this is something you could certainly do to instantly catch the eyes and attention of potential advertisers.
If you make use of WordPress then all you will need to do is place a message which states something like 'Would you like to advertise with us?" or 'Would you like to showcase a product of yours on our website?' This message could be naturally followed by a link to your advertisement page.
9. Make it simple for advertisers:
Needless to say that advertisers in big companies do not have the effort or time to sift through a great deal of material before actually stumbling upon some useful matter.
One of the things which you can do on your blog so as to ensure that you attract as many advertisers as you can is by putting an 'Advertisers FAQ' option so as to state categorically and in precise form, your ratings and your target audience. This ensures that you don't beat around the bush and cut right to the chase.
10. Treat even guests posts as potential deals:
When you get a lot of spam posts, these are usually companies that are looking to promote their sites, in such a case that you have to do is reply saying that this is considered to be a kind of business post and you charge a nominal rate for that kind of thing. So if they are willing to pay then you would not mind advertising their business links. This option most often than not ends in failure, but sometimes you can try your luck and you might be successful.
11. It is important to network with other blogs:
One of the simplest things to do to get advertisers to your blog is to network with other blogs; the chief benefit of this is that it helps you better your ratings when it comes to advertisers rating your site.
An obvious second benefit of doing is that you are able to broaden your horizons by building up a greater number of contacts and getting in touch with them to advertise through your blog. This is a sure shot way to help you generate a lot of income through advertisements.
12. Make use of Google Search Engine:
When it comes to any online issue the first thing that people depend on is Google Search. Similarly, you too can make use of the Google Search engine to gain a wealth of information, whether it pertains to finding out companies that are willing to advertise on a blog like yours as well as things like the rates which blogs usually charge for advertising. This is to ensure that you have all the information that you need and do not get cheated or swindled.
13. Carefully take note of who leaves comments on your blog:
When you notice that someone who has been leaving comments on your blog is affiliated big some big company, and then all that you need to do is contact that person and enquire whether or not his or her company would be interested in advertising by the means of your blog.
This method has proved to be highly effective and the person leaving comments could put in a good word for you if he or she thinks that you have what it takes to help the company.
14. Strategically place an "Advertise Here' Banner:
If you have an unsold place then more something that has proved to be very appealing to advertisers is placing an 'advertise here' banner that could represent to the advertisers where their product would have been advertised if they were to invest with you.
However do not place too many 'advertise here' banners as it would obviously send out the negative message that no one is advertising through your blog!
So these are in fact some of the easiest as well as effective way to get advertisers to your blog. These are just some of the few which you can try out if you are new at it and over time you can try your hand at other more complicated means of advertising. Give it time and keep working hard and over a period, you are bound to gain immense success and popularity. Remember, success comes to those who wait.