ORM or Online Reputation Management is something that every business needs to survive in the cut-throat competition of the web world.
ORM handles everything about your brand and its online presence.
Everything from search engines, to news sites and forums to blogs, even social networking sites fall under Online Reputation Management.
It basically means building your brand's goodwill and credibility in the web world, after making its presence felt.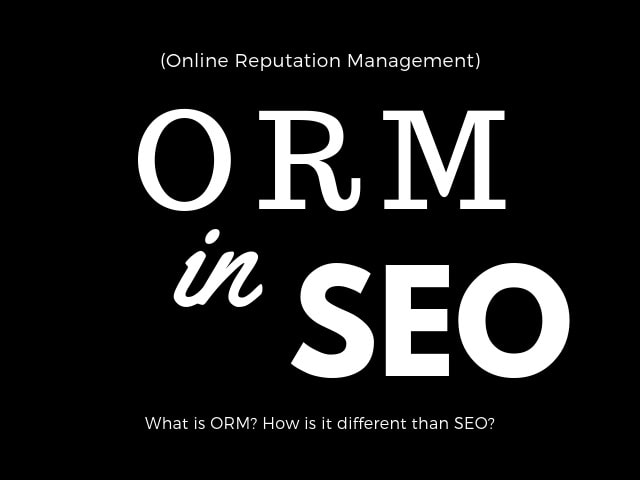 But it cannot happen overnight. Also, a lot of people think that ORM is the same as SEO.
Clearly, they have not been properly educated about SEO. This article will solve it all and answer everything you need to know about ORM and how it can be done.
But first things first, let us understand what ORM is.
What is ORM?
By now you know that ORM means Online Reputation Management. This means how your image is on the internet.
Many times you might find some negative news or pictures or blog post or negative reviews about your business or about the products and services that your business offers.
These are enough to tarnish your online image and hamper your credibility in your industry and among your customers. That would mean death for the online presence of your business. This is why you need ORM for your business.
Online reputation management is the process by which you improve or restore your brand's goodwill on the internet.
It eliminates or weakens any negatives news or review that is found on the internet about your business.
It instead replaces these negatives with positive content that is good for your credibility and that will bring back your customers' trust in you.
Your potential customers all look up your brand on a search engine before purchasing your product or service.
When they find negative reviews, they change their mind. And this means a loss to your business.
Not just that, once a potential customer finds something negative about your business online, he or she will spread this news across various social media platforms too.
So you have to monitor your online reputation at all times and proactively build a positive reputation. This will drive away from the negative factors, safeguard your brand's image, take care of the brand equity, positively impact your sales and the revenue generated from it.
Several kinds of research and studies have shown that ORM can do wonders for your business.
ORM in SEO – Is it different than SEO?
Of course, it is different than SEO.
We already told you in the beginning that people often confuse between SEO and ORM.
Online reputation management is the process that improves and determines how a certain brand looks on the internet. It eventually positively affect your rankings on search engines, improves your ratings, social media presence, etc. It also focuses on getting press or other company mentions.
ORM companies that are there, they implement different techniques to improve your brand's image and get their work done.
SEO is just one of those many techniques. The other techniques include web analytics, content development, online PR, web development, etc.
SEO, on the other hand, is solely focused on getting better page rankings for your brand across various search engines and to increase organic traffic to your website.
SEO in itself has many techniques that SEO experts are constantly researching and implementing. But all of them are aimed towards getting higher page rankings for your website.
Difference Between ORM and SEO?
SEO and ORM are two very different procedures which have different purposes for an online business.
To understand the difference between these two at a basic level, you have to first understand and learn the journey of a customer.
A customer first becomes aware of different brands at a market place, takes into consideration and evaluates different other service providers in the same category and then chooses one of them, that suits him the best.
Going by this journey, SEO is about the awareness that is the first stage. ORM focuses more on the second and third stages where the customer evaluates and then makes a decision.
Let us further understand the difference between SEO and ORM in the following points.
What each of them does?
The main purpose of SEO is to improve the visibility of your brand on search engines.
It ensures that your website or blog meets all the criteria that are required to attain a high ranking on search engines and to show at the top of the page for a given set of keywords.
ORM makes sure that when potential customers are looking up your brand on search engines or other online platforms, they see a positive image and should be able to trust you.
What are their points of focus?
The focus point of SEO is on the various norms of search engines and then SEO experts prepare the work plan according to that.
The Google norms and rules are the same for everyone that is why the SEO approach for different websites and keywords has very acute differences.
ORM's focus is on the activities of individuals and businesses and based on that, it designs its strategy. The approach for ORM varies hugely as the work is planned according to the case of each individual.
How many websites do they target?
SEO focuses on just one website. Its aim is to push up it's ranking in the search engine results page with the right set of keywords and by following the search engine rules.
On the other hand, ORM targets many sites at a given point of time.
It focuses on various online forums and review websites to portray a nice and positive image of the business.
What are their respective goals?
The main goal of SEO is to get more organic traffic for the website by improving its visibility on search engine platforms.
On the other hand, the thing about ORM is that it begins where SEO ends. ORM checks how people look at your brand when they find you online.
Its goal is to build trust in your brand among your potential customers and also among the existing customers.
What are their respective approaches to boost revenue?
Both SEO and ORM exist to achieve one ultimate goal, that is lead conversion and generate as much revenue as possible.
SEO achieves this goal by increasing visibility and getting more traffic to your website. This means that SEO works more towards generating traffic.
ORM boosts revenue by building a positive and influential image for the brand online.
When people find such a positive image of a brand, they might be converted to customers even if they were not planning to buy the product in the first place.
Key Tactics For ORM
Once you find a negative review about you or any aspect of your business, do not panic.
It is definitely bad news for you, but not the end. ORM is there to save your reputation. Here are a few things you can do to monitor and manage your online reputation.
Set up alerts on Google and Yahoo:
Search for your company on Google and Yahoo and check what people are talking about your company.
That way you will have a brief idea if the reviews are positive or negative.
Then set up Google and Yahoo alerts so that you can get notifications right in your mail, whenever someone posts something about your brand.
This way you can monitor and track whatever is being posted about your business on various platforms.
Create profiles on all social media platforms:
Where the online reputation of your business is concerned, social media plays a huge role. It can make or break the credibility of your business.
So take extra care when you are creating social media profiles for your business. That is because when people are searching for your business on Google, the link to the social media profiles of the business also shows up.
Make sure that you are posting original content:
When people are looking for some information about something, they expect to find unique and original content. That is why as a business, it is your duty to always post unique content that is useful and informative to people.
The blog that you maintain is very important for your online reputation.
Whatever you post on the blog goes a long way in building your credibility. So, be extra careful and take all the efforts you need to create and post original and easily readable content.
Build a reliable content marketing strategy:
As a business, you have to understand what your target audience wants. You have to keep a track of the latest trends and developments in your industry and understand how your audience is receiving it. You have to build a content schedule, according to that should determine, how often you are going to post something.
Now, there are going to be some challenges when you are creating a content schedule. The biggest challenge is that you have to continuously come up with different ideas as soon as there is some development.
For this, you have to use lots of content marketing tools that are available in order to understand what your audience wants to see and then build content that your audience would find interesting.
You also have to select a platform on which you would want to promote the content. You also have to figure out the exact date on which you want to post that content.
So, you continuously have to keep updating your content marketing strategies to stay updated with the needs and demands of your audience.
Online Reputation Management for SEO:
When you have negative continent about your business online, you cannot really do much to remove it. So it is better that you minimize its negative effects.
Now, how will you do this?
You can use simple SEO techniques for this. Let's understand this step by step.
Step 1: Assess your position on the internet
Before you start managing your online reputation, you have to first assess it.
Search for your brand in the search engines and when you find something negative, ask yourself the following questions:
Did I post it?
Is there any kind of personal information that can be potentially used in a crime?
Is the negative review posted on a news website that has high traffic?
If you find that none of these questions have an answer in yes, the best thing you can do is to create positive content and use it to aim for high ranking on search engine result pages.
This will reduce the visibility of bad review or negative content.
Step 2: Start posting positive content
Just what we told you above. If you are not able to remove the negatives content from a website, it means that you will not be able to remove it from Google at all and it will stay.
So the best possible thing to do is to create relevant and positive content and try to push the ranking of your website about so that the visibility of the negative content is reduced.
Step 3: Create a hub that should link back to all your content
For this, you need to claim your domain name first by including your own name or your brand name in the URL of the 'About Us' page on your website.
When you mention your own name, you are telling the search spiders of Google that the page is about you. Then, link to your content.
Get high-quality backlinks from reputed websites. Google looks at the source of all the links that are linking back to your website.
Make sure that all your content is linked to your social media profiles and you share your content on those platforms.
You can make the most use of these social media profiles by posting often. Create unique and readable content and share them on your social media profiles.
Wrapping Up:
You have understood now that both ORM and SEO are important for your business and you should not think they are similar. But you need ORM when something goes wrong.
So, the next time you find a negative review of your brand, do not panic. Know that there are ways to reduce its effect.