Click Through Rate is a very important term every SEO webmaster should consider. SEO CTR is an indication of a website's popularity. There are many factors Google consider while ranking a website. We can say that CTR is also a very important factor Google considers while ranking a website. In order to provide a quality search result, Google is implementing new algorithms.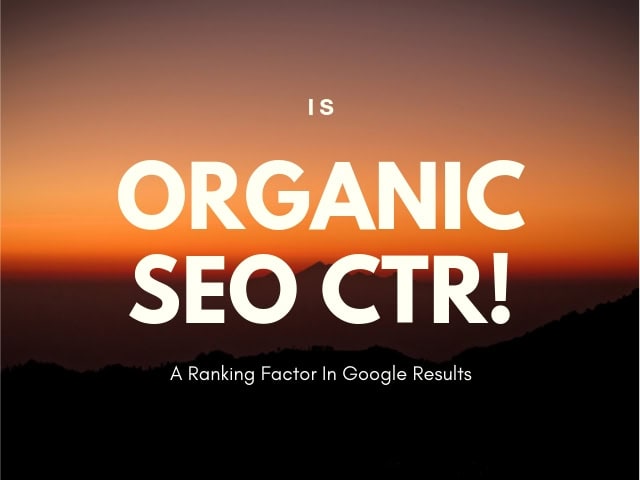 If you are someone who wants to see your website on the first page of SERP then make sure to follow new updates of algorithms. All webmasters are trying to bring their website on the top position of SERP.
How can you Increase the Organic CTR of your Website?
There are many ways you can try to gain more popularity to your website and to improve its CTR. Just by bringing your content to the first page of SERP is not enough to improve CTR. To attract more traffic towards a website one must concentrate on many things which I am going to explain below.
Before moving onto details of improving organic CTR, you need to know about the real definition of CTR. You will get answers by following questions from this article
What is CTR?
Importance of SEO CTR
Effective ways to improve organic CTR
What is CTR?
Click Through Rate (CTR) is the percentage of users that click on a website from SERP. CTR may affect many factors such as the quality of a webpage, title, metatag, description, rich snippets, etc. it is one of the most important search engine ranking signal.
Why SEO CTR is important:
We can say that Click Through Rate is a very useful ranking signal all websites can use. The main advantage of a high CTR is greater search traffic. As the traffic increases, your ranking automatically increases. All webmasters are trying to get more organic traffic towards their website and for that, they are trying new ways. The most important and useful way is to concentrate on keywords which can exactly answer user queries. By including those keywords in your content more inbound clicks can be bought to a website
The second important factor you need to consider is the ranking signal. Google has confirmed that they are considering the click-through rate of a website while ranking. Even though it is not affecting ranking directly Google considers many other factors associated with CTR while ranking websites. It is a symbol of a page's popularity. If your webpage has a high CTR then it means that your website is offering useful content for its audience. Google wants to promote such websites by giving a good ranking.
If you can concentrate more on content quality, then it will be useful for your website. For content to be successful it should be relevant and useful to the audience. You can analyze your website for keywords that can be used in your content. These keywords are like the best thing you can use in your content to get more click bait. According to Google, CTR is a new way of determining useful answers to the query a user asks for. You will get more valuable ways to improve the CTR of your website from this article
Effective Ways to Improve SEO CTR:
There are many paid ways to improve the CTR of a website. But it will be more expensive if you start to spend money on getting more clicks. For webmasters who are looking for some genuine ways to gain organic CTR, here are some good options to try
Go for keywords:
Keywords are like a gold mine of SEO CTR. You can use a good analytical tool and find out specific keywords that can be used in your content to get more clicks. Long tail keywords are more useful nowadays than using short keywords. It can improve the chance of your content to get listed for organic search queries. All you have to do is some research on keywords.
Content relevance:
While including keywords one thing you should keep in mind is the quality of content. Don't compromise on content quality to stuff keywords in your content. Some people stuff keywords in the content to get more clicks. It can be negative impacts more than positive ones. CTR is not the only factor that determines the ranking of your website. There are many additional factors like engagement in your content, the value of it, the time they spend to read, etc. So, try to write relevant contents without compromising the quality.
Title:
While choosing a title for a website, you have to be extra careful. Title of the website is something a user see first. It should make them click on the website. You can create enticing titles for your contents so that users will click on it to read more about it. You can create a title with the following qualities
Proper formatting:
Formatting of your page title is very important to consider before publishing it. You can use tools like Yoast SEO and All in one SEO pack to check your page title format.
Try using listicle:
Listing websites are now very popular. You can write top 10 or top 15 lists of any product related to your niche. Such type of contents is more likely to get clicks. Some experts believe that it is always better to use a number in your title. It can improve the content's chance of getting more visibility.
Focus on emotions:
It is always good to try to focus on people's emotion while creating titles. You can try to play with emotions than using keywords in your content.
Try different headlines:
You could try various headlines for the same content. Try to change the content headline more often and see it can change the performance. Once after trying some name, you will get a clear idea about the type of names you can use to get more clicks
Description:
The description is a small explanation about the content of your website. You can see it just below the title of the website. Give a high-level brief idea about what the audience is going to find from the page. It can help them to click on the page by understanding the overview of the content. Most users try to read the description before clicking on the page. You can use LSI keywords in this description to improve your SEO CTR. But keep in mind to avoid overstuffing of keywords which may lead to a penalty from Google.
Use Structured Data:
Structured data can be used to make your content more clickable. It is a very important part of rich interactive snippets that we can find in SERP. If you can use schema mark up to structure the data in your content it can help your content to get featured as rich snippets. Now users first prefer to click on these snippets before going to other contents. If the first content can offer what they are looking for then it will be helpful for it to get more clicks and good traffic thereby.
Call to Action:
Call to action is nothing but some words that can make users interact with a page. You might have seen pop-ups comes on a website which says, 'Read Now'. 'sign up', 'register now' etc. Such CTA can trigger action on a website and improve the ROI of a website. When more users start to interact with a website, Google will consider it as a valuable one. It can be helpful in ranking the website
Localize content:
Geo-targeting is not something new to webmasters. If you are running a local business, then it is very important to focus on attracting a local audience. You can do that by including geo-specific keywords within your content.
For, example if your business is located in Arizona you should focus on including the word Arizona within your content. You can also register in local listing websites which can also help to be more organic website traffic. When a local business creates a website, they should register into Google My business page with their address, phone number, exact location, etc. it can help users to easily access your business without searching for your website.
Sitelink:
Sitelink shows quick links to the content of your website. This can help users to access the content they want just by clicking on that link. You can set all these by creating good navigation on your website. Clearly define the content and create a good sitemap so that search engine crawler can index your website easily. It can also help to define quick site links to show with your website. We can control what to show and what to not show using XML maps.
Test headlines on Social media:
Social media is a good place to do experiments. There are many social media platforms you can try to promote your content. But the best thing you can do to make it popular is to try various titles. You can change the titles more often and see how the performance is affecting because of the title change. You might have noticed new websites and channels using these tactics. They want a greater number of clicks and to do that they spin the title and publishes it on social media. You can also follow the same tactics to get a greater number of clicks for your content.
Focus on website loading speed:
You may have noticed that while checking some website, it may take much time to load the content. No one will wait more than 2 sec to load content. If your website is very slow the result will be very bad. It can increase the bounce rate of your website which also affects its ranking and reputation of your website. Use any speed testing tool to check the loading speed of your website because it is known as a very important SEO factor. To make it faster you can make sure to minimize HTTP request, enable compression, CSS delivery, optimize images, etc.
Include infographics:
Infographic is a type of image that contains data. If you can include more images with information in it, that can be very helpful for the audience. Some people prefer to get a brief explanation of the content they are looking for. You can consolidate important points in content and try to convey with an image. Images are a very powerful factor that can boost the SEO of a website. If webmasters can focus more on creating attractive infographics it can increase the Click through rate of a website. Incorporate infographic within your content and get more traffic towards your website
URL:
If you can make your URL structure more organized and well descriptive it can aid to get more SEO CTR. After someone checks the title of a website next thing they will see is the URL of the website. If you can explain well about the type of content in URL it can be useful for the audience to easily interpret the content. If someone searched for men's watch they will see a URL like www.fossil.com/us/men's/watches/new.html they will clearly understand where the website is going to take. It can be easily interpreted from the URL itself. Make sure to create such simple and straightforward URL for your website to improve the number of clicks
Conclusion:
When your website is on the second page of SERP no one will see its content. So, it is very essential to bring it to the first page of the SERP and on the top position. All the above methods can be used to make your content more clickable and help it to get good ranking also. No need to struggle for finding the budget to get more traffic using paid options.
Always follow white hat methods to improve your SEO CTR. Google only promote websites with quality contents useful for its audience. By improving Click-through rates, you will certainly improve overall organic traffic and conversions. Don't waste your time and money on unnecessary options. Try to implement the above options and see how your website can improve its Organic CTR.