Organic trafficking (search traffic) simply means getting readers to your blog (or website). It is comparatively difficult to purchase traffic. Organic traffic is a smart technique to increase the readers and clients of your blog.
There are various search engines through which organic traffic can be easily achieved, but since Google is a search engine which is used the most and a search engine which is most used organic traffic can be done on successful terms through google.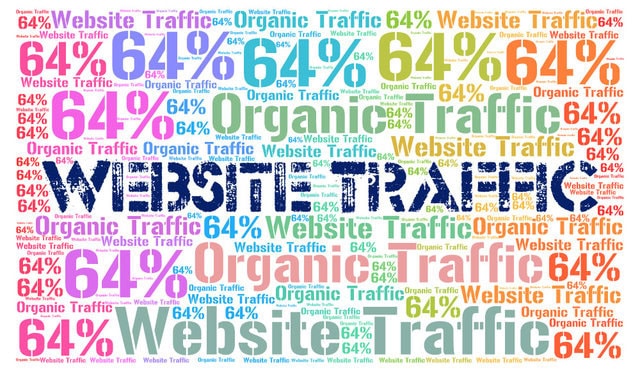 There are various means through which you can attract organic traffic to your blog and increase the viewership of some wherein you're your blog is featured even through smallest of keywords:
How to Increase Organic Search Traffic?
Make search engine easily access your blog:
Making your site search engine friendly is more important to attract organic to the same. For this to happen your blog should contain tags, descriptions, URL which can be linked and easily found by the search engines. If the search engine easily accesses your blog then the possibility of your blog getting increased viewership is high. Since the search engine picks up on specific words, those words are easily picked up and since your blog consists of them then clients are easily diverted to your blog.
Write content that search engine understands:
Getting the content of your blog right is one of the crucial parts to gain good organic traffic. It is simply called content marketing, where giving out the much need information is most important. It means writing content which people are looking for. This makes the task easier.
When people get updated and brief information of what they are looking for, they tend to visit that site again the next time. It is one of the most important strategies for gaining organic traffic.
Link building:
Link building increases the chances of viewership of your blog. Search engines tend display sites that are linked to more quality links. So, it is important to have relevant and quality links of your blog.
Your blog can have several links like backlinks, outbound links, reciprocal links. Link building means linking your blog to other blogs, by direct and indirect means.
Plug into the blogosphere:
The blogosphere is a reciprocal kind of a place. Blogosphere lets you read, comment and link to other people's sites and blogs, particularly those related to you and existing in the market, and they'll hopefully recognize your blog which will, in turn, lead to attracting more audience for your blog.
Maintain blog frequency:
Maintaining blog post frequency is a must. It keeps the readers happy and contented. With regular posts on the blog, new clients and readers can also be gained. Maintaining blog frequency is not a difficult task. It only needs organization.
Guest blog for a change:
Guest posting is one of the best ways to maintain the number of readers of your blog. It also gives rise to the readers a chance or an experience to read something different but on your blog itself which is not of the niche of your blog. It is a different experience to the readers altogether.
There are different things that we need to keep in mind before post a guest post :
Don't spread yourself too thin – You should always aim sites that have decent and related content of your blog.
Guest blog on websites within your own niche – Guest blogs should be different but also somewhat related to your blog as well.
Promote your guest posts as you would your own posts – This shows the website that you value the opportunity to post on your blog.
Check regularly and respond – It is important to revert to comments of their visitors only then there are chances that same visitors become your visitors as well. Responding makes the task of building a relationship easier.
Be loyal to Google:
Google is that one and only source to get organic traffic. So it's better to be loyal to that one and only source to be in profit. Because if we mess with Google, penalties are applied without any doubt.
To avoid those penalties, there are various ways and means –
Do not link to irrelevant sites.
Never publish low quality and stolen content.
Publish content is mainly useful to the users.
Use unique and long tail keywords:
Never follow the crowd. Always go for keywords that are unique as well as long and most suitable to your blog. This creates a niche for you. The reason being unique and long keywords are not so common and are searched easily.  Because of this, the search engine identifies your blog easily and first preference is given to your blog.
Use of social media:
Build a presence on social media networks like LinkedIn, Twitter, Facebook, Instagram, Google+ etc. Being active on all these social networks help to get your name in the web world. Put in the efforts as it would help in getting traffic at a fast pace.
Encourage incoming links:
Incoming links are a good sign for you. Encourage anyone and everyone including your family friends, marketers, clients other bloggers, just anyone to link to your blog. The more incoming links you have the higher your blog will be ranked which will lead to higher trafficking.
Make it irresistible to around on your blog:
Google accounts in its system for how long people stay on your blog. When people stick around and visit multiple pages and posts on your blog at the very first time of their visit, that tells Google that your content is relevant and useful or interesting. Use this opportunity to create user-friendly navigation that leads visitors to their desired destination, newly introduced articles and other related content that could keep them interested for a bit longer.
Ensuring the User Experience is Always Good:
Making sure that the user experience on your blog is always good plays an important role in boosting organic traffic. Remember, since Google considers a number of time people spend on your blog is recorded in the system, negative experience from a particular user would refrain that user from sticking around any longer which could hurt your Google traffic.
Play by the rules:
You won't get ahead by using shortcuts. Unfortunately, many try to use unethical practices, so as to trick search engines into giving them a higher ranking. Anything that promises quick results and shortcuts importantly will most likely result in a penalty or worst of all cases your site will be removed from the internet.
Optimize your target audience:
You should always be clear to whom you are targeting. The content that you post should be suitable to the audience that reads it and should relate to it. By creating quality and relatable content that connects with your ideal readers, you are ought to improve your readership. This means tapping into the main issues of your target audience and the keywords they use while searching for their own queries. Focusing on search engines alone is useless ; all you'll have is keyword-riddled nonsense.
Make your blog look attractive:
Making your blog attractive attracts more attention. Try making your blog fun of reading and looking elegant at the same time. Attach picture and images wherever required. Make it look colorful, since colors always attract attention.
Content variation:
It is understood that you have expertise in a particular genre on which your blog is originally based. But sometimes different topics which are not at all related to your blog can become famous and help in organic traffic.
It is among one of those strategies to involve people who are looking out for different topics and find their desirable content in your blog. This would be a great way to create organic traffic in the simplest form.
Build relationship with readers:
Organic traffic is nothing but related to people. It is only and only about people. To create organic traffic is very important to build one on one relationship with your readers.
When your readers comment or wish for a post which they would like to feature on your blog, try and have a conversation with them as it is of great help. This creates a reader-writer relationship, due to which the same readers are helpful to make your blog famous among their circles. It is basically the game of "word of mouth".
Make your blog define you:
When readers read the content of your blog they are somewhere trying to relate to things that you have written. A very elegant way to create organic traffic is to express your own thoughts through your blog posts and make people relate to it. Which means try and cover your own experiences, unique incidences. This makes people think and they try to relate themselves with whatever content you post. This gives rise to curiosity among them and indirectly and unknowingly become your regular readers.
Make traffic revisit:
Once that blogger succeeds to create organic traffic they forget to maintain it. This is the most common and unidentified mistake committed by most of the bloggers. Make sure those same people revisit your blog then only then the purpose of organic traffic would be fulfilled.
Conclusion:
As said before it is not at all easy to create organic traffic. Content generation and posting relevant content is one of the most important strategies that are involved in creating organic traffic. Along with good content, the given tips are equally important to create desirable organic traffic.