Do you wish to bring immense success to your online PR campaigns? Are you looking for effective and promising online PR tools that can help you create, design, and manage campaigns efficiently?
Check these best online PR tools, which are surely worth investing and trying and can surely deliver you awesome results!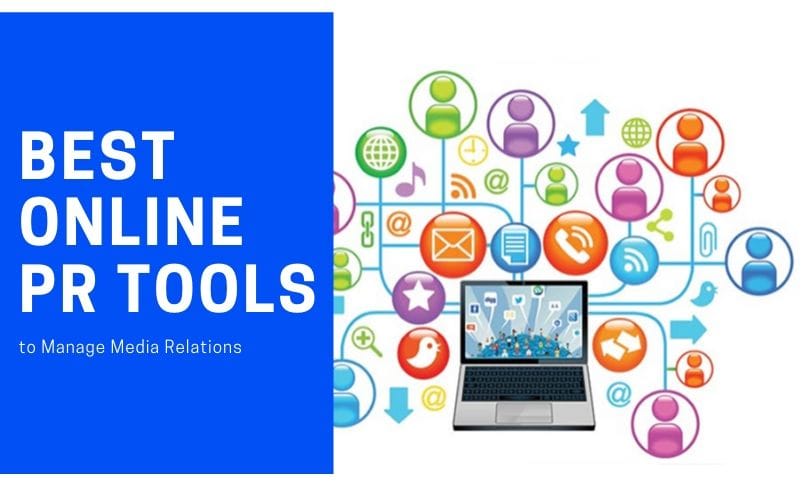 Basic Online (Public Relations) PR Tools:
1. Meltwater:
The first PR tool in our list is Meltwater that offers AI-driven insights, which makes it convenient for you to estimate the brand's public relations campaigns. It is an excellent tool offering access to detailed insights about the business, like brand sentiment and social media mentions.
This tool allows connecting faster with journalists and influencers in your preferred niche. It is a handy tool to track the results of campaigns related to public relations.
To get more details about this tool can aid your brand it is possible to request a demo free of cost. If you wish to begin, you may contact them for desired pricing plans.
2. Cision:
Cision is another efficient tool that is useful when you want to gain enormously from your public relations campaigns. This tool can bring you adequate results and is a great solution for almost all sorts of businesses and PR campaigns. Using this tool it is possible to choose a media platform, which you intend to help reach the target audience.
Furthermore, using Cision, it is possible to design personalized messages and emails, which can be shared with journalists and influencers through this platform. Also, it helps to monitor as well as tracking the overall performance of your brand.
It requests a 20 minutes demo free of cost of the tool before deciding to buy it. To get more details about the pricing, you must contact the sales team of Cision.
3. Mynewsdesk:
Mynewsdesk is another promising PR tool that lets you quick insights into the way people perceive the image of your brand.
With the help of this tool, it is possible to reach out to a higher number of journalists with the public relations stories of your brand being showcased in an impressive manner. You only have to create content using this tool and write a press release about the company. Then it can be easily distributed across important online publications using Mynewsdesk.
In order to try using this tool, you can use the 10-day free of cost trial. In addition to this, you may select among three pricing plans and contact them directly to know more about the pricing details.
4. Muck Rack:
Next, we have Muck Rack in our list, which is another robust PR platform, which can help you look out for journalists, keep a close check on the latest news, and create reports seamlessly. With the help of this tool, it is possible to conveniently personalize your entire communications with journalists and develop strong and lasting relationships with them.
One great feature of Muck Rack is that it comes with rich social listening capabilities and informs you when a person writes about your brand on the web. Moreover, it allows convenient tracking of your campaign's progress so that it is easier for you to determine the success.
You may avail of hands-on experience of this PR tool and request a demo for free of cost. If you wish to use their paid version, you need to contact the support team of Muck Rack.
5. Prezly:
This is a comprehensive tool with numerous rich functionalities that is suitable for all sorts of businesses. This tool makes it convenient for users to manage their public relations campaigns from one platform without the requirement to employ any third-party tools.
Prezly also makes it very easy to design news and press releases in just a few minutes. It makes it convenient to reach out to journalists through this single platform. In addition to this, it is also possible to track pitches to identify who read or opened them.
If you want to glance at all emails that brought you desired actions by the journalists, it can be done conveniently using this platform. It is best to try the free of cost demo session to gain hands-on experience. The paid versions of this tool are available at a price of $265 – $400 per month.
6. pr.co
Next, we have pr.co in our list, which positions your business as an ideal fit for journalists to work with. It is a reliable option that makes it easy for online journalists and business experts to find you. With the help of this tool, it is possible to boost the chances of them being interested to work with you.
It is a reliable platform that comes with robust CRM functionality and is of great use when you need to build and nurture the relationship with your influencers and journalists. Using this tool it is possible to create a repo and news among the public and reach out to a massive audience.
While the free demo is available for use, it is worth spending money to use its professional plan, which is available at $699 for a month. Also, there is a business plan available at a cost of $950 for a month.
7. Prowly PR Software:
Another tool worth mentioning in our list is Prowly PR software, which brings you a series of public relations activities at a comprehensive place. With this tool, it is possible to design press releases as well as news stories, which are worth publishing in news. It is very easy to use platform offering effective functionality and makes it easy to reach the correct pool of journalists.
It comes with an extensive database housing details of innumerable journalists across the world. You can use this database to get in touch with them and write interesting content about your brand easily. The 7-day free trial from Prowly can be tried before you go for the paid version.
It offers three versions to the users. The basic plan priced at $115 for a month, while the pro plan is priced at $255 and a premium plan is priced at $549 for a month.
8. PressPage:
This is a very easy to use PR tool that offers users numerous fully-customized and interactive newsroom features. One of its top features is a drag-and-drop builder, which makes it convenient for you to design websites easily.
Most importantly, it simplifies the overall process of hunting novel media opportunities. It is a great tool with a robust database of more than 860,000 influencers and journalists who can be approached easily.
Also, it gives details about your public relations campaign and lets you assess the performance with its analytics feature. The paid version of the campaign is available at a price of $799 for a month. You can also get access to the Enterprise plan on request.
9. HARO:
Next, we have HARO in our list, which is a promising platform for reporters with their stories. It is highly beneficial for your brand.
This is a great tool that offers you secured and rich media opportunities and gains covered by the journalists working in a prestigious media organization, like Reuters, FoxNews, TIME, Chicago Tribune, and more.
This tool comes with 4 subscription plans where the basic plan is available for absolutely free, while the advanced plan is available at $49 for a month, the standard plan for $19 a month and the Premium plan for a price of $149 per month.
10. Trendkite:
Trendkite is another great PR tool that allows you to seamlessly connect, engage, monitor, and measure public relations campaigns. It is a great software solution, which can be used to understand the audience and brand better using AI functionality.
This tool tracks more than 4.7 million media platforms, which can aid you to identify and figure out the overall extent of the coverage across the globe.
It is a promising tool offering detailed analytics of the campaigns to let you comprehend their influence better. Its demo is available for free and lets you know the exact way this tool works. You can get details about its pricing.
11. Agility PR Solutions:
The Agility PR Solutions is the next rich tool that offers you with a scalable and intuitive approach to different kinds of campaigns related to public relations. It is a very easy to use platform that allows you discovering influencers and journalists to function with through the Newswire service.
It is a great tool that lets you identify exactly what people are talking about the brand, competitors, and industry. Also, it offers in-depth insights into the way your campaigns perform with the help of human analytics and AI technology.
12. Launchmetrics:
Launchmetrics is one of the finest tools that are of a great solution to the luxury, cosmetics, and fashion industry. It is a must-have tool with exceptional functionality and offers you convenient access to exquisitely created newsletter templates. These templates can be used to edit various public relations campaigns.
It is an excellent platform that makes it very convenient to track the process of monitoring public relations campaigns in a straightforward manner. Once each campaign ends, it gives you a detailed report showing the performance of your campaign.
You may request the free demo for using this platform and contact their support team to know about its pricing.
13. Mediatoolkit:
Mediatoolkit is a rich tool that allows monitoring the online presence of your brand in real-time. It is a great tool to know who, how, where, and when your brand is mentioned online.
It offers a list of data from the mentioned that allows figuring out about mentions, which bring you the highest levels of engagement rates. This way, it is possible to know where to put your efforts into the PR campaigns to make it a huge success.
The free trial of this platform is available for 14 days. You can then switch to its paid plans such as Pro plan, Medium Business, Enterprise, and Agency plans, which are available at a price of $110, $440, $1105, and $1330 per month respectively.
14. prMac:
This is a DIY tool that lets you customize your PR campaigns in a more efficient manner. It is a promising tool that makes it easy to publish news and press releases once and feature the same on distinct media platforms.
The best thing about this tool is that it offers the feature of free distribution, which makes it convenient for your brand to get featured on the Apple-only Press Release distribution site. This tool can be used for free and then you can buy its paid plan starting from $19.95 for one month.
15. iPR Software:
iPR is powered with AI technology and is an efficient PR tool catering to the needs of every company. iPR is a highly trusted and efficient tool that lets you seamlessly enhance brand recognition and organic traffic.
With the help of this tool, it is possible to automate tasks and determine the behavior of customers through Artificial Intelligence. Distributing and developing content is simple by using this tool as it comes with a smooth workflow. Also, it gives you access to a tool for managing digital assets that allow designing customized workflow of marketing for free.
16. Mustr:
The next online PR tool, which can help you develop promising relationships with journalists and bloggers, is Mustr. It is a great tool that knows precisely the bloggers and journalists writing bad and good things about the brand and business.
It is a great tool that shows detailed insights about the PR campaign and you can design efficient PR campaigns, which target people who have displayed an interest in your functionalities.
If you like the 15-day free trial, you can start using its paid version, which begins from $54 for one month.
17. CoverageBook:
Finally, we have CoverageBook in our list, which is a rich tool that simplifies the process of PR reporting. It lets you seamlessly design reports, which can be customized for various customers at once. Also, it offers in-depth insights into the PR campaigns and allows you to figure out the performance.
There are three plans for this tool – Golden plan, Silver plan, and Bronze plan available at a price of $499, $199, and $99 per month.
Summing Up:
Public relations have altered in previous years. Use these tools to make your PR campaigns a great success in the digital age.