One important factor for the success of any online campaign, software product, and blog is outreaching.
Marketing your content with link building can increase the cost of investment for a company. Definitely, it is not easy to get backlinks to your site, which was the case earlier. But there are numerous tools, which can lead to promising link building.
One such great tool is NinjaOutreach.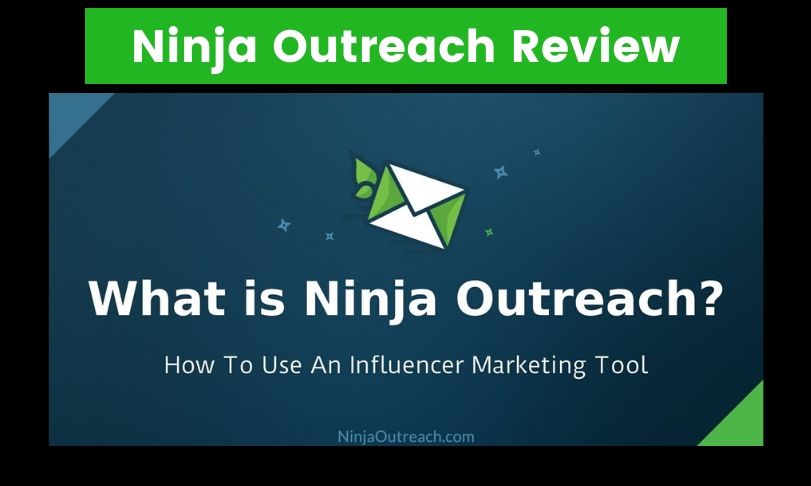 It is one of the finest tools to get backlinks from high domain authority websites such as Hub share and WPX hosting.
To let you know more about NinjaOutreach, here I share my review!
What exactly is Ninja Outreach?
Broadly speaking, Ninja Outreach is software for influencer marketing. It is a form of service that can offer great support to bloggers. This tool comes with a high prospect and conveniently helps users find influencers to let them reach out in their industry.
The main feature of this tool is the potential to make the process of prospecting much easier for bloggers. This makes this tool extremely useful.
Once you start generating the contact details by utilizing this tool, it is possible to perform a variety of tasks much easier. It is possible to schedule email sending to target influencers so that you can link to them and open avenues for building relationships with them.
Being a blogger or content marketer, it is possible to grow the conversion rate and traffic for your blog by using NinjaOutreach.
How Ninja Outreach can be used?
It is a great influencer tool and its primary use is to bring success for outreach campaigns for the influencer. It is an excellent tool for those who want to bring traffic to their blog and at the same time extend their reach to influencers and other bloggers in their niche.
You will find using this software very easy and convenient if you are aware of blogger outreach. You can utilize this tool for launching an outreach campaign from this platform.
Additionally, there are some main functions of this tool such as:
1. Blogging Prospects:
First, you have to create an account in this tool. As soon as you create an account, you can sign up for a free trial for 14 days. You can search for new prospects by entering details in the search bar.
Usually, you would begin searching for a topic in the bar in order to search for people related to your industry. These results offer you with prospects related to your industry. It brings sites, which are most appropriate to keywords or phrases entered by you. A site or influencer is considered a great prospect when you have to create guest posts on distinct blogs.
One great thing about this tool is that it conveniently shows the various factors to let you identify the authority of a website. For example, if you wish to write guest posts, you must refer to the SEO metrics of the website. Though guest posting is not a primary SEO tactic, writing for a website that is preferred by search engines can let funnel a few of that preference to your website. Hence, selecting websites holding high Domain Authority and numerous backlinks can bring great success to the guest posting strategy.
When you find websites that have similar scores in SEO metrics, it is possible to use other factors for breaking the tie. For instance, you can refer to the website's engagement and traffic to find websites that drive most customers and comments to your content.
Another important factor to consider when searching for websites to submit a guest post is the column for 'features.' Like you can find a blog or website, which is presently searching for sponsored or guest posts. But a few results hold no entries under this column. In this case, it is better to manually visit websites and check if they are approving or not.
In case the results returned thousands and hundreds of websites, you could filter them for showcasing specific figures for each element. When the results are filtered, it may aid you in finding websites, which meet certain criteria. This ensures you no more have to search each page on a manual basis.
2. Instagram and Twitter Influencer Research:
This social prospect feature lets you search influencers on Instagram and Twitter. Its main benefit is to use the influencer's popularity in your niche to your advantage. Once you have obtained the social media details, you can follow as well as engage with them on social platforms. Eventually, it will help build your relationships with influencers and gain support while blogging promotion.
You may click on the tab for social prospecting and enter a relevant keyword in the search bar. It will fetch you the best results and let you get relevant influencers and bloggers to target. Once the keywords are entered you will check various influencers and filter results on the basis of followers, website, and location.
Just like a content prospector, it can filter tags to show particular influencers. Also, you can focus on searching for influencers, bloggers, companies, journalists, and executives. Also, it is possible to set a minimum number of followers for targeting influencers with multiple followers.
3. Managing Contacts:
There is a feature in Ninja Outreach known as List Management. This feature shows the various lists, which have been designed using the prospecting feature of this tool.
Once you have selected the bloggers, influencers, and websites that you intend to target with the outreach campaign, you can click on the option 'save list.'
Also, you can add the selected influencers and websites to a current list. Alternatively, you can design a new list. Once the final selection is done, you only have to review each entry by clicking on the prospects tab and opening list.
There are various stages within the software, which you can select to gain the desired results. It works as an excellent CRM tool that lets business owners define the relationship stage with their contact details. The good thing is that you can update your contacts profile by clicking on the edit button.
Also, you can follow your contacts on Twitter by clicking on the desired button. You can reach out to prospects through the email addresses and click the plane button for sending them one.
This influencer outreach software lets you manage sales and leads process efficiently. You can assign the sales team to qualify prospects and send emails from the vast email templates collection. This automates the sales process and gives you enough time to focus on other vital matters of your business.
4. Launching an Outreach Campaign:
The core functionality of Ninja Outreach is to send bulk emails to contacts so that it is easier to develop lasting relationships with them. It comes with numerous manage templates that open the door to distinct possibilities on reaching out to your contacts and leads.
When you click on the tab for Manage Templates, a new button will open, which is a button for Create Template. These email templates are great for beginners to get familiar with blogger outreach. When you click on the option for Load a Pre-Written Template from the menu it gives you access to a lot of email templates from conversation invite to post promotion.
It is but essential to edit templates and make them personalized before you send them out. After selecting a template, you must edit the email and communicate messages in an efficient manner.
Once the template is edited, you can save it a new template and utilize the edited version for sending it to the ideal list. This is one feature that Ninja Outreach offers, while most of the other tools may lack.
The Outreach mode in this tool conveniently automates the process. It schedules an email outreach program to automatically send to your contacts. In just a couple of clicks, it is possible to send multiple emails to the target list. Once the setup is done, you only have to wait for the replies and begin the conversation with your customers.
When you click on the Outreach Mode button, you may click on Schedule Auto-sending option to finalize the email template and list. Within the settings options, it is possible to limit the number of emails sent in one day to reduce the chances of being penalized. Though it is safe to send 200 emails, still, you can decrease the volume and control email frequency.
Finally, it is possible to incorporate follow-ups using the Ninja Outreach email program if your recipients have not replied to date. It is an excellent option to get in touch with the base contacts and remind them regarding your message.
5. Customer Support:
Customer support is one of the finest factors of this software or tool. There are many companies nowadays, which offer rewarding services, but most of them do not treat their customers well or do not care about the way their clients feel. As a result, they fail to maintain long-term relationships with their customers.
To deliver a positive experience, it is best to alter users into loyal customers that keep returning back for your service.
Ninja Outreach hosts a great customer support team that makes it a promising tool for most of its users. For this reason, most of its users have stick to this tool for years and are in no mood to change.
Another great experience with the Ninja Outreach customer support team was when I asked their help to enhance my affiliate program with them. They introduced to me new ideas on ways to enhance the performance of affiliate links. The best thing was they were fast in response. The support team answered all my queries in a timely manner and offered me complete information I was searching for.
Ninja Outreach Pricing:
Over the years, the pricing plan for Ninja Outreach has increased to some extent. But when you compare it with pricing plans of other tools, you will find that the most affordable package is available at a price of $52 per month.
There is also Pro plan available for $399 per month that gives you access to influencers and bloggers on social media platforms like Instagram, Twitter, and others. For cost-cutting, you can pay on a yearly basis as well.
Why You Must Use Ninja Outreach?
On a genuine note, this tool can do almost everything, which you want from a reputed blogging tool. In addition to CRM and blogger outreach, this software is useful for creating better content by filtering it on the basis of most shares about a particular topic.
The best part is that it gives complete control over email outreach. There are multiple wealth options available that make this tool an excellent choice for its users.
Finally, it accommodates a friendly and reliable support team that dedicatedly wants to deliver their customers the best. This makes it more reliable and trustworthy to use this software.
But I would like to mention a few cons of Ninja Outreach as well.
This outreach tool is full of plenty of choices, which makes it bulky and hosts a slow loading speed. There are hundreds of emails available within the tool from the CSV file. It may also hamper the experience of using this tool as it may fail to deliver a seamless user experience.
Moreover, it does not offer much insight into the influencer and can conveniently be witnessed with a simple search on Twitter.
My Final Opinion
For sure, Ninja Outreach is an easy and reliable tool. It lets you manage contacts easily and send emails. Also, you can track the performance of your campaigns using this tool so that you can tweak the templates in order to boost the click-through and open rate.
It is a multipurpose solution for bloggers and can be compared to premium platforms such as Salesflare and Buzzsumo in terms of features and functionality. I believe you must try using this tool if you want to go your blogging business and extend outreach without investing too much money. It is best to try its free version, which is available for a 14-day trial.