Are you looking out for ways to make a good amount of passive income with an online business?
Glad you've opened this post! In this post, I am going to talk about the Niche website, which is undoubtedly one of the finest and reliable ways to earn a good sum of monetary benefits online.
But first, let me tell you why you must read this post. Sure, there are numerous other posts online on niche websites, and also, niche websites have been in existence for over the years. However, not all who make niche website are successful.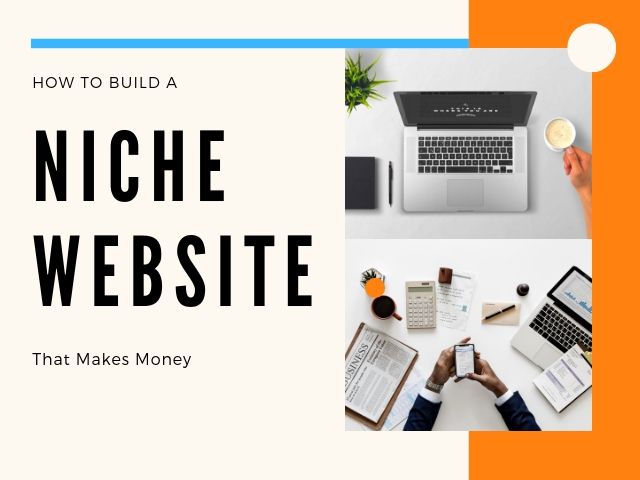 Reason! They went on building their niche website instantly without compiling complete knowledge about it.
I am sure you would not want the same to happen to you. So, read this post about niche website as here I will let you know the easiest steps to build a successful niche website.
What is a Niche Website?
A niche website is a site build in a particular niche. Such a website targets a specific set of keywords. It is SEO optimized to rank well for those particular keywords in search engines, in order to drive as much traffic as possible.
One finest strategy to gain success through a niche website is by entering a market with low-competitive keywords. Gradually, it becomes easier to target long-tail keywords and finally convert the niche website into an authority website.
Difference between Niche Website and Authority Website
Technically, every site is a niche website because it targets a particular niche. But the major difference between a niche website and authority website is how you target a niche.
An authority website targets a bigger niche, while a niche website targets a small niche within.
Why Niche Website is a Lucrative Business Option?
Having a niche website is an excellent business model. The main reasons that make niche website a lucrative business are as follow.
Ever Evolving and Enormous Market Share – Though the internet are big, still, a large portion of the world's population don't have access to it. Hence, there is still potential for growth. Every year, the amount of money spent on online advertising is increasing. So, if you establish a niche website, you have a huge scope of opportunities.
Expandable Business Model – There are innumerable niches available to select from and you can continue creating a niche website again and again. Moreover, you can scale your site into a bigger platform by including more content, developing a community around a particular topic and creating your own range of products.
Excellent Potential to Make Passive Income – It's true that a niche website gives you lots of potentials to earn great additional income. But you have to do lots of hard work and maintain that in order to enjoy consistent income flow. With the internet changing over time, you have to adopt the latest techniques and trends to survive and keep the flow of income.
Low Cost of Initial Establishment – It is possible to build a niche website with very less cost of the initial investment. To keep the initial cost low, you can write content on own and practice manual SEO.
How to Build a Niche Website?
1. Research Well General Market and Niche Ideas:
In order to develop a successful niche site, the first step is to select a niche. You can select a niche based on topics you are interested in. Alternatively, you can select a niche that seems profitable.
Your niche can be successful if it helps readers find answers to their problems based on the niche selected. Your website must include hundreds of blogs and articles for keywords with low competition. It must not target one keyword, but all of them.
You can select a niche by keyword sampling. It lets you know if your preferred niche has numerous low competition keywords or not. Moreover, you can use doppelgangers in order to reveal keywords and identify if success is possible or not.
It is better to select a niche that offers you the potential to create products. Finally, think of a niche that can help you stand out over others.
2. Do In-depth Research for Keywords:
Once your general niche is selected, the second step is to do in-depth keyword research. You can use an online tool to make the process faster and easier. While doing the research, make sure you do it where there is less competition.
If you are able to target a couple of keywords with low competition, you are likely to rank well when targeting highly competitive keywords. It is best to target long-tail keywords. It is because such keywords will lead to more similar searches. Also, these keywords are quite easier to rank.
In order to find low competition keywords, you can use an online tool or software for the same. Moreover, you can place seed keywords from distinct sources. Additionally, you can utilize keyword modifiers and consider platforms like eBay, Amazon, and Wikipedia. The other sources to search for low competition keywords are Google trends, Google auto-complete, and other niche websites.
3. Make Sure Your Website Solves a Problem:
In order to gain success through your niche website, it must stand out from the competitors. The most needed trait for the same is to ensure that your website solves a problem. Your website must have a unique proposition that makes it attractive to readers.
Also, it must be data-driven, engaging, helpful, and transparent.
4. Select an Appropriate Domain Name:
While most of the people spend a lot of time to come with a domain name. But in reality, anything can work until and unless it seems relevant and appropriate. For a niche website, you don't have to worry about placing keywords in the domain name. Just try to create something that is easy to remember and can become a brand.
Make sure that your domain is short. It must be simple to spell. If possible then try to find .com, which is already available and can be branded.
5. Host Your Site:
A web hosting platform is server space for a site. There are thousands of companies online, which can host the website and most of them offer solutions at cost-effective norms.
A good web hosting platform is one that is reliable and prestigious. I suggest you find a web hosting company that lets you install WordPress in simple steps. One good example of such a company is Bluehost.com.
6. Select a Logo and Theme:
Next, it is essential to select a professional theme. The theme must be conversion focused, professional looking, and give readers a seamless experience.
In addition to the theme, you must create a logo that is professional looking and aligns well with your brand, vision, and voice of the website.
7. Develop a Strategy for Content:
Every website starts from scratch. But what makes it successful and let it stand out as an authority website is a content showcased on it.
It is not that content is the only thing, but yes, it is one of the most important aspects to bring dominance and authoritativeness to your website. Hence, you just don't have to focus only on one kind of content and on-page SEO, but also on in-depth strategies such as clickable titles, and more.
It is therefore essential to develop a long-term strategy for content. For this, you have to make sure that the content is well-written and keyword focused. It must be free from grammar and spelling mistakes. You must have a proper structure for it including bullet points, paragraphs, and numbers.
Furthermore, the content must be valuable to the readers. It must be able to answer the queries and use of a combination of image, video, and written content. Finally, it must be linked well externally and internally.
Your content strategy can bring success only if you are able to get the first 20 articles up fast. Then, you must follow a regular schedule of posting fresh content, which can be once a day, two in a week, 4 in a month, and so on. The length of your articles must be more than 2000 words and for regular posts is can be 1,000 words.
In addition to this, you must organize the content into specific categories. You must link to articles within the same categories and have at least 5 to 7 categories on your website.
Focus on creating great titles as such titles bring you more shares and clicks. So, devote extra time on the titles. You can go through a few rich resources available online. Also, list with odd numbers and include keywords. You can even use Coschedule Analyzer in order to analyze the headline.
8. Select a Monetization Plan:
Once you have done with all the above steps, you would now want to make money for the website. With the previous steps, you can expect good ranking for your website before you start with link building.
The most profitable and long-term sustainable strategy to make money from your website is to sell your own products. Alternatively, you can use affiliate to make short-term money for your website. Moreover, you can build a community, practice ways to keep them engaged, and then sell your products to that particular community.
9. Practice Link Building:
Remember, link building is an in-depth topic. While some people believe it is essential for a website's success, others think that it is not that much important.
As far as I believe, link building can definitely help your website rank well in Google. But keyword research and generating rich content is far more important than it. However, you must make attempts to bring links to your website naturally.
Links are important because it is a vital ranking factor in Google. There are varieties of links like no follow, do follow, and undoubtedly, both of them have their own significance. But it is not necessary to practice aggressive link building.
Some of the link building strategies that you can practice are RSS feeds, social media accounts, Outreach, Guest posting, and Infographics, Build relationships, Blog commenting, Forums, and more. Other than this, you can practice other advanced link building strategies in order to bring success to your niche website.
10. Use Social media to its Leverage:
Depending on your niche, you can define your level of participation on different social and marketing channels. Though you can do well with Google traffic alone, why not use social media traffic when you have the opportunity to do this.
YouTube, Reddit, and Pinterest are some of the great platforms to drive traffic for low competition keywords. You can use these and other platforms to market your niche website for traffic.
11. Try to Maximize Your Earnings:
In order to bring your website to the next level and to maximize your earnings from the niche website, you must start developing an email list. With an email list, you can sell your products as well as affiliate offers to potential buyers again and again.
An email list is vital as it can help you build the content on a rented platform. If you aim is to drive sales or keep your clients contented in some way, then you must make them part of your audience through the way of an email list.
ThriveLeads, Aweber, and LeadPages.net are some of the great platforms to build an email list.
12. Strategize to Grow Continuously:
By following all the above-mentioned steps, you must have created a successful niche website. However, the important point is to keep it sustainable and growing into a bigger business.
Some of the ways to keep growing your niche website are:
Building more niche sites
Driving more traffic to the present niche site
Making more amount of money from each visitor
Most individuals prefer creating numerous niche websites and let money come from all of them. Otherwise, you can focus on one website and focus on growing it bigger. One great way to grow it is by adding more content. You can always search for new keywords and use them to create new articles.
Finally, you can plan to make more money from each visitor. You can do A/B testing for where your ads are positioned, become an affiliate for higher payouts, or build an email list to sell more products.
On a Concluding Note:
This is a lot and I hope you've got enough information to establish a niche website and grow it into a successful business. So, start with it now and put in your best efforts to let it perform outstandingly well.