The employee newsletter is an important message that can be found in every employee's inbox. An updated regular newsletter is one that can help business get linked with customers, employees etc.
A newsletter should be one that is entertaining, interactive and relevant. A newsletter should maintain its quality and should possess the best of stuff. Let's gather up a few newsletter content ideas that are interesting and attention-grabbing.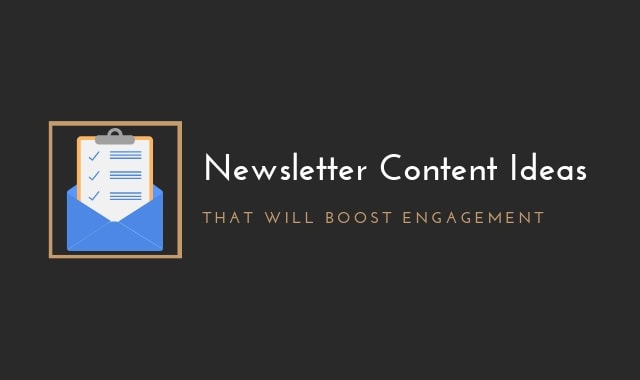 Newsletter Content Ideas To Engage With Your Subscribers:
Success stories and case studies:
The success story is something that many people like to hear or read about. By presenting success stories and case studies in your newsletter, you can let your readers and customers know the way you handled any issue and your company's capability. This type of content can be used to show the importance of some aspect of your concern. By getting to know such success stories, readers or customers would apply the same in their lifetime scenarios.
Replying to customers questions:
The main intention of any newsletter is to educate. It is important to clear any doubts that are raised by the customers. It is mandatory to know that customer support for any business is mandatory. Hence a customer comes up with doubts or queries, clearing them can help customers purchase any service or product. The queries must be answered in a short time period that creates a positive impact on the customers.
Things subscribers should know:
The newsletters should be drafted in a manner, where your fun facts can be mentioned. You can also write down lessons you have undergone till time. Bring out personal experiences and also write down a part of your life. You must always be ready to share your milestones in life and your photo.
Think of a new perspective:
Your newsletter should be pleasing and stimulating and for that, you need to research trending topics and add flavor to them. Google Trends is a familiar tool and Buzz Sumo is also a social listening tool that can be used to find out the latest hot topics.
The beneficial aspects of this tool are that the search can be done based on categories such as time, location, keywords etc. Office experts' interview, Latest industry news, long-term client interviews etc. can be provided.
Giving readers their requirement:
High-quality content is the only parameter mandatory to be sent in a newsletter. Newsletters should hence be free from errors, grammar mistakes, broken links etc.
Frequently asked questions:
There would be many readers or customers who come up with the same type of questions each time. For such cases, articles can be created that answers the frequently asked questions.
Planning first:
It is important to create a plan before any newsletter is developed. Plan and design contents which are beneficial for the customers. Contents should be drafted in a manner, that educates the readers.
Making news:
While making news, originality can be gained only by writing news about your own business. It would be great if a new product is launched if a success story is written if insights about the company are launched, and team announcements are made.
Make a separate column for an industry expert:
Your business may have a successful manager or a thought leader. Get their complete knowledge penned down by dedicating a separate column for such leaders in your newsletter. In such columns, the expert can provide tactics, share good practices, and also make comments.
Un-openers are to be resent with emails:
There are many people who do not open and read the email newsletters. Resending similar emails can irritate them and cause to unsubscribe. Hence resending newsletters should be done in the correct timing. Monitor on ones who unsubscribe, do not keep sending emails for every campaign, send emails to ones who did not open newsletter at all, also concentrate to tweak the subject line.
Survey invitation:
Your customers or readers should be asked to fill a questionnaire or survey. The data can later be compiled into a white paper or infographic or article etc. The same can be posted in the upcoming day content. In this way, you have more chances to be positioned as a thought leader in your industry.
Understanding the audience:
The main parameter in your newsletter is the content. You should always read your audience well. You should also know their reaction to the newsletter. It would be suggested to collect data such as interests, hobbies, frustrations etc. about your audience. By this way, the data gathered can be arranged as per particular interest.
Updates about products:
It is mandatory to update products in email newsletters. It would be great to mix up formats for visual attraction. Though the text is perfect to use in the newsletter, adding photos, videos and other images offer cool illustrations.
Content:
Contents are used that aren't directly linked with products. Planning and executing educational as well as fun contents are important. Contents play an important role and they are better than promotions. Good contents are created with infographics, surveys or recent studies, third-party apps etc.
Design and layout:
Good readability is important for any newsletter. In that manner, a newsletter should be designed in a way which has a good layout and proper text. The content should have sub-headings, bullet points, and a few colorful aspects to make reading interesting.
Jobs:
The newsletter should have job openings mentioned. When jobs are posted they provide a clear picture of the organization's growth and change. This provides a view and knowledge to the customers or employees about the organization.
Segmenting:
To make an effective newsletter and also to grow your customer base, remember to segment your newsletter. As per DMA reports it is true that targeted and segmented newsletters reap about 58% of revenue. Email segmentation is beneficial as customers list based on specific parameters can be created. Customers are to be rewarded for purchases, sale data must be shared, etc.
Celebration:
There should be celebrations through newsletters. When you obtain a million followers, any award or a few years in business are aspects that need celebration. Any achievement must be celebrated to make newsletter inspiring and interesting.
Interview:
There would be plenty of frequently asked questions on social media sites, in company sites and other emails. Collect them all and make a complete FAQ section or an interview. This way all queries of the customer is cleared. With the newsletter, a useful tip can be sent always to solve any issues faced by the customer.
Personal relation:
A personal relationship can be developed with customers. Hence a newsletter can wear a human face for business. By this way, trust and loyalty are developed. Customers get to know the inner view of the business. Hence through the newsletter, highlight your teams and also bring in a perusal touch with the customers.
About events:
Your newsletter should have all upcoming events mentioned in it. Though there are ways to know about the event, when intimated through the newsletter, it's exciting. Through newsletters, you can also sell tickets, enhance views and grab attention.
Videos:
Apart from just text, your newsletter can have updated videos of any training or course material, promotional videos, case studies, etc. Such contents would be inspirational and customers would definitely find interest to read them.
Your newsletter can concentrate on contests, seasonal contents, current events, industry news, photos, testimonials, news coverage, offers, tickets, etc. There are loads of aspects that can be used in your newsletter to get related to the audience, this, in turn, helps you grow your business.
These are a few email ideas that would be helpful to develop your own newsletter. Your customers have subscribed to just hear updates from you. Hence plan and draft quality and effective newsletter. With the newsletter as a parameter, building a relationship is made simple and easy.