It becomes crucial for someone who is inexperienced in any professional sector to have basic general knowledge of it when he wants to enter into that sector, which goes for a newbie blogger too. The subjects of blogging can be about an event, interests, general situation and other related activities.
Some of the reasons why people blog is to share their thoughts and outlooks for the basics, some blog for promoting something or to guide others on a specific topic and to establish themselves as an expert. Moreover, some simply want to make a difference.
Most of the bloggers want to connect with people who have similar interests and to be creative with an element of fun. However there is a web of bloggers out there and the survival of a newbie in the bloggers world may be difficult.
A newbie blogger can survive with passionate blogging, nevertheless, there are more tips given below profoundly to facilitate someone inexperienced in the blogging world.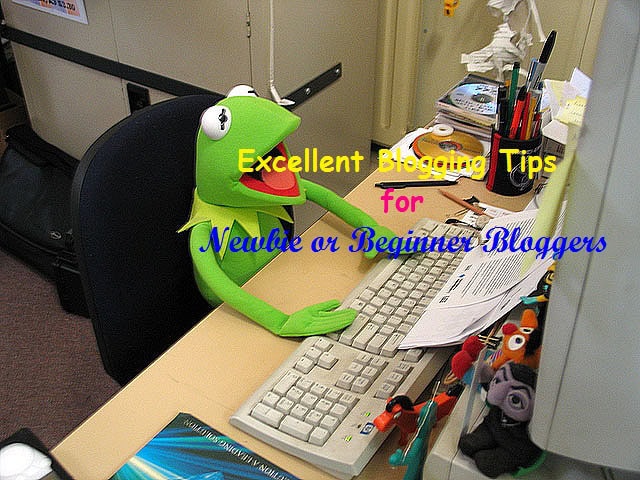 Beginner Bloggers Tips and Tricks:
Set a definite objective:
Before beginning with blogging you must know what you really want to accomplish with it. It could be that you want to set up yourself as an expert in your industry or reach the masses in promoting something or simply to share your opinions. You should know what you really need to achieve with the blog with a strong reason to bind you to reach your objective.
Unique topic:
It is very significant that one creates a blog that is about a unique topic which is not common and found easily on the internet. It can be general topics however presented in a totally different perspective which belongs exclusively to you. Do not borrow ideas but be inspired.
You can also choose to become a guide or a mentor to facilitate people with most of their daily or something specific to a field queries and doubts.
Understand your target audience:
Once you have chosen a subject, know your target audience. Try to understand more about what makes them curious and what information they want to dig into. Do a lot of research on the subject and remember you need to be well fascinated about the subject yourself.
You need to be a member of the audience you are trying to direct or lead. You can start with inquiring through your social networking profiles to your followers and get more updated knowledge on the area you want to give expert advice and talk about in your blog.
Style of writing:
Read a lot of blogs and come forward with a novel and exclusive style of writing. According to one's target audience, one should dwell on writing in their style of communication. It should be informal so that readers feel casual while reading your blog. It should be conversational as it will make the content easy to catch up with and connect with the readers.
Avoid jargons; you are not blogging to brag about you language skills but to facilitate readers who are lay persons unless you are blogging about language skills development.
Research:
You must avoid copying any content for your blog no matter how much an opinion or statement inspires you. You have to come up with your own researched material for giving away best knowledge. Find some valuable sources like going through online books and magazines, checking for existing data and figures and blogs of others to keep up with the trend. The research will make your writing more persuasively powerful. Be open minded and collect new facts and share them.
Blog design:
Anyone who is going through your blog should be spellbound by each element that makes up your blog. It should visually be conspicuous. Use two to three font style and color and stick to it throughout to maintain consistency. Incorporate white space for good readability.
Proofread:
Become your own critic and start reading your written articles before going viral. Make the corrections and check for grammar and punctuations. Read it with a fresh outlook and open mind and ask yourself if this post is worthy to be read or how will the post be absorbed by others or make someone else read for you.
Efficient article titles:
The titles you form for your article posts should be effective on the readers and for SEO purposes. Valuable keywords will help to make the blog SEO friendly. The titles should be attractive and anchoring and you can use these efficient titles as links to your blog which will direct the traffic towards your blog and augments SEO.
Be consistent blogger:
You need to have updated knowledge for the consistent addition of content to your blog. If you are unaware of how many times you can blog, as a newbie you can keep track by blogging weekly or twice a week. You need to schedule your blogging as your readers will depend on your blogs for further enhancement of their knowledge.
Photographs:
Simple words cannot be enough to express or convince the viewers for great impacts but few photographs will equip your blog for a more veteran look. Click exclusive photos by yourself to make your blog convincing and attractive.
You can take the help of people who are professional photographers like your friends or associates. Or you can yourself augment your photography skills and compile an appealing collection of photographs for your blog.
Promotion:
You can promote your blog by posting links to your blog to other social networking sites. You can request you friends or colleagues to post your blog link to their profiles.
To build a platform, to showcase your blog you will need to network more for promotions. Reply to your readers and be friendly to them and ask them to promote your blog if they find it interesting. Build an email list for further reaching mass.
Email list building:
You have to start building email lists right away from the beginning. As emails are personal and when someone subscribes to your email list, they are more likely the readers who are interested and will open your mails with curiosity and check out the links given.
Emails tend to drive more traffic to your blog and have higher user engaging ranks as it is one-on-one and targeted. It will prove to be a very profitable online marketing strategy.­
Guest Posting:
Write articles for other blogs who propose to do so for their blogs as a guest. Guest posting is beneficial when the blog has high search engine rankings and has high traffic. This will give you and your blog more exposure and black lines.
Comment on other blogs:
You are part of the blogging world, so spend quality time on commenting on other blogs. You will get a chance to drop a comment along with a link to your blog. Readers will read your comments and find out more by clicking the link to your blog. Doing this you will network more and become an active blogger.
Link building:
For search engines and black lines the link building tactic is very functional. Try to get links from websites that relates to your blog subject.
Websites that have high search engine rankings should be your target for link building. Do not just get links for your homepage but target links for your inner pages too for wide exposure.
SEO:
Your blog should be very useful and valuable in terms of content, traffic and black lines to determine whether your blog is SEO (Search engine optimization) worthy.
Enhance the effectiveness of your blogs theme so that the SEO is indicated about the credibility of your blog. Have very common and sole keywords so that reaching your blog becomes easier.
You can also install a sitemap which provides with more exposure of your complete blog. Commenting on others blogs also helps in getting black lines and you can leave your anchor text for the link to your blog.
Slow outcomes:
You need to understand that starting with the blog, you will not be followed or have enough traffic to your blog right away. You need to attract a small number of readers, when you are through with this process start enquiring your existing readers what interests them more. Your blog traffic will ascend as you flourish.
Reader's opinions:
Ask for reviews and fulfill most of the requirements of knowledge so that readers will be satisfied and automatically spread a word about your blog.
Frequently ask readers to leave comments and increase your conversation with the readers. You will start building your confidence as well as your blog's strength. Pour enough love and attention to your existing readers.
Criticism for newbie:
For a newbie criticisms might be for the first time and there is a tendency of taking it personally. Remember such criticisms are made with analyzation. When such criticisms appear, embrace it and try to improve for your reader and make changes accordingly.
If you find that you have more strong reasons for the way your blog or writing is you can make your readers know of your perspective by responding kindly, however, do not turn down such criticisms abruptly.
Negative comments:
Some people might simply not like your viewpoint and start up with negative commenting or arguing. As a newbie you need to know that such negative commenter perhaps has a totally different perspective, doesn't agree with your points or is intentionally trying to use words that will pull you down.
When you respond you have to be diplomatic and as kind as possible and do not let your emotions flow in then become aggressive while replying, the best option is to delete such comments or simply ignore.
The crude tip which is to be followed is that you will have to sacrifice your time and invest great efforts to reach your objective. As a newbie blogger, you may face many obstacles and come across IT troubles which you may not have been aware of earlier. Remember giving up should not be your option. Readers are looking for that extra points that increase their intelligence and it will only encourage them for more such points. So take blogging seriously and you will keep improving over time.