Are you planning to use MyThemeShop for your existing and upcoming projects? Do you want to get complete details about MyThemeShop? I would like to share with you everything about MyThemeShop based on my experience.
Hence, here I share my review of this tool. Through the way of this review, I would share every bit of information about this tool.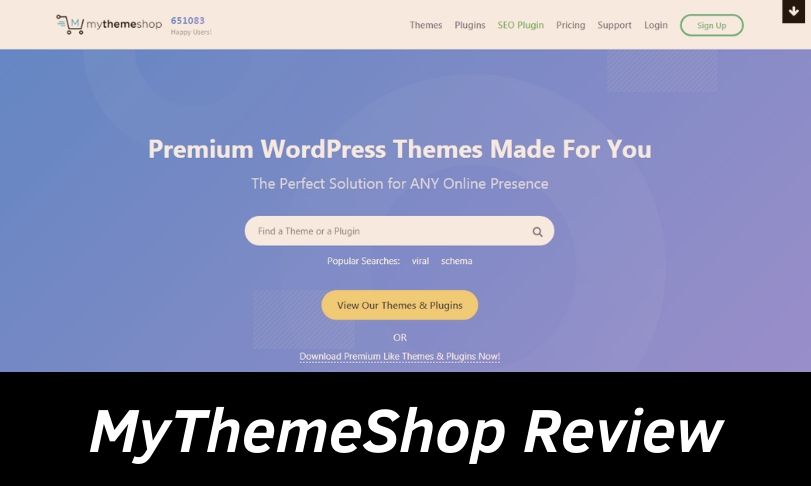 I opted for this tool to begin my blog and still using it. I believe that with my thoughts shared with you, it would be easier for you to take the correct decision of whether to purchase this tool or not.
An Overview of MyThemeShop:
It is one of the finest theme providers for WordPress. This shop comes with numerous trending themes for WordPress and is popular for offering premium plugins and themes. With 29 plugins and 112 themes for WordPress, it stands as an outstanding tool for WordPress.
Presently, the company is running successfully housing more than 3 lakhs premium customers who are regularly supporting the products by presenting suggestions and positive reviews to others to try using this tool.
Why is MyThemeShop Unique?
MyThemeShop is unique and exceptional because it comes with numerous rich features.
Before I list down its features section, I would like to share that since the time I have started using this tool, I have never experienced the problem of slow website loading speed. As a result, the overall performance of my website has enhanced, which creates a higher chance of getting a top ranking in the search results.
Some of the prominent features or benefits of MyThemeShop are:
SEO Optimized – This tool comes with clean codes, which makes it easier for search engines to crawl your website.
CSS and HTML – All themes in MyThemeShop are built using the latest CSS and HTML5 markup.
Light Themes – No matter which theme you select, you will always get efficient and light code along with super-fast speed for loading.
Exceptional Design – Every theme in this store holds a professional appearance and rich design. For this reason, it keeps on attracting visitors to a great extent.
Ad Blockers – It comes with sense Ad blockers that ask users for disabling to view articles on websites.
AdSense Optimized – It comes with a built-in feature to incorporate Adsense ads or affiliate banners, which are useful for making money on the web.
Excellent Browser Compatibility – Each theme in this store is compatible with the latest browsers such as Mozilla, Safari, Firefox, Opera, and more.
Buttons for Social Sharing – There are numerous plugins for social sharing, which are built in to share the content to all social media platforms that aid in link building.
Responsive – Every single theme in this shop is mobile-friendly and can be viewable in all the platforms including mobile.
User-Friendly – It comes with an excellent look, which makes it highly pleasing to the visitors.
Multi-language – There are numerous themes in this store that are translated ready and can transform as per the preferred language.
Supports Plugins – There are third party plugins in this store, which can be linked to without any problems.
Plugins in MyThemeShop:
MyThemeShop is loaded with numerous awesome themes as well as plugins, which are exclusively designed for WordPress users. For this reason, it can efficiently cater to most of your WordPress blog requirements.
You can use the plugins without searching for them around. It is because it comes with all the necessary plugins, and most of them are absolutely free to use.
In order to use the free plugins, you have to open an account in MyThemeShop and download the plugin.
1. WP Subscribe Pro:
One of the most essential things for any website is email marketing. By using emails it is possible to bring more conversations and run your business in a profitable manner.
This plugin can alter visitors into subscribers by linking them with famous email marketing services such as AWeber, MailChimp, and more.
It comes with distinct colors and layouts, which can be customized to change into anything without requiring any coding.
2. WP Review Pro:
This is another plugin that lets you write rich product reviews easily.
It is a great plugin designed exclusively for WordPress users to let them create rich product reviews for all sorts of products and offerings. You don't require any coding to create stars, circles, points or percentages for scoring products. Also, it offers unlimited colors that can alter the star's color, fonts color, and background color.
This plugin generates rich snippets within the search engines to let your product review boost traffic and lead to more sales.
Themes in MyThemeShop:
There are numerous themes in MyThemeShop that can be used to serve your purpose. You can pick an appropriate theme for your WordPress site.
Some of the popular and best themes in MyThemShop are as follows.
1. Schema Theme:
This is an excellent theme to create a personal style blog. It comes with the fastest speed for loading and is an SEO optimized theme. It is highly suggested if you care a lot about the SEO ranking of your site.
It is built-in with rich snippets and schema theme that attracts numerous search engines for ranking faster. The Schema theme ensures that website loading is fast and less than even a second, which is why it brings great benefit to SEO.
2. Magazine:
This theme is a great solution for a magazine-style blog. If you have an idea to introduce a magazine blog, it can offer you an exquisite design to display numerous content on one page.
The Magazine Theme comes with numerous layout options to display posts that your visitors would love checking out.
Moreover, this is SEO optimized theme that is also optimized with AdSense and integrated with Schema markup. It efficiently displays Google AdSense advertisements. Because of its high efficiency, it is even a favorite theme for popular internet marketer Jeremy that uses the magazine theme.
3. Coupon:
This theme is a great solution for coupon based websites. It is a great solution for those who want to open a site to share coupons for visitors. It lets you gain access to numerous rich features.
It is an excellent theme that comes with a stylish appearance and lets you look at the finest features. This theme is also integrated with Woo Commerce that lets you sell a variety of products on your site.
The coupon theme of this theme is SEO optimized, fully customizable, and Adsense optimized to alter the theme look conveniently as per your requirements. It is an excellent theme to create exceptional WordPress coupon websites and bring more clients for selling coupons from various websites such as Walmart, Amazon, eBay, and more.
4. Corporate:
The corporate theme is a rich business style theme that is popular for famous businesses related to MyThemeShop. This theme is professionally designed and gives a classy appearance to the theme. It is useful for corporates, freelancers, business and agencies that want a professional appearance for their theme.
It is a completely responsive theme that is ads enabled and comes with fast loading speed. Most importantly, this theme is SEO optimized.
Also, you can give a more professional look to your theme by using this theme utilizing distinct layouts such as the Portfolio section, the section for Team members, pricing table, company services, and pages for contact.
5. WooShop:
If you are opening an eCommerce store, you must try using the WooShop theme.
It is a modern and stylish theme that is designed exclusively for eCommerce websites and stores. This theme is highly responsive and comes with an exceptional layout. For this reason, it boosts profits and sales to attract visitors.
This theme houses everything you require from integrating products in the cart to placing orders in the section. The finest feature of this theme is that it includes the option for translation, which makes it useful to target international clients to purchase products they require.
Pricing Plan for MyThemeShop:
There are three different pricing plans for MyThemeShop. You can select a pricing plan based on your preference.
The Single Product Pricing Plan – This pricing option is popular for most of the users holding a single website. You can purchase any single plugin or theme under this plan at a price of $29 – $59 for one month. It comes at a renewal price of $19 for one month.
Extended Membership – The second pricing plan is for extended membership that is best for developers and agencies. It is also a perfect pricing plan for those who handle multiple websites. This plan gives you access to all plugins and themes at a price of $87 for one time and a price of $19 every month to get regular updates and consistent support.
Free Plan – If you don't want to spend money and still want to use this tool to your advantage, you can try using its free of cost plan. In order to use this plan, you only have to sign up and you can start using it right away.
Coupons on MyThemeShop:
One great thing about MyThemeShop is that it lets you save a lot of money. This can be done by wisely using the codes.
The coupon code link can be used to purchase any products and it offers products at a discount. This way, it is possible to save around 20% to 40% of the total cost.
Pros of MyThemeShop:
All its themes are SEO ready. It means that you can gain higher SEO rankings in the search results when you use MyThemeShop's themes.
It regularly runs discounts and offers on a frequent basis. There are free plugins and themes available, which can be downloaded from their website.
It is a great tool for those who don't know the way to install plugins and themes. It is because the process for installation is very easy and simple.
The lifetime pricing plan of this tool gives you access to use the plugin or themes for unlimited sites.
It comes with simple documentation that you get from the team. It clearly explains the way to install plugin and themes. Also, there are video tutorials available, which make the downloading process much simpler and faster.
You are not required to use any additional service or plugin for creating the mobile version of your site. It is because the themes are highly responsive. Hence, it automatically alters into the mobile when witnessed in mobile devices.
It comes with Cpanel, which is precisely designed and is very easy to use.
There are in-built ads available within this tool that shows feature. So, there is no requirement for additional plugins to show the AdSense ads.
All themes within MyThemeShop look stunning, professional and modern.
It offers brilliant customer support and affordable pricing, which makes it an excellent tool for use.
MyThemShop Cons:
Though it offers the option of lifetime access, but you have to pay a yearly price to renew it.
You may find a few themes appear similar.
It comes with an inbuilt button for social sharing that looks very simple. It would have been great if the appearance has been more modish.
Final Verdict:
I believe that it is worth purchasing this tool as it comes with a range of rich features. This tool is backed with honest transactions and the details mentioned are completely protected and secured.
Moreover, the theme is properly codes that make it light and delivers a fast loading speed. The regular update within the plugins and themes make it a better and more useful tool. You will also love its premium customer support, which is fast. There is also a support team for premium users, which is available for 24 x 7.
If you are new to this field, you will love the HD tutorials offered by them regarding the way to install and use products easily. Investing in this product can bring your business long-term benefits.
It offers better themes to impress clients or visitors. Added on the top is the fast speed of loading and exceptional design that can bring great value as well as profit to your business. Just make sure you opt for the premium pricing plan as it will give you access to more features than the free plan.