One of the most strenuous tasks involved in the online arena is increasing website rankings. With so many phrases and keywords available, listing on the top rank in Google seems quite tough.
Even if you create a rich content piece, chances are you may get lost in the huge pile of data available.
Most of the SEO experts suggest targeting one page for a single keyword. However, I believe that it is best to target one page for multiple keywords.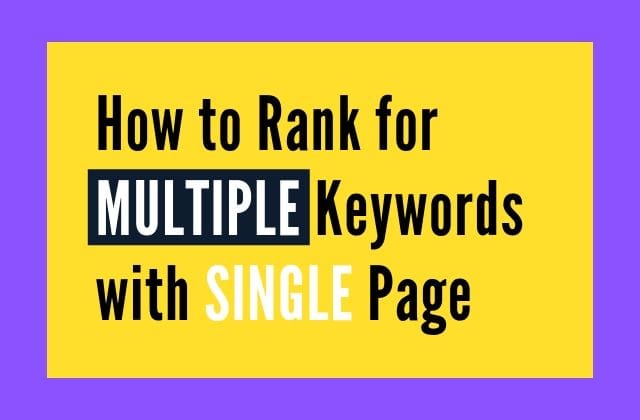 Targeting Multiple Keywords on a Single Page:
But how can you go ahead with optimization when more than one keyword or multiple keywords are involved.
In this post, you will be learning the same. So, let's begin!
Believe me, content writing is not a simple or stand-alone job. It involves innumerable options for optimizing content, particularly, when multiple keywords are involved.
If you wish to optimize your content for more than a single keyword, there are a few strategies and techniques, which you need to practice.
Pre-Optimize Your Entire Website:
When targeting multiple keywords through one page, it is best to pre-optimize the entire website and not just that page. In order to successfully complete the pre-optimization process, here are some steps to follow.
1. Conduct a Content Audit:
If you have a dynamic website structure that experiences a lot of changes right from the beginning, it is essential to conduct a content audit. It will let you have a clear idea of your current status.
For websites already loaded with numerous posts and rich blogs, there is no point writing new content in order to target multiple keywords. Select content, which is relevant to the desired keywords and re-optimize it. Practice content pruning for optimizing the content.
It would be great if you are able to identify content that has higher chances of standing in the top 10 results from Google.
Websites with bulk content hold higher chances of the content being outdated. Hence, it is wise to scan the entire website. However, if your website lacks attractive and rich content that can attract attention, it is suggested to create new content.
Create a handy list of content that needs to be altered, deleted or needs on-page optimization. Identify all old content and dark corners of your website and rectify the same.
The best part is that doing so will let you increase the conversion metrics!
2. Prepare a Robust Content Strategy:
The key to successfully restore rich content into your website is creating a strong content strategy. This is quite similar to the process of the content matrix where you have to assess the situation and prioritize content.
Your content strategy must focus on the following aspects.
It must include important goals, publishing schedule, on-page SEO, and link building practices.
Define the purpose and target of your content.
Focus on the process of content creation as well as content delivery.
Select a proper framework to follow.
Prepare a plan for content amplification.
Promote content using social media.
Focus on other SEO tips and tricks.
While defining your content's purpose, you must keep into consideration the target audience.
Once the list of content that requires to be revamped is created, it is time to categorize the blog post.
Define content that needs improvement.
Define content that is old, received no traffic, or not relevant.
Content Assistant is a great supportive tool useful to identify the category where it must be placed. It guides the user to check improvements that can be achieved for content.
You may align the treatment for a topic, which motivates readers.
Begin by defining blockbuster content as it is more influential than the traditional approach. Some guidelines to create blockbuster content are:
Define specific goals.
Target a bigger audience.
It is longer than the usual content length.
It is shareable and sustainable.
Most importantly, this kind of content delivers rich information to users.
Other than this, you must follow the natural process of content marketing, which includes:
Attract strangers or users through social media, blogs, keywords, and pages.
Convert strangers into customers using landing pages, call-to-action, and contacts.
Close leads by following the process like workflows, email, CRM integrations, and lead scoring.
Delight customers by offering them rich experience through emails, social media, seamless workflows, and smart call-to-action.
Optimizing Published Content on Your Website:
Once the content is created and published on your site, it is time to optimize the same.
1. Conduct Keyword Research to Find Keyword Recommendations:
It is a highly important step towards content optimization for multiple keywords.
For this, you first have to prepare a vocabulary. For example, if you are talking with someone about any sport, it would involve keywords like a coach, hit baseline, pass, jump, field, team, and more.
Using such natural patterns for language enhances relevance in search engine algorithms.
Using a keyword tool is great to find search related keywords for a topic. Define a list of keywords for which your content can rank.
In addition to this, you may check other sources for keywords like thesauruses, dictionary, and top-ranking pages on Google, Google auto suggestions, Wikipedia, and search terms on Google.
Once keywords are gathered, create keyword research to find recommendations and define clusters for optimizing website content for innumerable keywords that are similar and relevant. Choose the best 3 keywords among all and optimize content for the same. You can include more than 3 keywords.
Keyword tool also gives numerous ideas for content improvement and can help you rank faster than otherwise.
It is important to choose relevant keywords for your content as only then you can define your content's purpose. Therefore, make selections carefully.
In order to rank for 'local' and 'near me' searches, it is essential that you select keywords with location set up, like real estate in Chicago or dentists in Florida.
Even while selecting such keywords, you have two choices available:
First, where you can target only people living in Chicago and no other areas of Illinois.
Second, if you wish to target other cities along with Chicago, you may select an option to track the entire city.
You can use filters in Keyword Tool, to see recommendations for keywords that contain 'Chicago.'
The best way out in this regard is to aim to target both keywords in one content. The content can be optimized for 'real estate in Chicago' and the 'real estate.'
Further, I suggest you set up an account into Google My Business. It is because results displayed in Google Maps stand before even the results in search.
Finally and most importantly, do take into consideration the searcher's intent.
It is essential to think and create content from the searcher's perspective. Figure out their intent and the kind of information they are seeking. The content, which enhances the curiosity of searchers, is the one that requires improvement.
Last, keywords used in a piece of content must create logical sense to the searchers. The keywords must be matching as they will be handy to target multiple keywords on one page.
Avoid targeting multiple keywords as at some point these keywords may differ. This way, visitors can get annoyed and leave your website. Incorporating multiple keywords mean visitors will keep visiting your website, stick away and result in higher bounce rate. As a result, Google will consider your webpage is a bad piece of content.
2. Conduct the Process of On-Page Optimization:
After keyword research, the next step in the process of content restoration is on-page optimization. For this, you have to follow 3 steps:
Analyze your entire content by pasting it in the Content Assistant tool.
Increase the performance of your content by incorporating keyword suggestions into it.
Include new sections and revamp the content, which underperforms. If needed, make sure you include relevant keywords that appear more natural and logical.
Once you have added keywords to create content, which is fresh and meaningful, you may now alter the On-Page SEO elements. This will help your site rank higher.
For this, you must optimize Meta descriptions, URLs, images, and title tags with keywords selected by you. This will make your page more intelligent as well as create an impactful combination of different keywords you may wish to rank for.
Along with it, take into consideration the remaining SEO!
One highly vital aspect that is of great support in the content optimization process is practicing internal linking. This way, you can create a powerful connection between the different pages of your website. Make sure you choose compelling anchor text and keywords that transfer high – quality from one webpage to the other.
If your website is a balanced one that incorporates rich content, it has higher chances to attract links on other webpages than the homepage. Remember, link signals do create a strong impact on the website along with its content.
3. Use 'Fetch like Google':
Once you have improved entire content on your website, it is time to use the search console tool.
The feature of 'Fetch like Google' is available from Webmaster tools. It is an important step that must be practiced under all situations and for all kinds of content. The newly prepared content must be re-indexed in Google. This also offers better and enhanced experience to the users.
4. Practice Content Promotion:
The process of content restoration is a highly important one. But it alone is not enough to bring you desired rankings in Google and results.
Moreover, besides revamping old content on your website, you must have introduced fresh and newly optimized content in your site that leads to higher rankings and more conversions.
Hence, it is time to promote your content in an efficient manner.
It is vital to develop authority, which functions great with the relevancy of keywords that you have achieved after so much of hard work.
Utilize social media strategies, techniques for content amplification in order to identify visits, which begin to flourish.
It helps to develop strong relationships and makes sure that it builds powerful connections between two people. Hence, investing this in your content would help you gain awesome results. However, while considering relevancy and authority make sure you always think considering your goals. It is essential that your content promotion strategy is goal-oriented.
If it is, move on with it!
To Sum Up:
One of the best ways to achieve higher Google ranking and to target more number of audiences is by targeting users with single page including multiple keywords.
While deciding the page to re-optimize for multiple keywords, there are a few things that you must take into account. The most important among them is to know all the tools you will be using, the process of workflow, and the content optimization process.
In addition to this, you can gain optimum results by following the above-mentioned guide. This will also increase the chances of your content to rank top in Google.
Make sure you wisely select that content, which requires improvement, only then check the best-related keywords. For each content piece, you must optimize the page for at least 3 keywords. You may go for more keywords only if there is a requirement to do so. Otherwise, you risk pushing the visitors away with content they don't consider useful. SEO pro gravitates on a regular basis to create high-quality content. This can be achieved only by discovering the searcher's intent and then proceeding ahead with the knowledge in hand to create qualitative content.
Moreover, it is important that all your articles are Google-proof. None of them must get entrapped into the black hat SEO technique. It is best to optimize your site only for most-suitable keywords. Enhance the performance of content to the top. You can expect a lot of support in the process of content restoration from the Content Assistance. It is because it gives genuine guidance and suggestions for achieving rich content.
Finally, let Google be aware of the changes you have made as well as content amplification methods that you have used for promoting the content.
You now have an abundance of information with you and sure you must be having numerous new content ideas utilizing the process of multiple keywords.