The topmost platform with billion users across the globe to discover, watch, share and create videos is none other than YouTube. After Google, the second major search engine fame goes to YouTube. YouTube attracts many people as all the videos posted are educative, informative, pleasing and also encouraging. To get more YouTube views and subscribers you need to widen your audience, optimize the video content, have the perfect title, tags, description and much more!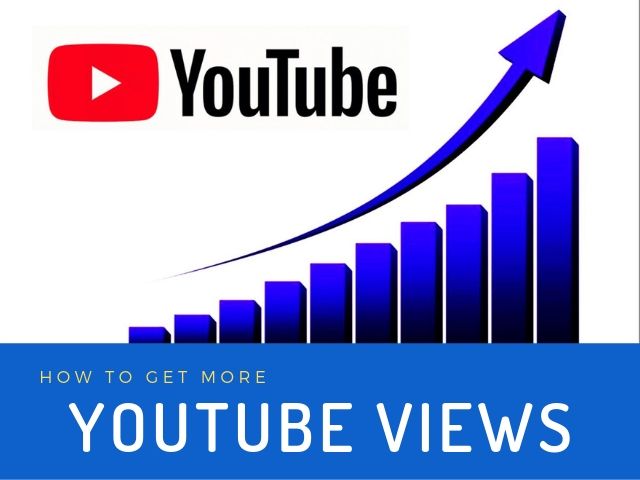 You Tubers who use YouTube to create content, frequently pursue the methods of generating more views for their videos. If you are a beginner, initially it might be struggling for you to get sufficient viewers. So, do you like to know ways to get more YouTube views?
It isn't a tedious deadly task, but the key requirement is that you need to realize the set of rules for YouTube. In order to gain a mass audience, all you need is dedication, hard work, and investing tactical efforts, and quality content.
Here let's glimpse through ideas and strategic ways to gain in more audience for more views and also boost your channel. The post also concludes with ideas to become a great youtuber.
Ways to Get More YouTube Views:
1. Opt your channels perfect niche:
Before opening your YouTube journey, it is essential to clearly choose on which niche you want to work. Niche is the foundation of a YouTube business. Just uploading any random video wouldn't give the desired success. When you are blank or lack knowledge in picking your niche, the following tips would assist you in getting your niche.
Choose your passion.
Choose a topic that really fascinates you and gives a sense of pleasure to you. So that authentic enthusiasm while speaking will reflect and attracts everyone's attention.
Do research about demand and competition.
This is true if you are looking towards YouTube for making money, it is certainly needed to know if there is any demand for the topic which you have been chosen.
Another important aspect is to gather some information about how many YouTubers have already created content on that particular topic. Sit back and take your time to find a highly demanded niche with less competition.
2. Using explanatory keywords and an appropriate description:
Using a descriptive and exciting title not only provides a keyword for the search algorithm but also attracts the users and provides information about the video. Specific SEO methods can be followed for keyword search. Many SEO tools can be found online such as keyword planner and many more. The popularity monitoring for any keyword can be achieved with the keyword planner.
Also, remember that there is a requirement for framing the video in the right manner so that the user, as well as search engines, are informed. The description shall be unique yet generic to rank ahead in the keyword search. Also, the description shall attract the user for the video by standing out above the rest.
3. Create appealing thumbnail images:
Thumbnail image is something that puts the first impression on the viewers. Creating a compelling thumbnail is extremely important when it is about to get more free YouTube viewers. Use high-quality images with engaging font and readable features. You can even choose auto-generated thumbnails, many successful YouTubers use them.
4. Use appropriate tags:
Tags are some keywords related to your topic to discriminate video and help the algorithm to understand what viewers are watching when they see your videos. Better not to use more than 10 or 12 tags, otherwise, there are changes to lose the targeted audiences and could also dilute search result data.
5. Collaborate with influencers:
Unamo social media is a platform to track down influencers in your field of interest, reach out to them to promote your videos. These influencers have already built audiences who are regularly engaged with the content they provide.
Create a relationship with them by commenting and liking their videos. It compels that YouTuber to check out your video, and if they'd be ready to give a guest appearance in one of your YouTube videos, it would definitely show a positive impact on your channel and your video can generate a lot of views.
6. Become more interactive and social with the viewers:
This search engine is also considered as a social media network for a number of reasons. By just posting a video your chore as a You tuber isn't complete, you need to think ways to engage the visitors.
Don't ignore any comment of your viewers, like and respond to them as soon as possible especially if they ask a direct question to you. Your videos will be liked and commented when you reply in a trustworthy and generous manner.
Browsing their comments would make you more understanding of the user's demand. The more comment you will get, the better your channel will rank. Your visitors can be associated with the video by following these tactics.
Your visitors can be requested to like, comment as well as share the videos. Remember to mention a note for your visitors to subscribe to the channel.
Involve viewers directly through a live video session. Once in a while come live and interact with them.
Try some giveaway or hold a contest and prize draw.
Upload question and answer video to create understanding with them.
7. Promote your videos on a various social media platform:
Drive the user to view your video via cross-platform promotion. This approach works wonder especially in the case of YouTube. Once you post any video on YouTube, make sure your visitors on other social media channels get to know about your posting.
Possibly some of your Twitter, Instagram or Facebook followers will show interest to share it further and subscribe to your channel. Sharing the link of short teaser video is a good way to do this. Several social media scheduling tools like Hoot suite or Buffer make things easier.
A good idea to gain more links is to associate your videos with their appropriate blogs.
8. Transcribe your videos:
Ranking high on YouTube's search results can immediately increase your viewers. There are chances that many viewers may not be familiar with the language used in the video. Using a transcript in the videos provides a better experience to those viewers.
Though it is a matter of debate in SEO experts whether transcript videos have more ability to increase your YouTube ranking and viewership. But there is no harm to try this. The transcript will definitely be helpful for those viewers who are not proficient in the language that you speak.
A satisfied viewer definitely brings a better chance for the organic growth of your channel.
9. Understand SEO:
SEO stands for search engine optimization, although it sounds too technical actually it comprises of 3 basic elements
Title:
Make sure your title and your video content is relevant and highly demanded.
Thumbnail:
Thumbnail must be appealing and compelling viewers to click.
Descriptions:
The description of the video should be simple and relevant to what people are searching.
Smart work along with your hard work makes effort more fruitful.
10. Provide quality content for educating and entertaining people:
YouTube always wants to improve the experience of the user, for that it always presents great content to its users. If you provide great content, success percentage would be obviously high because it will get an increased number of positive rating, comments, and shares.
Video content must provide value to the audiences, whether it is educating them, entertaining them, motivating them or just educating and motivating them in an entertaining way. There would be more views and visitors waiting for your videos when your posts are valuable for them, in this manner your views can be increased.
11. Use end screen and cards:
YouTube has some additional feature which allows YouTubers to use card and end screen. YouTube behavioral analytics allow you to know some actionable insights to help in every decision to increase viewers. The card is an effective way to show your user to other videos and playlist etc.
You can create a card for various purposes like promotion of other less watched videos, take traffic to your related blogs, encourage users to subscribe and participate in a poll, etc. The end screen is another way to promote your YouTube videos. Your other contents can also be promoted just prior to ending the video with an end screen.
Including end screen and cards gives professional look to your profile and hence increases the viewers.
12. Be a regular participant of your niche community:
Becoming an active member in your niche is a wiser way to expand your YouTube business. Research for your niche and hold hands with associated communities in your niche. It is good to be a mutual partner as it benefits everyone around you.
Commenting on each other's videos and offering advice, giving honest feedback or asking for help if some major information is missing and sharing each other link to provide more information are some certain helpful ways to get rewarded with more number of subscribers and viewers.
13. Do experiment with affordable ads:
YouTube has its presence on various social media platforms. It provides an option to be embedded or shared with a little effort. This unique feature also contributes to making videos viral. Thus you can target the available ways to get views from other platforms. Some of these ways are described below.
YouTube Ads can be used as an assured way of increasing views. The various Ads available are Bumper Ads and In-stream Ads. During the initial opening of the video, In-stream Ads perform and can be skipped. Bumper Ads are added in the middle of the videos and are generally of 6 seconds.
On the home page Ads called Discovery Ads are found. They are also found on YouTube search results and adjacent to the related videos. Investing in these methods of advertising videos on YouTube is worthwhile, as your videos are sure to appear in front of your targeted audience.
Youtube's own sources show that the audience that watches the YouTube Ads is more likely to put a visit to the channel or subscribe to the channel.
14. Make your own playlist:
Making viewers experience more enjoyable and comfortable is the key to earn more viewership. YouTube playlists make the audience experience better. You just need to assemble all the related topics in a queue as a series, so the user can enjoy one after another video without hitting a play button.
Many times unintentionally they will watch your related video. You must create a separate playlist for different topics. Don't pour all the stuff in one playlist otherwise, the user will get annoyed.
15. Develop your brand name:
It is always advisable to take quite enough time to brand your channel for getting established. By developing a brand fresh design for your channel to progress which draws everyone's attention to your YouTube page and definitely, your channel will stand out of the competition in your niche.
Go through editable graphic sites to build unique YouTube banners, logo and profile picture. Another way is to hire some graphic designers from freelancing sites is to create an awesome profile banner. Here are a few tips to create a stunning profile banner:
Give a professional touch to your profile by using attractive colors and fonts.
Your niche can be made prominent by making use of a leader board banner.
Thumbnail size and profile banner size should be the same.
Conclusion:
As we have seen above, there are a variety of ways to get more youtube views for your Youtube Channel. Spending dollars on Ads can be another way to gain views but it is better to get organic views. This requires nonstop participation. You need to be updated and regular posting of niche and trending topic is quite important.
Nevertheless, don't rush, attain comfort and confidence on the topic and then proceed. The video shall go with apt descriptions, tags, and cards. Post link promotion and consistent monitoring are necessary. It is always suggested to reply to your visitors, subscribers, take advice to be ready to help them too. Lastly, have patience and keep posting, views will come naturally.