Did you know, in order to get linked with customers and promote their brand, about 40 million small businesses make use of Facebook?
If you own a small business and desire to get more likes, then you need to have a community on Facebook.
To deliver ROI and build brand awareness you need to have a community which listens to all you mention.
The community you create should be ones with like-minded people who reads and shares your page. It is also good to bear in mind that apart from getting more number of likes, you should possess quality followers.
The people who like your page should be ones who are compatible with your business goals and their comments enhance your shares on Facebook.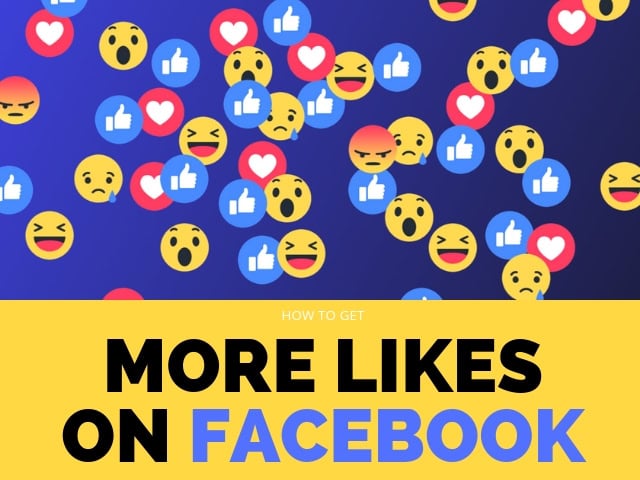 How to Get More Likes on Facebook?
1. The business page on Facebook must be completed:
When people decide to visit your business page, the Facebook page is the initial one they visit.
It would be great if you develop a catchy description and also make sure the pages are categorized correctly. Also make sure that the business hours of operation, phone number, and address are listed.
Apart from potential followers being informed, Facebook would also update itself and present your page when requested.
2. Searchable information should be filled in the Facebook page:
Make sure that all sections of the page include helpful, relevant and searchable information so that the number of Facebook fans gathered are high.
It is also necessary for you to remember that your pages would be indexed and more fans can be gained.
Keyword stuffing spree should not be encouraged, but every section of the page must be optimized by making use of keywords that are applicable for business.
Also make a note that once a Facebook page is created, the aspects which should be included in the about section are linked to your website, an outline of your business, and information which will make your business easily understandable.
3. Social plugins must be added to the website:
There may be many visitors on your website who must be guided to find your Facebook page in a simple manner.
Facebook social plugin, for example like box plugin, can be an easy way to obtain a number of Facebook likes. The few aspects in the plugins are fan's pictures, your latest posts, and like button.
4. Existing contacts must be invited to like the page:
There are more chances for family, present customers, friends who would be willing to get connected to your business on Facebook.
Your only duty is to invite them by means of email, in person, through Facebook and request them for positive reviews and likes.
Present customers can be made fans by presenting them a suggestion on Facebook and they are to like the page.
For this, the list of emails is uploaded to Facebook. From this, ones who are already on Facebook get to see the suggestion for liking the page.
5. Community's interest to be found out:
Facebook's new graph search is a great way to find out your community's interest. By getting to know their interest, appropriate posts can be posted and more likes can be reaped. This is clearly explained with a simple example.
You may have a page on Facebook for pizza in California. You can get to know more about your target audience by searching for " favorite interest of people in California".
From Facebook, I can get the results that these people like tasting wine, cooking and traveling too.
6. High quality and appropriate contents are to be posted:
It is a recommendation from Facebook to share attention-grabbing images, fun to read and short contents so that more attention is grabbed.
The journal management of science has published, that more likes are received for the visually appealing post than text-only posts.
There are ample free stock photo sites which can be utilized. Also, unique infographics which portray appropriate information can be used.
7. Making use of Facebook ads:
The best way to increase your Facebook likes is by using Facebook ads. To make use of the Ads to the maximum extent, your community interest is to be focused where similar people can be found.
Variety of ads can be experimented with and the appropriate for business can be picked.
8. Concentrate on headlines:
To gain attention for your posts, it is mandatory to post a compelling headline.
A proper headline can be crafted by providing an informative headline, an accurate, clear headline and setting relevant expectations about the aspects in the post in the headline.
9. Evade being too promotional:
It is a good intention to promote your brand on Facebook, but the feeds needed to be informative and entertaining.
They shouldn't be packed with a sales pitch and must not be pushy. It is found in a survey that there are few aspects which followers do not like and they are
Navigating the people to download the app or buy the product without providing beneficial information.
Directly leading the people to participate in the contest without giving them any details about the page's relevancy or interest of followers.
Contents from ads being reused.
All these above-mentioned facets would not generate Facebook likes. The other aspect is that such posts would not deserve the first place, as organic reach for promotional is limited by Facebook.
10. Running a contest:
Contests are one way which is being followed by the number of companies which reap them with more number of Facebook likes.
Prior to conducting a contest, there are few features needed to be understood. The Facebook promotion guidelines are to be followed by starters who get started for a contest.
The Facebook app must be followed for the contest by which fan gate can be developed.
The main beneficial aspect is that the one who likes your page first would get a chance to participate in the contest. There are unique URL for apps too so that along with Facebook ad you can promote your contest and heighten your Facebook likes.
11. Concentrate on video:
For ones who are looking for more number of Facebook likes and do not possess a Facebook video, it's necessary to develop one. There are 4 main categories to be followed to develop a social media video.
The video is to be short as well as sweet
The video should be optimized for particular devices, platforms, etc
Subtitles and descriptive text are to be included
Finally, a clear call to action must be present.
Nail these features while developing a video for more likes on Facebook.
12. Providing followers to what they require:
By listening to the followers, you can get to know the requirement of the follower they need on Facebook.
Suppose if the maximum of the contents on Facebook is about inquiries regarding service, then it would be suggested to develop contents so that the followers can use the product in a better way.
A good example may be posting videos about alternative uses of the product. It is important to concentrate on the response to the followers and clear their queries.
13. By liking and intermingling with other companies:
Engagement with other company pages as a business page on Facebook can be achieved. By this way, consciousness amongst like-minded people can be established with the followers.
To complete this, Facebook's 'edit page' is to be clicked in the admin panel and click on 'use Facebook as your page'. It has now become easy to interact and liked with other companies.
For this, graph and search graph can be utilized. For example companies, places and pages which have the same interest as your company can be found and liked.
After liking a few pages, the news feed of the company can be viewed and engage them with the liked pages.
14. Engaging consistently in the appropriate time:
It is actually suggested by Facebook that consistent quality and the category of message you develop can assist followers to get to know what content to get from and the way they get associated with the business.
It is always a good plan to develop schedule posts as well as a content calendar so that Facebook contents are consistent and organized.
In order to get more Facebook likes and enhance engagement, posting at the right time is mandatory. It is good to post at least 5 times a week so that your business always stays in the minds of your followers.
15. Analyzing, measuring and learning:
Facebook insights can be followed in order to find the metrics for your page performance.
There are many features like engaged users where the users' number engaged to the post, reach which denotes the number of users looking at your posts, and new likes which denotes the new follower's list.
By running through these metrics, you can get to know the force which leads to engagement and likes. By knowing this the posts can be adjusted easily.
16. Use Twitter and LinkedIn for cross-promotion:
When considering your business's LinkedIn and Twitter profiles, never forget to add a link to your Facebook page. Also, keep tweeting occasionally about your Facebook page so that LinkedIn and Twitter followers are connected.
Also, your Facebook page can be added with twitter link and keep tweeting about Facebook page. It is not mandatory to cease with just Facebook and Twitter but cross-promotion can be done with Flickr, LinkedIn, Youtube and a lot more.
17. Expand your reach by making use of Facebook ads:
To convert fans into customers and also move towards engagement can be achieved by growing Facebook likes in an organic way.
For ones who look for the budget can hold hands with paid advertising into Facebook strategy and assist in. The 'page like Ad' is provided by Facebook which possesses the CTA requesting the users to like your page on Facebook. Usually, these ads are present in browsers right side or in news feeds.
18. Study Facebook insights:
By running through insights of Facebook, one can get to know the present fans of your page, in this way future efforts of Facebook can be drafted in a perfect way.
Also, certain posts which possess the maximum engagement and reach can be identified. By making use of all these as inputs contents can be drafted as per the requirement of the audience.
19. Provide discounts:
To get more page likes on Facebook, it can be a smart way to provide discounts for Facebook fans. This can be considered as an awesome incentive for liking the page.
The real fact is that about 42% of people agree that they like the brand page mainly for discounts and coupons.
The above-mentioned ways can be followed and are sure shot to obtain more page likes on Facebook.
The quality of the content can be achieved by amplifying successes, learning from mistakes, and providing contents to followers which they enjoy.
There are many other resources too for Facebook topics, business people can hence run through all the topics and gain a clear view of what is to be done consistently to get more likes on Facebook.
By getting more likes on the Facebook page, the business is paving way for enhanced sales, lead, traffic, email growth, and profit. Hence for all such factors and mainly for visibility, growth, and profit, these steps are to be followed for more likes. Run through the hints and make proper use of the same without hassles.