Blogging is a very reputable profession. People write blogs as a part of their interest in writing. But some of them use it just, as a way to earn money through it. If you've got a blog and getting a good number of visitors then its high time that you start monetizing your blog.
Now if you are doing this as a business, you should need to know about ways to monetize it. But above everything, your blog needs to have so many visitors if you want to include any monetization options.
The first thing a blogger should do is to increase their blog traffic and improve the reach of their blogs.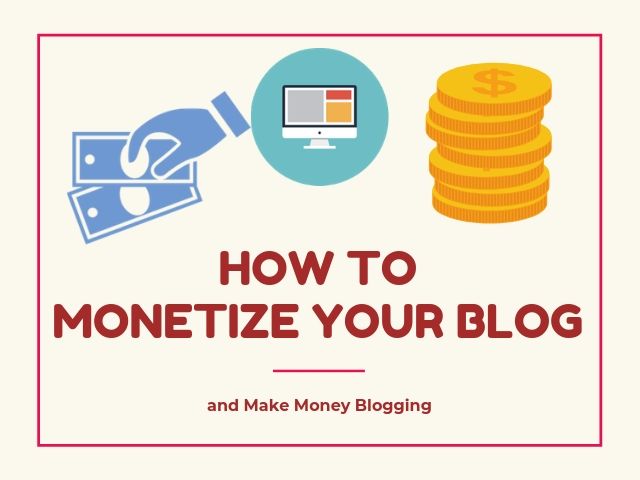 People do include advertisements in their blog as a part of monetization. But this will only happen to popular blogs.
Many advertisers do it through the Google AdWords program. If you want to make your blog popular then the best way to do is to write quality articles that can attract as many people as possible.
Increase your blog publicity by sharing it on the various social media platforms. When your blog becomes popular then the next step is to implement various monetization options.
Initially, you may have to struggle a lot to get noticed. Once it happens, then everything will become very easy.
So, we can say that making money from blogging is not going to happen overnight.
A blogger has to work hard and wait for that opportunity where he can act. There are many steps in between. Follow them properly and get ranked on the first page of SERP. Then people will start to notice your articles and if they like, they will start to follow you.
No one will check the articles which appear on the 2nd or 3rd page of SERP. There are many ways to get good ranking. Follow Search Engine Optimization and make your blog a better place where users can reach to know about everything related to your niche.
Before we discuss various monetization options, you must be careful about maintaining your blog quality
Basic Things to Do Before You Monetize Your Blog:
1. Content is the king:
This is a very popular saying in content marketing. If you want to get success in this field, make sure to concentrate on your blog quality.
Maintaining a blog that offers some value to users will always have success. Also, no need to lose the quality of content in the long race to monetize it.
Without enough traffic monetization is impossible. So, the only way to monetize your blog is to make your users stay with you always. This is only possible by concentrating on the quality of your blog.
2. Be careful while monetizing:
If users only see advertisements in your blog, they won't come back again. While choosing ads, make sure to keep it minimum without irritating users attention. This will also affect your readership too.
3. Look for ways to improve your traffic:
Just by getting regular visitors to your blog won't be enough to get more income. You need to find new ways to attract more visitors to your blog.
Try all methods to make it happen. Make your blog popular by sharing it on various social media platforms and also adopt various content marketing options.
Try to make it more visible to users and this can lead to a growth in your site traffic and thereby more money from your blogs
4. Gain trust:
Without the user's support, the monetization option is very tough. When you write about something, it should be useful to the audience.
If they like your blogs, the next step is they will start to follow you. This is how you can gain trust from them.
Users must believe in what you write and follow all your blogs properly. Getting trust from users will also help you to get more viewership to your content also.
5. Create Engaging content:
Just by creating quality content you cannot ensure customer engagement. While writing content, make it interesting to read and interact with your customers in between your post.
Make them stay on your blog longer and let them take any action in your blog. Many bloggers include Call to Actions in your blog to make it more engaging. Without this, there is very less chance of monetization.
6. Be popular:
Monetize a popular blog is easy. So initially, you need to work to get the authority among the audience. It is not easy to monetize your blog quickly.
Make your blog popular by promoting it and get authority among users. If your blogs are useful to users, they will subscribe to it and follow you. Then you can try various monetization options.
Here are some best ways to monetize your niche.
Best Ways To Monetize Your Blog:
1. Online consulting:
This is a very good option if you can combine with your website. If you are good at a topic, make use of it and create online consulting for your users. There are various options for you to do it. Some people do the consultation to help users on getting something.
For example, if you are handling blogs about marketing topics then offer a class to motivated users in implementing various effective marketing strategies.
You should make them believe that you can give a solution to their problems. This is possible through your blogs.
For each session, you can charge a fee. Users who really want to get more idea about new marketing techniques they will come to you. This is a good way to make money from your blogs.
Initially, you may have to face a lot of struggles because of not getting enough exposure. Once you start to get some clients they will promote your service through word-of-mouth publicity. This is one of the most effective promotional option available as of now.
Be careful to choose the right topic which can create interest in people. Concentrating on your blog quality and also by producing regular useful contents, you can attract more people towards your online course easily.
2. Be a freelance blogger:
You can run a blog and find more money from the same profession. Freelance blogging is a very popular way to make money.
Brands are looking for bloggers who can produce excellent content. You can concentrate on your blog and write blogs to other sites by accepting payment. Many popular bloggers do this and earn more than $5000 a month.
A freelance blogger should have the capability of knowing their audience wish and write useful content for them.
Many companies are looking for professional bloggers who have much knowledge about WordPress, social media, SEO. It is very hard to find good writers who have a deeper knowledge of these topics.
Companies are ready to pay good money, for such writers. You can also be a freelance blogger by popularizing your blogs first.
Initially many people do guest blogging on popular sites, and also do consistent blogging on blogs, on social media, etc. After getting enough popularity you can start your career.
3. Ebooks:
Writing books is a very simple thing if you are a good blogger. With deep knowledge about the topic, anyone can write a book.
If you are running a blog and want to give more information about a topic eBook are the best way.
You cannot express the whole idea behind a topic through blogs. If you are dealing with a very deep topic you can cover some important points through a blog. What if you want to share more with your users. Create eBooks and sell it through your blog.
This is a very good option to make money from your expertise. You can add the eBook with your blog and ask your users to get it if they want to get a deep idea about the topic.
Initially, some bloggers offer it for free to know the user's response. If users get satisfied with those blogs, the next step is to sell it through blogs.
Other than selling it through blogs, there are many other ways through which you can do it.
Amazon is a trustable online shopping site where you can sell your eBooks. If you upload your eBook, no need to do additional promotions because people trust this platform and believe that all books through them are credible.
Promote your Kindle eBook through your blogs, also let people know about it. Make money by using all available options and with the support of a quality blog, it will become easier.
4. Affiliate marketing:
One of the most popular methods to monetize your blog is by using affiliate marketing. This is another way you can try to make money from your blog. If you are a starter and don't have a product or service to sell, all you have to do is to create content that can match with a product.
If you are dealing with fitness blogs, sell fitness products through it. People who are interested in fitness products will click on the link and go to the product page and if they purchase something you can earn a commission on it.
This can help you to get money from the brand for recommending their product to users. This is a type of passive income
5. Advertisement:
If you can make your blog as a platform to publish ads, you will get a price for each click. This works through the Google AdWords program.
Advertisers will pay for the clicks they get from your blog. This is only possible if your site has more than 1000 visitors per day. You will only get a good payment when the number of visitors you get should be more than 1 million.
All advertisements displayed on your blog will be related to your niche. Negotiate with advertisers about the terms and condition you have while displaying their advertisement
6. Online courses:
An online course is another option you can try to monetize your blog. If you can teach a good topic that is beneficial to users, you can make money out of it.
Many expert bloggers run online courses with their blog and gain money from it. A blog cannot cover all the content related to a topic. So sell your knowledge with others by creating an online course.
Invite your users to join the course to know more about the topic. If users like your class they will help you to promote it by posting good comments about your class.
If the class can bring positive change in their life, then that will be your success. With a blog, you can easily sell the online course and it is better than doing it through a third-party platform
7. Reviews and recommendations:
If you are new to the blogging field, you cannot sell your expertise through eBooks, online classes, consulting, etc. Then one easy method you can do is to write reviews of a product.
It could be about anything. If you are good in writing reviews about products, then you can do that. There you can attach a link to the product from which users can buy the product. Build a good connection with your users and businesses to succeed in this field.
This is not easy to do. As a reviewer, you must have the ability to get the user's trust through your words.
Users must believe in your words and buy that product. Converting your site visitors to the customer is your main duty. Gaining the trust of your customer is also important.
When they buy it by following your recommendation, it should meet the quality you said. This is the best way to gain user's trust. Connect with popular sites like Amazon to ensure complete trust.
Final Words:
There are many options to make money from your blog. If your blog is very popular then it will be very easy by opting for various options like selling eBooks, online courses, etc.
For a starter, it will be too hard because he won't have enough authority to try them all. They can do reviews, affiliate marketing, participate in PPC campaigns, etc to make money from their blogs.
So if you want to monetize your blog, then choose any one and get started right away