These days every website is opting to design a separate mobile version of their website, or simply update their existing websites using responsive design to mobile version so that the website can run on mobile phones effortlessly.
Several businesses and websites are opting for this because nowadays the world has shifted to smartphones.
While there are people who still access the web from their desktops and laptops, but since these devices and not portable enough, most people have started browsing the web from their mobile phones.
That is also because now we need everything on the go. Whether it is news or some update or blogs that we regularly visit, we access all of them from our phones.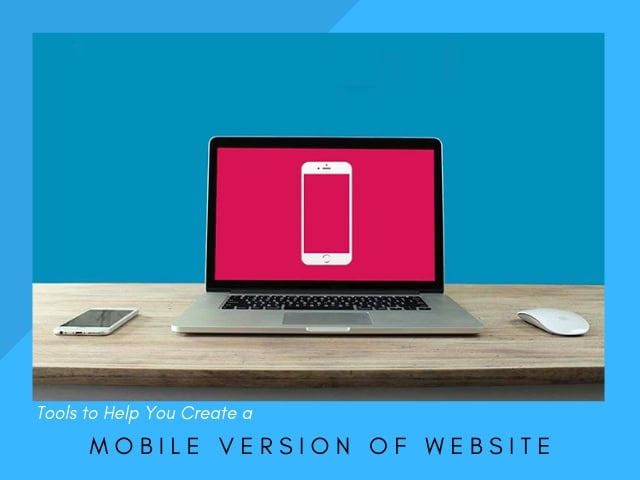 Now, the regular websites that are optimized for desktop and laptops take a lot of time to load and operate properly on mobile phones.
Users do not have so much time. So the most feasible thing to do is to optimize the website to run effortlessly on mobiles.
But how are you going to do this?
How are you going to create a mobile website or optimize the existing one to run on mobile without coding?
Here are some of the best tools that you can use to create a mobile website.
Tools for Creating Mobile Version of Website:
A lot of websites opt for the Google Mobile Optimizer because this is the tool that you can use to update your regular website into the mobile website in the shortest possible time.
When you open the tool, you are directed to a lightweight, optimized and more responsive version of your website that is different from the original website.
This lightweight version does not have headers, pictures or any other kind of graphics that slow down a website.
The drawback of this tool is that if you use, it will make your mobile website impossible to customize later. But other than that, it makes the website perfect to be used on a mobile phone.
As the name suggests, this tool works exclusively for iPhone and iPods. Using this tool which has a very simple framework, you can easily design your mobile website.
You do not need to have very advanced knowledge of HTML., just the basic working knowledge of HTML will be enough for you to use this tool. But the drawback of this tool is that it is not user-friendly like most other online tools are.
You need to have a very thorough and deep understanding of the user manual even before you start the work.
But the good thing about this tool is that it provides a detailed description and instructions so that even beginners can use it and is completely free.
Mobify is one of the most highly used website creation tools that you can use to design your mobile website.
It has a very user-friendly and super intuitive graphical user interface which makes it super easy for you to create the mobile version of your website.
All it takes is a few minutes, and your mobile website is ready. The best part about this tool is that it has its mobile commerce platform, which enables your website to work faster and more effectively on different e-commerce platforms that run on the mobile internet.
This tool works on a freemium basis. This means that the basic features that this tool offer is free of cost and you can get the best out of it if you want to customize your mobile website.
You can opt for the paid version as well which has a lot more features like you can remove the Mobify logo from the mobile site, or you can use the mobile version of analytics to check the mobile site traffic, etc.
The USP of this tool is that it promises to let you design your mobile website in less than 5 minutes.
It gives you a superb user interface using which you can build your mobile website, and it also gives you a customized script which you can paste into your index page.
This will enable users to be redirected to the mobile version of your website automatically when they visit your website. This tool also offers up to 13 templates for your mobile website design that you can customize according to your wish.
This mobile website building tool is more than just a tool that lets you design your website.
This tool helps you to create an online mobile community for your website that will serve as a forum. Isn't that unique?
What this tool does is that it generates your QR code for your website. This QR code is a two-dimensional code, that is, it can be read by mobile devices using the inbuilt QR scanner and is also used to automatically captured text, photos, videos or any other form of graphics.
There are many ways in which you can use this QR code to market your business.
What you can do is you can print your QR code on your business card on print ads in newspapers etc. so that when users would want to check out your website, all they would need to do is scan your QR code from their phones and they will automatically be redirected to the mobile website.
This tool is what your savior is when you don't know to code. The Adobe Dreamweaver CS6 can build fluid layouts.
With this tool, you can create three different layouts, each for the web, tablets and mobile phones.
When you add Media Queries to each of these fluid layouts, it then becomes easy for you to control how your pages would look like.
These Media Queries allow designers to design different layouts and styles for each device. With this tool, you can build both the actual website and its mobile version.
The most recent updates to the Dreamweaver tool enable you to build Fluid grid layouts and also the Web font integration.
New features that have been introduced include the Ordered, Unordered and List options.
You can also use the library of Adobe Edge Web Fonts and add them to your layouts.
When you do that, there is a script tag that is added. This tag refers to a JavaScript file that lets you download from the Creative Cloud server.
This tool is a very famous and widely used one, used by some of the industry giants like Nokia, Ford, etc. to design the mobile versions of their websites.
Wirenode has both a free and a paid version. You can use the free version that offers an editor for you to set up your mobile site that is highly user-friendly.
The free version of the tool also lets you do free hosting for up to three mobile websites.
Not just that, it also gives you analytic reports of those websites, various statistics and so much more. You can also opt for the paid version of the tool. In the paid version, you will have an ad-free experience.
This tool gives you handpicked collection of the best free website templates that you can ever have access to.
Each of the templates this tool provides is separately tested and evaluated on the basis of how visually appealing it is, how easily customizable it is and its functionalities.
You can easily search for something on this tool by using category, keyword or creator, which will help you to find what you are looking for even more easily.
The best part is that this tool also has a huge collection that is dedicated to some specific design trends like material design, modern portfolio, etc.
This tool helps you to build applications for both the web and mobile platform even if you do not have any coding knowledge.
This tool offers the drag and drops building feature that is user-friendly and intuitive in nature.
This drag and drop feature lets you add page elements like text, images, icons, maps or any other form of graphics.
Right from font colors to icons, to control the visibility of all the elements on the mobile website, you can customize everything according to the way you want.
Why Do You Need A Mobile Version of Website?
So now you know all the tools that you would require to build a mobile-friendly version of your already existing website.
But do you know why it is important for you to have a mobile-friendly website?
Let us discuss the most important reasons why you need a mobile-friendly website to survive in the cut-throat competition of the web world.
Google's search bot gives more priority to websites that are optimized for mobile phone versions:
The main aim of any website is to have a high ranking on search engines. That is why these websites have appointed SEO experts and SEO agencies which work day and night to improve the rankings of these websites.
But Google looks at certain factors while determining the page ranking for every website.
One of the factors that Google looks at is how optimized the website is to run on mobile phones.
If you have a website that follows all of Google's guidelines but it's not optimized to run on the mobile, Google will push down it's ranking on its search engine results page.
When a user needs to find information on the go, he is dependent on his mobile phone:
Most users search for information on local businesses using their phones while they are on the go. For example, they look for things like restaurants near them, all shops near them, etc.
In such cases, if your website is not responsible enough to run on the mobile phone, the user will not check out your website at all and might shift to your competitor.
This will ultimately result in a huge loss because this traffic that your website would have got would have been completely organic and this is what websites strive for.
Hence it is very important to have a mobile-friendly website.
A mobile-friendly website ultimately adds to your credibility in your industry:
Users nowadays have switched to their mobile phones to surf the internet. Whether they are looking for some quick solutions, or some local business, or news or whatever they are looking for, they expect quick loading time and highly optimized user interface.
When your website provides all of this, users automatically get impressed by it. Most of the traffic that you would get from mobile phones is organic if you have high search engine rankings.
When a user sees that your website is perfectly fit to be navigated on the mobile, it increases your goodwill and establishes your credibility in your industry.
So the next time the user logs in whether from his mobile phone or tablet or desktop, he will make sure he visits your website first, in case he needs to look up something. This is how you establish a base of regular visitors.
Having a mobile-friendly website model is cost effective for your business also:
Having a non-responsive website design would mean incurring separate costs for designing the web version and mobile version of the same website.
But when you have a responsive design, your website works equally well on laptops and desktops and also on mobile phones.
With the responsive design, you can get both the mobile and web version ready for the cost of one, without compromising on user experience.
Wrapping Up:
Now we have successfully established both the importance and the solutions to build a mobile website.
You must know that without having a version of your website that runs on mobiles, there is no chance you can survive in the highly competitive web world. With these tools, you can get your mobile website ready and fully functional within minutes.