Search engine optimization is not a simple task as everyone says. It is the process of convincing the search engine about the quality of your website and its content. Many people won't take it seriously. But, just by producing contents and publishing it on the website cannot help your content to get noticed.
It needs to have some special qualities in order to get listed under top search results. We can say that SEO can be a lifesaver for your website most of the time. Every industry uses this technique to make their website popular among the audience.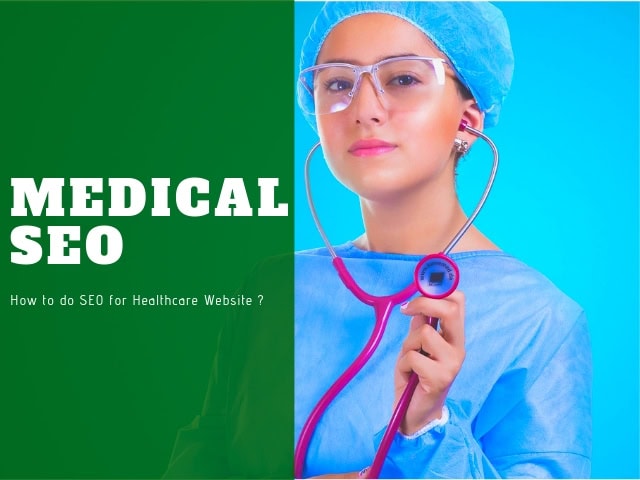 When it comes to the healthcare industry, SEO is very important. More than 70% of internet users search for a health practitioner online and more than 83% of user's use internet to search for any queries they have related to their health. Among these people, more than 50% of people click on the first three results. Nobody will go to the second page of the search result to get a solution.
Internet users always believe that what they get on the top of the search result will help them to solve their problems. So obviously, they are going to believe in those top search engine results.
If your health care institution can't get this first 3 position then you are going to miss the chance of getting new patients.
What is Medical SEO?
Medical SEO mainly deals with the medical profession. It is the process of optimizing the medical related website for the search engine so that health care institution and professionals can reach to as many people as possible
Why do you spend more time on Medical SEO?
Some health care professionals and institution spend their money on PPC and Ad campaigns to get more customers. But genuinely it won't help your business to improve positively. There is a chance that you are missing a chance to make your customers trust in your health care business. Don't think SEO as irrelevant for your business. Money can't help you to buy the trust of your patients. Invest your time in SEO and can help to get three times leads compared to PPC campaigns
Ranking your website is not going to happen overnight. It is not a one-day process also. It has to go through a lot of process like analyzing user behavior, content planning, time to invest and developing a new strategy.
The medical industry is very huge and it needs some improvement from the conventional word of mouth marketing. Here are some tips for the healthcare professional to follow when they want to get access to as many customers as they can and improve their business.
How to do SEO for Healthcare Website:
Google Analytics:
Install Google Analytics to measure your website performance. This is a free tool every marketer can use to see what their users are doing on their website. It can also use to analyze the competitor website and see what they are doing to attract more customers to the website.
By analyzing your website using Google Analytics, you can get an idea of what your audience wants from your website. Use your finding to create a good strategy that can help your website to outsmart your competitors and help to earn more business. The tool is completely free and analyzing the performance of a website is something every marketer should do to move forward in their business
Keyword research:
Finding the most specific keywords related to your niche and content is an important process in SEO. It can help you to include the most popular keywords in your content which can also help your content to list under the top search result. There are many tools you can use to find keywords such as Google Keyword Planner, Moz's keyword explorer, SEMrush and more.
Use any of these tools and find some important keywords users' search, related to your niche. Include those keywords in a modest way in your content. Overdoing keywords can harm your content and make it look like spammy. So, while using keywords, be sure to use some important keywords in an optimum way.
Infographics:
Do you know this fact that infographics can play an important role in making your website popular?
It is proven that images are more powerful than words. The human brain can remember images more easily than words. With your contents create infographics which has important points in it with interesting images.
For example, you can create an infographic which contents information about a specific disease and symptoms. You can hire someone who can create interesting infographics for your business. Use it to promote your content through various social media platforms. It can attract more users towards your website.
Users always want to read simple facts which offer in a simple and interesting way. So, don't miss this option while you create your website.
Create original contents:
If you want to make your website more popular, create fresh contents. Google is always looking for fresh contents and it wants to offer the best for its users. Create original content which covers something interesting in your niche.
Make it more engaging to users and the topic should be relevant. While you run a website, it should be active always. Try to post at least 3 contents every week so that your customers get something new every week from your website
Videos:
Videos are super powerful content to promote a business. They can really engage the users and make them understand about more than just explaining using words. Include interesting video contents on your website. No need to spend a lot of money on creating these videos. You can create them using your camera. Make it more informative and interesting.
YouTube is a very good platform to publish your video. It can get viral within a small time-frame if the content is interesting. It is also the 2nd most popular platform after Google. While creating title, optimize it for users and share your website link below these videos. Other than YouTube use social media platforms to spread your video and also put it on your website
Google My Business:
Google My business is very helpful for local businesses. You can create an account in this platform by including all information about your business-like address, phone number, location and a link to your website. It can help you to integrate everything to your website.
Users can get any detail they want from the search result itself when you use this facility without visiting the website. Share your location on Google map to help users to find your location easily. Get as many followers as you can on Google + which can help you to rank higher in local search results.
Social media:
Social media promotion is something you don't want to miss. Share any updates with your followers through various social media platforms. All you have to do is to create an account for your institution and start posting. Get as many followers as you can and interact with your followers whenever you can.
Social media marketing has become an integral part of marketing. Even though the healthcare profession is a busy one you may have to find some time to connect with your social media followers and publish interesting contents in them. Also, this can help to get more traffic towards your website.
Share some interesting researches and case studies on your page which can be helpful to your followers. You can gain new patients and entertain the existing ones at the same time
Quality contents:
This is another important factor to consider if you want to make your healthcare website more popular. Healthcare domain is an evolving one and new inventions happen all the time. To keep your website followers engaged, try to include fresh updated and relevant content without compromising the quality.
If you can provide useful information through your website it will help to increase the number of followers. Research well before writing contents and write long-form contents. Case studies, infographics, long-form contents, and white papers are some interesting content types you can include within your website.
Mobile apps:
Mobile optimization of a website is very important nowadays. You can concentrate on making your website optimized for the mobile device. In addition to this, you can also create a mobile app for users. These mobile apps are very helpful for your followers to easily access your facilities.
They can book online appointments, view test results, pay the bills and even consult doctors online with their queries through the mobile app. By offering such interesting facilities you are giving the best quality service for your customers. Make the app available to download from all app store and encourage your customers to download the app for easy access to hospital service
FAQ:
If you have used any online hospital portal there is a facility where patients can ask a question to their doctors. By offering this service, healthcare institutions are offering 24X7 service. A doctor will answer the question within a certain time period. This is a genuine way of showing your care for customers.
Encourage them to use this facility to get immediate answers to their medical questions. Most healthcare institutions have this facility installed on their website. It is also very useful to increase the trust in customers and help to bring more leads to your business.
Sitemaps:
Sitemaps are very useful to help search engine crawlers to find the contents of your website. Basically, by offering a sitemap you are showing the right arrangement of contents in your website to search engine. This can help the search engine to index your website easily. There are many tools available for you to create sitemaps. Sitemap generator is a tool which you can use to do this purpose. You can also do it manually by coding.
Discussion forums:
Create medical discussion forums for various health conditions and diseases. Participate in discussions and offer valuable advice to patients. Along with the answer, you can even offer a relevant link for them to refer o get more details. These forums can bring more organic traffic to your website and can help you to get a better search engine ranking.
Medical directories:
Have you noticed these types of medical directories before?
There are so many websites that are created to offer local search results for internet users. When someone wants to search for a specialist in their area, all they have to do is to enter their location and kind of service they look for. These directories will show you the results for your search with reviews and ratings of each doctor. Find some popular medical directories and register your name in it.
Encourage your existing patients to submit reviews about your service. You can also register your website in these directories. Medical directories are free to use. If you don't have time to do all these, hire someone who specializes in Off-page SEO and let him do the SEO tasks for you
Hire professionals:
Actually, medical professionals are very busy always and have no time to spend on all these SEO tasks. What they can do is to hire professionals who are specialized in SEO. There are many marketing firms available who do SEO for firms. You can outsource this task and concentrate more on your profession. These SEO experts will do the rest of the tasks for you.
If you are doing it alone then make sure to conduct an audit annually with the help of professionals. They can make sure that everything in your website works properly according to search engine guidelines.
Conclusion:
Are you running a website for your healthcare institution?
Try using the above SEO tips and see how it can change your website performance. You always need to think from your customer's perspective and offer them what they want to see on your website. While implementing these SEO tips don't expect a sudden response. Wait for some time to work these strategies.
Search engine optimization is very essential to bring your business to the top position of the search engine result. You can see the response of your audience once after your website gets popular. Get more leads and engage the existing one using new SEO strategies and improve your business profit