Today's world is full of information and competition. In order to be a strong contender, one must have a vast knowledge. People love to take aid from experts and other specialists for their sake.
Social networking sites are playing a major role in helping people. Even the marketing world is into educating people on trends. The content marketing world is also providing best practices. One can read them and apply to get good results.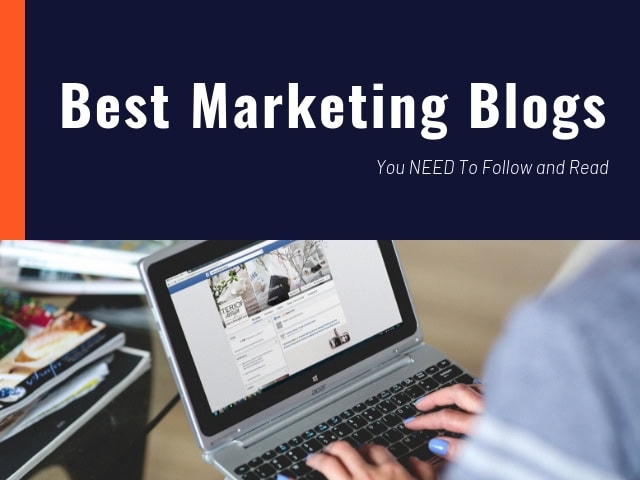 There are various blog sites every marketing person should follow. The blogs are good in quality of content and range of information. Some of them are given below:
HubSpot is known to be the reason behind commencing the marketing movement. It provides blogs related to marketing and sales. It is known to have plenty of valuable content for the user. The topics included in the blogs are relevant and impressing.
The team behind Hubspot keeps on researching and writing content. This marketing blog publishes content every other day. That is the reason the team needs many guest writers for their writing services. The writers are chosen on the basis of their writing style and expertise. Every marketer should go through the blogs posted by Hubspot.
People love this site because of the writing style of the contents. It is easier to understand. Even the strategies suggested by them can be applied.
The team writes content on SEO and marketing. They are well versed with quickly explaining complex topics. They make the concept clear in such a way that users love it.
This blog is commonly known as CMI. It is popular for publishing blogs every day. The team keeps on posting articles even on holidays. They publish their blogs under the heading "This week in content marketing". They focus more on writing about recent issues.
They cover news and other events which have occurred recently. They prefer to post the blog only after getting approval from experts and marketing professionals. They write only for the sake of users. Their best blogs till date are "Current Hits" and "All Time Hits." It is worth reading to get regular updates.
This blog was started by Hiten Shah. He is also the founder of three SaaS companies – Crazy Egg, KISSmetrics and Quick Sprout. He hardly gets time but still, he writes blogs.
He aims to help beginners to make their way. He mostly writes on sales, product, growth, marketing etc. Whatever he writes, his focus is always on growth. He never forgets to give advice and suggestions.
As the name suggests, it mentions the reading time of all blogs. It allows users to classify the content into the most important and less important. Various love to go through blogs which show the way to do something. It keeps on organizing various webinars from time to time, related to marketing strategies.
Every post written by mention includes how-tos. This is to make the user implement what he has just read. To know about various webinars to be held, one must follow mention. It provides relevant content to users. The tips and suggestions provided by this blog site are appreciable.
When it comes to social media publishing, Buffer is known to be the master of it. It offers various images after every blog. The bold images featured after every post can be shared on other social networking sites. It provides simple content so that it is easier for the audience to understand.
The content is the result of appropriate research and proper analysis of data. Sometimes it provides a comparative study of large companies or people. It focuses more on its strategies and achievements. Users can learn a lot from the comparative analysis. It has plenty of information for the user.
The team ahrefs write content that is worth enjoying. They have literally improved a lot in the last few months. Earlier the users criticized them for not writing properly. Later on, they even changed their blog layout.
They succeeded in winning the hearts of their consumers. The energy put up by them can be seen in their work. Their efforts are appreciable.
It has a bifurcation of blogs as regular blogs and product blogs. 'Regular blogs' include contents related to content marketing and various other marketing strategies. It also provides a comparative study of the variety of case studies. It helps users to learn things from the businesses.
The product blog, on the other hand, includes content related to various products. It involves launching of a product, packaging of a product and other related contents. It always has an astounding blog title. It succeeds in attracting more and more users with the help of blog title. It always has something unique for its regular users.
This blog is known to be the perfect choice for beginners. Even the experts and professionals love to follow this blog to know the variety of marketing styling. It provides advanced tactics. It always provides something unique to users.
Various novice marketers have established themselves with the help of this blog. It keeps helping the small business owner. Even professional marketers learn many things from this site, though they hold years of experience.
It has been gifted by the number of intelligence experts. They provide various tools for people who are engaged in digital marketing. It has helped various digital marketers to research and analyze competitive data.
The experts of these blog sites are known to have expertise in various other related fields as well. The other fields being referenced here are SEO, PPC, and Content Marketing.
The team is very dedicating and hardworking. They keep on researching and writing. They aim to help users. This is the reason they publish multiple contents. The content provided is so relevant and user-friendly.
Every website owner tries to be on the top of the search engine ranking. For it, they make many strategies. Search Engine Watch helps such people by suggesting a few ways. They bring out blogs written in various ways to improve search engine ranking. Their suggestions have been implemented by many people and all of them are satisfied with the results.
For the user who loves testing and experimentation, ConversionXL is the best choice. The team behind ConversionXL is known to provide quality content. The article by two of their writers is loved by a number of users. They are none other than Alex Birkett and Shanelle Mullin.
They develop content which is beneficial for beginners as well as experienced persons. They are a source of informative content. Even it is said that the user who is not reading this blog is missing the best quality of information. Even experts recommend this blog to viewers. Try it out once and you will love the content.
This blog site has got a maximum of 480,000 real-user reviews. That is what makes it worth using. The team is known to provide content for beginners. They cover the topics which help beginners. Many of their blogs were appreciated by users. The worth reading is "What is social media marketing". It included every single data and information related to social media marketing. It cleared many doubts of users.
Its blog "How to start a business" converted many people into successful businessmen. They are known to provide software-specific content. The topics for their blogs relate to marketing, sales, design etc. On being demanded by users, the team has been writing content on productivity as well.
The blog Orbit Media Studios has been founded by Andy Crestodina. All the experts of digital marketing are the followers of this blog. This blog includes nothing but valid and actionable tips.
The specialty of those tips is that the tips can be applied immediately. The suggestions have been the result of continues research work. They have improved the digital marketing strategy of many people.
This blog site takes a week to publish the article. They focus on publishing qualitative content. They never paid attention to quantity. They aim to serve users who constantly quest for relevant content.
For the sake of user's understanding, they also add up images in their blogs. They do not have many writers. They select writers by looking at their writing style. They can accept not to publish content on a particular day. But they never sacrifice with their quality. They never aimed to have a large number of visitors. They always focused on satisfying their viewers. This is the reason they always succeeded.
It also publishes two different blogs for their users. The foremost is known as 'main blog' and the other one is known as "Lab." The 'main blog' is known to cover the contents related to taking various decisions. Their best blog till date is "discover how to choose the right apps for your business". It provides contents related to the best project management apps. It allows the user to filter the blogs to make its optimum utilization.
Even the user can also have a look at the list of articles read the most, by recent date. The Lab, on the contrary, provides content related to "research, analysis, and insights. The best 'lab blog' till date is "How to make the right software choices for your business."
This blog provides information related to e-commerce. It has helped many people starting their own business. The blog provides relevant data related to best tool usage. It is a source of inspiration to all those who want to start an online business. It proves to be a big help.
This blog tries to provide content related to display advertising. It focuses more on teaching readers. It has developed high-quality content on LinkedIn ads, retargeting, and Facebook advertising. It has successfully analyzed over $800 million ads.
They focus on proper research work so that the apt conclusion can be drawn. This is the reason they have researched over 2,000 Google Ads accounts in a year.
On the basis of their research work, they concluded that only 12% of keywords are worth producing revenue. They have offered detailed analysis various times. They have taught many users the basic paid search and conversion rate optimization.
This blog has content written by various business owners. So, it is obvious that the article will be the result of experience. These business people recommend users. They give real-life experiences.
They write about the challenges and obstacles they face. They also provide solutions to them. If you want to know the truth of the business world, this blog is a must-read.
This blog is loved by many people. The sole reason is that it provides a heat mapping tool. The heatmapping tool plays a major role in the landing page. It has multiple features to offer. It aims to help people who are engaged in digital marketing.
Users also get all-in-one feedback. This helps them to know their performance. They can take decisions related to the future course of action. It also focuses more on education and leadership. This is the reason it provides a solution to every business' problem. Sometimes they also develop content related to case studies. It is done to teach the notion more easily.
Conclusion:
The world of content marketing has developed a lot in the last few years. Now the one who provides valuable content becomes the master of social media. The above-mentioned blogs have successfully made their mark. They could do so only because they provided relevant content which was full of information.
All these blog sites offer comprehensive downloadable research reports. Some of them write on trends. Some other writes on past performance. All of them have made a large number of customers by providing relevant information on digital marketing, customer service etc. Have a look at them to be benefitted.