Starting a business on a small budget?
Looking for various ways to expand your small business marketing budget?
Then you are on the right spot. Advertising and promoting the product or services are one of the ongoing challenges for small business owners.
There are some advertising methods that are expensive and also hard to implement. But small business owners can't access to effective marketing tools and high-cost advertising or promoting methods.
To run a successful business, a good business promotion strategy is very important. One has to remember the 2 main principles while promoting their product or service.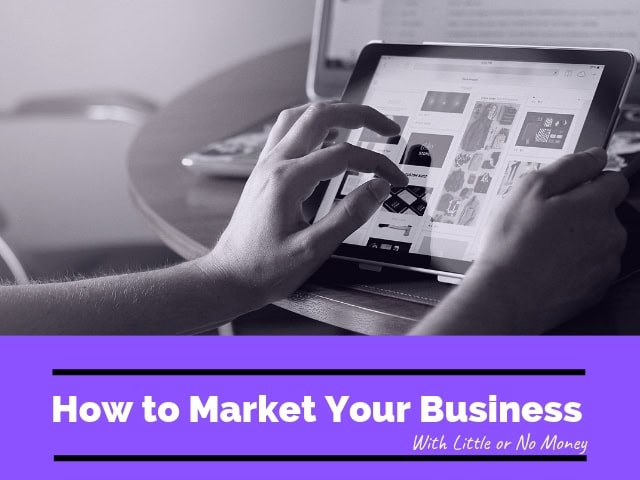 The first principle of business promotion is that you have to do this in a responsive way. You should not depend or force others to do it, no matter how great your service or product is.
The second principle is that, like every other aspect of your business, it depends on the budget. However, promotion doesn't need to use high methods or don't go for expensive methods.
Low-Cost Ways on How to Market Your Business:
The following are some of the ways to promote your small business at a less cost.
Use Social Media to Promote Business:
Nowadays, social media plays a vital role in everyone's life. Even from children to aged people, all are following on social media.
Facebook, WhatsApp, Twitter, Instagram, Snapchat are the best ways to implement your business in a simpler way. The information about your product or service will receive most of the people who are active on social media.
To promote in social media, first create a proper plan in social media, create a Fan page on your social media accounts and start promoting your business in an effective way.
If you are interested in taking videos then that will also help you in a way to make video promotions about your products and services. You can simply post or upload them YouTube.
By Writing Articles and Blogging:
If you a question about how to promote your business firmly? Then give a try on blogging or writing articles.
Don't forget to write articles with correct information about your product or service.
A well written and clearly mentioned articles help to get advertising for free and also helps in getting positive responses from the people.
For example, if you take a realtor, he has to write an article how to customize the house, and if you have taken an example of a website designer, he has to get the article about assessing the website usability.
If your topic is more specific, then it will be better. Just write a simple note about your product or service and about you, that have to mention in the article.
As a goal to increase your small business through promotion, prepare the best article on your services and send it to publication which makes you reach your targeted market.
Write quality content about your business that should be unique and easy to understand. This will be the easiest way to promote the business and to reach many people in a short time.
Prepare a brief article and insert all elements about your business in the article.
Blogs or websites are the best promotional platforms for people who choose a website or blog to publish the work correctly.
Having only a few articles on your site will result in less traffic, it is not helpful and even may result in business loss. One has to choose carefully as per the target market.
The magazine world is still popular and isn't dead yet. Many of the people are always searching for the best content.
Freelance writing websites also give good information on all types of publications. Always search for a website carefully which provides all types of information about the market.
Newspapers are still the best idea and easy to make business promotion. You can contact your local newspaper editor and provide your quality article. If this way fails, try to get your article printed or an online version.
SignUp for E-mail Service:
Electronic way of documents such as emails is easier to update with your business promotion information, whether it be a special price on your service or a product. Just sign up for the email service and send promotional offers or email newsletter to the customers and strategies of your business.
But make sure to get permission from the person to whom you want to send email before putting or sending. One of the best ways to build a permission-based email list to the people is to give something away.
It could be a free tip sheet or even a free ebook related to your business. If you don't have anything to give away to the people, try offering a signup discount on the product or services of your business as an introductory offer.
The email service like constant contact makes it easy for you to manage your list and you can send professional emails.
Mobile Business Promotion:
Mobile business promotion is one of the best ways to reach people about your business. They are not just white delivery vans.
Nowadays you can see that, every 1 in 4 vehicles. having the name and phone number of the business. decorating on the vans.
Just think that everybody sees your vehicle when you are driving around, especially at the place where you get stuck in the traffic.
People who are passing by your vehicle can also just take a glance at the information mentioned on your vehicle. There are many wraps available these days.
The modern vehicle wrap advertising consists of removable stickers that contain your information and business logo.
These wraps are digitally printed and are removable stickers which will not harm the vehicle paint. This idea is one of the inexpensive ways to promote business.
Use Buddy marketing:
Buddy marketing is a process to join with other business and making your product or service to promote. It is just like a joint business and it is the best way to expand your promotion traffic.
For example, if you sent a business brochure of yours with the business card of another business who have excepted to do the same for you, it will be beneficial for you.
In this way, it gives you new ideas to reach potential customers.
This is the best way to cut down the cost of your business promotion.
Take Advantage of Google and Facebook Free Ad-credits:
Google and Facebook will always provide free ad credit vouchers to people.
When you are signing up for services like Adwords or Web hosting, just take advantage of free vouchers that they are offering. And also take the PPC advertising just for a test drive.
Seminar or Presentation Way:
If you are expertise in knowing about other people in which they are interested, then share your expertise in a way to promote the business.
For example, a local carpet company advertises a free seminar or presentation about their product installation techniques. Participants will also know how to install the techniques along with learning, but also get special offer discount if they want to buy the product.
If there is no direct link to your service or product, you can even give a presentation on the related topic. Don't miss any chance to promote your business in an easy way.
Many of the government organizations such as Economic Development Centres, Business Service Centres are always looking for experienced people who are ready to give presentations.
People can also able to give their presentation of their topic by contacting a local Education Branch of university or college.
Start as a small business and start building your name by making a proper presentation at one of the local groups such as Business Women's Network.
If you have a problem in speaking in public, through this way you can get over that fear and start addressing the groups of people.
Properly Plan Your Attack:
If you try to make business promotion without defining what your market strategy is, then it's just a waste of time and money.
First, start identifying who are the best prospects for your business and then plan the best way to reach them. And you have to be as specific as possible.
If you have any questions popping in your mind like networking at local business meetings, about advertising, will customers search for your product or service on Google and Bing and many more? Just write down the answers for all of your questions and refer them before starting any new marketing strategy and use it as a marketing plan worksheet to gather all about your work.
Promote Your Business on a Talk Show:
This is a great low-cost way to promote the small business. The local radio station or cable TV station always has programs that are mostly looking for promotional people.
Contact them in person and promote your business in both the stations. Before that, don't forget to search on the web for the best podcasts. Business-related programs are the best and also ideal way.
Find out who is the host and approach them and share your abilities and in what you are confident about a particular topic.
Make sure about your business proposal firmly worked out and the strategies of your promotions, are clear.
Offer Coupons:
Offering coupons are the best way for many businesses to attract any type of customers.
According to the research, people will go out to use a coupon and utilizing that this way is successful in expanding your business in terms of the customer base. Coupons will also generate a return visit of the customers to your business.
For example, if you offer a coupon with a discount which can be used on future business, then there will be a high chance that they will come back.
Use this kind of tactics for business promotion and expand your business everywhere at low cost.
In this method, you no need to spend more money to offer coupons, just select the coupons that make people attract towards your product or service.
Search Engine Local Directories:
The search engines, Google and Bing offer the people a free listing of local businesses.
To get listed on Google, go to Google My Business and to get listed on Bing, go to Bing Places for Business. The search engine Yahoo charges for the local listings and the service is called as Yahoo Localworks.
Infographics and Comment on Blog Posts:
Infographics are the most powerful tools in terms of promotion. Many of the people always love to refer and share information that is eye-catchy and easy to understand.
It is very easy and less expensive when you use a service like infogr.am. These infographics are also the best way to get backlinks to the website.
By leaving most thoughtful comments on the blogs that you follow can be a great idea to get noticed by both blog visitors and owners.
By offering a free on-site class about your product or service can also be a great idea to attract the locals towards your business.
Give Freebies as Business Promotion:
As we all know, many people love to receive products or services for free. This is the most familiar kind of spot promotion because it definitely works for sure.
Moreover, use freebies as a promotion, you can also continue to attract the people regularly with customer rewards.
In most of the cases, it is a win-win situation by combining business promotion with customer rewards.
Final Verdict:
Hope you guys, got enough information about the small business promotion tactics in an easy way and at low of cost. These promotion ideas for business are just one of the unique ways to promote your small business without spending a lot of money.
But one has to remember that spending more money on business promotion about your product or service is just waste.
With a little time and experimentation, you can able to find which of these ideas works for you the best.