People want to make money anyways. Everyone dreams of making money without doing anything.
Is it really possible?
My answer will be no.
How can you make money without doing anything?
But, there is a possibility to be rich with little effort. That type of income is known as passive income.
You don't have to follow up on your work once after doing it. The money will be credited to your bank account every month.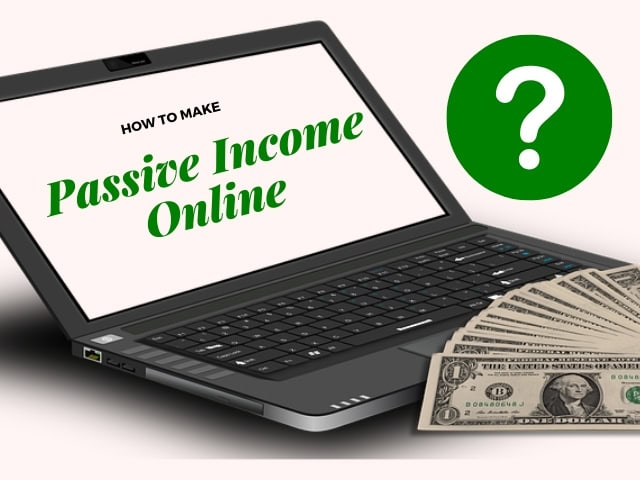 Many people search online for jobs that can help to earn some extra money with their regular income. Most of the result will be showing stock marketing, real estate, etc.
All of the work needs a significant effort to be successful. There are many women out there who cannot go for a job because of their family.
They all look for something from which they can earn their own money. To sit at home without earning is really a frustrating condition.
So, these passive incomes making will help anybody who looks for making some money with very small effort.
There are so many options to get passive income. But choosing a significant one is very important.
Some of the options to earn money demands intelligence and some other expertise. Timing is also very important while doing this.
First, we can check the definition of the term
What is Passive Income?
Passive income is the income that receives on a regular basis as a result of a person's minimum efforts or no efforts. To be successful in this, you need to find out your strength and make use of it well.
According to Pat Flynn, a famous business American blogger and passive income analyst there are 3 passive income models. They are
Freelance to the product(FP),
Audience and advertising model (AA),
Expert to Product Model(EP).
There are so many passive income options available for anyone to choose from.
The main attraction of this category is that you don't have to be there to work the whole time.
Just work once and the result will be money to your account for your effort. You need to have enough experience to earn so much money from this method. Pat Flynn earns more than 5million from these passive incomes.
Many people look for online option now than offline earning. This guide will help the beginners to choose an appropriate earning method. Check them and find out which method will suit you.
Passive Income Ideas Online:
We can call genuine efforts to make money with little effort as passive earning.
The main technique to be expert in this is to use your brain and think correctly. There are many ways online to make passive income.
1. Write e-books:
If you have got creativity or even expertise, writing books are one of the interesting and effective ways to get passive income for a long time.
When you sell a book, you can get a 10% commission from it. There are many online platforms where you can publish your book and sell it.
Fictional and non-fictional books have high demand nowadays. Many people prefer digital books also. So, you can write a very good book and publish it.
Writing a book need long planning and execution. The topic could be anything from a fictional story, cooking recipes, creative ideas, or as a guide related to any topic, etc.
But execute your book well before publishing. Initially, you need to spend some money on editing and proofreading. But that money you will get back after selling your first few books itself.
Create an interesting book and search for the best platforms to publish it.
Amazon:
Amazon Kindle is a platform where you can sell and buy books.
They also help you to publish your book through Amazon Kindle direct publishing. They also format your book and publish it on their site.
It can help to reach the book to millions of people. For each sale, you can get 70% of the book price and if you can enroll your book in their unlimited program, you will get paid for each page readers read.
This is one of the best sources of passive income if you have got that talent in you.
Gumroad:
Gumroad is another publishing site you can approach. They actually help to sell your book and it works differently from kindle.
Here they publish your book, users can read it with what they want to pay. It could be any amount from $1 to $100. This is not as big as Amazon, but many users choose this as their reading platform.
After publishing your book, you will get paid every week to your bank account.
2. Blogging:
This is another type of writing job everyone can try.
If you can share something valuable with users through your blogs, you can get money from this.
When you write about a product or service you will get income from it through advertising and affiliate marketing. You need to wait to get established and popular among internet users.
You can also write about any famous topic or just a personal blog. Both will be very acceptable among the audience if you can present it in an enjoyable way. This profession has great potential and can help you to earn so much money.
But initially, you need to put some effort to make it presentable to search engine as well as users.
There are many niches from which you can choose from to write blogs. You should know about the topic well before writing about it. You cannot make money just by blogging.
It has to be of good quality also. Money making, food, fitness, etc. are some popular niche to make money.
Choose a popular niche that users need to know and also have the potential to make money. That's where your success lies. These are some monetizing option for your blog
Amazon Association:
You can write about a product and recommend it from Amazon. This is the best way to earn some money.
You can add links to your blog where users can directly reach to the product page of Amazon and buy it. You will get a good commission from them for each sale from your link.
Google AdSense:
Advertisers who want to promote their product through Google approach them, you can promote ads in your blog.
Google pays you for each click of ads. You need to analyze the result and decide the best position of the Ad to ensure maximum reach.
Commission Junction:
For people who want to make passive income, commission junction is a very good option.
You can work with them to promote their programs, product, store, etc through your blog and earn the commission out of it.
3. YouTube channels:
Do you have any special talent? Like cooking, crafting, designing, etc.
If yes, then you can create a YouTube channel and make passive income from it. You can see so many videos while checking YouTube. Some of them will be useful and some others are not.
If you can ensure the quality content to users, they will support you. If they find your channel useful, you will get more followers for all your videos.
The income you will get may depend on the number of viewers to your video. You can also join the advertisement program.
In this YouTube, we will add some ads to your video. Your payment will depend on the number of users who watches the ads. This is a long-term income.
You will get income from the oldest videos also. After getting popular you can apply for the YouTube partner program which can help you to earn so much from the paid advertisement that is added to your video.
4. Image marketing:
Image marketing is another platform you can try to earn some passive income. Here you need to upload photos that you have taken and market it.
Magazines, bloggers and business owners go to these photo marketplaces when they want to use an image in their own website.
Every time they cannot use the same old photos. They need something new always and if you can provide them with some fresh new images, they will come to you.
To do this you don't have to possess some special talent. When we see something beautiful, we take pictures using our smartphone.
You can use pictures from your image gallery to upload to these types of site. Shutterstock is such an image market place. You can get money for each user from the site.
Why can't you make your hobby of taking pictures into an option to earn some money?
After uploading an image, you don't have to look back. The money will be deposited for each user to your bank account.
5. Online courses:
This is the best way to monetize your expertise. If you are good in a specific area you can help others to study what you know about it.
You can do it through video tutoring. There are many websites that offer online courses. You can participate with them or else start your own site and market your classes.
You can charge for the complete course and earn money via sensing them the course. This is also a long term earning option. You can even do live tutoring also if you want. It can help to make your course more trustable.
6. Refer-a-friend:
Many companies offer money for the referral program. When they want to increase the business, they introduce a referral program. When you refer your friend to that particular program, you can earn money.
Cell phones, residential services, online retailers, etc offer this program. As you spread the word you can earn money out of it.
Use social media and other online platforms to promote this program and earn passive income from it. If anybody clicks on the link you promote, this can help you to get that offer.
For example, PNC bank has offered a referral program of $150 when you can make anyone join to their bank. You will get that money to your account after the person started an account with PNC bank.
7. Create a mobile app:
This is another way of making money. If you have the technical knowledge and can help people with an app to do some complex task, you can earn money from it.
After you submit the app to the app store, you will get money for each download from it. Many people take this as a serious job because we cannot live without apps now.
So, every new app with some unique functions will get users easily. You can add reviews from users and ratings onto your apps. This can help users to evaluate users about your app quality.
8. Start an e-commerce site:
You can create a site that sells a product. Sellers can register on your site and sell a product. When somebody wants to buy it, the seller can ship it to the person. Here you don't need to take the tension.
You are only acting as a mediator. The seller will ensure that the product reaches to the right person at the right time.
You manage all your order and need to make sure that all orders are dispatched and reach to the right hand. This can help you to earn money just by mediating a sale. You need to maintain your website well. That's the main task to do.
Final words:
There are so many options you can use to make passive money. But choosing the right one for you is a big task.
If you can identify your ability, choose the best way to get money without much effort. As a beginner, you can try one and shift to another if it is not working properly.
There is not a right time to start anything. Know everything about the work you are going to start and go for it.
Some people can make money immediately and for some other, it will take some time. Be patient and wait for your success.