World's second largest search engine is YouTube and is also famed for being the most visited link after Facebook and Google. The fascinating news is that for every minute about 500 hours of videos are uploaded and more than I billion videos are watched by viewers in a day. You might have heard news about many individuals earning in dollars in youtube. You can also make money on youtube by following the guide below.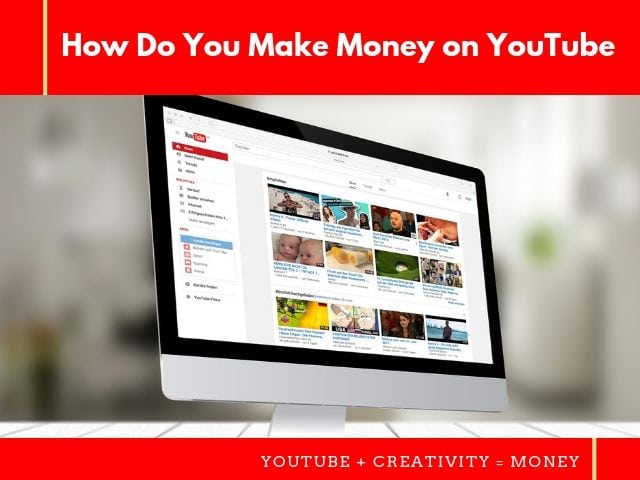 How to Make Money on YouTube?
1. Create your YouTube channel:
To make your personal presence on YouTube, you definitely need a personal channel. Every YouTube account has a channel linked to it. Similar to Google account a YouTube account provides access to Google products such as drive as well as Gmail. To create your account there are few aspects to bear in mind.
Create a username in an appropriate manner. The username should be easy to remember, short and also original. Such usernames will be easily remembered by the users. Current usernames can also be edited with Google + account.
It is important for users to create an account or use the present account in order to initiate a youtube channel. For viewers to find the channel in an easy manner, make sure to add keywords. You can always get to the advanced section of the settings and add keywords. It is important that keywords are associated with the content.
2. Adding content:
It is a must to add only high-quality contents and can be short based on the content being uploaded. It is also advised to stay consistent with uploads and upload in a regular manner. To upload contents, the following aspects are to be kept in mind.
Your first content may not be up to the mark, do not step back, remember that practice makes perfect. Work and make videos better than the previous ones because the learning process never ends.
Content quality can be boosted by making use of a high-end camera or by employing better techniques, software, etc. The manner in which filming is done can also be altered. A tripod can be used, friends help can even help you make better videos.
Regular upload is necessary in order to grab in or hold more number of audiences. When your contents are added at regular intervals and if this is continued, more people subscribe to your channel.
Your videos should be tagged with keywords, impressive description, and perfect content. By this way, a number of viewers are driven into your channel.
3. Become an AdSense publisher:
AdSense is the most common and easiest way to earn money on YouTube. Google's in-house program is none other than AdSense. This permits a chance for publishers to serve advertisements on their contents. By per-impression basis and pay per click, the earning process is initiated. The rule is that only a You Tube account holder can join the program.
There are few rules, the account holder should possess 4000 watch hours in a year along with a minimal of 1000 subscribers. If these conditions are satisfied, users can apply for the YouTube partner program. Youtube and AdSense are varied groups under Google. But users can apply for AdSense by means of YouTube.
4. Affiliate marketing:
Earning money online through affiliate marketing is proven and tested. This can be used on Facebook, in blogs, Pinterest, Twitter, and Instagram and in other online platforms too. Hence Youtube can also make use of Affiliate marketing to earn money. Affiliate marketing is directing viewers to the stores and this way the YouTuber earns a commission. The commission is earned after the viewer purchases the product after clicking the affiliate link.
The unique feature about affiliate marketing is that there is a cookie for every link on phone or viewers PC and the purchase can be tracked. You may have recommended a product and it is not necessary for the viewer to purchase the same. They can skip your recommendation and also purchase some other product.
5. Gain an audience:
To enhance monetization it is important to have an increased audience. If your planning to make money from ads, then you need more people to watch your ads. Getting more subscribers has no secret; you just need to make the best content to gain subscribers.
Contents should be uploaded often so that people get hooked. Also, use facebook as well as Twitter for sharing videos. Keep distributing your video so that people are gained.
It is good to respond to comments and interact with the viewers. Try to make occasional videos that are associated with the viewer's queries. It is important to link with the community as it would gather more audience.
6. Merchandise or sell products:
Selling merchandise where t-shirts, backpacks, coffee mugs, etc. are sold. By this way, your personality and online brand are exposed to the outer world. This also leads to boosting your association with the followers and fans. There are many people who have become famous and earn a lot by selling their own products with a brand name.
There are many freelancer sites such as Fiverr where reasonably designed clothing can be ordered. Then taking responsibility of customers and orders can be associated by means of various services such as Oberlo. These services are perfect as they take complete responsibility for the fulfillment, shipping as well as customer support. Your chore is only to fetch the rewards of drop business which uses less effort.
7. Use the best YouTube tools:
It is good to make use of YouTube tools as they assist and decrease your stress in developing videos. Here are a few tools that can be used to make your YouTube videos.
Google Keyword Planner: This tool is important as it suggests a few keywords that viewers are looking for. Such keywords can be used in your videos which in turn will increase traffic for your video. Apart from unique content and quality, a good YouTube ranking is mandatory for earning money.
Text to speech app: Apart from listening or watching any video it is necessary to add some text so that the video is understood by all. In such scenarios a text to speech app is important. This app would be easy to use as it automatically generates text as you speak.
Evernote:
When its videos, you must be sure that you need to talk a lot. It is common that while talking there may be many errors in the video. In order to get rid of such issues, Evernote can be utilized for speeches where points can be listed with details.
Social media campaign:
Social media platforms are the best way by which your videos can be made viral. There would be huge views and subscribers when videos are posted on social media sites.
App for editing picture:
There are videos which require pictures too. To have perfect pictures, picture editing videos such as Pic Monkey, Canva, etc. are necessary.
8. Teach:
The most familiar YouTube themes are tutorials and how to's. Such themes have helped a lot of YouTubers to earn six figures and you can also join the same theme. For ones who possess art and artistic skills such as dance, drawing, handicrafts, etc. can make videos to teach others. There are no rules or criteria about the topic that you choose.
9. Videos must be monetized:
Monetization must be enabled in order to start earning money on YouTube. By this way your permitting ads to be placed in your videos. By this way, you also assure that copyrighted contents aren't present in your video. To enable monetization
Get to www.youtube.com and navigate to "My Channel"
Go to the top bar and click on the link called "Video Manager".
Get at 1000 subscriber and 4000 watch hours.
A video can be monetized at time of upload by navigating to the monetization tab and you need to check "Monetize with Ads". For ones who desire to monetize videos after being uploaded, the YouTube creator studio is to be opened and channel drop down is to be selected. Then the videos are monetized by clicking on monetization.
10. YouTube Partners can be employed:
When discussing youtube partners they are also YouTube members, who possess a large number of viewers and monetized videos. The beneficial aspect of making use of partners is that they gain rewards for having more number of partners, have access to more content creation tools. These partners have accessibility to tips as well as community support. Hence YouTube partnership can be initiated anytime.
11. Offering consulting and services:
YouTubers need to think of varied types of contents required by viewers. They can offer services and consulting services too. For example, Adobe Photoshop tutorials can be uploaded and if your audience favors them more such videos can be uploaded. Also, consulting services can be offered, local workshops can be promoted with YouTube videos.
12. YouTube super chat:
The YouTube super chat feature is another crucial way by which monetization can be achieved. This feature was actually for few content partners introduced in 2017. At times of a live feed, if the user desires their comments to be pinned and stand out for a few whiles, payment is required. This payment is for the YouTuber.
In order to use a Super chat, the YouTuber should be above 18, the channel must be monetized, you should be in the listed location, and your channel should have over 1000 subscribers. The super chat option can be found on the Youtube features page.
13. Channel membership:
Channel membership or sponsorship is another feature that can be used on YouTube for monetization purpose. Eligible YouTube creators can make use of channel membership where they can gain monthly subscription fee from their fans. For this, the fans are exchanged with badges, perks, exclusive contents and more from their favorite content creators. For channel membership, you should be a dedicated YouTube creator.
You must be above the age of 18
There should be above 30,000 subscribers in your channel.
You should be positioned in the listed location
You must agree with the policies and terms
Your active strikes must be zero.
14. Crowdfunding:
Crowdfunding is one way by which fans open up their support for the YouTube creator. In crowdfunding, people gather and contribute a small amount in order to make a digital product or physical product. In order to make monthly income, YouTube creators make use of crowdfunding. Crowdfunding is usually adopted when the YouTube creators have not reached certain subscribers and when they do not follow any monetization techniques.
15. Sponsored videos:
YouTube creators gain money from organizations and in return, they promote their brand or product, this is mentioned as sponsored video. Many content creators move over with sponsored videos in a funny and smart way which is loved by their viewers.
Before trying to get a sponsored video, It is important to fix your niche, develop the same and companies would approach you, pick the appropriate company for your niche, hold hands with small and local businesses. There are many platforms that assist you in obtaining sponsored videos. They are channel pages, Grapevine, Izea, Fame bit, etc.
Conclusion:
These are a few ways by which YouTubers can earn money. There are plenty more ways that can be followed by users. When you want to be a creator you should be ready to create something that the world can enjoy. A successful YouTube creator can move over with unique videos and post them. There are many tools mentioned too, making the right usage of tools, with perfect content can make your videos outstanding.
Creators should have the sole intention to gain a number of subscribers when this happens automatically, your channel will gain more views and rewards. Hence earning through YouTube is a smart way to earn money.