The best thing about the internet is that it connects people and businesses across the world.
It has become easier to build your own online business no matter where you are. You can reach out to your customers all over the world and sell your products.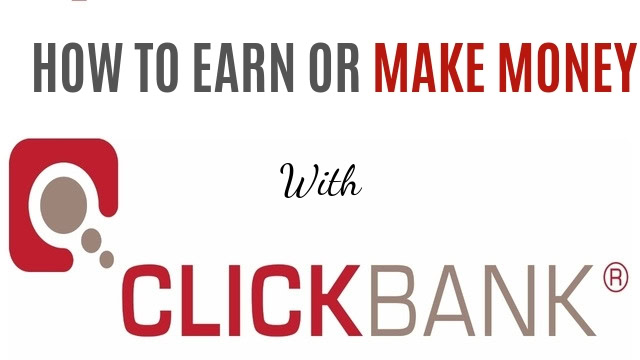 The most common question that people ask is,
Can you make Money Online?
They feel it is easy, convenient and gives freedom from the job routine of 9 to 5. This allows to pursue their passions and spend more time with family.
There are many ways and platforms available where you can earn money. Online platforms require no investment or minimal investments. But the real challenge lies in finding the legitimate platform.
With so many ways to earn money online, one of the most popular ways is affiliate marketing.
It is where the marketer ties up with the business and refers the customers to that business service or product. With which they are able to make a good commission from the referral.
ClickBank is one such online marketplace which is popular among affiliate marketers.
What is ClickBank?
ClickBank is a US based company which was founded in 1998, it is popularly known as an affiliate marketing network.
It connects different merchants and vendors to various affiliates. One can find various products on ClickBank, from software, games, and e-books.
Till a few years ago ClickBank uses to offer only digital products, now they have started selling physical products too. They have collaborated with Survival Life to deliver these goods to the doorstep of their customers.
It is quite popular among various business owners to promote their businesses, because of the easy access to a huge network of consumers.
ClickBank now offers its services in more than 200 countries and has more than 46,000 products offering to its affiliate marketers.
In 2011, ClickBank was named as one of the top affiliate networks in the US by Revenue magazine. While in 2016, it became popular as a top 100 internet retailers by Internet Retailer Magazine.
ClickBank for Beginners:
Affiliate marketing is one of the effective ways to earn money. Those who are starting to work on ClickBank, they need to understand that it is a full-time job.
As an affiliate marketer, it requires patience and dedicated time to achieve success in this field.
As a beginner starting as an affiliate marketer is the biggest challenge to overcome. For you to be successful in this field, it requires some amount of time and constant effort.
If you might not be seeing the desired results, chances are you may end up quitting before getting the benefits out of it.
For those who are just starting it, here are few pieces of advice that needs to be considered:
It is a full-time job:
To become a successful affiliate marketer, it requires lots of dedication towards your work. It is equivalent to a job where you spend about 8 hours of your day.
You cannot expect quick results by spending an hour or two every day or working for a few days only.
Do good research on what is working and what is not. Browse through successful products that are working on ClickBank, read what successful people did to achieve success.
It is advisable to put a good amount of effort in the initial phase, spend long hours in promoting your product or services.
Increase your brand awareness, so that people can make a purchase on your website.
Work on your strength:
It means that you need to find what you are really good at and how it fits in ClickBank.
Affiliate marketing is a full-time job, so you need to find a niche where you are good and comfortable. Maybe you are someone who is not a good writer then there is no point in selling your articles. Maybe you can create good visual content, so you can work on it.
It is important to know what are your true skills and talent and accordingly decide the product or service. Generate good content relevant to it so that it is easier to promote it online.
Success as an affiliate marketer:
Researching on others success path gives a fair idea about how, to begin with. By thorough reading, beginners can learn the entire process quickly.
But there are more ways to become a successful affiliate marketer. It is not necessary that you need to do exactly what others did.
Try experimenting a bit; see what works and what fails. There is no process for right or wrong or any specific way.
Don't be scared to fail, and most importantly, give time to your idea to see the results. You never know which one will work wonders for you.
How Does Clickbank Affiliate Marketing Work?
With the growing popularity of ClickBank, many businesses or independent wants to start promoting their product on it.
To understand the basics of how ClickBank works, a simple workflow is given below:
• Find the product or service you want to promote.
• Create a customized link with HopLink.
• Promote your product or content online by using this HopLink.
• The customer who is searching your product will reach on your website.
• On clicking the Hop Link customized link, a customer makes a purchase through ClickBank.
• As per the net sales, a commission is calculated and credited to your account.
Calculating the commission:
The commission rate on every product available on ClickBank is set by the vendor itself. One can easily earn from 1% to 75% commission.
ClickBank then further calculates its charges and commission on net sales.
Example: Here is the calculation of commission one can get with the rate of 55%.
The retail price of the product: $27.45
Subtract 7.5% + $1 (ClickBank charges) or $2.06 from retail price
Net sales amount: $24.39
55% of Remainder: $13.42
Hence, the affiliate marketer will be earning $13.42
The commission rate varies from product to product, or if the sale is recurring in nature. But the calculation is done in the same way.
From a single sale, you can earn $150 as maximum commission.
Clickbank Payment process:
Finally, to be paid as an affiliate marketer, ClickBank has some of the payment methods they process.
Direct deposit:
Payment is made directly to your bank account when the details are shared with ClickBank. The eligibility for this method is available only in selected countries.
Cheque:
Cheques can be couriered to your address, which is generally a default payment method.
Payoneer:
It is an international money transfer system. You can configure or create an account on this and share the details with ClickBank.
Wire transfer:
Wire transfer is another option offered by ClickBank, but it is considered only in countries where an international direct deposit is not possible.
Clickbank Refunds:
If a customer is not happy with your product and asks for the refunds, then as per the return and cancellation policy of ClickBank, the customer gets 100% refund on the purchased product. Hence, the sale earning made by the affiliate is also lost.
ClickBank has a policy of 60 day return period, during which the customer can ask for the refund.
Is ClickBank legit or scam:
Despite the growing popularity of ClickBank, there are many who questions if this is legit or scam. Or people do really make money through ClickBank.
But there are many who were not successful in it and do question about it being legit.
The problem areas:
There are so many products available on ClickBank, that it is difficult to know which one is a scam or a genuine product. Most of the time, the product quality is so bad that customers tend to ask for the refunds.
The problem also arises because one cannot trust the reviews mentioned there. It is difficult to figure out if the review itself is real or fake.
ClickBank does nothing when it comes to quality control of the product, the customer then ends up purchasing defective products.
ClickBank does not take any steps to stop fake or scam accounts available which are working.
It is considered legit:
It is easy for any affiliate marketer to promote their products on ClickBank, be it experience or a beginner. Joining ClickBank is free, which makes it easier for anyone to try their skills on it. So if it is not working for you, then there is no loss involved in it.
As most of the ClickBank products are software, ebooks or games, basically digital products. Hence, a marketer is not investing much in it and they are able to keep the product cost low.
The affiliates can easily earn about 50%-75% through ClickBank. But the problem arises with their rules and regulations, which makes it difficult for many affiliates to earn the commission.
Clickbank Commission Rules are given below:
Before getting a commission, minimum of 5 sales are required to be made from two different forms of payment.
If the sales do not happen in 90 days, they charge $1 per day or $5 per day after no sales of 180 days.
With such stringent rules, it becomes difficult for new affiliates to earn something.
How to Make Money with Clickbank step by step:
1. Choose a Niche:
Before beginning as an affiliate marketer, find your niche or a specific topic that you would like to talk about.
If not sure, then do good research, write down all the possible topics that you have an interest in. Browse through ClickBank and see what others are doing.
Another way is to do thorough keyword research to know what are the popular topics that people are looking for. You can then study those topics thoroughly and make it your niche.
2. Create a website:
The next important step is to create your own website, to promote the content on ClickBank.
Find the right domain name, which is relevant to your product or niche. Be creative but ensure that it is easy to remember a name.
3. Website content:
It may not be possible to generate or write a lot of content on the website in the beginning. But do add important pages like about me, what the website is all about. Add privacy policy and affiliate disclosure page.
Keep adding the content to your website regularly, because this is important for the website to get better ranking online.
Do some research on the audience which will read your content, understand what they are looking for and provide solutions to them.
Remember to keep your website content relevant to your niche. Also, updating your website with content is extremely important.
4. Generating traffic:
After building a website, it is important to generate traffic to your website. It may take some time to encourage your audience to visit your website.
But with effective marketing and paying attention constantly this is good, to begin with.
Promote your website through social media, Facebook, Instagram, Twitter. Also, use keywords that will work best for you in your content. Implement SEO in your website, because this will give you a higher ranking on search engines.
Also, you can send emails to people about your website. Advertise online to generate traffic towards your website.
5. Making money:
After all the above steps are completed successfully, next is to make money online. Promote your content by giving freebie or offer some benefits to your readers.
Once you have signed up with ClickBank, start promoting your content or product on it.
Initially, it is difficult to promote the website because there is so much of content available on it. Keep working towards advertising it. Write on topics which are popular and easy to search for.
Earning money online is a big challenge as it requires lots of efforts and persistence. But the monetary reward it brings with itself is worth it.
Before you decide to opt to earn money online, don't forget to do good research on it. Spend some time, understand how it works and experiment with your requirements.