Are you a Passionate Gamer?
There are many people out there who spend most of their time playing games. Twitch is a platform they may like to know more about.
Do you want to make some money by playing games?
You might be wondering whether it is a possible option. Actually, it is a possible option for hardcore game players. Many game players record their gameplay and publish it on YouTube to help others. Tech- savvy people might be interested in such videos you post on YouTube or a similar platform. If you don't have any idea of making money by playing the game, read this article.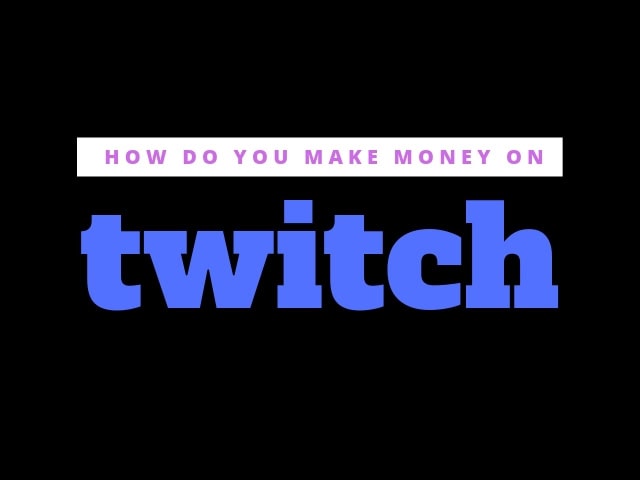 What is Twitch?
Twitch is a platform popular for streaming live gameplay. The main focus of this platform is promoting niche specific contents. You will earn money by just following your hobby. You will earn money for the video you publish. It is not based on the number of views but the broadcaster will pay you for uploading popular gameplay videos.
You don't have to be an expert to use this platform. Anyone with a Twitch account can start their own channel and start to upload videos frequently. You can earn a good sum of money by just doing it.
How To Create a Twitch Account?
It is very easy to create a Twitch account. You can enter the details it asks for while creating an account or else you can log in using your Facebook account.
You can then create a channel where it broadcasts 24 hours a day. You don't have to play 24 hours a day to make your channel active. It will automatically play all your pre-recorded videos for the whole day. You can help others out there in cracking difficult games by creating your gameplay videos.
One way to do that is to use a webcam and record your gameplay. Also, you can add commentary with your gameplay while recording. Some people try to make funny commentaries and some others tell the steps you can follow seriously. You can record it with your device or use your game console to directly upload videos. Easy right? You might be familiar with such gameplay videos online.
So, many users are out there who searches for such videos which can help them to advance forward in a game.
Follow these steps to create a Twitch account:
Create an account on twitch using your Facebook login details or username, password
If you are using PC then download Twitch compatible broadcastings software.
You may need to have a microphone or any other similar device to record your commentary
Now after recording videos with commentary, you can post them on your account for viewers to watch
How To Make Money from a Twitch Account?
Now you know about the platforms Twitch and about creating an account in twitch. The next step is about making money from Twitch. You can easily log in to these platforms and start making money without any delay. Before creating videos, you have to decide about the type of videos you are going to publish on your channel. It could be funny videos or some serious stuff that can help others. There are a lot of people in that platform who use it to make money. So, the competition will be high for you.
While creating videos you have to be careful about choosing the right games that can make you stand out in the crowd. The way you present it should be unique compared to others who publish the same gameplay videos. Thinking uniquely can bring you to the top of the search result in twitch.
Once after creating a Twitch account, you can research various ways to earn money from your account. Twitch is making money by featuring particular games. More than 1.5 million people use this platform. When Twitch advertises these games, they will get money from game developers as a part of a promotion. You can also host advertisements on your channel.
There are settings available which you can use to set advertisements that have to appear on your account dashboard. When your followers click on those links you can earn money out of it. The money will be divided between you and Twitch and they will pay you through PayPal account.
Twitch is a platform owned by Amazon. So, you can also make some extra money by including links to the buying page. Users will click on these links and thereby you will earn money when they make a purchase. After establishing your name on the platform you can also use your power to influence users to attract to a game.
Many popular games may reach out to you and pay you to promote their games through your account. This is another option you can try to make money on twitch. Once after getting more followers you can establish your account and sell merchandise through it which can help you to earn more money. To earn money, you can try these options
Subscription:
You can charge users for subscribing your channel. If your channel gets so many followers and you charge them $3.99 for a 30-day subscription, imagine the money you can earn from it
Twitch affiliate program:
You need to apply to get affiliates to twitch platform. Once you got the affiliation you can earn for each subscription or view you get on your channel
Twitch Partnership:
If your number of viewership is more than 500, you can send a request to get a partnership for your channel. Once after getting this partnership, you can get access to live chats, emoticons, and many other exclusive features
Ad revenues:
Like I said, before you can use your dashboard to publish advertisements for games, you can earn money when a user sees that advertisement or clicks on it. Usually, Twitch takes a percentage of revenue from advertisements and gives you the other percentage. Like this, you can use your account to publish links of games that can help you to earn more money.
Donations:
Think about it. If you have many subscribers then ask for a donation from them. If each subscriber donates a minimum of $1 dollar you can earn a good sum of money easily.
Sponsorships:
You can get a lot of money by offering sponsorship options. You can get monthly or yearly based payment for sponsorships
Paid Live streams:
Many games now use twitch Tv to live stream their game before the final launch. This is like a test run. The users can try the game and the game developers can make suitable changes to the game, based on their response. Paid Live stream is also a good option to start earning money on twitch.
9 Ways To Make Money on Twitch:
Now you got various options you can use to earn money. Twitch is a very useful platform for people who want to turn their hobby as a money-making option. Here are some good options you can try to make money from a Twitch account.
1. Live video game:
Like everyone knows Twitch is a platform where you can publish live gameplay videos. Anyone can use this platform to publish videos and make money. There are many examples in front of us who used various possibilities from twitch to make money. The great example is Mackenseize who has been diagnosed with seizure disorder as a teenager.
2. Speedrunner:
This is an option for gamers to publish live gameplay on Twitch. The main goal of speed runners in Twitch is to finish a level or the entire game as fast as possible. There are competitions between gamers to finish each game as fast as possible. There are many examples of record-breaking speed runner games such as The Mexican runner.
3. Creating talk shows:
People love to hear interesting contents online. On the Twitch platform, you can also create a channel by hosting a talk show. The content should be anything like about a popular game, viral trends, reactions to videos, etc. there are many channels who tried this option and became successful also. Total Biscuit is one such channel who made money out of talk shows.
4. Gather oldies:
If you want to stand out among other contents on Twitch try to gather popular old games and publish it on your account. To know more about the gathering, you can check channels like LSV, Bob, Todd Stevens, etc.
5. IRL:
Live IRL is a new option for people who want to make money without doing anything special. You can post anything on this category and there are people to watch these videos also. You can check the type of videos people publishes on this category. There are videos where a guy does his homework, the architect designing a house, someone assembles a closet, etc.
Anyone can post anything they want and there are people out there who watch such content. You can also earn money as the number of viewership increases. Think about something different and start to create videos based on that.
6. Social eating:
This was a popular category introduced by twitch, this was the inspiration of Koreas -bag where social eating is very popular. You can also try to create videos based on this by inviting the community and post it on your channel. When you stream such videos, be creative and try to make it as natural as possible.
7. Learning videos:
If you are an expert game developer then use this platform to teach others about developing online games. Most people who use this platform are IT people. They can create videos about creating games, coding, web development, etc. In addition, to gain knowledge of all these topics you have to communicate with the audience, to make it possible. A great option for someone who wants to share their knowledge with others.
8. Be creative:
If you have some beautiful talents such as singing, keyboard playing, drawing, etc. you can create your videos and post it on Twitch. People out there are always looking for some interesting contents to entertain themselves.
If you want to be popular and earn some money out of your passion try to create such videos that exhibit your special talent and post it through your account. The creative category is a very popular option for people who want to be famous and earn money. Twitch is giving you a way to exhibit it via their creative category.
9. Virtual cheers:
When users see something on your dashboard, they can support you by providing virtual cheers or bits. Viewers by these bits can give it to their favorite broadcasters. You can accumulate these bits and for 100 bits you will get $1.40. By accumulating as many visits as possible, you can earn money finally by claiming all those bits. This is a good way to get more money by collecting more bits. It's like the like you get for your videos or posts you use on your account.
Conclusion:
If you are looking for new ways to earn some money Twitch is a good option. All you have to do is to create a channel and start broadcasting. Don't think that YouTube is the only way to broadcast videos. There are platforms like Twitch which you can use to be popular and earn some money. It may take longer to get more viewers and subscribers for your videos as the number of people who use are more.
Twitch is an emerging platform which mainly encourages people to upload any videos they want to show to the viewers. You can try many ways as mentioned above to earn money from this platform. Most of the options are very simple and will give you a good result too.
Start using twitch to upload trendy videos that can help you to earn a good income. No need to depend on YouTube and Facebook anymore. Be a popular celebrity with so many followers and make your future from it.