For marketers, there are many ways to promote their products. Fiverr is a very popular platform which offers freelancing services. Business owners can depend on this platform to outsource their business process and make it successful. It offers many services such as content writing, digital marketing, graphics and designing, campaigns, etc.
Anyone can get service from this platform by paying as low as $5. They are getting very popular through advertisements and campaigns. Most marketers are familiar with this service and they use Fiverr to outsource their small business tasks. There are many freelancers out there who can help you in making your business process easy.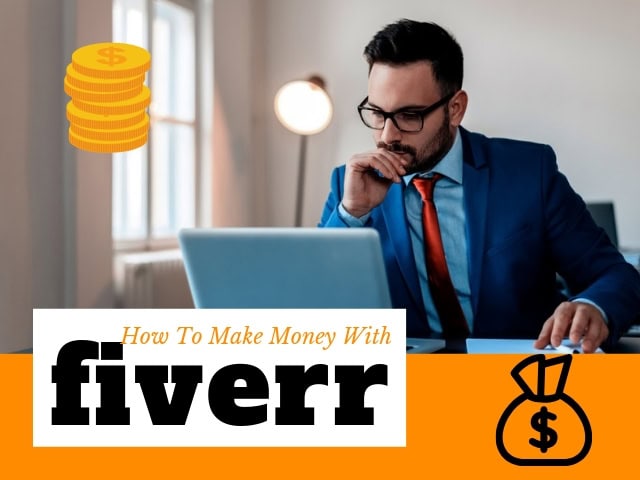 If you are a freelancer with some special talents, this is a good platform to try. You can earn a specific amount every month by working on this platform. There are many websites which mainly do the same. But Fiverr stands out among them due to quality of service.
If you check the services they offer, you can find more than 116 categories. No need to work on a 9-5 job anymore without any satisfaction. You can work on your on-time schedule by opting freelancing services. The app is popular all around the world and more than 11 million entrepreneurs use this app to hire freelancers. Do you want to earn money on Fiverr? Here are some useful strategies to earn money on Fiverr.
What to Sell on Fiverr?
As I explained above Fiverr is an online platform which can also be used to sell stuff online. You can sell gigs through Fiverr and earn money out of it. It will take a percentage of the cost of the stuff as their commission and you will get the rest of the amount. For example, If you are selling a gig of $5 you will get $4 and they will take $1 as their commission. You need to find some interesting gigs to sell on your Fiverr account. There are different types of buyers who use this platform. They are
Individual buyers:
Here you need to create an interesting gig to sell to people. If you are good in managing SEO, write gigs such as a short bio in your profile that can make others buy your skill. If you write that 'I can help you to get 1000 quality backlinks' people who want to get that goal may choose you as their social media promoter. The competition is very high in this field and you have to show some unique skill of yours to get selected fast.
Business buyers:
This is a larger establishment where companies choose a person to work for them. When it comes to a company they are more likely to use this resource as long as they can. Once they like the resource they are going to keep them for longer. You have to be careful to create a good relationship with your clients to get long-term work.
Funny buyer:
Funny buyers are those people who buy gigs without any particular reasons. They do it for fun. They don't mind in spending $5 on a gig. They watch it for fun purposes. Such videos are of high demand online. You can also create such videos online and start to earn money out of it. This is also a good option for people who like to record videos and publish them on social media platforms. If you use Fiverr, you can earn money from your hobby.
12 Ways to Make Money with Fiverr
1. Ebooks and reports:
If you are good in writing reports and eBooks use this talent to earn a good sum of money through fever. There are many clients Fiverr who looks for freelancers who can create fresh content on the provided data. They are ready to pay well for good writers too. You can use it as a chance to make money. Initially, you can work for some people as a freelancer and once after getting enough knowledge about the platform you can see your own books. It can help you to earn money well.
2. Social media promotions:
Marketers are looking for some new ways to reach out to the audience. They find social media promoting more effective for this. To connect with the audience on social media they need freelance social media marketers who can handle Facebook, Twitter, Google Plus and other similar platforms well. They are ready to spend up to $5 to get more traffic towards their website. By offering social media promotions you can open a new way to attract traffic towards their website and earn more money out of it. No need to have some technical knowledge or skill to do such type of promotions. All you need to know is about various social media platforms.
3. Content writing:
If you are good at writing quality contents and can also write very fast, it can help you to earn money. If you have good speed in writing like in 12 minutes you have to write at least 400 words with desired quality, then it will help you to earn money. You can get up to $25 an hour which is the base rate for doing this. Keep this point in your mind that just by writing something cannot help you to earn money. It should be of desired quality too. There are many freelance content writers out there in these platforms. You will earn more if you have a talent to stand out with your writing style among all other freelancers.
4. Promote websites:
You can also use this platform to promote other's website and contents. There are many software or tools available that have the power to generate more traffic. Just by using these tools you can help your clients to create more incoming traffic towards their website and help their website to get a better rank. You can earn up to $5 a minute while doing this. Gradually after learning more about various types of promotions, you can make more money using some easy options.
5. Product reviews:
You can also choose to write about products or services. Writing reviews can help you to earn more money nowadays. People like to follow reviewers advice before buying a product. If you can be a genuine reviewer, you can make more money out of it. Businesses are looking for freelancers who can promote their products by writing reviews. If you want to get more followers on your gig be sure to write only positive reviews. People will believe in you and buy a product by trusting your review. So, it is better to be careful while writing reviews about a product.
6. Be a designer:
Designers have a great demand for Fiverr. You can design websites or campaigns as a freelancer for companies. Once after establishing your name, more people will start to recognize your work and you will earn more money. If you have a good designing talent be a freelance designer and help others to design their website, campaigns, business cards, and logos as they want. You will get the money as you want if they like your work.
7. Virtual assistant:
You might have heard about the increase in demand for virtual assistants nowadays. Businesses are now looking for good virtual assistants who can handle the various business process well. Freelancers are very flexible in their work and are very economical too. Entrepreneurs are using virtual assistants for customers support, business process management, PRO works, etc. Be a virtual assistant and earn a good amount of money every month. You don't have to spend the entire day to do such work. 2-3 hour daily is enough to be an effective virtual assistant.
8. Video testimonials:
Creating video testimonial is a good option to earn money on Fiverr. It is one of the most demanding fields you can try. You can create a good video testimonial if you are presentable and have good communication skill. Create videos about various products and services and help them to upload it on their website. Testimonials can help people to believe in a product or service easily than any other type of advertisements. Be a part of an effective testimonial which looks genuine and makes others believe in the product they are going to purchase. You can earn a good sum of money for creating quality videos that can help to promote a business.
9. Photoshop and image editing:
If you have the knowledge about editing a picture and its background it can also help you to earn money. There is a huge demand for freelancers who know photoshop and image editing. Using technologies people can use the image they want wherever possible if they did photoshop and change its look and background. It is easily possible for a person who is good at photoshop. Get the money you want by providing your service to businesses in Fiverr platform.
10. SEO optimized contents:
The popularity of SEO optimized content is very high nowadays. If you have the knowledge about various SEO factors and can create content by following various SEO rule it will be very useful. There are many tools out there which can be used for SEO-optimization. While creating reports and contents you can focus on adding keywords to it so that it can get more visibility online. There is another option related SEO you can try. By using any of the SEO diagnosis tools you can give the detailed report of SEO of a website. It is very easy to do if you have access to any SEO tools.
11. Data entry works:
There is also another option to earn money from Fiverr. If you have good typing speed, then data entry will be a good option. Mainly it is done on Microsoft office products and the knowledge of these products can help you to earn money through data entry. If you have some spare time, try to start data entry job as a freelancer and get a good sum of money for the number of words you entered
12. Digital drawings:
If you are a good artist and know the techniques to create digital drawings, then it is a good option. Digital drawings are of good demand nowadays and you can focus on creating photo-based digital drawings. People always want to get a customized graphic image of their photos nowadays. You can use various tools to master this talent and start earning money out of it.
These are the top 12 categories you can try your luck in Fiverr. When you check on this website you may find several other categories such as website designing, coding, testing, etc. They all are some categories where you need to have some special knowledge. The above-mentioned categories are simple and very easy to try for anyone without much technical expertise.
Are you going to try any of the above options? You should try the options mentioned above and see how it can help you to earn a good monthly income. No need to stress with your daily office work, you can do some freelance work with it.
Conclusion:
Fiverr is an emerging online market place where you can buy and sell stuff. If you have a good talent that can fit into any of the categories of this platform then you can make more money from it. No more procedures needed to create an account on Fiverr.
Create your account and start using the platform to earn money. There are only a few platforms which offer you complete freedom in creating stuff. Track your improvement on your dashboard and get more positive reviews from your customers. Reviews about your products and service are more valuable that can help you to earn more money. When someone wants to assign a task to you then they will first check the reviews of your service before assigning the task to you. Make yourself popular by optimizing your gigs and giving good captions or introductions to your skills.