Being the largest social media network in the world, Facebook can be used for monetization. Whether you own a full-fledged business or a single item to be sold, Facebook is the right source for you to earn income. Facebook is becoming richer every year reporting whopping billions of revenue. Apart from becoming richer, many smart marketers utilize facebook to earn dollars.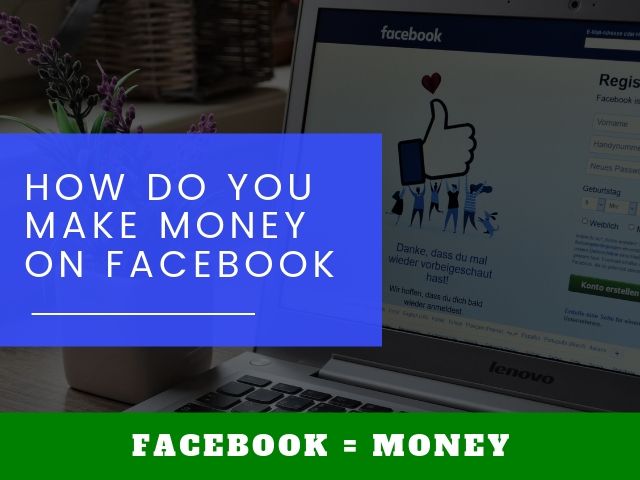 Facebook is more than to message friends, to get notifications liking and commenting posts. If you're looking for some genuine ideas to make money online, then Facebook can be a promising option for you. Let's run through a few points about earning revenue from Facebook.
How to Make Money on Facebook:
1. Building audience:
Building a good amount of followers is the main criteria to earn through facebook. To develop a good fan base, excellent posts are to be posted. Interesting updates, links, and pages are the ones that can grab the attention of many followers. To become experts you need to build an audience, your area of passion should be developed. By posting useful and latest post, you would be recognized as an expert. With Facebook, people should know you and this can be achieved by posting the right content. They would respect and trust you only based on the contents you post. By this way, a good audience can be gathered.
2. Facebook market place:
Facebook users can make use of the Facebook market place to sell their products. Here the users have the feature to filter things based on keywords, category, location, etc. With Facebook, everything can be sold under one roof with few exceptions. Remember that the market place gets congested easily and hence you must use impressive descriptions, catchy titles and quality pictures too.
3. By generating leads:
The best aspect of Facebook is that people all over are connected. Hence businesses can utilize this platform to boost their leads. This means
A wedding photographer can find new clients
An electrician or plumber can gain customers
Online shop owners can get their sales boosted
Marketing agencies can look for other clients that require their service
Any small or big business can do it with Facebook
With Facebook getting the right leads is very easy without spending or advertising. All you need to do is create a facebook page with your business details, network with other similar groups, use the appropriate keywords. This method is perfect and helps you earn money quickly.
4. Earn by selling products to friends:
If you want to sell any product you don't need any Facebook group just a list of good friends is enough. You can write a post on your Facebook wall. Write the details about the product which you want to sell; better you include the picture of the product too. Share your post only with your friend. If your friends share your post, it can be seen by others.
Many people sell cars, real estate, and other possessions. If you are new in the selling field, you can refer to someone's post as an example to model your post. Stay tuned with the Facebook messenger, if any of your friends seem interested, keep in touch with them. Private chat messaging service allows your previous customer and potential customer to keep connected with you.
5. Create/join buy and sell groups:
It would be a great idea to join a buy and sell group. Other than your friends, if you want to sell locally then you need to join local buy and sell groups. There are plenty of buying and selling policies for a different group, it is advisable to go through the group guidelines before you post.
You can browse easily for the things you are looking for. You can buy things for low prices on Facebook garage sale group and you can sell it in many different ways like reselling them in other Facebook group, create your own group for selling or even sell them online on Amazon, Flipkart or other selling sites.
6. Become a free-lance facebook marketer:
For enthusiasts who desire to earn money by means of Facebook can become freelance facebook marketer as it pays $50 per hour. In order to become a freelance facebook marketer
You need the knowledge to analyze status. By making use of data analysis you should possess the capability to predict the right post for the week. When you have the flare to measure the status, then marketing would surely be successful. Similar to Google facebook also has its own analytics for its pages.
The next quality to be a freelance facebook marketer is that you should possess the capability to make decisions and marketing strategies. Remember that for any marketing campaign to be successful, perfect strategic planning is required. Only an effective marketer has the skills to understand the results of the marketing campaign at the month end.
You should be one who can create friendly pages for facebook. A simple example is that when posts with about 40 characters can gain about 86% of engagement in facebook. It is your responsibility to understand and make use of the right content.
7. Through affiliate marketing:
Affiliate marketing is a way of earning a commission by promoting other companies or people products. You choose a product you like to promote it via your Facebook page and group and earn a piece of the profit for each sale that makes by your affiliate link.
Thousands of organizations like Amazon, Flipkart, eBay, etc. offer affiliate marketing programs. You need to just join these programs and post their content on your Facebook page or group. Through affiliate marketing, you can even promote any brand, service or company.
8. Account selling:
The other unique way to earn money is by selling facebook account. Marketers look for facebook accounts that have good followers. They use it for marketing and promotional purpose. Since facebook gives more importance for old accounts, users can sell their accounts and earn money.
9. Writing Content on Facebook:
People who have a unique skill to create digital content like a pdf file, audio, video can use Facebook to sell their content using 22 social. Those who want to monetize their contenting 22 social; Facebook also provides an excellent online tutorial for them.
10. Create a Facebook add for promoting the business:
To target, a specific audience based on their interest age and location creating Facebook adds not a bad idea for making money. By creating Facebook ads you can advertise your small home based business and make money. Those small businesses and even large companies prefer to remain anonymous you can post ads on behalf of them and charge accordingly for your service.
11. Become facebook Guru:
There are plenty of features in facebook which aren't used by many users. Master of all Facebook services can be offered to other businesses and you can assist them to
Get associated and communicate with present clients
Search for new clients
Assist in conducting polls and surveys
In creating campaigns and promotions
In accomplishing marketing campaigns and for many more aspects.
It is never wrong to monetize your knowledge about Facebook. Hence it is good to take advantage of the various analytical tools, features in Facebook and also the audience.
12. Facebook, video creator:
Usually, video creators choose YouTube, but Facebook also proves to gain income. A perfect example is Nusier a travel blogger. In his Facebook page, he used to publish a one minute video on topic or place and continued the same for 1000 days. He earned a good amount on this platform for his popularity. He earned through consulting, ads, sponsored product videos, speaking engagement, etc.
13. Sell Facebook likes:
In some freelancing websites, you would easily get several marketers who will pay you in dollars to get 1,000 likes for any Facebook page. Prize may vary, you all need to do is just share the Facebook page with your contacts and request them to like that page and help to grow the audience. To get the job done, it is important to have a solid network.
Although earning money by this way is something which is not even appreciated by Facebook itself because sometimes several users use fake accounts to get their job done which is considered as illegal.
14. Become a Facebook account manager:
There are many companies, celebrates or corporate people always look for someone who can manage their social media accounts like Facebook, Twitter. If someone is social media savvy, then it would be the right opportunity to become a full time or part time Facebook account manager and earn lucratively. The responsibility that an account manager needs to handle is replying to comment of follower, increase the audience size, scheduling, monitoring, etc.
8. Develop a Facebook app:
If you know programming and interested in coding then developing Facebook related app can be a great way making a handsome amount of money. But if you don't know how to make apps then there is another method that needs some investment. You can hire a developer from any freelancing website to design and develop your app. All you need to do is just share your idea about the apps working with a developer, and the developer takes complete responsibility. Stanford professor, B.J. Fogg encourages many people to create an app for homework assignments and they are making thousands of dollars a day. Check out the story of Facebook app student millionaires to get inspirations.
15. Report about security flaws:
Turning into a hacker and reporting serious flaws is also a well-known way to make money. All reputed websites are always looking for an ethical hacker who could look for critical security flaws in the website and fix it. If you are interested in a testing website, through Facebook's big bounty Program, you can report any security issue to the developer. Facebook will pay you to find bugs on their platform. Payment depends on how serious the issue was but a minimum reward is $500.
16. Become an Influencer:
Becoming an influencer is also a fascinating idea to earn money from your regular Facebook profile. Influence marketer offers money to promote ideology or brand through your Facebook page but the requirement posted on your wall must get decent likes, comments. They look for people with a large network of friends and a huge fan following.
To start earning, you have to sign up through an influencer account on blogmint.com or promote.com and may fix your charge. Influencer marketing is acceptable for brands of the product but in some cases like elections campaign, it would have not been appreciated.
17. Get the job by offering service on Facebook:
Facebook is a great way to find jobs, find a list of helpful resources to grow your freelance business to make more money. Through your Facebook profile, you can let others know about your skill/ knowledge or area of expertise in a particular field and offer services to them such as
Event management
Photoshop
Data entry
Virtual assistants
Content writing
Tutoring
Some other indirect ways to make money from Facebook
Host a fundraiser,
Apply for job
Investment in Facebook
Make a live video on Facebook etc.
Your Facebook friends may get interested in hiring you for the services provided by you.
Conclusion:
There are numerous ways to make money from Facebook if you desire. This list only gives you an outline about earning potential through this website. It might be possible in the beginning to invest some money to give a good start. This investment would be worthwhile if you implement correctly in the right direction.
e persistent and don't give up if your business idea doesn't work for the first time. Thus Facebook is to be considered as an option for everyone who desires to earn money.