You are finally starting a blog (with an intention to make money blogging), that's great! You have taken everything into consideration including keyword research, SEO, niche, and more. But is there anything that is still left?
Do you have any idea about different blog monetization strategies to make money?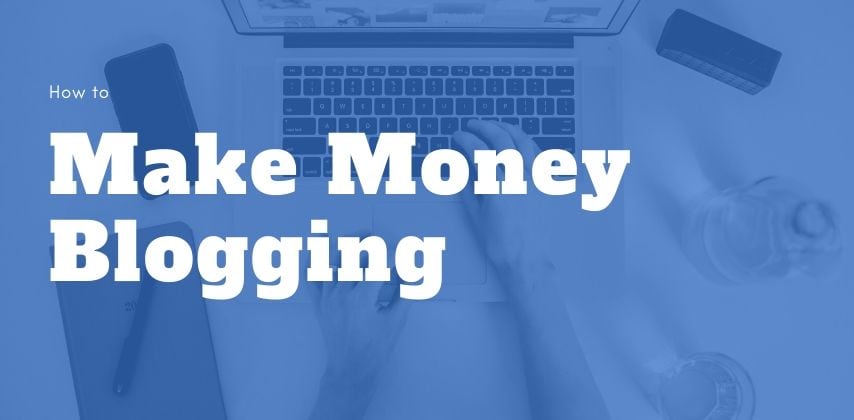 There are different ways to earn money through blogging. To make this process simpler for you, we have done the refined process and here we list the best ways to make money blogging.
Here, check them all!
But before that, check the steps to prepare your blog for monetization!
How to Prepare Your Blog to Earn Money?
1. Create an Appealing Website Design:
You can attract thousands and millions of visitors online only through appealing website design. If your site design is attractive and user-friendly, it offers more opportunities to let visitors stay for a longer period of time.
Readers also get an idea about your blog easily, and hence, gains trust.
It is best to give your website a unique design. One way to gain this is by purchasing a premium theme. Alternatively, you can hire an expert to develop a unique design for your site.
Most importantly, your website design must be clutter-free, responsive, fast-loading, and offer a great sense of authority.
2. Make Sure Your Website Loads Faster:
The load time of your website is an important factor to turn off or on your readers. Based on research, your website page must load fast and in less than 3-4 seconds. Otherwise, readers will close your tab and switch to another website.
Better load time can be availed for your website by hiring a better host. Optimize tables and images in your blog, conduct speed optimization tests, and utilize a cache plugin to improve the load time of your site.
3. Showcase Only High-Quality Content:
One way to gain more traffic for your website and earn money through it is by showcasing high-quality content. In addition to displaying the content, you must know the correct way to promote it. This way, you can get more traffic to your website.
Write in-depth content and long-form articles that cover important details about a topic. If your blog contains in-depth details about a specific topic, it can rank on the first page and avail of better chances of beating your competitors.
Moreover, high-quality content boosts reading time and reduces the bounce rate. This is also highly supportive of SEO and earns money with ad impressions.
4. Boost Traffic:
One truth is that you cannot earn money until you have the traffic coming into your blog constantly. Traffic is directly proportional to the amount of money you make through your blog.
If your blog is receiving 1000 unique visitors every day and even 5% of them are converting, you can state your blog is making a good amount of money. But if your blog is receiving less traffic but is making money constantly, then this is also a good thing.
5. Include Important Blog Pages:
Finally, design essential pages that will help you for distinct purposes. Create a Privacy Policy, Terms & Conditions, About Us, Home, and other vital pages for your blog.
Some of the most important pages that every blog must have are:
Affiliate Disclosure
Privacy Policy
Contact Us
Advertise with Us
Sitemap
Best Ways to Make Money Blogging:
1. Affiliate Marketing:
This is one of the most efficient ways to make money through blogging. It is used by top bloggers to earn a huge sum of money on a constant basis through their blog.
Affiliate marketing means you are recommending products to your subscribers and readers through affiliate links linked using an affiliate ID. The bloggers earn a commission if a visitor purchases something using that link.
Some of the famous affiliate networks are:
Amazon
SendOwl
ClickBank
Commission Junction
ShareASale
Hosting companies
Also, you can directly contact the product owner and ask for a commission for each sale that occurred from your reference.
2. Google AdSense:
Another best way to make money blogging is Google AdSense. It is a robust blog monetization technique that works quite simply.
Write valuable content and gain traffic for your blog.
Now, add ads on your blog on various places like the above post, side-bar, in-between, and more.
Earn money by getting paid for ad clicks as well as for ad impressions.
Google looks after the kinds of ads to be shown to the visitors using its algorithms. Hence, you don't have to worry about it.
3. Create and Offer Your Products Online:
One of the best ways to earn money through blogging is to sell products created by you. This way, you don't have to depend on the services or products of others to promote. You can even decide the price of your products by yourself.
Make sure your product is valuable to the user and solves one or more problems of them. It lets you earn a passive income.
The kind of product you can sell on the blog can be an EBook or can be a SaaS-based service or software application. The better products you offer, the higher prices you can ask and earn.
Simultaneously, you can begin your affiliate network and earn a commission with others.
4. Design an Email List:
Often, it is stated that a single email subscriber is equal to around 10 social media followers.
A subscriber allows the user to contact her or him any time and as many times as you wish. You are familiar to them.
Moreover, email subscribers are more loyal than social media followers and happily share and read the latest article with others, because they trust you.
Hence, try to make more email subscribers than social media followers.
For this, you can use an email marketing tool. One great tool is MailerLite that comes with a lot of incredible features like subscriber opt-ins, pre-made templates, automation, workflow management, and etc.
5. Cost-per-Action or CPA:
Cost-per-action advertising pays bloggers on the basis of each action that the blog readers take. Such actions can range from signing up for the newsletter, creating an account, purchasing a product, or more.
The price earned per action varies from advertiser to advertiser. But it is greater than CPM advertising.
One great example of CPA ads are affiliate marketing where you get paid if a visitor purchases a product, which means an action is taken after clicking on the link.
The amount of commission earned can be a fixed sum or a fixed percentage depending upon the network of advertising.
The great aspect of this strategy is that you don't necessarily have huge traffic. But it is important that you must have small targeted readers to take the necessary action.
Some popular CPA networks are:
6. Cost-Per-Thousand or CPM:
Here the Roman number M represents 1,000.
This technique is useful in situations where an advertiser pays on the basis of per thousand impressions on ads.
This is a highly impressive strategy for all kinds of a blog that receive a huge volume of traffic, meaning at least 50,000 users on a monthly basis.
Some of the famous CPM advertising units are:
7. Dropshipping:
This is another great technique, which most of the bloggers must start using to earn a massive amount of money.
Dropshipping means you will find a small group of entrepreneurs from all across the world and earn money from it.
It works on the model:
Search for cheap products on varying websites that can definitely generate sales.
Design a store around the list and product on your website with a good profit margin.
When a person orders on the Ecommerce store then it can be delivered right to the address of your customer.
The good aspect of this strategy is that you are not required to create a storage area, ship manually, purchase products, or engage with distinct sorts of hassles related to Ecommerce websites.
The main motive of the dropshipping store is to run ads on social media platforms, but if you own a famous blog in your industry with a possibility to sell products, you are not required to spend on ads.
You can use a plugin such as WooCommerce, to alter the existing WordPress blog into an eCommerce store holding a dedicated cart and store functionality.
8. Native Ads:
These ads follow the same visual experience of the content and page where it is positioned. With an identical interface, these ads hold a better opportunity to gain clicks as the user may consider it is an element of the content.
The native ads gain the same style of other kinds of content on the page, including color scheme, font, text formatting, and more to offer a rich and consistent ad experience.
Usually, native ads are showcased on famous social media channels such as Twitter, Pinterest, Facebook, and Instagram.
9. Sponsorship for Audio Podcast:
Any podcast is a new blog post. Large numbers of famous bloggers in the industry publish podcasts where they discuss famous topics and share their experience and expertise about the same.
Audio podcasts are highly popular as they are more engaging and easy to understand. The best part is that users can listen to them at any time while managing other work.
Having such podcasts sponsored is another trending aspect that makes it a great money blogging technique.
10. Flip The Website:
If your website has been creating consistent multi-figure income and for some reason, you are not gaining the motivation to work on the same, flipping the website will be an ideal move.
Flipping sites is a famous profession for many bloggers who either create or purchase a website with good potential and offer it for numerous folds.
Whether a website is valuable or not can be concluded by taking into account numerous factors.
11. Offer Online Coaching or Courses:
One thing that can offer you immense success and help you earn a large volume of money is selling courses online. You can take personal classes for coaching and offer the same to millions of readers online.
A large number of bloggers even make up to six-figure income annually by selling such courses and teaching one-to-one to a big group.
It is not mandatory for you to be highly famous in order to sell courses online. But yes, you must be experienced and have a unique strategy to gain proven results.
In order to gain high-level results, you can hire a marketing team or spend on social media ads. Even, you can design a unique affiliate program.
12. Banner Ads:
Such ads are quite similar to AdSense. However, they don't let Google decide the banners to display. You are the whole-sole in-charge of this.
You must determine the brand or product to promote, search, or create a banner, position it in a suitable place, and keep playing it till you have found what functions the best.
It's true that you have to put in a lot of effort, but then you can make a bulk volume of money in comparison to using other blog monetization techniques.
13. Sell Services:
This is a great technique for those who are experts in certain specific skills. It is great to sell your skills or services online through your blog.
The best thing is you can decide the price point and easily manage customers without engaging any middlemen. Some of the services you can offer are:
Digital Marketing and SEO Services
Content Writing
Custom Recipe or Dresses
Virtual Assistance
Teaching and Consultancy
Website designing
Website development and more
14. Design Sponsored Posts:
Offer sponsored posts on the blog to make money blogging.
Any brand reaches out to you and you get paid to a dedicated post about their service or product on the blog. You can write an informational post or a review and expect money in return.
To earn more money you must have a bigger reader base.
15. Review Services or Products:
Writing reviews for a product is a great way to offer information and boost affiliate sales.
You can integrate affiliate links or other links in exchange for sales made from the product review. Also, you can earn money for writing reviews.
To Sum Up:
So, here you have the best strategies to make money blogging. Start with them right now and earn great bucks right away!