Are you trying to make new ways to stand out in the market?
Here is a good option for you. Try live streaming videos which are getting very popular nowadays. Video marketing is a very popular way to make an impact on customers. But live streaming is not that much popular among marketers as of now. But research shows that live streaming can increase audience engagement up to 3 times than any other form of marketing. To be featured on a live video is something special for every business. It is not an easy task for everyone to do it.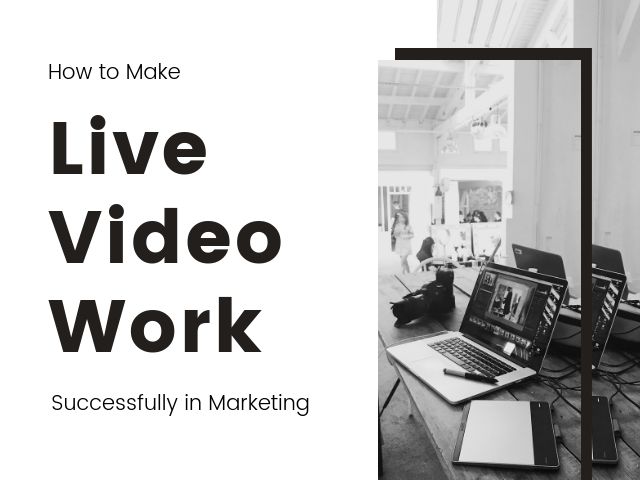 Most popular brands like NFL and Dunkin 'Donuts are making it a marketing strategy nowadays. It is a proven strategy which makes more than 80% of your customers engage with your brand. There are many platforms for live video recording such as YouTube, Facebook, and Periscope for you to create videos.
Snapchat and Instagram also introduced this new feature to their platform. When you record live video, you need to be extra careful as there is no time for editing if any mistakes happen. It needs to be error free from start to end. You need to be prepared to make it work as you want.
Here are some tips for you to create an excellent live video that can boost your business marketing.
How to Make Live Video Work?
Before you start to record live videos, it is best to have a good plan. Without planning your video won't look good. The main fact about planning a video is that it directly impacts your business reputation. So, it is better to plan your live streaming and organize it well for better output. It can also help you to prepare for your live recording and to increase your confidence at the same time.
If you are a starter then it is better to do some research and see what others are doing while live streaming about their business. It can help you to get an idea about how to approach this live streaming session. There are many types of live video streaming options available. Most popular types of are:
Live video streaming:
This is basically the YouTube streaming that most brands do. Here what they do is to record a live video to feature their business or any other processes related to it and show it to their customers. It can help them to understand various process associated with your business and can also help to improve the trust among the audience.
If you are planning to do a live video streaming think about something unique that can be catchy and hold the audience attention for long. It is best to not shake the camera a lot while recording videos. It is always best to preplan the conversation or steps you are going to follow while streaming live videos to get a better response from the audience.
Customer support live streaming:
Many businesses do customer support by coming on live videos. Customers can ask a question to them about the brand and they will answer your questions. Businesses can interact with their customers by posting such videos online. It is also helpful for directly interacting with customers and help them to solve their problems. There are many ways to do such live customer support videos.
Periscope sessions are more popular, and people can playback missed sessions at any time they want. If you want to know what customers think about your product, doing live sessions will help you well.
Interviews and interactions:
If you can publish live interviews featuring popular influencers in your niche that will be a good idea. Live interviews will get more viewers and they can ask questions and interact with these people on live videos. It can help the audience to improve their knowledge and brand popularity will also increase.
Announcements:
Many businesses use this live session to do some new announcements. It can be anything related to their business such as a new product., some good offers, etc. The audience will be excited to know what you are going to announce and will watch the whole live video until the end. You can announce the live timing initially to let your customers know about your live session. Updates, offers, keynotes, etc are some good options to make presentations.
Webinars:
Webinars are very useful for conversions. You can do live streaming with a slide show to present something interesting about your business. Hootsuite conducts webinars more often and as per of them, it is a very successful way for business conversion.
For B2B marketing, webinars are one of the most suitable options that can bring more conversions. You can do some reference to previous webinars and do it for your own marketing. You can see what they are using to attract the audience and hold them onto that webinar. You can also try that idea while making a webinar for your business promotion.
Consider your audience:
Next step after choosing a streaming type is to find out your targeted audience. You need to do good research about your audience to find out what they like and what not. This will help you to create more impactful videos. The first thing to come to your mind while creating live video is to consider your audience. Think from your audience perspective and give them what they want through your videos. Your video should have the following qualities such as
A unique value:
It is not useful to create videos without any meaning. When you create a video, make sure to do one that has some value. Your customers should get impressed by your product by watching these videos. The audience has the right to know what they are going to get from the start itself.
A reason to make the audience to watch the live video till the end:
Some videos are boring, and no one wants to watch it till the end. It is very depressing if no one watches the video till the end. You can do some unique videos to make them watch the whole from start to end. Initially, if you can create that anxiety to know the content in the audience, it can be helpful for you to create some interesting followers to your videos.
Interaction with the audience:
You can interact with your audience also though live videos. Engaging videos are always successful. While doing the live video you can interact with your customers and answer their questions. This way you can also make the video more interacting and will get the topic to talk longer with your audience.
There are various options for you to make live interactions. Live videos are more powerful and two-way conversation is more interesting than any other type of live videos.
Choose your platform:
Now you know about the type of live streaming you want and the audience you are going to interact with. The next step is to find the platform suitable for it. It is not easy to find a suitable live platform. You need to know the most popular live strategy platform among your audience and choose it for your live video streaming.
Know where your audience hangs out the most and go to that platform for your live video streaming. If your audiences are young people then Facebook will be suitable for your live streaming. Webinars can be done on Youtube, and snapchat is also a good option for you to try.
YouTube:
Youtube is one of the most popular platforms for you to try creating live streaming videos. The main advantage of this platform is the ease of use, shareability, built-in features, and popularity. Most marketers depend on YouTube for their live video streaming and all. Everyone can easily access this platform compared to all others and is pretty easy to operate too.
Facebook:
Most people have a Facebook account nowadays and are active on it too. So, Facebook live videos are very good to promote a business nowadays. It is one of the largest social media networks nowadays and people can interact with you easily on Facebook live videos. It is very easy to operate, and anyone can do a live video easily without any technical complications.
Periscope:
This is a new tool which you can use to create live videos. If it is not possible to use any of the above platforms you can try this one. You can share Periscope streams on Twitter also to reach more audiences. The tool is designed for live streaming and by integrating it with twitter you can ensure audiences from both platforms together. So, If you are into live streaming try using the periscope.
Other Popular Platforms:
Other than the above-given platforms there are many social media platforms and tools that offers live streaming of video. The best way to choose your platform is to follow your audience. See which platform is most used by them and try to publish live videos on such platforms.
This is the best way to reach as many audiences as possible when you publish live videos. Before publishing video, you have to make sure that the video you are going to publish is suitable for that particular platform.
Write the script:
You need to have a well-written script before making a live video. It is not appropriate to tell anything on a live video. You can follow the pre-planned script. A small technical or any other kind of mistake can cause you a lot of viewers and you can avoid it by giving attention to your script.
A script is not only the words you are going to speak. You have to include all your actions and mannerisms in it. The script may depend on your type of live video. Anyhow you need to prepare a good script will all actions and words you are going to speak while making the video.
The script will not work always. If you have a live event with a lot of guests a written script might not be suitable for you. In that case, you have to manage your words as needed and make sure not to miss any important points.
Rehearsal:
Most live videos happen after announcing ahead. So, you will get time to do a small rehearsal. Check whether you have a good internet connection or the device you are going to record is working fine and all. You need to make sure that there are not any technical issues before you start recording.
A small technical issue can cause a large number of audiences and it can affect your confidence and business also. Next step is to practice what you are going to say with your coworker or friend as your audiences. This can help you to increase your confidence.
You can tell them to ask some unexpected questions to know the way to handle them on time. Rehearsals can help you to do the live streaming perfectly without any further issues and make it successful.
Conclusion:
Now all you have to do is get ready in advance and be there on time. If you have done all the above steps well, you will be fine. There will not be a problem in making your live video and broadcasting it through any online platforms.
Live videos can create a good understanding between you and your audiences. It is always good to interact with them on a live video so that you will get feedback instantly. Work on them and create effective live videos.