One truth is that around 49% of companies using the live chat software for their sales and customer support witnessed a boost in their conversion rate in just two years.
Moreover, 30% of companies using it for less than one year have witnessed a growth of 5-10% increase in their profits because of using live chat tool. Such statistics focus on the growing significance of live chat tool for companies.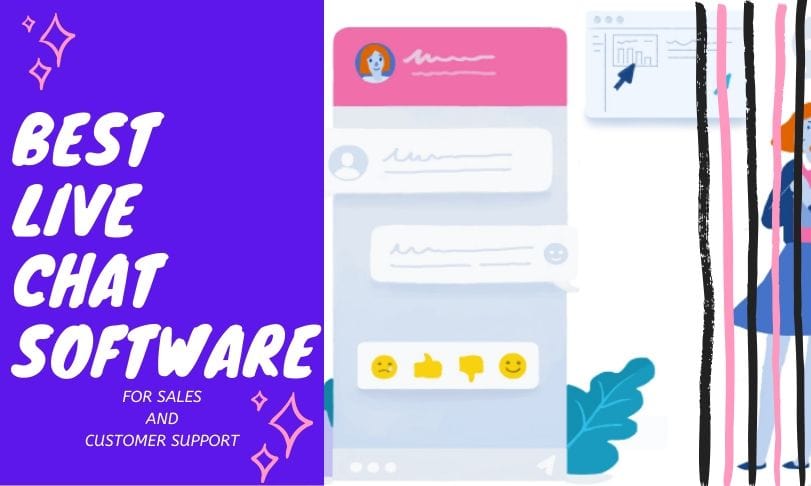 With the help of live chat software, it is possible for customers to gain an instant response to their issues. Also, businesses can incorporate CRM databases with this software to comprehend client behavior. Also, it can convert your business into smarter decisions and land you in a winning situation.
How Live Chat Software Works and Why It is Beneficial for Your Business
Live chat software is like a window, which appears on your website and showcases a few texts. With the help of that window, the visitors on your website can ask different questions. In response, you or your agent can revert to them using the live chat window.
It is quite similar to the messaging app. But it works only when one of the agents is online. If the agents are not visible, you may hide the widget.
Moreover, you can direct customers to a contact form. With the help of such forms, the visitors can contact through emails. The live chat tool offers two distinct views – one is meant for the users and the other one is meant for the agents. With the help of an agent view, it is possible to clearly monitor who all visit your website.
Also, it is possible for the agent to approach or greet the customers using a platform for live chat. With the help of live chat platforms, it is possible to begin chats based on the behavior of website users.
Hence, the live chat tool is an advanced technology, which is very easy to use and simple to install. All you require is a copy of the code and add that software to your website. The best thing is that you can easily install the live chat tool, even when you are not a technical expert.
You now know what live chat software is, how it can be used, and what difference it can make to your business. So, here check some of the best live chat tools you can consider using.
Best Live Chat Software or Tools to Consider:
1. Intercom:
If you wish to incorporate a fun element in the live chat you must switch to Intercom tool that allows you to add GIFs and emojis.
Its modern live chat feature aims at converting conversations, which can support you connect with the target audience while maintaining it lightly. It enables you to tailor the live chat and also manage the different settings for Android, iOS, and web.
It is a software solution that lets you route client queries to the respective representatives. Utilizing the bots add-on, it is possible to conveniently determine leads, answer queries, and route them throughout the clock.
It is quite an expensive software beginning at $87.
2. LiveChat:
Holding a huge clientele of more than 27,000 organizations around 150 countries, LiveChat is highly very popular. Its greatest strength lies within its simplicity.
This software is easy to use, clutter-free, and clean. You can flawlessly incorporate it with more 130 tools, including MailChimp, Shopify, WordPress, and others. It allows you to chat with potential clients while incorporating their details to CRM software from a similar platform.
Its prices begin from $16 seats every month and can increase up to $50.
3. Olark:
This software is meant for those who want to comprehend customer behavior. It enables you to identify and engage with leads that tend to be most lucrative.
It comes with rich features such as live chat transcripts, pre-chat surveys, visitor insights, detailed reports, and automated messaging.
In addition to this, it lets you tweak easily the appearance of live chat box so that it can precisely match the colors of your brand. To use this software, you need to take a plan from starting from $12 to $17 per month.
4. LiveHelpNow:
Just as its name suggests, this live chat software offers 24 x 7 customer supports along with other features like SMS support, FAQ dashboard, Live Chat services, and other advanced integrated tools.
It offers support to an innumerable number of brands with a single account. This way, you can conveniently manage numerous websites from a single platform.
Further, it comes with an Email Ticket Management System, which is created to let you monitor conversions, which you receive through live chat. The customer service is available for 24 x 7 and present on distinct channels.
To use their services, you need to spend around $50.40 per month. There are various individual packs also available, which you can select as per your convenience.
5. Kayako:
Kayako is the best solution for those whose sole aim is to offer a live chat solution to their customers. It does not come with numerous features but offers flawless functionality. You can conveniently integrate live chat to your mobile, help center, or website.
The best thing is that you can use its live chat functionality even when the team is offline. Hence, you can send queries to your customers at any time you prefer. Alternatively, if the customer misses or skips your message, it automatically sends them an email so that you may continue uninterruptedly.
The plan for Kayako starts from $15 to $60 per month.
6. Acquire:
One major purpose of Live Chat is to extend instant customer service. At times, interacting over the text is not enough to please clients. In such situations, the voice call and video call function from Acquire work as handy tools. They can work wonder to enhance the overall quality of your conversions with clients.
The standard package from Acquire begins at $40 per month. Also, they hold a separate plan for the enterprises that come with numerous additional features such as video recording, support bot, smart suggestions, and etc.
7. Userlike:
The eventual goal of Userlike is to let users build relationships with their clients. With the help of this software, it is possible to design personalized messages utilizing Sticky Chat.
A great functionality of this software is that if any customer comes back for a chat, they can directly link to your operator they have talked with before. This way, it is easier to develop a sense of trust and reliability within the conversion.
You can start with its basic plan, which is available for free. But in order to benefit using the advanced features, you need to opt for a plan starting from $29 to $299.
8. Tawk:
Using this live chat tool is very easy and you only have to copy a JavaScript line and paste the same into the HTML of your website. In just a few minutes, it is up and functioning.
Tawk monitors your chat in real-time and assesses them. Your chats are available to you in a readable manner. Also, it offers the option for video and voice calling, which enhances the customer experience.
This tool not only archives the chat history but also lets you go back to the last conversation. You don't have to perform any additional action to secure chat history as it is automatically secured with encryption.
You will love Tawk as it is completely free. You may not wish to answer client queries and hence can hire an agent from there at just $1 for an hour.
9. OCC Live Help:
The Online Chat Centre or OCC is an amazingly designed software that exclusively caters to different levels of site owners. If you have just begun your business, you can start using their free chat service available for a single website and a single operator.
This package is available for free and lets you track visits, upload custom icons, secure unlimited chats, and invite visitors for a chat. To use other advanced features, you can check other plans starting from $5 to $50 per month.
10. Pure Chat:
This is another robust tool for live chat that is loaded with numerous features and available for free. Native iOS, unlimited chats, Android apps, robust operator dashboard, and customizable widgets are some of its great features that can be used without spending a single penny. Moreover, even the free package serves 3 operators at a time.
Additionally, it offers free of cost automated chatbots to schedule appointments, gather leads, and complete payments. One remarkable feature of this tool is that it includes pre-chat information forms, canned responses, and chat notifications.
If you like the free version you can switch to its paid versions which are Pro and Growth. These packages are available at $79 and $39 per month respectively.
11. My LiveChat:
One free and efficient way to chat with your website visitors is by using the My LiveChat tool. Available with a floating chat button, it appears on your site as soon as you insert an HTML code.
It does not intervene with the design of your website and hence you don't have to fret regarding it.
The paid plans for this tool start from $19 to $99 for a month.
12. WhosOn:
Designed with an approach of cookie-cutter, this tool is not meant for everyone. It is an ideal solution for users who want software that can be customized exactly as per their requirements. The seasoned team lets you cope up with all kinds of challenges.
While using this tool, it is possible to monitor your chat data as well as tailor the chat across multiple brands. It comes with advanced features such as omnichannel transitions, sentiment, auto-text suggestions, real-time translations, and more.
The basic plan is available for free, while the advanced plans are available for $46 for a month.
13. Freshworks:
Incorporated with various features like onboarding, support, and conversion, it fulfills most of your aim and has something for you. Through the various stages, the live chat option from Freshworks makes sure that you are able to offer a cohesive customer experience.
It comes with the IntelliAssign feature, which is perfect for team collaboration. This feature allows you to assign conversations of all kinds automatically to the agents in your company based on their knowledge and skills. Also, it takes various factors into consideration, which you are unable to handle.
In addition to keeping track of vital metrics such as average response time, resolution time, initial response time, and others from the dashboard, it offers rich functionality. The advanced model is available at a cost of more than $70 for a month.
14. Comm100:
To make sure you reach your clients through traditional messaging, videos, audios, and also offer co-browsing, the Comm100 software is a perfect choice. It rectifies issues faster and allows you to share files and URLs with ease.
Using this tool it is possible to build stronger connections with the visitors. It offers you access to details like the location of visitors, buying history, and more.
This tool comes with multi-language features and offers easy reaching out to the visitors in their preferred languages.
15. JivoChat:
The JivoChat is an all-in-one tool meant for all businesses and makes sure you can easily get in contact with the customers on different platforms. It lets you receive emails, chats and calls on one screen.
For reducing the bounce rate, it enables you to invite the clients for a chat and lets you translate the messages into 20 different languages so that it is easier to extend your reach to a wider audience.
Moreover, JivoChat operates on various advanced operating systems, browsers, and mobile devices. It offers the option for integration with platforms such as BigCommerce, Wix, Weebly, and more.
Its basic version is available for free. To use the advanced version, you need to spend $30 for a month.
To Sum Up:
With the live chat functionality, it is possible for you to offer rich and uninterrupted customer support to your customers. You can not only respond fast but can also boost customer satisfaction and gain more conversions.
So, pick the most suitable live chat tool from the list and avail of its benefits right away.