Have you heard this term Link building before? If you are familiar with SEO and its processes then it could be a familiar term. But for a newcomer who is going to start a website business, it will be a new term.
Everybody won't research all aspects before entering into a business. But, it is very important to learn about all aspects related to your industry. This knowledge will help you in your journey. You can get the help of an expert to know more about all terms and tricks related to your business.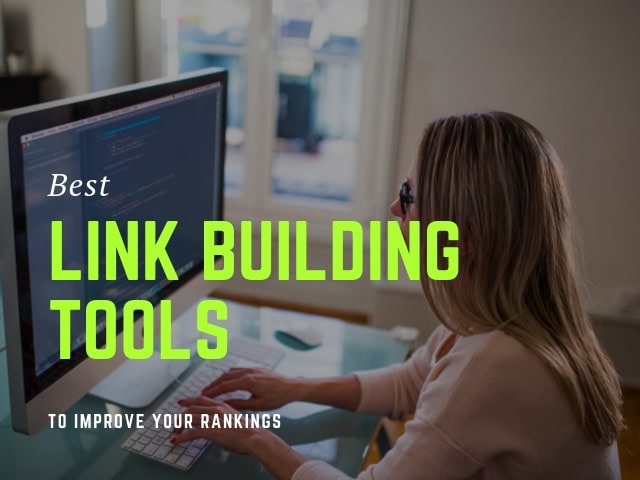 Link building is an important procedure that decides your site credibility. Now all major search engines consider links as a sign of trust and popularity of your site. You can do a detailed analysis to find quality links that may benefit your site.
According to a recent survey among top SEO experts, 71% of them believe that link building is of high importance. Most of the website will have a team of SEO experts to manage their site. But it is not possible to hire experts in starting. In this situation, you can use link building tools to manage inbound links.
The more the number of relevant sites and trustworthy links to your site, your site will get a higher rank and quality traffic. Now, most business owners use tools for link building. First, let's check what link building is.
What is Link Building?
Link building means the process of getting high- quality links from some other websites to your site. These links help the viewer to know more about that link by just clicking on it.
According to SEO experts, link building is an important and difficult job. One important thing is that you need to get good quality backlinks. Bad backlinks will affect page quality negatively and you have to face consequences from Google.
Don't spoil your site future by getting bad backlinks. Building backlink is an art. For that, you need to have a medium SEO understanding. Knowledge of internet marketing will also help you.
Can I improve site ranking by just building quality links? This will be your question now. But the answer is no. Link building is a part of SEO which helps you to improve ranking. Other than this you have to do keyword analysis, create quality content, rank building, link removal, and technical SEO.
Benefits of Link Building:
When Google check a page for the ranking, the first thing they consider is Domain and page authority
You can connect with other industry authorities through link building
Good links are essential to deciding the trust and credibility of your site
Your business will get benefit from link building. It promotes your brand visibility
Unlike paid ads, you can get permanent visibility from link building
If you get high-quality links from reputable directories it will help you to attract more traffic
Top 10 Link Building Tools:
Now, you got an idea of the term link building and its importance in improving search engine ranks. There are many tools available in the market for this purpose. As a newcomer, you will get confused by seeing all the details. To help you to make your process easy here is the list of some effective link building tools with their features. You can choose one after analyzing all the features.
It is a very popular tool available for link building in the market. You can use it for free or else subscribe to its premium account. But it offers many unique facilities to premium account holders. When it comes to its features this tool gives access to your competitor site and gives you information about sites linking to them.
This helps you to determine the level of competition and you can think new ideas to build a link back to your site. It sends you email indication whenever you or your competitor get or lose a link. So you can use this feature by getting its premium account. It also gives you a daily report.
By using this tool users can access the number of subdomains, pages, links, referring domain and images linking to your own site or of your competitor site. So get this and build useful backlinks to save your site.
2. Opensite explorer from Moz:
This tool offers many features of Majestic SEO. MOZscape is available for free and you can access it with an open site explorer. If you are a subscriber of Moz Pro you can get access to more advanced reports. Using this tool you can get access to your competitor's backlinks, linking domain and anchor text.
With all these details you can develop more link building strategies to promote your site. For Moz pro subscription you can access advanced reporting like spam analysis, top pages etc. Also, track your authority metrics against your competitor using their Moz pro campaign. Also, they remove spammy links from their reports to give you details of only quality links. Try this tool and build quality backlink to your site.
The link Research tool is a useful linking building tool for SEOs. It combines link data from 25 link source. They only give you clean data reports after verification. One of the important features of this tool is, it help to remove Google penalty faster. You can gain your lost visibility and traffic easily using this tool.
Using the link research tool you can check the link quality, protect your site from negative SEO, helps you to monitor competitor site for their inbound links etc. More than that, it helps you to get an idea of your site's strength and weakness. You can do better than your competitor by doing this. Also, recover your lost links after a site migration or redesign by using this excellent tool. Amazing right? Use it and see the result.
Ahrefs link building tool is an excellent one to analyze backlink profiles and discover new opportunities. Its Main features are link profile overviews, tracks backlink growth, gives information about good and bad backlinks etc. Check inbound and outbound links of your site using this tool.
Did you find any broken links on your site? Don't worry, Ahrefs broken link building tool is excellent for you to rebuild it. Using anchor text analysis you can see your competitor's optimization techniques. Get all reports to your email about new and lost backlinks. All those features are very useful for SEO. Try it and get the benefit.
This is a good link management tool for SEO. You can use it for free and subscribe to its premium account to get more benefits. This tool helps to identify link building strategy and thereby increases your website popularity. It gives you information about sites from which you can request links. Also gives you the contact information of useful sites, manages communication to your site, manages link opportunities and link requests, and monitors backlink achievement.
They send all details as daily reports. Using those reports you can analyze your site improvement and implement new ideas. Thus it does a great job by streaming link request process and by automatic documentation. These entire features make this tool favorite of the world's best marketers.
This is a bit expensive tool but the feature they provide is worth the expense. Like all other tools, it provides prospective SEO clients with a detailed SEO audit report. Analyze the performance of your campaigns, manage your reports and your progress and identifies useful backlink sources that may benefit you.
Using their automated marketing reports you can track your growth. You can schedule it daily/weekly/monthly/quarterly. It accesses data from more than 20 sources like Google Analytics, Bing Ads, Facebook Ads, Twitter, Google Search Console and many more. You can find and fix your site problem using this tool.
An important feature of this tool is link management. This feature allows you to research potential link partners grabs their contact information and send a link request to them. You will get everything in a single tool. Then why not? Use it and check for the result.
Are you looking for the best tool for your link building campaign? Here is the best solution for you. Its an advance link management tool which will help you on this task. It uses advanced technology to find prospective partners. Also, it shows the list of most valuable linking partners.
When it comes to link management it is important to get quality links to save your site. Bad backlinks may affect your site badly. So, you can use this to save time and money. This also analyses link domain quality and arrange your partners by the value of their domains. So that it will be easy for you to choose good backlinks. Spy on your competitors and know more about their inbound links. You can make new strategy according to that.
This is a very effective link building tool for SEO. The main features of this tool are like any other tools link prospecting, content review, backlink analysis, competitor research, technical review, Domain analysis etc. This is an economical tool that you can use for link building. It will send you all reports related to your site's backlinks.
You can compare your reports with your competitors and get an idea about their link building technique. It also retrieves matrices from third-party sites such as Ahrefs, Majestic etc other than just Google sites. So, you will get a clear idea about link building strategies from those reports. Try this tool and get better results
As they say in their tagline it is one of the largest and fastest growing backlink analysis indexes. You can choose a suitable plan for a subscription to use this tool. You will get an idea about significant backlinks to your site using this tool. Get all details about the link profiles that are related to your site from their reports. By seeing it you can identify bad backlinks that may cause risk to your site.
Also, compare your site with your competitor site and get all useful backlinks from their site. You can send a link request to them by obtaining their contact information. WebMeUp also tries to keep fresh backlinks in their database. They remove dead backlinks every 4 weeks. Why don't you try this by subscribing to a basic plan?
It is a beneficial tool that does an in-depth analysis of marketing and SEO. They find a new way to increase traffic to various sites. As Google algorithm is changing frequently this tool are also updates their methods according to new changes. It helps you in your marketing campaign by extracting critical data about current marketing strategies. Also, it informs any unnatural link detection on your site.
If you found any unnatural link you can create an out search list and contact the site owner or send a ready to disavow using this tool. This tool informs you about the link building strategy of your competitors. By doing this you can implement them for your case and get noted. You can first try it for free. They offer a 14-day free trial and then you have to get a membership to use it further.
Here are some top SEO tools that you can try out. Most of them offer a free trial. It is better to try them first for free and if you like it you can subscribe to it. Always choose best for your site because link building is an important feature every site should concentrate on. Don't take it as fun because your site's future is on your hand.
Beat your competitors by implying the best strategies and attract moré inbound links. Always check for bad backlinks and disavow them. Don't get penalties from Google as it affects your site credibility in the market. Always update yourself on all new strategies and techniques. It will help in your site growth.