Are you searching for a code-free and hassle-free way to develop landing pages that can convert high? Earlier, it was not easy to create landing pages and you have to put a lot of effort as well as engage developers and designers.
However, things have changed now and you can now easily design rich landing pages. All this is because of online landing page creator tools available.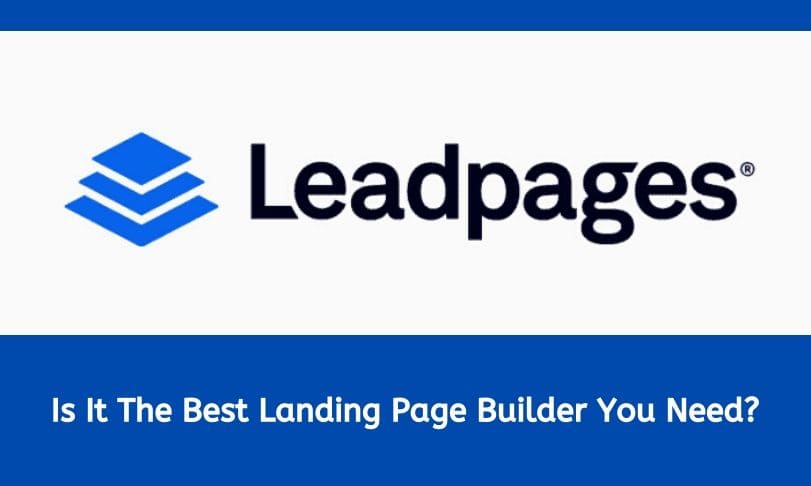 Among various top-notch tools, one highly trusted and promising one is LeadPages.
Here I want to share my honest review of LeadPages with you as I am highly impressed with the great functionality and ease of use offered by it.
Leadpages Review – Why Its Features Stand Out?
There are multiple features offered by LeadPages and most of them are highly rewarding. Undoubtedly, the core functionality of LeadPages is its exceptional ability to create landing pages. In addition to this, there are more other features and functionalities of LeadPages, which makes it a highly promising tool to design landing pages.
Innumerable Marketing Integrations – LeadPages allow you to conveniently link to your preferred service for email marketing, CRM, webinar tool, payment gateway, etc.
More than 130 Templates for Free and Countless Paid Templates – With a wide range of paid and free templates, you can quickly create amazing landing pages by making a few edits and customizations.
Drag and Drop Interface – LeadPages comes with a new user interface, which has been designed by professionals and comes with the drag and drops feature. As a result, you will gain a glitch-free and intuitive experience.
Numerous Website Integrations – It is very simple to create landing pages for your website through LeadPages. There is a dedicated plugin for WordPress websites and also website integrations for others such as Joomla, Squarespace, and more.
Hosted Pages – Leadpages can also host landing pages and you may still utilize your specific domain name.
Detailed Analytics – LeadPages comes with dashboard analytics that makes it to run pages with Google Analytics, Facebook Pixel, and more.
Leadlinks – This is another great feature of LeadPages, which is available for use to existing subscribers. It offers one-click functionality for the webinar or creates a sub-list by simply sending the link.
Leaddigits – Next is Leaddigits that allows the leads to opt-in the webinar or email list through automated messages and mobile phones.
Leadboxes – These pop-up forms are custom designed to let you display pages automatically or on the basis of specific user's actions. It is also possible to link one button created by you on the landing page for conveniently creating conversion boosting opt-ins.
A/B Testing – LeadPages allow you to spin the novel split test to check the landing pages versions, which perform best.
LeadPages come with so many rich features, which is why it is possible to not only creating landing pages using this tool but also to perform more other functionalities.
Creating Landing Pages Using LeadPages:
LeadPages come with an easy to use interface, and hence, creating landing pages using this tool is very easy and time-saving. So, no matter what business you own, you can cater to it successfully using this wonderful tool.
In order to create a landing page with this tool, you first have to choose a new template. This can be done only after clicking on the LeadPages interface.
Here, you can select either a free template or a paid version, depending on your requirements.
Also, there is an option to use the standard or basic editor against the newly introduced drag and drop editor. Though the standard editor offers great flexibility, the newer one is better in all other aspects. Hence, I suggest using the redesigned drag and drop interface.
If in case you don't want to select any template, you can begin from scratch and use the entirely black canvas.
Now, once a template is selected, LeadPages will ask an internal page name and then switch to the drag and drop interface.
The Ease Offered by Drag and Drop Builder:
For those who have used a page builder from WordPress, they must be aware of the ease offered by this functionality.
The right side of drag and drop builder shows a live preview of your page while the left side shows the following accessible features:
Page Styles – With this tab you can select background images, fonts, and other elements for your page.
Widgets – Widgets are like building blocks of a page that lets you insert new opt-ins like a button or form.
Page Tracking – This feature allows establishing standard SEO settings such as Meta title, analytics and tracking code such as Google Analytics and Facebook Pixel.
Page Layout – It is a very useful tab using which you can create a foundational grid-like layout for your page using columns and rows.
Though using the LeadPages editor is not as easy as using the Instapage builder, but it is definitely highly flexible. You can move one element using the drag interface. Moreover, you can use drag and drop functionality for resizing widths of the column.
The interface is intuitive and code-free. For this reason, you can easily create effective and appealing landing pages even when you don't possess any technical knowledge.
How to Create CTA or Call to Action using LeadPages?
When you create landing pages, you definitely want to incorporate a CTA or Call to Action on the Landing Page.
For sure, CTA is an important button for any landing page and is vital for its optimization. Since, it is highly important so you must check the Button Widget of LeadPages.
Once you click on the button widget, a new set of options will open up.
Two useful options are:
Text colors and button
Font size and font
More other options will open up when you will click on the outermost options.
You can click on the left side button to unlock the functionality to switch between various styles of designs. This way, it becomes very easy to design stylish buttons without requiring much design knowledge and technical details. Like there are a few landing pages that would need to manually establish the shadows and radios to accomplish such effects. But by using LeadPages, you can choose a preset functionality. It is an excellent way to make an appearance in the LeadPages.
Moreover, there is a hyperlink button that does not allows you to select a URL for sending the button to and it also enables you to conveniently link to other LeadBox or LeadPage that has been created.
This functionality is highly helpful as it can be used to conveniently design opt-ins in two-steps, which are of great benefit to boost the conversion rate.
When you establish a two-step option, the visitors will prefer clicking on the button that opens a new pop-up along with signup details. Simply, you don't have to display such details on-page from the start.
With LeadPages, this technique is so simple. It is highly flexible and allows creating custom designs for each popup using the drag and drop feature.
Understanding the LeadPages Forms Widget:
In addition to CTA, you would like to showcase a form on your landing page. The Form widget in LeadPages lets you get complete control over different kinds of forms, which you can include in the landing pages.
Clicking on the Form Widget opens a new sidebar that lets you customize different aspects of the form. The sidebar interface lets you make various changes such as:
Adding new fields in the form
Integrating form with webinar or email marketing services
Select what you must do once the form is submitted by the user.
With these options, you can keep users engaged on the same page as well as direct them to another page. Moreover, you can email them the necessary details, which makes it possible to design lead magnets.
Using the Checkout and Payments Widget in LeadPages:
The Checkout widget in LeadPages is the last available option that is an excellent addition to any page. This tool allows accepting payments through numerous digital products like Stripe.
Using this widget it is possible to use Leadboxes and Leadpages to sell stuff such as eBooks, the event of private tickets, tickets to a webinar, or other digital items.
Also, LeadPages lets you integrate the downsells and upsells, and hence, is highly useful.
Responsive Previews:
Getting mobile traffic is highly important for the success of your website. For this reason, you must ensure that the landing pages look great not only on desktop but also on mobile platforms.
For this, LeadPages offer the option of responsive preview using which you can preview the appearance of your page on the mobile version in the editor.
But remember, this is just a preview and it does not allow designing the page as per responsive settings. The same can be done using Instapage.
How to Publish Landing Page?
When you have completely designed the landing page, the next step is to click on the Publish option. This will make your page live on the LeadPages subdomain. But you can't expect a professional appearance by just leaving things on the subdomain. Actually, you would want to integrate the same into your website so that it is possible to use the domain name.
There are various options available in LeadPages, which include a dynamic HTML functionality that performs well for most of the websites. Most importantly, there is a dedicated plugin for WordPress websites. The dedicated plugin lets you log into the LeadPages account from the dashboard of your WordPress website and ultimately you can import LeadPages content as required.
Here you will also get access to additional features such as:
You can use LeadPage as a page to welcome customers, which means the first page any website visitor will witness.
Cache the LeadPages for offering enhanced performance and increasing the page load times.
Conducting A/B Testing in LeadPages to Optimize Landing Pages:
One great thing about LeadPages is that it makes it simple to spin the new split tests from the dashboard itself. You only have to click on the respective button and you can select the page control and integrate various testing elements as required.
It is possible to design by directly copying the control page or you can make some tweaks and select an entirely distinct page. Also, you can select traffic distributions for controlling the traffic volume that goes to each variant.
How to Check Analytics to Know Your Page Performance?
Sure you can incorporate LeadPages using third-party analytics tools, also you can incorporate an analytics tab, which gives you a quick glance at the conversion rate and traffic for all the landing pages.
You can still use a detailed analytics service, which is helpful to get a look at your landing page's performance.
Using LeadPages for Creating Leadbox:
Leaboxes are small popups that can automatically trigger a particular action. For creating a Leadbox, you can utilize the drag and drop interface but the options and widgets will be slightly different.
When the Leadbox is published, you can select the way it triggers like:
Exit intent
Timed popup
Image link
Button link
Link with Plain text
The good thing about these options is that it allows you to conveniently integrating the Leadbox in your landing page content. You may use the plain text link for including two-step opt-in in the WordPress page or post that offers you great flexibility.
Using LeadPages to Create Alert Bars:
There is a new tool introduced by LeadPages using which it is possible to increase the conversion rates. This is Alert Bars, also called notification bars.
This tool allows creating responsive and eye-catching bars, which can be used for promotional offers, expanding email list, driving signups to an event or webinar. For starting, you can select from premade layouts and tailor the text. Afterward, you can publish an alert bar on your website and landing pages or use them as a standalone tool such as WordPress.
Leaddigits and Leadlinks:
Leadlinks is a great feature to create a link, which automatically signs subscribers to a webinar or sub-list with a click.
Leaddigits allows integrating opt-ins in messages by mobile phone and adds a particular webinar or email list.
Final Verdict
LeadPages is available at a price of $25 for one month. But the cheapest plan does not include various features like Leadlinks, A/B testing, and more. To use all the features you need to pay $48 for one month.